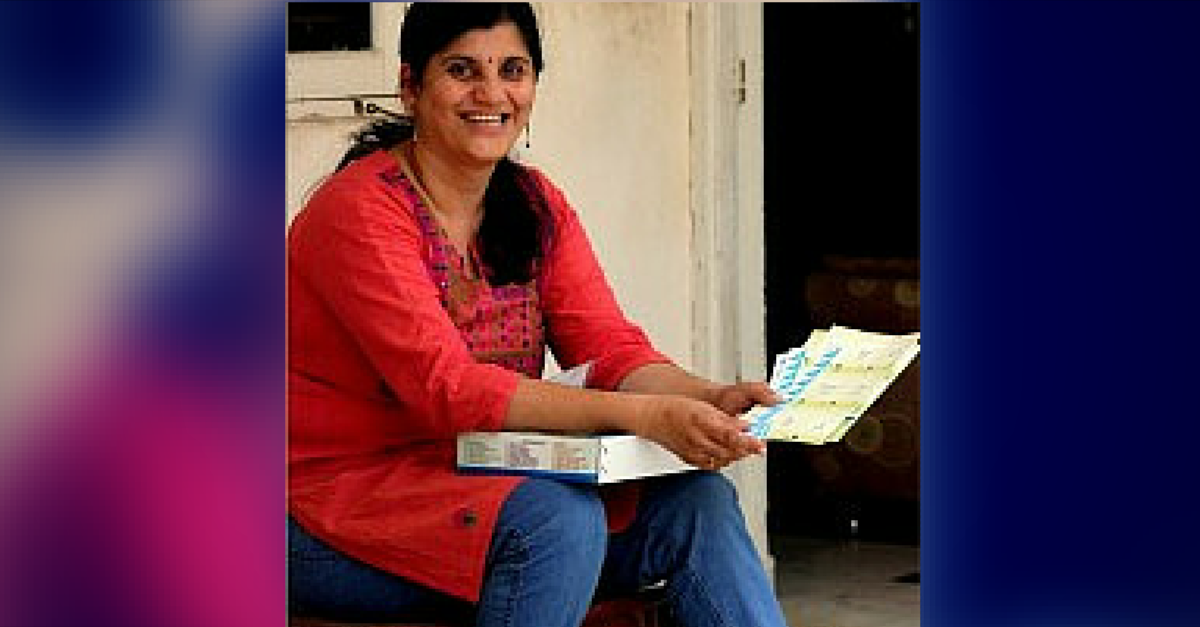 One woman is a teacher, makes teaching aids, talks to women, helps women in running their own little company, provides low cost sanitary pads to rural women and much more. Swati proves that superwomen do exist.
One woman is a teacher, makes teaching aids, talks to women, helps women in running their own little company, provides low cost sanitary pads to rural women and much more. Swati proves that superhero(ine)s do exist.
William Ross Wallace said, "For the hand that rocks the cradle… Is the hand that rules the world."
He said there are blessings on a woman's hand for she crosses every hurdle. Right from being a girl child to being a woman who raises grandchildren. A quote is always one of those wise things someone has said unless you can associate with it. As we grow up, we start to associate this quote with our mothers.
But as I write this, I know of one more person I will be associating this quote with.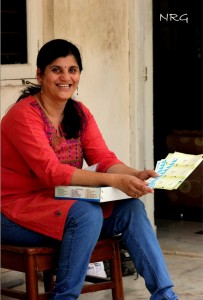 I met Swati Bedekar on a hot Sunday morning about a month back. To everyone who knows the value of a Sunday, and I being one of them, because it's the day when you disable your alarm than hitting the snooze button and it's all about brunch and not breakfast.
Yet there she was, ushering us into her house not before she tied her little dog up, with gleaming eyes and a twinkle that you couldn't miss despite the sun and the shades perched upon my nose.
I thought to myself, someone who keeps the house spic and span, manages two children and a dog, certainly cannot be out there to help the world. I was proved wrong and so will you be, at the end of this story.
They say a girl's education starts at home and is put to test when she is married off. Swati was born in Baroda and brought up in Mumbai. After completing her college from Ruparel College in Mumbai, she got married and shifted along with her husband to Navsari near Surat.
Everything was perfect for Swati – a new place, a small little house and family to take care of. Yet she yearned for satisfaction. And little did she know that the same satisfaction was going to come knocking at her door very soon.
The Convent School in Navsari, wanted a teacher for English, Maths and Science and they were glad when Swati said yes for that temporary job. On her very first day at work, while the kids stared at her and she had a science lesson to teach, Swati decided that to break the communication barrier she will have to be more than just their teacher.
And there she was, with all the kids ready for their first lesson out in the open, on a field trip. This not only helped her to understand her class kids better but also helped her in developing different types of study strategies according to their grasping power.
Soon Swati was the best friend for all the children in her class. Infact, the children from her class performed better than the children from other classes and had strong basics.
This was Swati's very first stint at teaching which made her realize that she wanted so much more and that there was so much to do in this field of children's education.
If there was one thing she believes in strongly is that the "koi aake karega" (someone else will work) attitude doesn't really work. What does work is being passionate about something, so passionate that it makes you want to get up and do something.
With these ideals and aspirations, Swati then shifted to Mahachai in Thailand with her family. There too Swati didn't waste any time in finding a school where they needed an English teacher.
In fact, Swati laughs as she remembers this story. She says it was a lot like a barter system. The kids taught her Thai and she taught them English. There too, she was always a friend in disguise for all the kids. Not only did she teach everyone English, she helped in forming a curriculum that helped the kids to learn more easily and spend time in gaining the same knowledge in a more practical way.
She believes in giving the kids an all-round exposure. Reading an experiment will not register in a child's mind until and unless he or she actually performs.
For her extraordinary contribution in the field of education, Swati got a medal from the Royal family of Thailand which she happened to tell me with the same ease she told me it was a hot day.
Fast forwarding to now, in Banyan city, Swati still carries with her all the things she learned during her teaching phase. Now, she makes teaching aids under her banner SM Graphics. And all her play-learning toys are so awesome that you will end up learning so much more than what's given in the textbook.
Along with HBSCE (Homi Bhabha Centre for Science Education) which is known for its international Olympiads along with being the co-coordinator for many science programs and is part of all the meetings happening for better education. She sends these science kits to the government as well B+ schools.
But she says that the real pleasure comes in teaching at government schools because that's where the challenge lies. She has made over 200 teaching aid kits along with a published book ShodKhol which has over 100 experiments that you can do at home.
She thought of innovative teaching when other teaching methods were still to be explored. She believes in educating all children as Lao Tzu's Chinese proverb goes, "Give a man a fish and you feed him for a day. Teach a man to fish and you feed him for a lifetime."
Just when I thought I was wowed for the day, Swati happened to tell me another story. This one being closer to her heart.
This story is about Sakhi, which means a friend. And little did I know what I was in for. When Swatiji travelled to different talukas and villages as a Science communicator to understand the needs of children, she came across a strange situation.
She noticed that the girls in these schools kept missing school one after the other. After she saw it happening repeatedly, she decided she had to get to the bottom of that problem and find a solution.
But what she found out was something she hadn't expected. When she visited the house of one of the girls who missed school and spoke to the girl's mother, she was told that the girl was sitting behind the house. She found that girl sitting behind on rocks only because she was having her monthly menstrual cycle.
She was shocked that in 2010 and about 150 kms away from a city like Baroda, there were women who didn't have basic facilities to combat their monthly cycles.
She decided she had to do something before she left. For the time being, she taught them how to make sanitary pads out of used rags. That solution couldn't suffice on its own for long since there always were hygiene issues.
Once back in Baroda, Swati kept thinking what she could do for all these women. Her answer came in a magazine when she read about a person from Coimbatore who faced a similar situation with his wife and simplified the machinery needed to make sanitary pads at a very low cost.
And overcoming all the hurdles in her way, Swati established Sakhi which made sanitary pads at a nominal cost of Rs. 2 which the women could afford.
Very recently, Sakhi even won a government tender in spite of tough competition from different MNC's in the same field. Not only does Sakhi use wood pulp, the destruction of used sanitary pads was also given a solution.
These used sanitary pads are discarded in an incinerator made out of terracotta. The residue obtained after burning was used as manure in the fields. Sakhi has been spreading fast to a lot of places in Gujarat like Dahod, Surat, Junahgad, Rajpipla etc.
Not only does Sakhi help in dealing with the hygiene problems faced by women, it also offers them livelihood options. Other than this, it helps in making people more open minded and abolishing an age old taboo. It creates a platform for the people to talk freely about the problems faced by women. In fact, their slogan also says that it's all about coming together.
She manages a family, teaches, makes teaching aids, talks to women, helps women in running their own little company, acts as a communicator between students and government and between different women and still talks about everything without having to boast about it.
In the above two lines of what Swati does, it makes you realize that Superwomen do exist. Women like Swati, who want to give back to the society because it gives her immense satisfaction.
Little deeds always turn into something big. Just like little seeds which turn into big trees. Swati makes you want to ask yourself a simple question – if you are passionate about something and waiting for someone else to do something about it, what's stopping you from doing it.
She never waited for anyone else to do anything about the things that affected her, she herself acted upon it with so much of love and enthusiasm. It reminds me of Mother Teresa when she said "It's not how much we give but how much love we put into giving."
How much are you giving?
And are you giving with love?
With everything you have got?
Or are you waiting for someone to come and do it for you?
Like this story? Or have something to share? Write to us:contact@thebetterindia.com, or connect with us on Facebook and Twitter (@thebetterindia).
We bring stories straight from the heart of India, to inspire millions and create a wave of impact. Our positive movement is growing bigger everyday, and we would love for you to join it.
Please contribute whatever you can, every little penny helps our team in bringing you more stories that support dreams and spread hope.