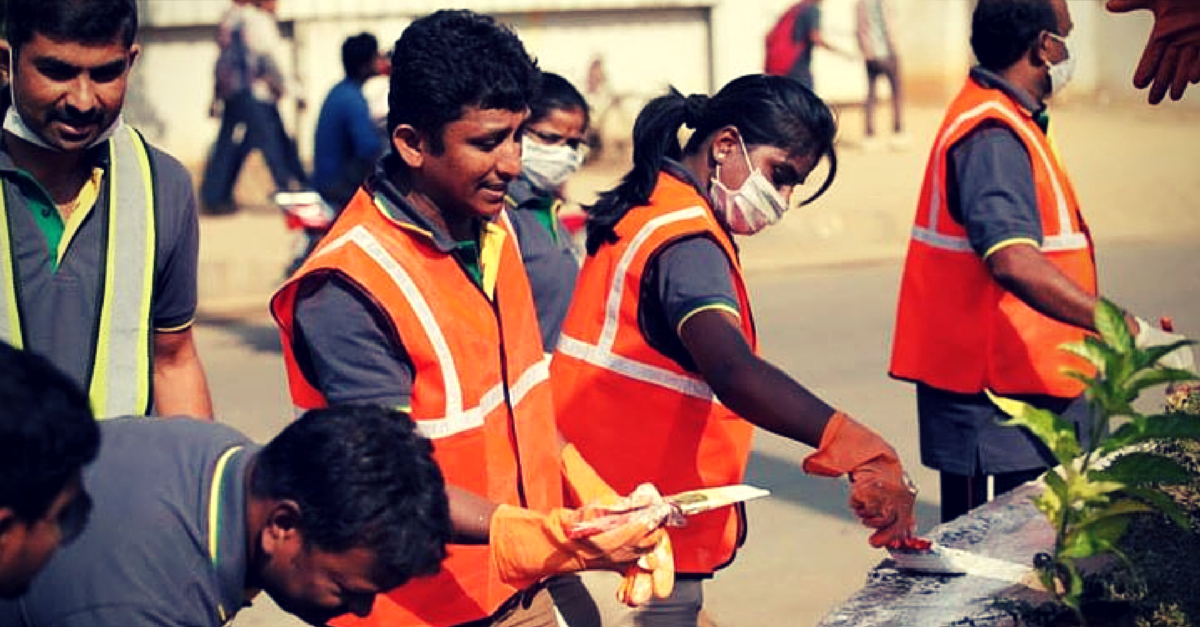 Sometimes, all it takes is the first step. And this community in Bangalore is telling people exactly how to do that through various initiatives that educate, reach out, help and inspire.
Sometimes, all it takes is the first step. And this community in Bangalore is telling people exactly how to do that through various initiatives that educate, reach out, help and inspire.
Remember that feeling when you and your bike had a difficult time dodging some potholes on the street? How you cursed the administration for not caring enough and thought, "If only I could do something", but finally moved on with a sigh?
For all of us who have been in similar situations – be it because of broken roads, footpaths full of garbage heaps, a neighbourhood slowly turning concrete from green, or any other local problem – one neighbourhood decided that it was time to step up. They call themselves Whitefield Rising.
It all started when an old tree in Bangalore was about to be cut but a few people wanted to save it. Then came the realisation: Even if this one tree is saved, there are many others in danger and nothing is being done about them! Plenty of introspection followed, till the citizens of Whitefield decided that there had been enough complaining but very little action. The result was: Whitefield Rising!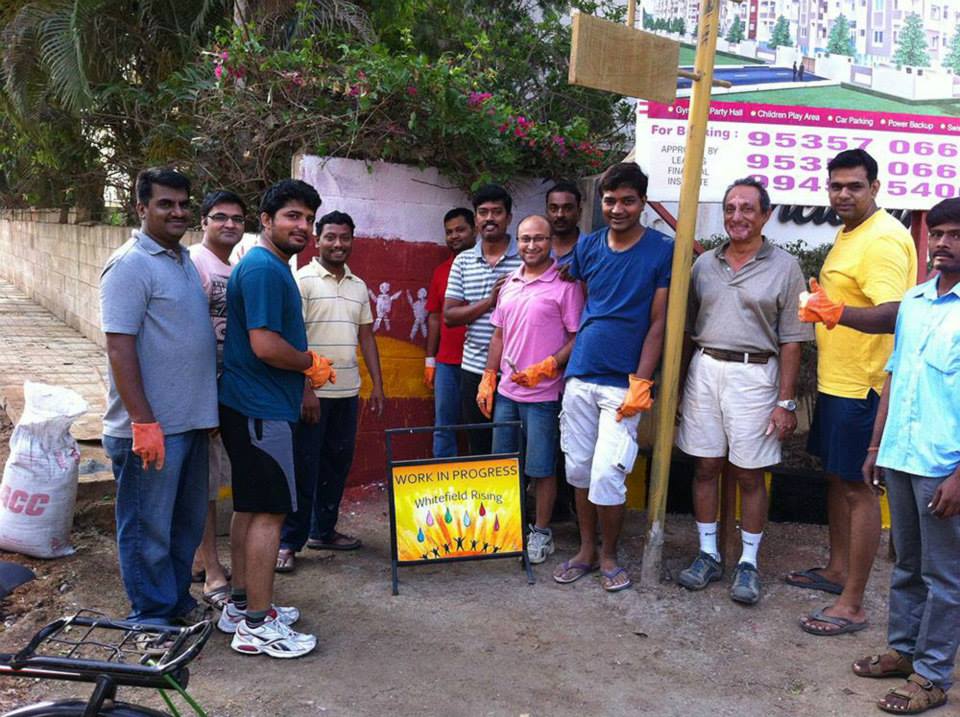 If you live in, or have been to Bangalore's Whitefield area, you might be aware of the tumultuous problems hidden (and often largely visible) amidst its high rise buildings and the ever growing number of IT offices. It is this region that Whitefield Rising is trying to change in some very inspiring and action-driven ways. As described on their website –
Whitefield Rising is a platform for change makers. Many of us are coming together in focus groups to brainstorm and address matters of incredible importance to us all living and working in Whitefield. The list includes Water, Garbage, Lakes, Traffic, Stray Dogs, Trees, Pollution, Governance, Grievances, etc. We learn about the issues facing us, seek out subject matter experts from around the world, learn from experiments in other cities, and then try to effect change in our own world.
Here are four of the many ways in which Whitefield residents are bringing about change:
1. Lakes
What was once called the city of lakes is losing the charm provided by its water bodies. This has been even more evident ever since the polluted foam in the Bellandur lake recently caught fire. Although the number of lakes has been reducing with constant constructions, the Whitefield area is still left with quite a few of them. Many of these have highly polluted water, so much so that the stench hits you way before the lake becomes completely visible.
The Whitefield Rising team has decided to begin work with the Sheelavanthakere Lake. They are forming a trust and plan to bring corporate volunteers to the lake to initiate rejuvenation efforts. They have also conducted cleaning drives here. In 2011, the organization launched the 'Wake the Lake' campaign to encourage people to help revive the lakes in the city.
As for the Varthur Lake, which recently became one of the most discussed lakes in Whitefield because of toxic foam frothing from it on to the streets, a group is studying alternate sewage treatment options to work on it. They plan to present the study and final results to the Bangalore Development Authority (BDA), who are the owners of the lake.
Have a look at some of the work being done:



2. Spot fixes
If you have heard of the innovative artist from Bangalore who converted a large pothole into an artificial pond and placed a life size crocodile right in the centre of a crowded street, you would be aware of how frustrated the people of the city are because of these numerous, dangerous potholes.
Whitefield Rising found a solution to this and some other pressing problems when, in collaboration with The Ugly Indian, they were able to put forward an example of spot fixing in front of Whitefield residents.
With the effective motto of Mooh bandh, kaam chalu, the team showed the residents how the first step needed is to stop complaining and move out of home to fix the problem yourself: Pick a spot that needs fixing, form a team, get expert advice and help if required, and finally, just get down to work. You can find some examples of spot fixes that have already taken place in the locality here.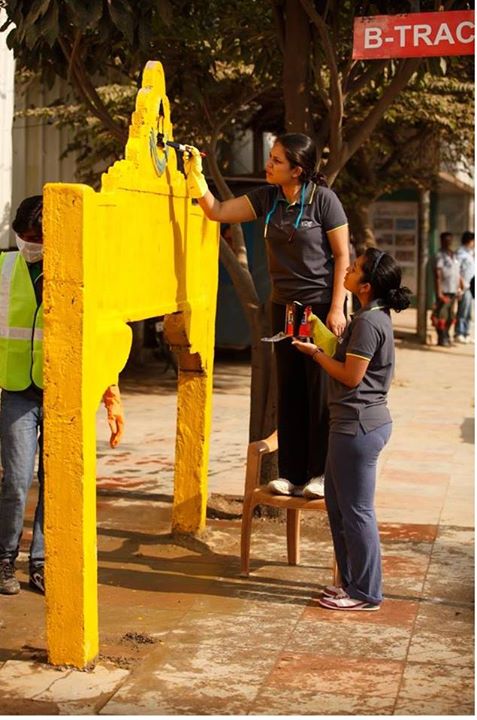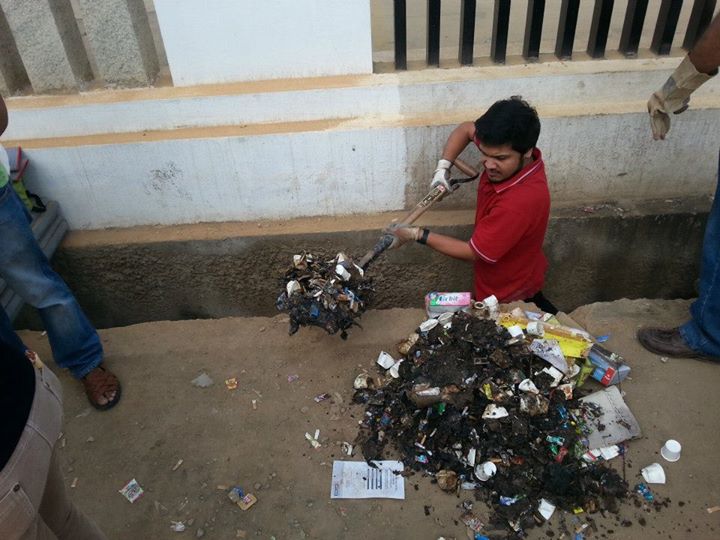 3. Traffic
Like many places in Bangalore, Whitefield also has its own share of traffic woes. With the aim of helping commuters in the best possible manner, volunteers went out on to the streets where they discovered a few surprising things. At the Hope Farm junction, they found that BMTC buses do not stop at the bus stand but halt only at the intersection instead. Hence, passengers have to wait at the intersection. So, even as the first bus stops there and waits for the commuters to board, the following bus stops behind it. And voila… we have an effective, strong, difficult to break, and extremely irritating traffic jam in place!
But this was not the most amazing find of the day. The amazing part was that the team took just seven minutes to make sure that the vehicles were plying smoothly on this very route. In these seven minutes, they, with the help of the Inspector Traffic Police, got the BMTC buses to stop at the official bus stand, and surprisingly, this was all it took. To solve this problem from its very roots, they are also working on getting the buses to always stop at the bus stands. This is one of the many examples of similar work been done all over the Whitefield area.
4. Voter Awareness
With the BBMP elections right around the corner, Whitefield Rising has taken it upon itself to help spread awareness among voters. This means mobilizing them to get registered and get their voter ID cards made, and helping them learn about the various steps involved in the entire process. If people vote for the wrong person because of their own ignorance, or do not vote at all because, well, who cares – then they simply lose the right to blame the government for any problems they may face in the future. Simply put, every vote matters.
Whitefield Rising gets hundreds of queries about various local problems from residents each day, and their teams try to ensure that replies are sent out to every one of them. Through a well-organized system of Google groups, they guide people to the right places where they can get help, or put people in touch with groups who might be working on similar projects. They are also an inspiration for people outside of the Whitefield area, who now have an example to learn from, a starting point to get inspiration from, and the motivation to get up and get started. As Whitefield becomes cleaner, safer, prettier, and more live-able with each passing day, we hope Whitefield Rising is able to reach out to more and more communities around the country.
You can get more information about the work being done by Whitefield Rising here.
Like this story? Or have something to share? Write to us: contact@thebetterindia.com, or connect with us on Facebook and Twitter (@thebetterindia).
We bring stories straight from the heart of India, to inspire millions and create a wave of impact. Our positive movement is growing bigger everyday, and we would love for you to join it.
Please contribute whatever you can, every little penny helps our team in bringing you more stories that support dreams and spread hope.