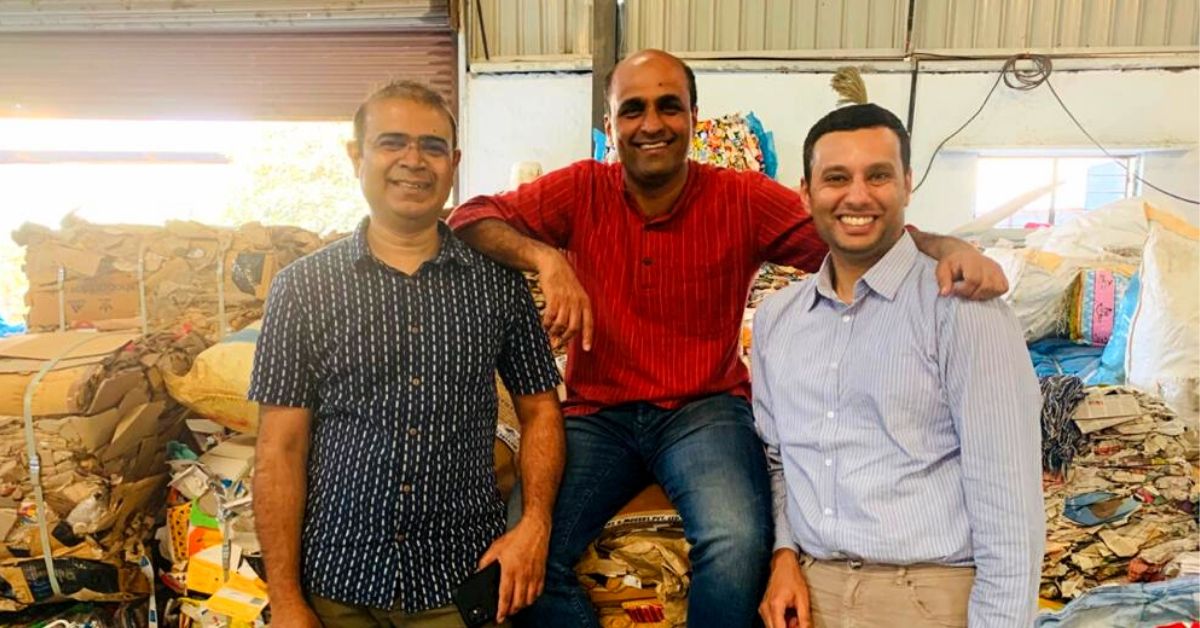 Bintix has completed over 80,000 individual waste pickups and recycled about 250 metric tonnes of waste, and is expanding to all Tier-One cities!
Last weekend was a very productive one for me. As I went about cleaning my house inch by inch, the pile of waste also grew rapidly. By the end, I have to admit that my house looked spectacular but, I was not happy and I would like to address the elephant in the room here.
In this case, it was a big pile of garbage mostly consisting of online shopping packaging and take out containers. For me, the best option for damage control is to either repurpose these containers or send them for recycling. But then again, there have been so many instances where I have witnessed garbage being burnt in the streets.
When I started looking at reliable recyclers in Bengaluru, I came across Bintix. Based out of Hyderabad, the startup picks up recyclable dry waste right from your doorstep for free and they will pay for it. This waste then goes to different channels for recycling.
The startup was founded in June 2018 by Roshan Miranda, Udit Patidar and Jayanarayan Kulathingal.
"The main reason why we founded this startup is because we wanted to divert the recyclable waste that was ending up in landfills. We wanted to make people realise that there is a lot of value in waste and with this thought we started this venture," says Udit, the 36-year-old co-founder of Bintix Waste Research Private Limited.
Up until now, they have completed over 80,000 individual waste pickups and recycled about 250 metric tonnes of waste. Bintix has scaled their operations in Bengaluru in November 2018 and plans to expand elsewhere.
Operations: Value from Waste
For scheduling a pick up from one's home, an individual has to subscribe to the startup's services on their mobile application. This subscription is for free, where the subscribers are handed garbage bags which will be collected by Bintix employees after a week.
What's special about these bags is that they are QR coded because of which they can be tracked from the source to the final destination. These bags are also weighed once they reach the factory. Bintix then pays the subscribers accordingly by directly depositing the amount in their e-wallets.
Bintix also pastes a QR code sticker at the doorstep of a subscriber which they scan and this further helps them keep track of their pickups.
"Waste management is not a profit making business. So, we knew that we needed a model that would definitely cut our costs of operation. With the help of a subscription model we were able to streamline our logistics. It has helped us plan our pick ups where we collect the waste from a particular area instead of travelling from one pick up point to the other located far away," explains Udit.
The subscribers are paid anywhere between Rs. 2 to 8 per kg which is open to negotiation. "So, in the case of a gated community which has employed people for sanitation activities, we pay a little more for the waste keeping in mind that they would also have to pay these employees," states Udit.
The collected waste is sorted into 30 categories like paper, PET plastic bottles, single use plastic, multilayered plastic among others. Once these have been sorted, they are collected in bags which are compressed using a hydraulic compressor for ease of transportation.
These bags are then sent to recyclers certified by the Central Pollution Control Board (CPCB). These recyclers in turn pay Bintix for the recyclable waste which is collected and sorted. This is how Bintix's model works.
Subscribers Speak: Bintix Has Made Us More Mindful Of The Waste We Generate
Bintix subscribers are quite impressed with their services.
Take Sanjay Bhat for example, a 49-year-old resident of Hyderabad's Nallagandla area. Sanjay is working at Tata Consultancy Services as a scientist is an environmentally-conscious individual.
"The biggest issue when we are tackling waste is that there are very few channels available when it comes to recycling. Either it will be your neighbourhood raddiwala who will only perhaps collect waste which is of high value but will not collect items like scraps of paper or soft plastic, which households have in abundance," explains Sanjay.
He adds that in the absence of such channels, there develops a sort of pushback when it comes to segregating waste at source as people believe everything is going to get mixed up in the end. But, Sanjay has been availing Bintix's services right from the time they began their services.
"I really like the fact that they provide garbage bags with a tracking system which ensures that the waste is correctly handled. Since they also pay for the waste, it is a direct incentive for people and this also gives the consumers a good reason to segregate. They now collect waste from 30 other individuals in my locality. I am just glad that they have facilitated this change in behaviour and made us more mindful of the waste we are generating," he says.
From Researchers to Startup Founders
All the three founders have their roots in research and that is how they crossed paths. After finishing his Bachelors and Master's degree in Electrical Engineering from KTH Royal Institute of Technology in Stockholm, Udit moved to Texas in the United States.
He pursued a PhD programme in Computer Science at the University of Houston. This is the period that he met Roshan, the founder of Bintix, who was studying Developmental Biology at Baylor College of Medicine. This was after finishing his Bachelor's in Pharmaceutical Science from the National Institute of Pharmaceutical Education and Research (NIPER) in Mohali.
The third co-founder, Jayanarayan, was pursuing his PhD in Pharmacology at the same university in Mohali. Jayanarayan then went to Mayo Clinic in Rochester, Minnesota to pursue his post-doc and returned to India in 2010. He started working in the research and development wing with companies in the Pharma industry in Pune.
Udit also moved back to India in 2010 and started working with Intel where he was building software for smart computers. He took a sabbatical from work in 2014 and pursued an MBA degree from Cornell University and resumed work with Intel in 2015.
In all of this, however, Roshan took a very different route. In 2012, he joined a consultancy group in Boston and provided consultancy services in the field of biology. Later, he realised that his interests lay in the sphere of sustainability.
This led him to found Waste Ventures India, a social enterprise which offers professional services for waste collection and processing for gated communities and corporate clients. However, the waste pickups services were only on a large scale basis and Roshan realised that there was a lot of recycling potential from waste generated in households.
Thus, Bintix came to be founded and Roshan roped in Udit and Jayanarayan.
Overcoming Hurdles and Future Prospects
Regardless of the strides that Bintix has been making in the sphere of waste management, this sector is riddled with challenges.
One challenge that Udit is quick to mention is generating revenues. "To ensure that each and every kg of waste is recycled and even ensuring that we break even is quite tough. Working with waste is not a profitable business and most often than not, we end up losing revenue," he says.
The biggest challenge, however, is people being reluctant to bring about a change in their attitudes and practices related to waste management.
"Awareness among our customers continues to be a big challenge that we face. People tend to forget that their waste is their problem. Practices like segregation at source is a step that would eliminate so many issues that we face in the processes we follow later on," explains Udit.
Despite these challenges, Bintix has 7,000 regular subscribers and collects about 16 tonnes of recyclable waste in a month.
So, what is in the cards for Bintix?
Bintix now plans to expand its services in the major metro cities of India.. They want to get in touch with local partners who could fulfil their logical needs and provide man power on the ground.
"We are already launching our services in Mumbai and Chennai in March. In April, we plan to launch our services in Kolkata. We are also looking to expand our services in Tier-2 and Tier-3 cities as well in the future," says Udit. He adds that right now, they aim to make their services available in 40 cities at least by the end of 2022.
Bintix plans home to come up with sustainable packaging with the help of their knowledge and background in material science.
"Once we have done all that, we want to stay true to our goal. We want to do research in this field to understand further how we can create value out of waste. Hopefully one day, we can take this research forward and collaborate with environmental audit bodies to ensure zero waste in landfills," he says.
Coming back to my cleaning spree now, this interaction with someone who works in the waste management sector made me realise a lot of things. The most important one was that our waste is a responsibility we must own up to and we should be mindful of what we put into the environment.
---
Also Read: How to Segregate Waste At Home & Office: 4 Things to Know
---
(Edited by Saiqua Sultan)
We bring stories straight from the heart of India, to inspire millions and create a wave of impact. Our positive movement is growing bigger everyday, and we would love for you to join it.
Please contribute whatever you can, every little penny helps our team in bringing you more stories that support dreams and spread hope.