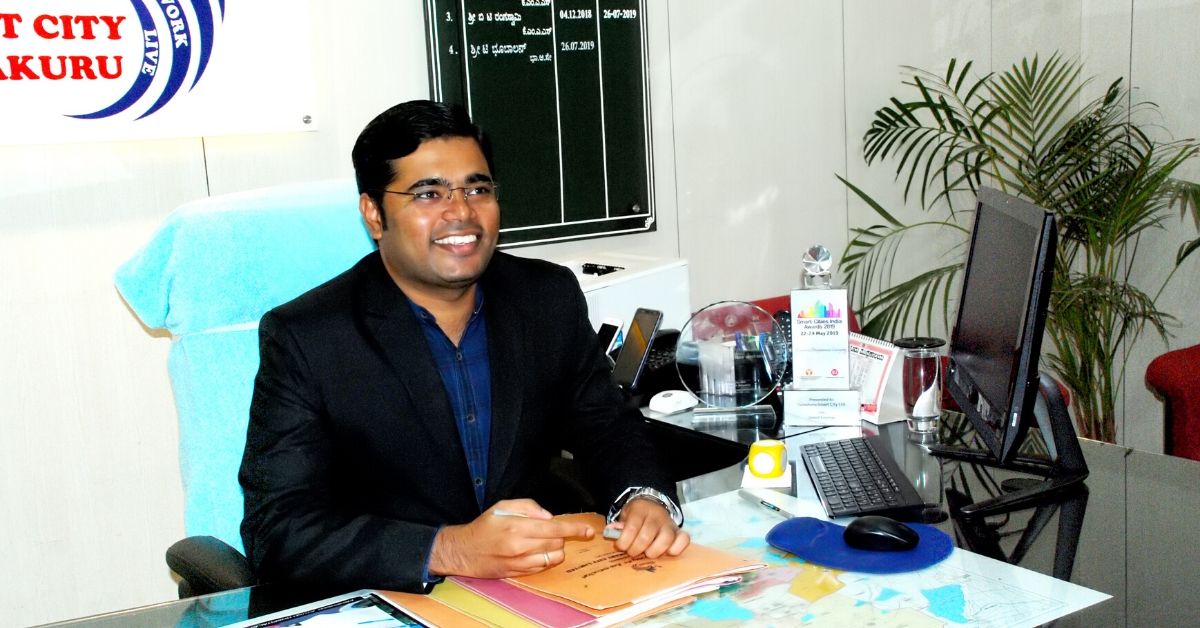 "When we put forth the new system, bigwigs and defaulters tried to exercise their power. But we adopted a no-holds-barred approach to serve justice, shutting down esteemed establishments and naming the defaulters in the media." #IAS #GoodGovernance
For the residents of Tumakuru, paying taxes was no less than a nightmare. From standing in long queues outside the municipality office to indefinite delays due to the government office's outdated way of functioning—the roadblocks were aplenty. The officials didn't have it easy either. Hanumantharaju, a tax collector, admits that previously, it would take forever to find a person's records, which subsequently delayed the next person in the queue.
"Earlier, we had to update every detail in the ledger book manually. With all the delays and complications, people slowly lost interest in paying taxes on time."
However, all this is now a thing of the past as today, Tumakuru has become the first district in Karnataka with a doorstep tax collection facility and the credit for this goes to IAS officer T Bhoobalan, better known as the 'Taxman of Tumakuru.'
Awards and honours
The Commissioner of the Tumakuru City Corporation and the Managing Director of Tumakuru Smart City has transformed the region from being a nondescript city on the outskirts of Bengaluru to one of the best examples of efficient governance and fast development.
The 2015-batch also went on to win the Best Managing Director & CEO Award from Smart Cities Council of India, for his foolproof smart city planning in Tumakuru.
After a short span of transfer to Belgavi, Bhoobalan has been reinstated in his previous position in Tumakuru. He recalls his award-winning initiatives, in an exclusive conversation with The Better India.
The past picture of tax collection in Tumakuru
Bhoobalan hails from Pollachi in Coimbatore, Tamil Nadu. "Growing up, there was hardly any basic infrastructure in the village. But, as time passed, it witnessed a drastic development, thanks to the untiring zeal and hard work of a few IAS officers. That is when I made up my mind to become an IAS officer," he shares.
Bhoobalan was 26 when he cracked the UPSC examination and received his first posting in Udupi district of Karnataka, before being appointed as the Corporation Commissioner in Tumakuru.
After a few months in the city, Bhoobalan noticed an unusual pattern of tax evasion among the city's inhabitants.
"It was either willful avoidance or lethargy. Our staff had also grown lax towards the collection, owing to the complicated procedure. The manual accounting system was slow and full of inaccuracy."
Investigating into the matter, Bhoobalan unearthed some deeper rooted issues. Aside from the general lack of motivation, the tax officials were facing problems in dealing with the bigwigs among the tax defaulters. Their primitive operational strategies did little to resolve the crisis.
Bhoobalan single-handedly took charge of revamping the entire tax collection system in Tumakuru. The computerisation of the department was the first to-do on his list. With the introduction of a digital database, loopholes in the accounting procedure got fixed automatically.
His second step was to motivate ordinary people about the importance of paying taxes. Noting their unwillingness to come to the tax office and stand in queues, he devised the scheme of doorstep tax collection.
His initial plan was to visit houses and issue receipts while carrying Bluetooth printers. But the devices were bulky and not user-friendly. Later, after thorough research & brainstorming, he tabled the idea of an all-purpose app for tax collection.
More transparency, less hassle
Soon, the android app SPARC (Smart Public Axial Revenue Collection) was launched, which was installed in EDC machines commissioned by the department. Each house was now designated with a unique property ID against which a log was maintained about property tax, water tax and UGD tax for each household.
The app allows the storage of up to 20 years of tax records for a particular property. It has also been designed to display pending payments and issue demand notices to the house owners.
Integrated with the tower server, the GSM-based app allows a collection official to access all tax-related details against a particular property with just a touch.
"We can check dues, previous payment records and receipts and also issue notices on-spot. The property owner has to pay up then and there. There is no scope for delay and eventual evasion," asserts Hanumantharaju, for whom daily tax collection now feels like a diligent service to the society.
"We accept the payments via card, cash, cheque and even DD (demand draft) in certain cases. Immediately after payment, the property owner receives an SMS update on his phone, and a printed receipt is also provided to him. The app has eased our work by multitudes and made the process immensely transparent," he says.
Increasing tax collection by 60%
Within a year, the doorstep tax collection initiative proved to be hugely successful as the tax payment rate jumped from 25% to a commendable 85%. Trends show that the rate will cross 90% in the next three months.
But, the journey was hardly devoid of challenges. Especially when a transparent system threatens the tax defaulters and their under-the-table dealings, an honest officer like Bhoobalan was prepared to face backlash.
"Most of the illegal evasion happened in the cases of water and UGD taxes. When we put forth the new system, some bigwig defaulters tried to exercise their power play. But, our department adopted a no-holds-barred approach to serving justice to a defaulter. We even shut down popular commercial establishments," informs Bhoobalan.
He and his team boldly met with influential people in the city and patiently convinced them about paying taxes on time. For the obstinate ones, they even exercised the 'naming and shaming' policy by releasing their names as tax defaulters to the local media.
Once stuck in the labyrinth of red-tapism, Tumakuru is now at a position to inspire other Indian districts to improve their tax collection mechanism.
Efforts for Hasiru Tumakuru
Bhoobalan's sincere efforts for Tumakuru range way beyond being its 'Taxman.' He is also acknowledged for his waste management policies.
"Tumakuru was a visibly polluted city plagued by flawed waste management practices. Waste segregation was not practised, and waste was also not collected regularly from houses," he recounts.
He launched the campaign 'Namma Tumakuru-Swachha Tumakuru,' where awareness was raised through street plays, pamphlet distribution and programmes in schools & colleges.
Over a hundred auto-tipper garbage collection trucks started plying in the streets, fixed with GPS monitoring and managed by trained drivers. The abrupt waste collection and subsequent accumulation was no longer a problem.
Waste segregation was another aspect of the campaign. Bhoobalan painstakingly explained to every resident about the benefits of composting the wet waste at home and inculcated the practice around the city in a short time. Home gardens started popping up in every front yard, backyard and terrace.
Over 10,000 houses in the city now have composting units. Bhoobalan predicts that the number of homes with composting units will reach 60,000 by this year.
"To motivate people, we present quarterly awards to green homes, schools, colleges, hotels, marriage halls, markets and resident welfare associations. We also impose spot fines for using or selling plastic, urination in public places etc. and have collected around 50 lakhs as fine in one year. Spot fines are imposed using the same machines which capture photo and GPS location. The penalty is doubled for second-time defaulters."
The dry waste, on the other hand, was mostly upcycled into plastic bricks used with asphalt for paving roads.
The ragpickers in the city, who were an unrecognised and underprivileged workforce, were now officially involved in categorising dry waste into metal, glass, paper, plastic etc. A decent livelihood was provided to more than thirty ragpickers.
In the next one year, he envisions turning the city into Hasiru Tumakuru (Green Tumakuru).
"We have already planted 50,000 trees and the process is ongoing. We are also rejuvenating lakes & ponds across the city, by creating stormwater drains and interlinking of water bodies. A bird sanctuary is being built inside Amanikere lake by creating four islands in the region," he mentions.
For the average Tumakuru citizen, Bhoobalan is a genuine people's officer. His transfer last year stirred quite the controversy, as several civic organisations and the general public opposed the decision.
Now that he is back in Tumakuru, he continues his mission to transform the city, with utmost determination.
---
Also Read: In Just 2 Months, Bihar IAS Officer Breathes New Life Into Dying River
---
(Edited by Gayatri Mishra)
We bring stories straight from the heart of India, to inspire millions and create a wave of impact. Our positive movement is growing bigger everyday, and we would love for you to join it.
Please contribute whatever you can, every little penny helps our team in bringing you more stories that support dreams and spread hope.