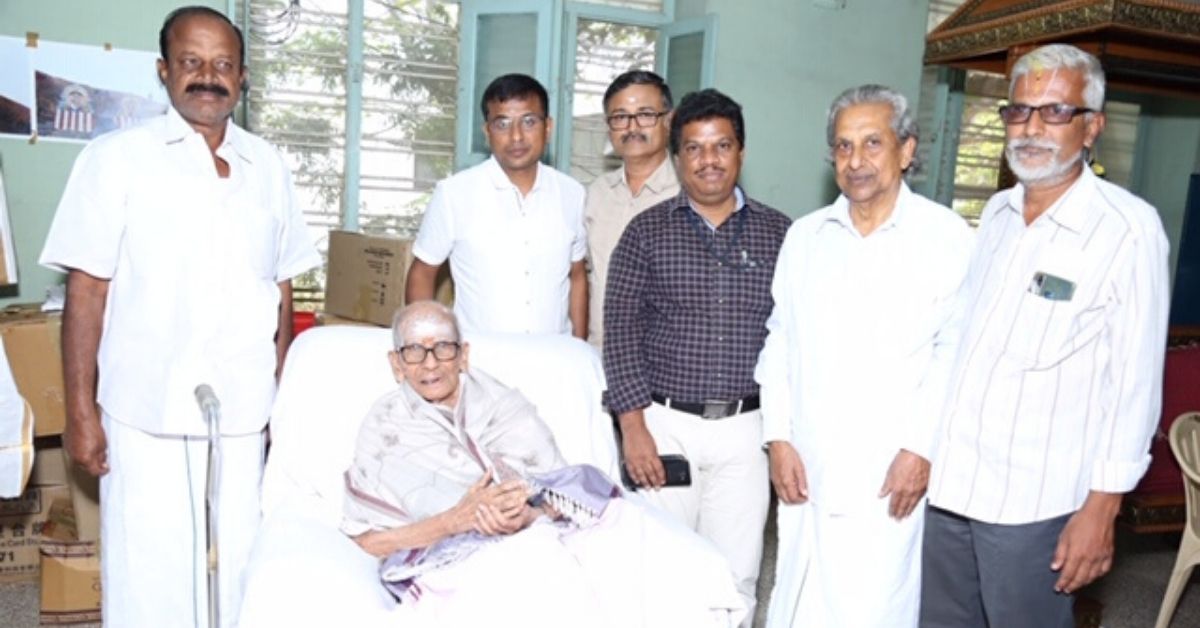 "He (and his team) would carry a typewriter around on their village visits. At every hamlet, he would instantly issue an on-spot official decree to set up a government school & appoint teachers from among the educated in the village."
The year was 1942. The country was reeling under an extreme socio-economic crisis as a repercussion of the ongoing World War, and Mahatma Gandhi had just called for the Quit India movement.
Around this time, a 21-year-old young man from Namakkal (erstwhile Salem) in Tamil Nadu was heading a student revolution at Madras, against the British authorities of Loyola College.
That man was TM Kaliannan. He would go on to become one of the signatories of the Constitution and is the only surviving member of the Constituent Assemly, today.
The memorable meeting with Gandhiji – A turning point
A powerful orator and an extremely passionate writer in English, Kaliannan had sowed the seed of nationalism and mobilised over 400 students to form the Tamil Zilla Student's Association. Following this, the association hoisted the National Flag for the first time on the premises of Loyola College.
When the principal of the college refused to comply with the nationalistic demands of the protesting students, Kaliannan led an 8-member delegation to Sabarmati Ashram to meet with Gandhi, for advice on how to proceed.
"Stay with me for ten days and follow my lifestyle," the Mahatma calmly advised the agitated man. After a peaceful 10-day stay at Sabarmati, Kaliannan felt he was already a changed person—calmer, respectful and more insightful than ever.
Gandhi instructed him to return to Tamil Nadu and complete his education before diving into mainstream politics. He agreed. Later, he would admit that the meeting with the Mahatma was a turning point in his life, driving the trajectory of his illustrious later years.
A young rebel
As Kaliannan stepped into his hundredth year on 10th January 2020, The Better India got in touch with his family to share his inspiring story.
His grandson Senthil took us on a walk down the memory lane, sharing unsung tales of his Ayya's patriotism, leadership and humanity.
Kaliannan was born on 10 January 1921 in the village of Akkaraipatti. He was later adopted by the Kumaramangalam Zamindar family and crowned as the legal heir of the enormous estate of Kasturipatti, spanning at least a few thousand acres.
He pursued his schooling from Tiruchengode and later joined Loyola College in Madras to pursue a degree in English literature. This is where he began to actively rebel against the British Raj.
His actions, especially the protest mentioned above, fetched him a prompt eviction notice from college authorities.
However, such was his transformation after meeting Gandhiji in the Sabarmati Ashram that the acting principal softened his stance and helped Kaliannan secure admission for a BCom degree at Pachaiyappa's College.
Entering mainstream politics
After completing his college education, Kaliannan joined the Gandhi Ashram at Tiruchengode and played a crucial role in upholding Gandhian ideals among the people of Tamil Nadu.
He had joined the Indian National Congress in 1943. and when Dr Subramaniam's seat in the Constituent Assembly of Independent India fell vacant after his appointment as a foreign ambassador, K Kamaraj proposed Kaliannan's name.
He was soon unanimously elected as the youngest member of the Constituent Assembly, at the age of 27.
"Ayya worked in close coordination with Dr Ambedkar, Kamaraj and Rajaji while drafting the prestigious Constitution of India. He was one of the signatories of the Constitution and now happens to be the only surviving member of the Constituent Assembly," informs Senthil.
Reminiscing about those days, Kaliannan often remarks, "Those were better times. As politicians, all of us were honest and truly dedicated to our people. The curse of corruption did not tarnish our lives and work."
Drafting the Constitution with Ambedkar & others
On 26th January 1950, the Constitution was officially adopted by the newly instated government, thereby turning India into a Republic. In the first Parliament of the Republic of India, Jawaharlal Nehru became the Prime Minister, and Dr Rajendra Prasad was appointed as the President. Kaliannan was also sworn in as an integral Member of Parliament.
The first general elections in India were held in 1952, and an air of festivity prevailed over the country.
Kaliannan fought for the MLA seat from Rasipuram constituency and won a sweeping victory. Over the next two decades, he also contested from Tiruchengode twice and emerged triumphant every time.
"In 1952, when the Zamindari Abolition Act was passed, Kaliannan wholeheartedly welcomed the law and sacrificed around a 1000-acre portion of his inherited estate to help the poor and needy," reveals Senthil.
Education revolution in Tamil Nadu
In 1954, Kaliannan was selected as the Zilla Board President of Salem, which comprised of the present districts of Dharmapuri, Krishnagiri and Namakkal.
When he assumed charge, Salem was plagued by illiteracy, poverty, unemployment and high crime rates. Children as young as five or six would be sent to earn their livelihood through goat-herding and cattle-rearing. A public school was a rarity.
"Kaliannan Ayya knew that only education could uplift the state of his people. So, literacy remained at the top of his development agendas," says Senthil.
Between 1954 and 1957, he extensively toured the nooks and corners of Salem, setting up one school in every village he stepped in.
"He and his team of officials would carry a typewriter around throughout their village visits. At every hamlet, he would instantly issue an on-spot official decree to set up a government school—at a community area or simply in the open. He would also interact with the villagers, learn about their educational qualifications and spontaneously appoint around three to four teachers from among the school pass-outs in the village."
This way, he managed to establish over 2000 successfully running schools in just three years, which in turn educated over one crore children. His mega educational revolution in the district even birthed eminent personalities like politicians, lawmakers and educationists from the district.
K Megraj, the present District Magistrate of Namakkal, idolises Kaliannan and visits him often to pay his respects. "His efforts in the education sector are immensely laudable. His smart strategies and policymaking remain relevant to this date," he mentions
Championing women empowerment
Tiruchengode, the native home of Kaliannan, is famous for the Ardhanareeswarar temple. The essence of the half female-half male deity inspired Kaliannan to aspire for gender equality in his state, and there are several examples to illustrate this.
At a time when a woman stepping out of the house was frowned upon in the society, he set up the Avvaiyar Kalvi Nilayam school for girls and donated land for free from his estate for its construction. The school remains a symbol of pride among the residents of Tiruchengode.
Alongside, Kaliannan also promoted higher education for women and set up many women colleges across Salem, including the esteemed institution—Sri Sarada College for Women. He also donated the land for the same. He also opened over 200 public libraries in Salem and introduced the concept of mobile libraries in Tamil Nadu.
Connectivity & Infrastructure
"He was the one to build a 40-km long connecting road from Kolli Malai hills to the plainlands. Before that, the indigenous communities of Kolli hills had no access to education, health and other facilities. He was responsible for improving the connectivity in the area," says Megraj.
Elaborating on this context, Senthil shares how Kaliannan's work on road-building went on to facilitate commerce and industrialisation.
"The Kolli Hills road benefitted several lakhs of indigenous people. The mountain road, traversing through 70 hairpin bends, lasted for six decades without any need for repair."
Senthil continues, "It was Ayya who linked the small textile-town of Pallipalayam to the growing city of Erode through the Pallipalayam bridge over Cauvery river. Today, Erode has flourished as a textile district, thanks to this one connecting bridge."
It was him who introduced the Village Mandis, a thriving symbol of Tamil Nadu's rural economy, even today. The famous Salem Co-Operative Sugar Mills, India Cements factory at Sankari and the Paper Mills of Pallipalayam – were all creations of Kaliannan, which employed over 10,000 people at that time.
At the forefront of a local green revolution
The people's leader also left his mark in the sectors of water and housing as well. Earlier, only the farmers from the Cauvery delta districts had legal permission to use Cauvery water for agriculture and drinking purposes.
Kaliannan's persistent petitions resulted in a big victory for farmers in all riverine districts across the state when they were allowed to use Cauvery water. The construction of the East Bank Canal and West Bank Canal helped in irrigating over 45,000 acres of fertile land, leading a mini green revolution in the region.
Under Kaliannan's tenure, Tiruchengode experienced one of the most excellent examples of town planning. He donated major portions of his estate to build over 300 houses for the homeless.
To boost the economy, hundreds of branches of regional rural banks were set up in residential areas, during his regime. He was later appointed as the Director of Indian Bank, following his retirement from politics.
Retirement from politics
After the sudden demise of his second son, Kaliannan gradually distanced himself from mainstream politics and focused more on humanitarian efforts, which he continues to date.
He donated large portions of his ancestral estate to uplift the underprivileged with homes, free health clinics and community marriage halls. He also showed an inclination towards spirituality and built many temples in the area.
Today, Kaliannan leads a reclusive life away from the cacophony of the city, surrounded by his loving family members. But, reading the newspaper out and out is an unmissable activity for the centenarian. Though he has long left behind his days of progressive politics, leaders from all parties and government officials still approach him for advice and guidance.
"He never sends anyone away. He talks and listens to them even while eating," Senthil shares.
"Corruption is ruining our democracy today"
Like many, the veteran politician is upset about present political scenario of the country, which is shrouded by corruption and unrest. However, he believes that there is hope for things to change for the better.
"The development of India since Independence has been quite commendable. However, the way dishonesty had seeped into the political fabric is adversely affecting our democracy. However, I am sure that people will learn through their mistakes, sooner or later. But, the price for that might be heavy on humanity," concludes the centenarian.
---
Also Read: Issuru's Fight For Freedom: When a Small Karnataka Village Dared to Take on the British Empire
---
(Edited by Gayatri Mishra)
Like this story? Or have something to share?
Write to us: contact@thebetterindia.com
Connect with us on Facebook and Twitter.
Tell Us More
We bring stories straight from the heart of India, to inspire millions and create a wave of impact. Our positive movement is growing bigger everyday, and we would love for you to join it.
Please contribute whatever you can, every little penny helps our team in bringing you more stories that support dreams and spread hope.