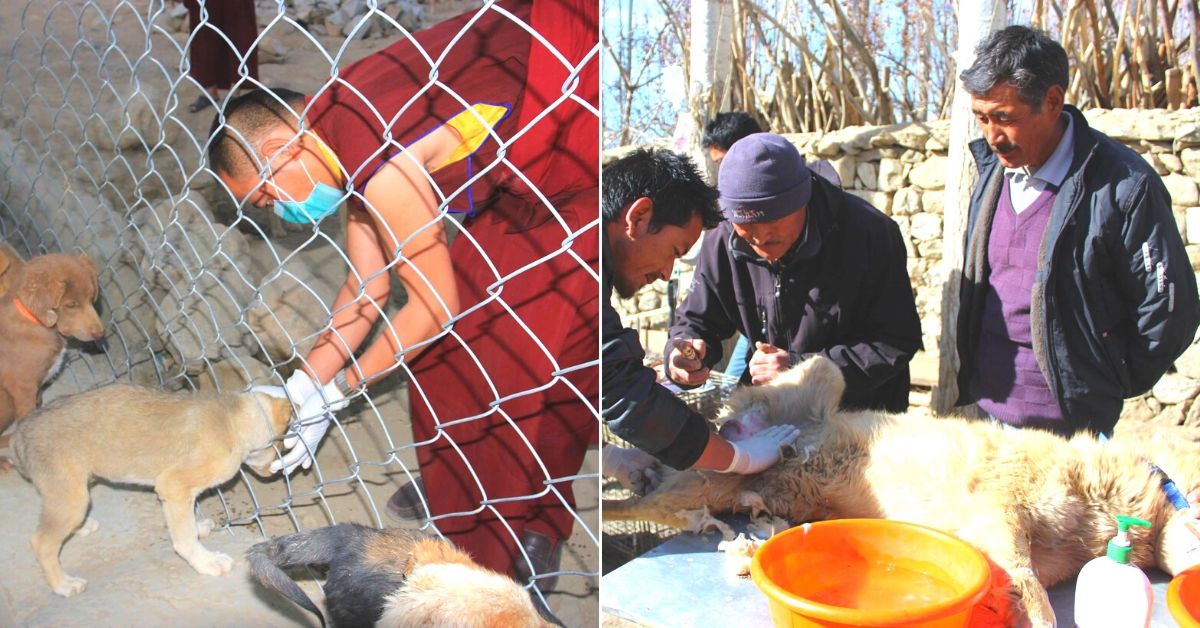 By some estimates, there are 11,000 dogs in the district, which is around 8% of the human population. The district's biggest hospital records an average of five dog bite cases per day.
Whenever I go back home to Leh, my parents always warn me that I shouldn't walk out at night alone, particularly through the main market. Why, I ask. Their response is unequivocal. Why risk getting attacked by a pack of feral dogs in search of food?
This fear stems from reports of local residents getting mauled to death by packs of dogs. Even tourists are issued warnings about the prevalence of these dogs.
There is no recent census count on the number of dogs in Leh district, but according to officials at the Animal Husbandry Department, their numbers range from 10,000-11,000, which is around 8 per cent of the total human population (133,000 according to 2011 Census).
---
Packed with essential vitamins and minerals, Dogsee Crunch Apple is a single-ingredient training treat for dogs of all ages and breeds. These tasty treats are made from fresh apples that are freeze-dried.
---
Leh's biggest medical facility, the Sonam Norboo Memorial (SNM) Hospital, meanwhile, records an average of five dog bite cases per day, according to certain reports. But there is little doubt that the feral dog population in Ladakh has exploded in the past decade and a half.
The Better India got in touch with Dr Stanzin Rabgais, Disease Investigation Officer, at the Department of Animal Husbandry, who says:
"Feral dogs have been part of our ecosystem for many generations. Since the tourism boom in Leh, this has become a major problem because production of food waste by restaurants and hotels has increased. Dogs will always gather where there is food. When these dogs are well-fed and healthy, they give a litter of eight to ten puppies. That's when the population of dogs began to explode."
"In villages, the kitchen waste we generate goes into compost or feeding livestock. They don't have any food waste to throw out into the open that dogs can eat. In villages, where there is no tourism or armed forces establishments nearby, there is no menace of stray dogs," says Dr Stanzin Thakchos, a veterinary surgeon.
"Winters in Leh are particularly very harsh, and it's a time when restaurants and hotels shut down. When dogs don't get the requisite amount to eat during the winters, they get desperate. That's when you see attacks on both humans and livestock," he adds.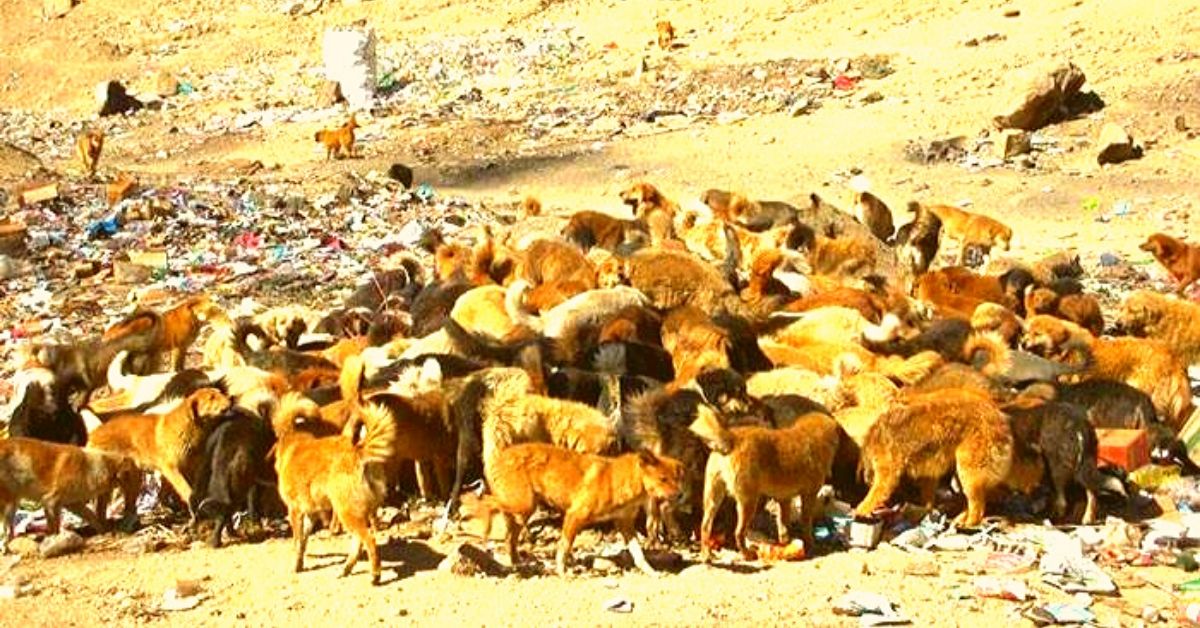 After many failed, often cruel attempts to curb this menace, the most sustained effort at controlling their population is the animal birth control (ABC) sterilisation and neutering project that the district administration piloted in 2013.
"At the time we didn't have enough funding for it, but we gathered money from our own district plan budget and other sources. We have carried on with this project ever since. Under the leadership of former Deputy Commissioner Avny Lavasa last year, we proposed a Rs 64 lakh-project outsourcing the sterilisation process to some outside vets and the hiring of dog catchers – a key part of our animal birth control programme. We submitted the project and were lucky enough to have Madam sanction that amount for us. We started ABC Programme under the Ladakh Feral Dog Initiative in July 2019," says Dr Rabgais.
The administration hired local dog catchers and two vets from outside Leh specifically for this ABC programme because others are already preoccupied with their own duties.
"In the past two years, particularly under the Ladakh Feral Dog Initiative, we have managed to sterilise around 4,019 dogs. Thanks to these private vets, we have been able to complete 790 surgeries in the last three and a half months, but there was a small issue with one of the doctors. We are now processing applications for eligible vets. We are hiring local people to catch these dogs, who use scrap nets and collapsible cages, which we acquire through an NGO called Blue Cross. The cage is lightweight, durable and strong," he adds.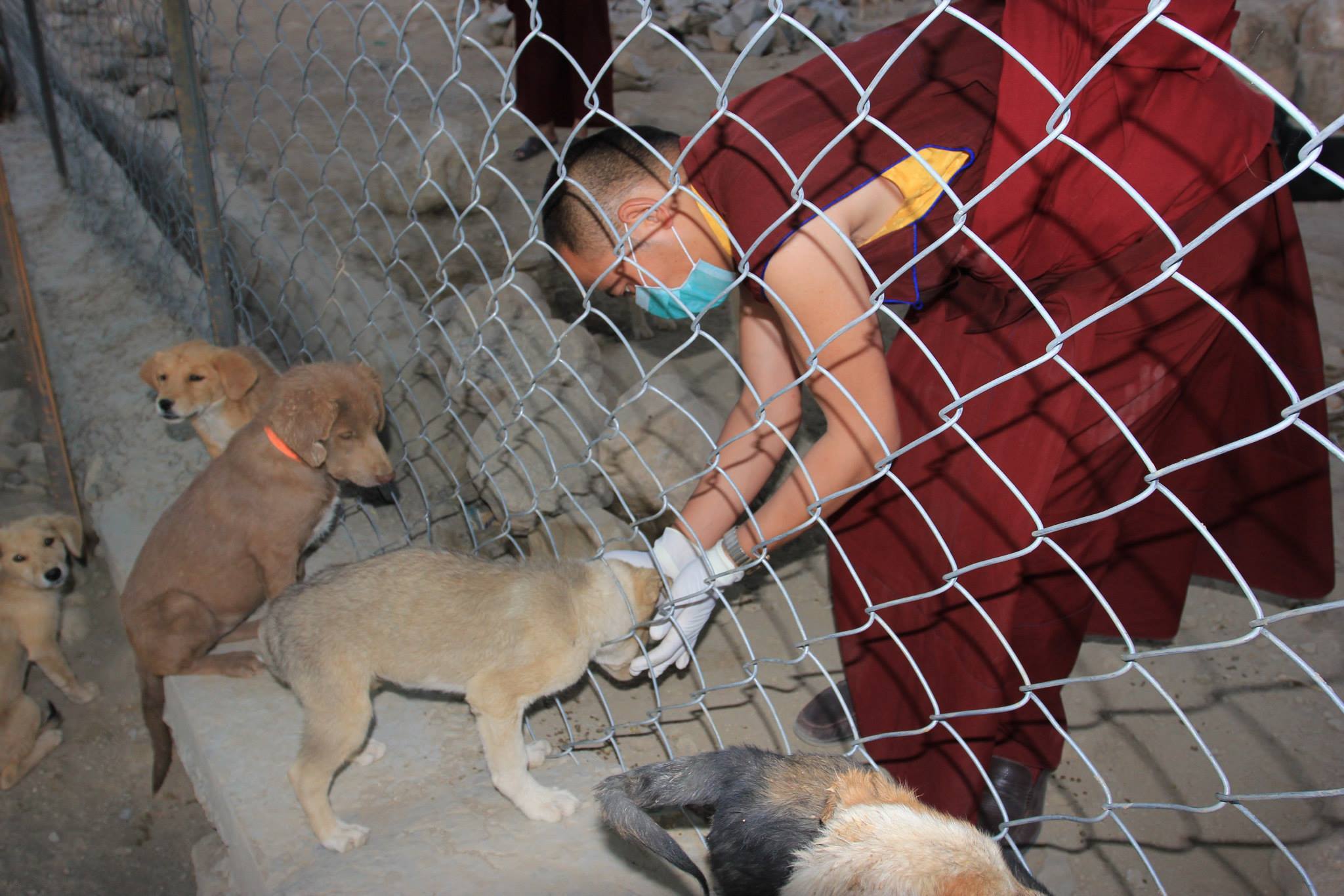 The Rising Dog Menace
Besides humans and livestock, the local wildlife has also suffered due to these feral dogs. Snow leopards, black necked crane, urial, blue sheep, lynx and the brown bear have been attacked or hunted down by packs of dogs in areas far away from Leh town.
Thus, it has become imperative for local officials to maintain a check on the dog population. There were clumsy, and sometimes cruel, attempts at ensuring these checks. In the 1980s and 90s, locals would sometimes just kill them, but they soon realised that there are laws against such acts like the Prevention of Cruelty to Animals Act, 1960.
"Until recently, the only organised initiative oriented towards controlling the population of stray dogs in Ladakh was the authorities' sporadic mass shooting and poisoning campaigns. These measures used to be executed by the Jammu and Kashmir police, but ceased in the early 1990s, following the enactment of the Jammu and Kashmir Prevention of Cruelty to Animals Act. In rendering punishable the mistreatment of animals,  these same measures are also preventing Ladakhis from taking matters into their own hands, as they once did," writes Karine Gagne for Himalaya, the Journal of the Association for Nepal and Himalayan Studies.
In December 2014, when a woman in her 30s was brutally killed by a pack of dogs in Saspol village, local officials ordered the culling of 20 stray dogs, but this was once again opposed by local animal rights activists. There were a few unsuccessful attempts at relocating these dogs to Spiti Valley as well.
There are also organisations like the Society for Prevention of Cruelty against Animals (SPCA) that have filed FIRs in hit and run cases. If you show cruelty to some animals, there is an organisation on the lookout. They have targeted school children, giving them instructions on how they should approach the animal, what they can do for them, 'adopt don't shop', etc.
ABC – The Much-Needed intervention
In addition to ABC, the local administration is in the process of submitting a proposal to the government seeking funds for the construction of a dog sanctuary. Today, the ABC programme is being carried out by the animal husbandry department under the district administration and logistical support from the Leh municipality.
Other organisations like local NGO Ladakh Animal Care Society and Australian NGO Vets Beyond Borders have also taken it upon themselves to sterilise and neuter feral dogs. Meanwhile, in 2014, another local organisation called the Young Drukpa Association, in collaboration with the Department of Animal Husbandry, opened a Stray Animal Care and Management Centre in the village of Nang (35km from Leh) as part of their 'Live to Rescue' initiative. These are all wonderful initiatives in their own right.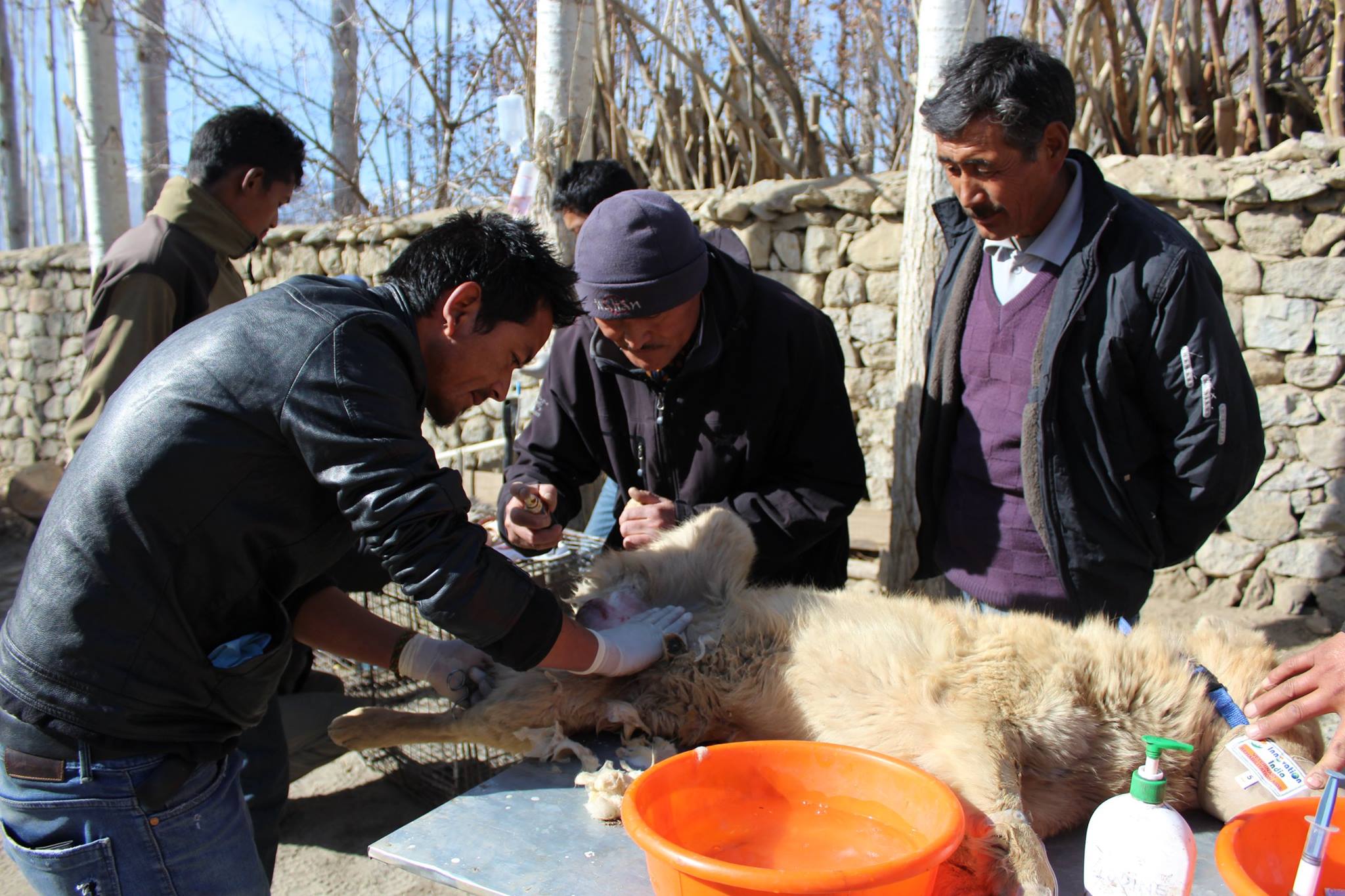 However, none of these initiatives are creating a significant dent because according to population ecologists a single ABC drive for these dogs should cover 60-80 per cent of the population, especially females, according to this report in First Post. Even then, it would take nearly five years for this drive to have a discernible effect on the dog population.
Fortunately, the cases of rabies as a consequence of dog bites hasn't been a problem.
"Since I took up this job in early 2001, I have not seen a single case of a dog bite resulting in rabies. There maybe a few cases or it maybe at a dormant stage, but I have not personally come across any such case. In Chushul village, we had a few cases of cattle getting infected by rabies sometime in 2010, but that's about it," says Dr Rabgais.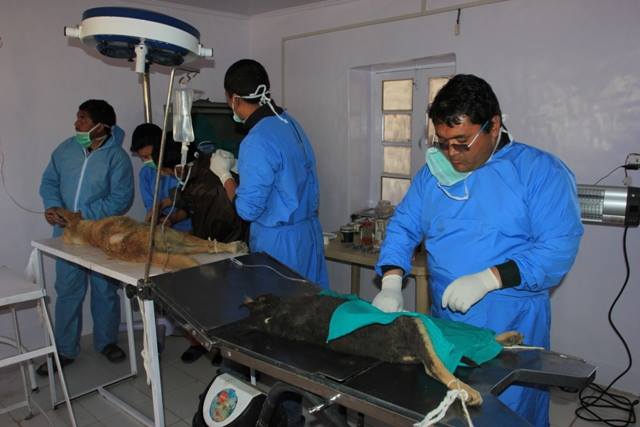 What other steps should be taken to address the feral dog problem?
Despite extensive efforts at sterilisation and neutering, the region's geography poses a major challenge. Unlike confined cities, there are vast swathes of open land which makes catching these dogs very difficult. The local administration has trained its manpower to do their tasks that are risky. They are given regular treatment in the event of bites, but challenges remain in catching dogs.
One serious suggestion is the better management of food waste. It's essentially about reducing access to garbage lying out in the open. Building biogas digesters at installations like an armed forces camp, hotels, guesthouses and restaurants is a possible solution. Another possible direction locals can take is use their food waste to generate compost that they can use in their gardens or fields. The proper dumping and management of food waste is critical.
"We should manage our food waste better, but at the same time not completely deny them their nourishment. We must show compassion at all times," says Dr Thakchos.
"We recently suggested to the army that they put their kitchen waste to positive use. We can send our own trucks to collect segregated food waste and feed the stray dogs we sterilise at our clinic. We are in the process of doing that as well," says Dr Rabgais.
Another suggestion is creating awareness amongst locals about how to protect themselves from dogs. Organisations like the Snow Leopard Conservancy – India Trust have already begun handing out leaflets to locals, while others have suggested raising awareness among school children about how they should react to these dogs, telling them not to look them in the eye and not interfering in what they are doing.
"For aggressive dogs, we should have shelters and sanctuaries, where they can live in comfort, hygiene and offer them protection them from the winter. See, not all dogs are violent or aggressive. The problem has to be dealt with good intention, and motive," says Sonam Wangchuk, a local Leh resident.
There is no question Leh district needs better infrastructure because the current doesn't cut it.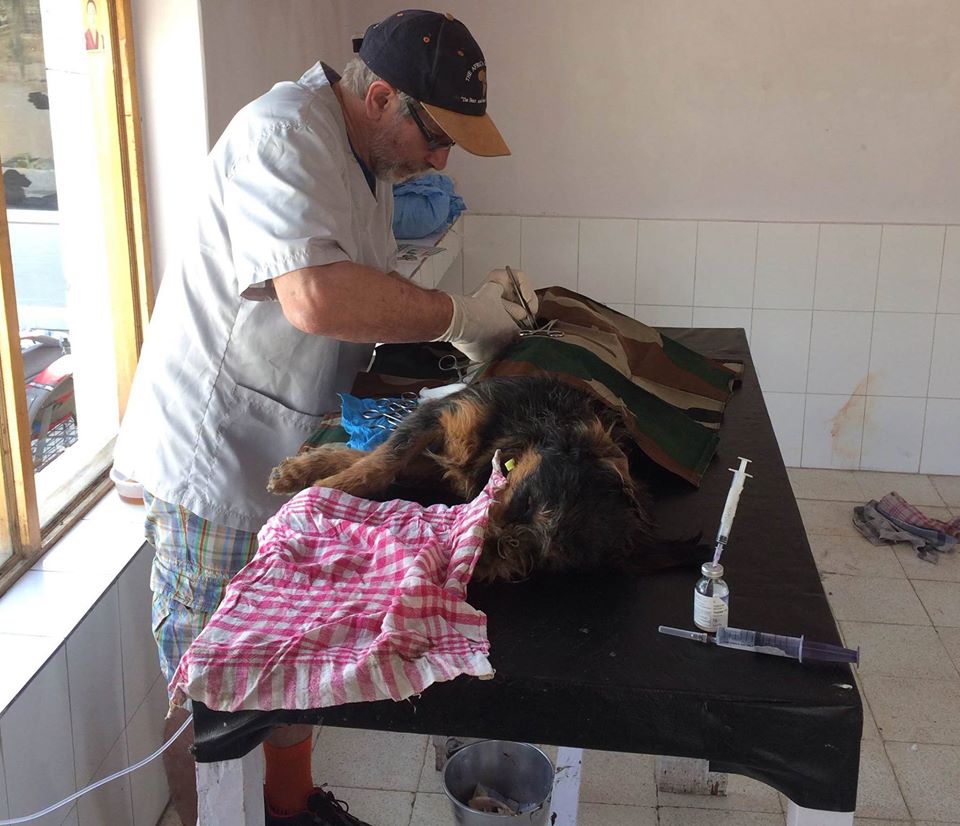 Finally, Dr Thakchos suggests that what we need is an attitudinal change among the people.
"We de-sex the dogs, and release them back in the same locality. But people don't want to see these dogs there at all. People want to see fast results, and I have heard ridiculous suggestions from educated folk like relocating all dogs to either a sanctuary or shelter. No one wants to take responsibility, but total community participation is necessary. Look at the Sikkim Anti Rabies and Animal Health (SARAH) program initiated in 2006 by the Sikkim government, in collaboration with Vets Beyond Borders and French NGO Fondation Brigitte Bardot. People there tackled the issue of feral dogs as a community. People took responsibility. It should be a model for us, but instead most people are more than happy to leave the problem at the government's doorstep," he says.
---
Also Read: Pune Man's Innovation for Stray Dogs Impressed Ratan Tata, Got Him a Dream Job!
---
Meanwhile, Rinchan Wangmo, a dog lover herself, suggests adopting these dogs once they are sterilised or neutered. "A lot of exotic breeds of dogs are being brought into Leh from Delhi, Chandigarh and Jammu. They don't take responsibility for their actions and these dogs end up stepping out of their compound and mating with stray dogs. Instead of bringing them in from the outside, why can't we adopt these stray dogs and take responsibility for them. I urge people to adopt at least one stray dog after they are sterilised it," she says.
"The problem of feral dogs is something we could have stopped way back in the late 1990s and early noughties. But nobody paid attention to it then. Having said that, it's better late than never," says Dr Thakchos.
(Edited by Saiqua Sultan)
Like this story? Or have something to share? Write to us: contact@thebetterindia.com, or connect with us on Facebook and Twitter.
We bring stories straight from the heart of India, to inspire millions and create a wave of impact. Our positive movement is growing bigger everyday, and we would love for you to join it.
Please contribute whatever you can, every little penny helps our team in bringing you more stories that support dreams and spread hope.