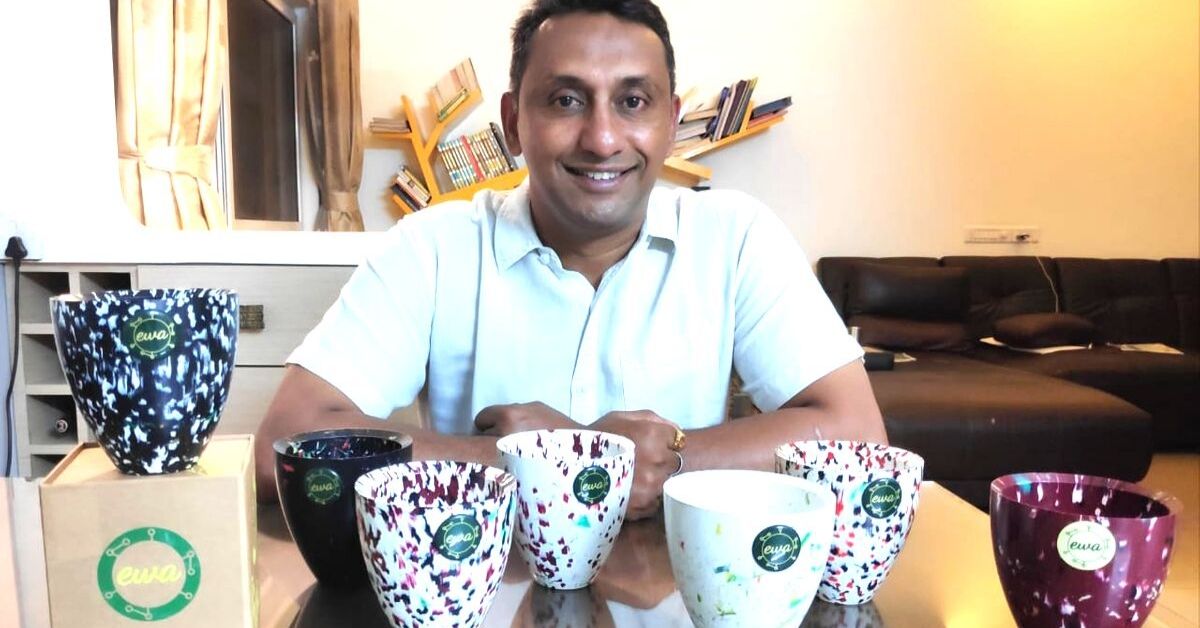 All over the world, e-waste has been accumulating at an uncontrolled rate ever since the inception of the internet. The solution? Innovations like these 100% eco-friendly EWA pots! #LiveGreen #Innovation
Is it any surprise that e-waste is a grim issue in IT hubs like Bengaluru, where large piles of electronic waste accumulate every hour? Worldwide, only around 5 per cent of these are recycled. Some 95 per cent lie in heaps.

So can we do anything about it?
Well, here is a fascinating innovation that is solving that very question!
Meet EWA.
---
Your discarded gadgets can help grow plants. Shop EWA flowering pots made from e-waste.

---
These beautiful plant pots are upcycled exclusively from e-waste, and perfect for adorning your work desk or your favourite corner of the home.
Along with the connection to 'e-waste', EWA is also a term which translates to 'continued life' in Hebrew. The EWA logo, brightly imprinted on all their pots, shows a circuit in a circle, conveying the message that 'What you give, comes back to you.'
The brain behind these is Bengaluru resident Sanjay Jangam, a Retired Commander of the Indian Navy.
"I have always had an inkling for interesting innovations that would address some social issue or the other. I have toyed with several ideas and initiatives, and EWA was the one that happened to click just right," says Sanjay, speaking to The Better India.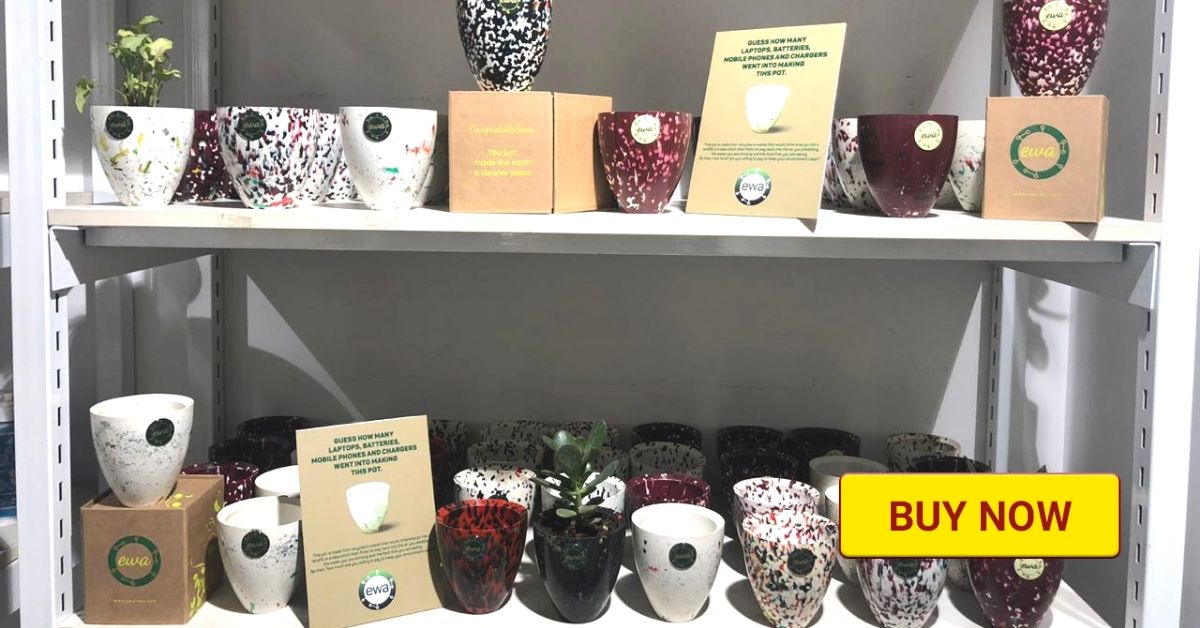 "Five or six years ago, I learnt about the rising problem of e-waste, a significant portion of which heads to dump yards. That's when my focus shifted to this," recalls Sanjay.
After meticulous research, Sanjay designed the EWA pots. He then partnered with Rashi E-Waste Solutions, a recycling venture that has been sustainably processing e-waste since 2011, to curate an entirely sustainable solution.
E-waste is much more expensive as well as hazardous when compared to regular waste. Thus, recycling e-waste requires way greater precision and expertise.
"Any type of e-waste is first segregated into three categories–metals, plastic and circuit boards. Metals and good-quality plastic are sold for reuse. Circuit boards are shredded and precious metals are extracted. The leftovers of the circuit boards and cheaper plastics are dumped in landfills. This waste, along with insulation from electric wires, serves as the main ingredients for an EWA pot," describes Sanjay.
Due to regular upgrades in the gadgets, the recycling machinery also needs to be upgraded accordingly. For instance, a smartphone battery will explode when put in a recycler meant for old keypad phone batteries.
"However, the best part of EWA is that their production is highly flexible," explains Gurudutt–the co-founder of Rashi E-Waste Solutions.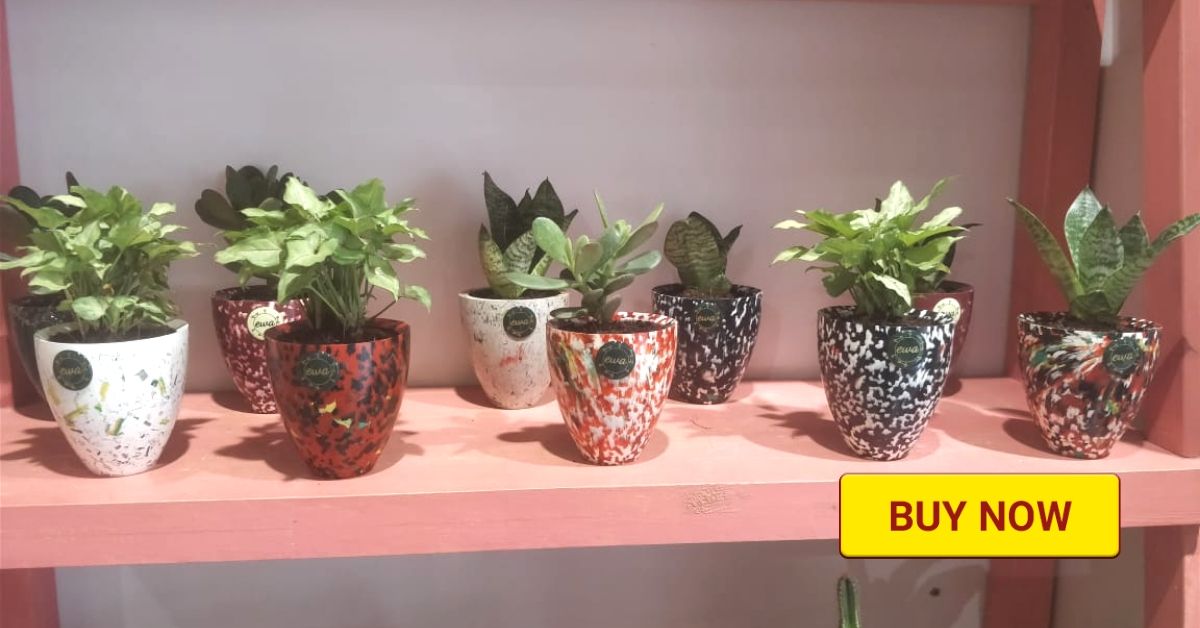 "EWA is even capable of using other types of hazardous solid waste. Wire insulations left after recycling have no economic value whatsoever. We already use them to create designs and beautify the pots," says Sanjay.
Unscrupulous agencies mostly process e-waste from junkyards in the most unscientific manner. "They do not abide by any governmental laws; neither do they care for the environment. They dissolve circuit boards in acid and burn wires or plastics causing irreparable damage to the environment," Sanjay reveals.
On the other hand, EWA adopts a 100 per cent eco-friendly procedure for making their pots without harmful chemicals or gases as by-products.
And don't worry, before launching the product in the market, Sanjay and his friends tried growing houseplants in EWA pots in their own homes. The results were quite pleasant.
The pots last a long time even with regular watering or the addition of fertilisers to the potted plant. The EWA material has three times the compressive strength of M20 concrete. Moreover, the pots are 100 per cent recyclable as well.
Till date, they have produced around 1,500 pots!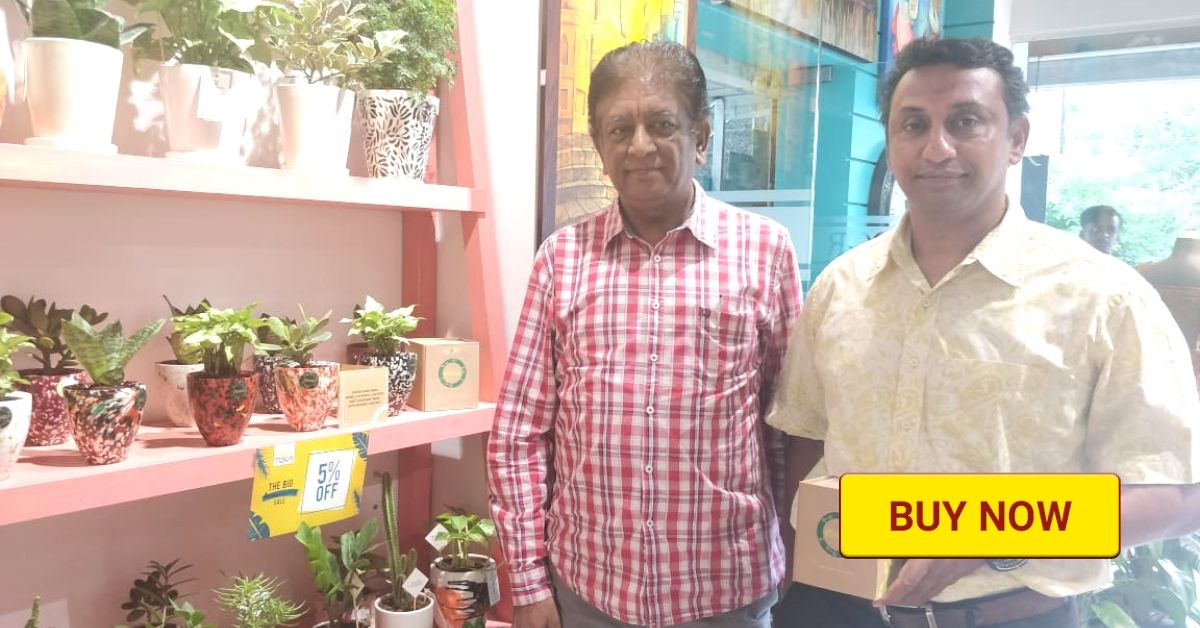 And they are beautiful, indeed.
With sprightly colours and psychedelic patterns, the pots appear elegant and chic. Sanjay has finalised the designs following several rounds of trials and errors with various combinations of raw materials.

Sukumaran, one of the first customers, specifically praises the craftsmanship. "It feels great to do something for the planet while also having a beautiful piece of art on my tabletop," he shares.
---
Decorate your home with the EWA pots. Check them out here.
---
(Edited by Vinayak Hegde)