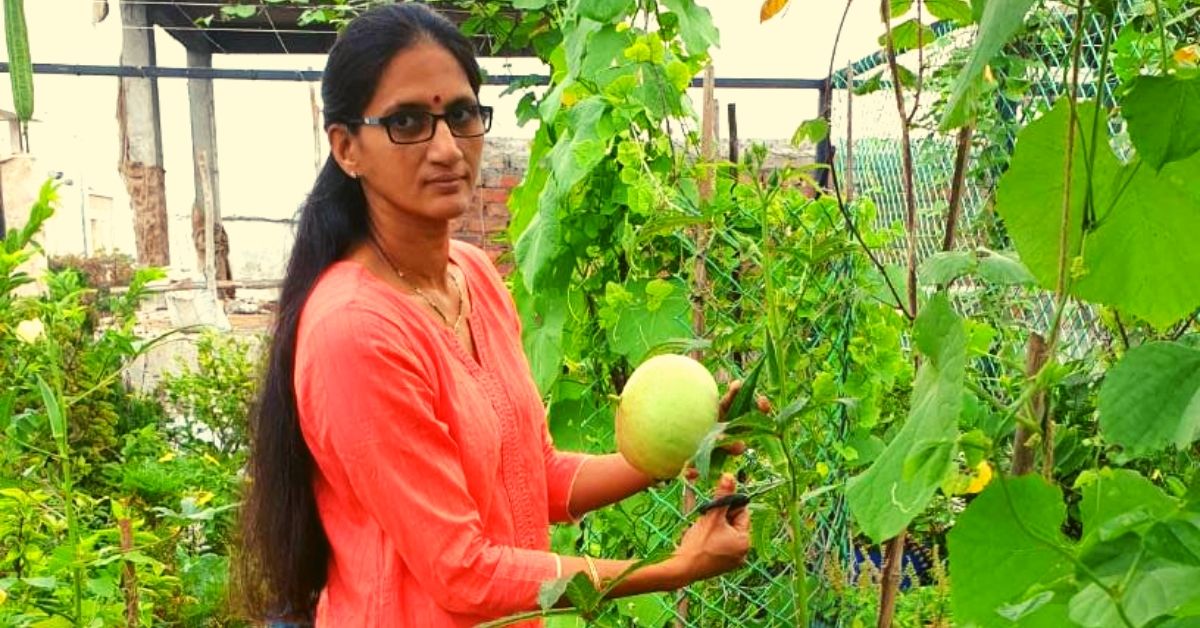 Today, her 800 sq ft terrace boasts of more than 30+ varieties of homegrown fruits and veggies!
Usha Raju spent her childhood in the small town of Bhimavaram in Andhra Pradesh, climbing trees, plucking ripe and juicy fruits right off the trees and devouring them.
Even the vegetables that entered her home had a distinct flavour and quality, all thanks to the farmers in the neighbourhood who delivered it at their doorstep fresh after harvest.
---
Turn your home waste into black gold, with these easy to move composters.
---
At 17, when she got married and settled in the coastal city of Visakhapatnam, finding a reliable source of fresh veggies and fruits became a distant dream.
Instead, there were constant trips to overcrowded market places that sold vegetables and fruits doused in chemicals, often laced with a white powder on their surface, infested by worms, with no flavour or freshness to remind her of home.
And this exasperated her no end.
"I hated going to the market. The fruits and vegetables were nowhere close to the food I had grown up consuming. While I had to make do for the first few years, I decided to try my hand at terrace gardening when we bought our first flat," says the freelance dietitian in an interview with The Better India.
It started with flowering plants often used for pujas, and a few leafy greens on a small 200 sq ft patch on her terrace.
Today, her 800 sq ft terrace boasts of more than 30+ varieties of homegrown fruits and veggies!
Apart from satisfying more than 60 per cent needs of her household kitchen, she also shares the excess produce with her watchman Appana, who is her right-hand man when it comes to maintaining the terrace garden, and her neighbours.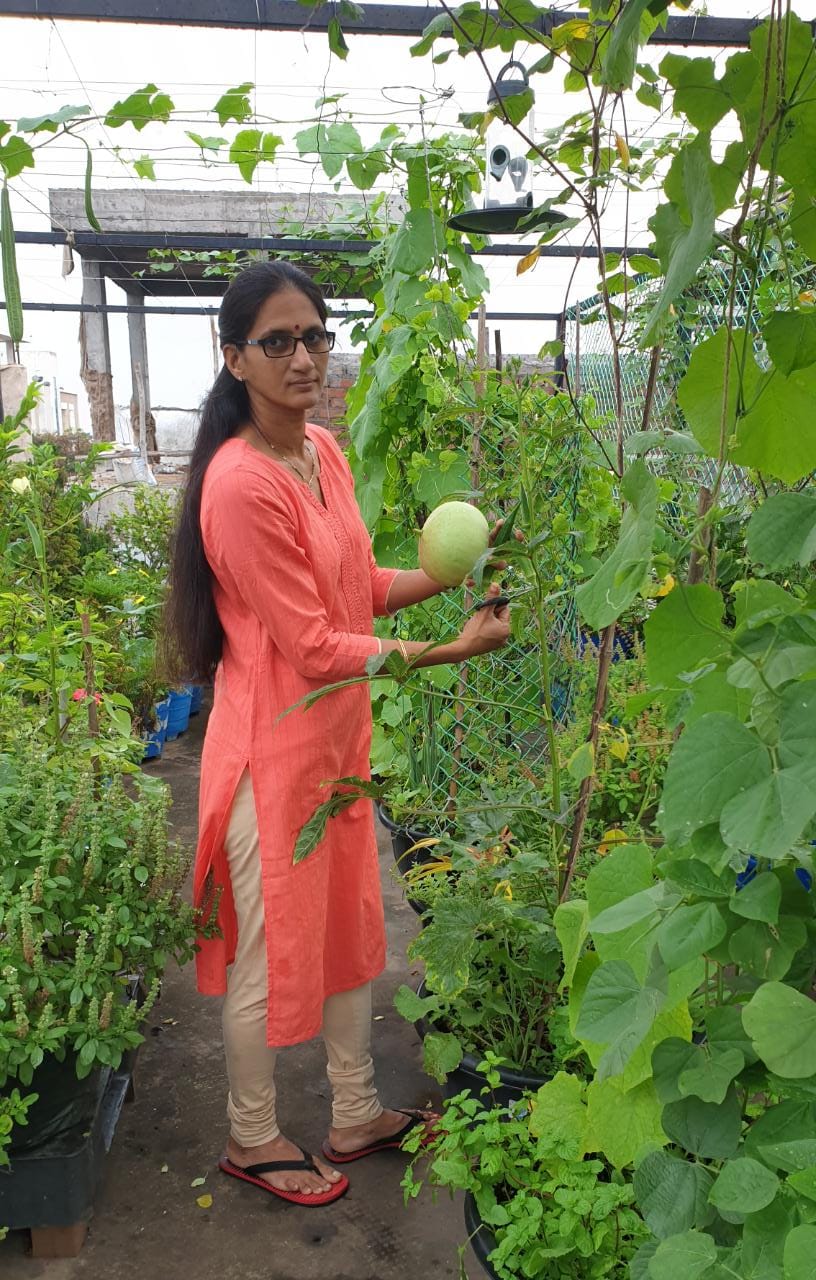 The journey to achieving this feat was not easy. There were several struggles that needed to be overcome, including one with nature that destroyed the kitchen garden completely.
It was almost a decade ago that the Raju's shifted to the flat, they now call 'home.' Along with five other families in the building, they took the private property rights for using the terrace from the builder.
When her initial patch of 200 sq ft was flourishing with different varieties of leafy greens, tomatoes and flowers such as hibiscus, roses etc, she decided to expand this green cover to grow other varieties of veggies too.
But this happiness was short-lived.
On October 12th, 2014, super cyclone Hudhud struck the port city, causing extensive damage and, as one article puts it, completely changed its landscape.
"I remember bursting into tears when I saw what nature's fury was capable of. It was on that day that I decided to contribute to the environment in any way possible."
Once the cyclone passed, she started rebuilding her terrace garden. This time, through upcycling and using the best organic practices, that she learned from the internet.
Some of the practices she started following included:
1.Reusable pots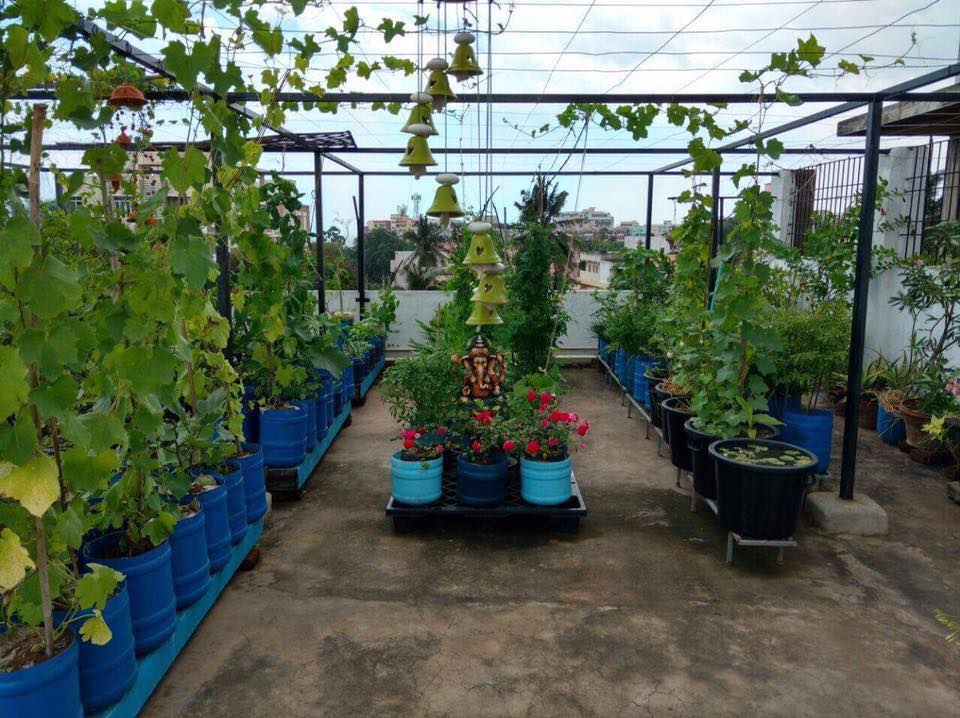 "I did not want to spend behind any resources; instead, I decided to use all reusable and upcyclable items around me. Instead of buying pots, I used plastic containers, thermocol boxes and cartons⁠—anything that could hold soil. In this manner, not only was I able to save costs, but also prevent these items from exhausting landfills or be dumped into the sea."
She even got in touch with her drinking water supplier and started sourcing damaged 20-litre water cans that would otherwise be discarded. She would cut off the top of the container and upcycle them into pots.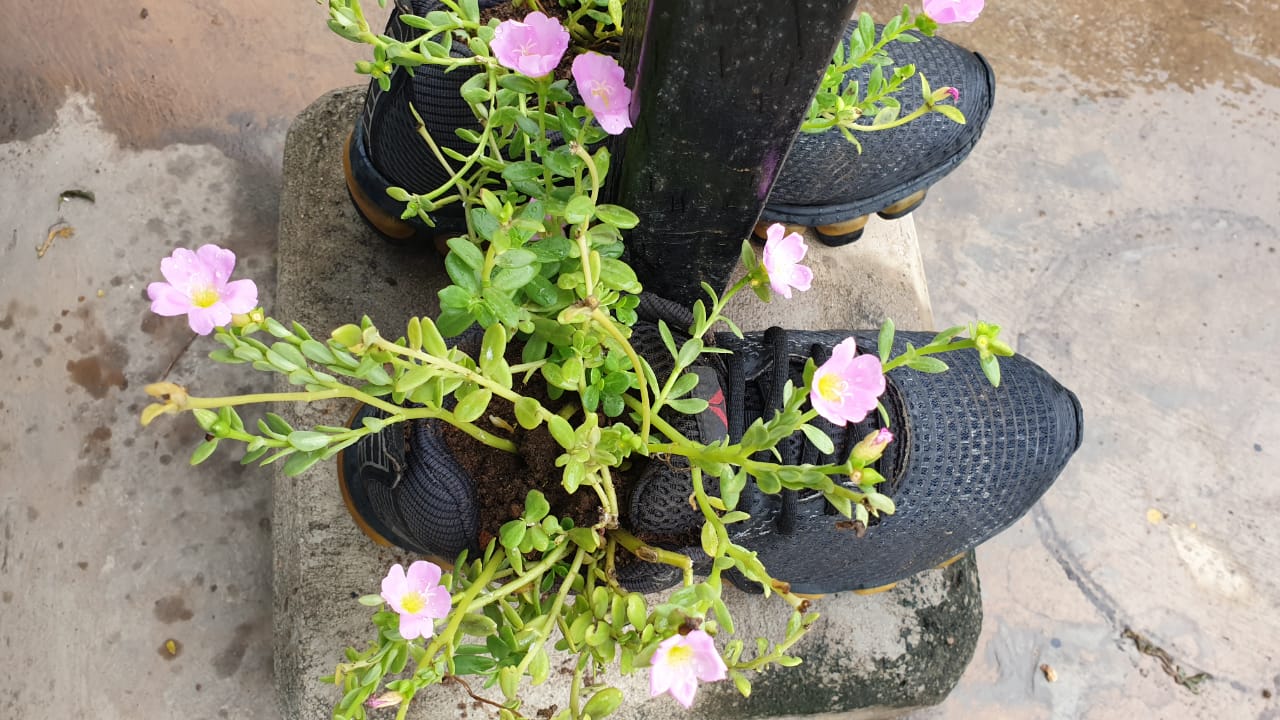 2.Processing waste into manure and building composters
To generate manure for this garden, she started turning her household kitchen waste into manure. Since the quantity of wet waste from her own home was inadequate, she started going door-to-door and collected kitchen waste from the other five families in their apartment.
She also upcycled old buckets by drilling holes in them and turned them into homemade composters. The collected waste amounting to an average of 1.5 kg per day (40 kg a month), was added to compost bins with dry leaves (uncrushed).
The decomposition of waste into manure takes about two months, while compost generated is 25 per cent of the total waste.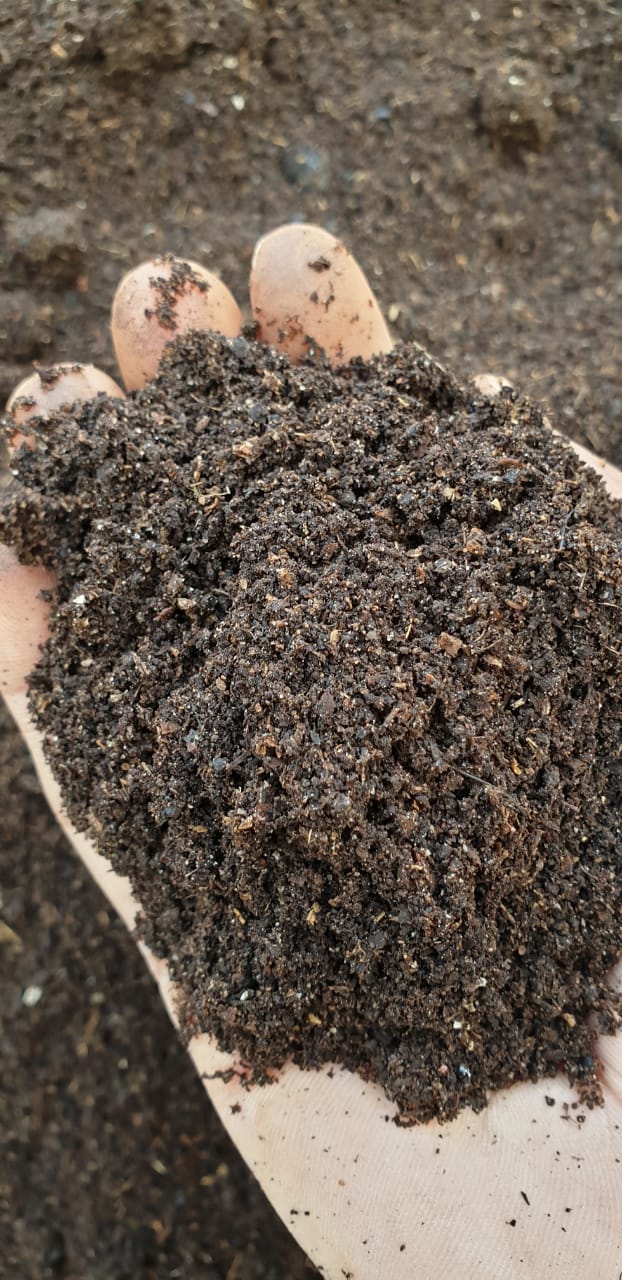 "After the compost is sieved, it is left to cure for some time and then introduced to the soil. The unfinished or waste left to decompose is added to the next bin."
Over a period of time, she also started investing in ready-to-use composters in the market and began vermicomposting by sourcing worms from her own terrace garden during the process of repotting plants.
"Within a short span of two months, after I started following these practices, I was able to harvest a good quantity of tomatoes and other vegetables, and when I shared pictures of this produce, several aspiring urban gardeners got in touch with me!" she exclaims.
Growing it all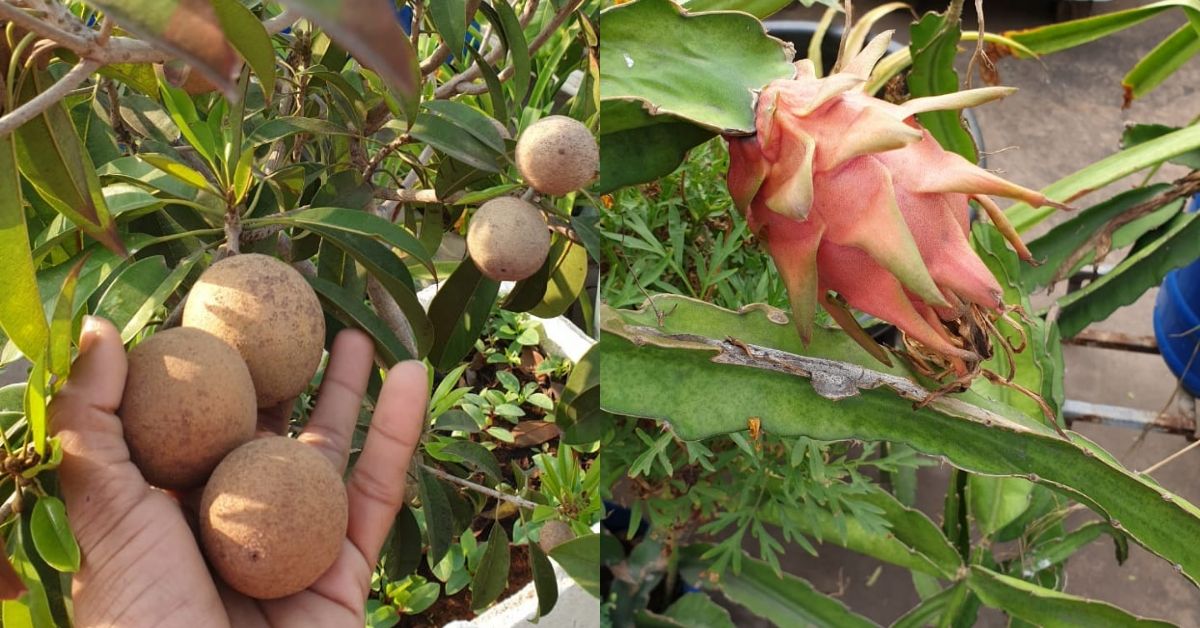 Today Usha grows all kinds of leafy greens like spinach, fenugreek, coriander, green sorrel, amaranth, and other seasonal vegetables such as eggplant, tomatoes, okra, beans, cucumber, ivy gourd, ridge gourd, bottle gourd, bitter gourd, drumstick, potato, radish, carrots, sweet potatoes, cauliflower, leek, spring onion, chillies, corn, mint, ajwain, curry leaves, groundnuts, mustard, turmeric, garlic, etc.
Some of the fruits she grows are guava, watermelon, sapota, custard apple, dragon fruit etc.
"50 to 60 per cent of my vegetable and fruit consumption comes from my terrace."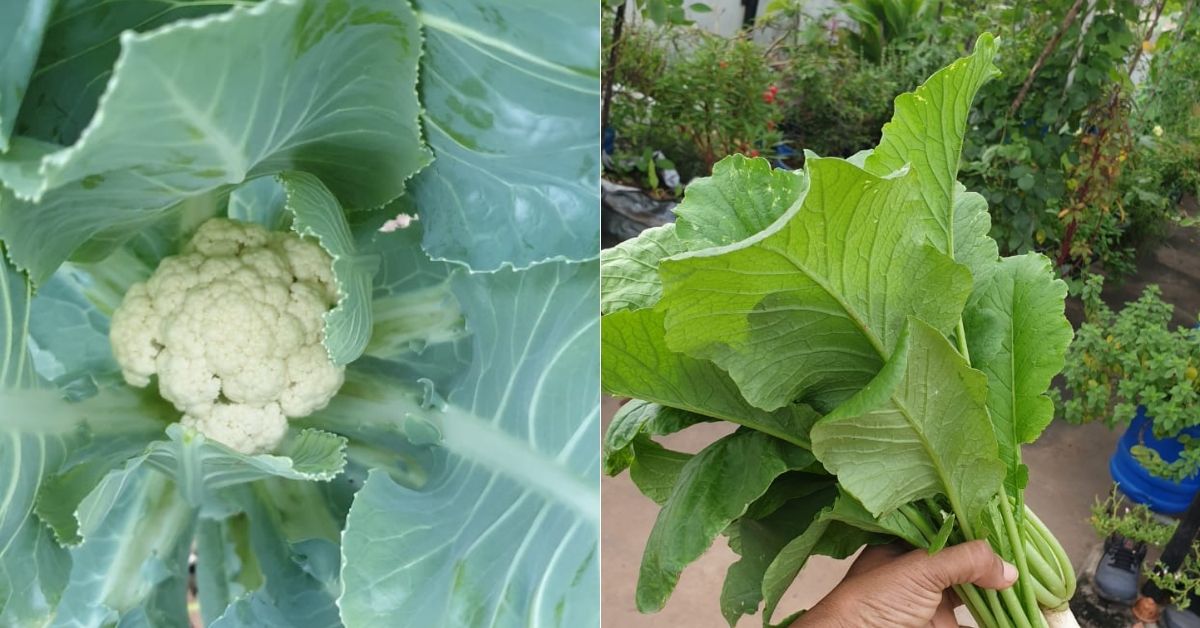 Managing pests, increasing biodiversity
To keep pests at bay, she started brewing her biopesticide using green chillies, garlic and ginger. She also used cow urine as a preventive pesticide.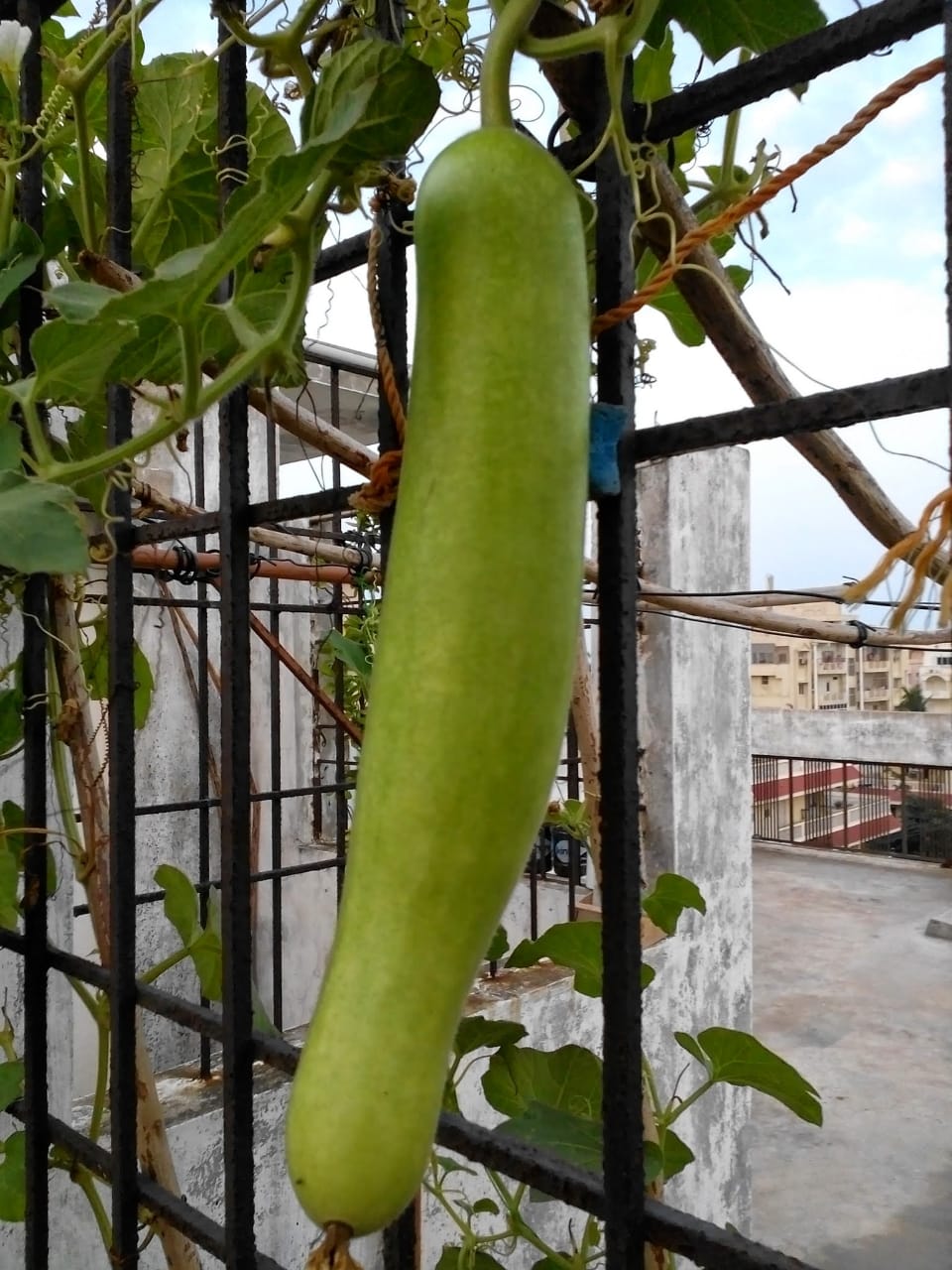 In 2017, after the sparrow population started making regular visits to her garden, she stopped using all biopesticides too. Because now, these sparrows help her manage pests naturally by eating them.
Another natural technique she resorts to is companion planting.
"Even if the containers are small, I plant at least two saplings in them. This helps manage pests naturally," she says.
23-year-old Dr. Asritha Donepudi, her friend and surgeon at Andhra Medical College says, "Usha Ma'am's garden is like a step into a wonderland. Just one look gives plant lovers like us, a sense of peace. Not just the beauty but the various methods of gardening and the hard work that she has put into this terrace garden is inspiring. The vegetables produced are fresh and organic and taste much better than their market counterparts."
Similarly, 60-year-old, Mrs Indira, her neighbour, says, "I visit Usha's terrace garden very often. It's amazing how well she takes care of it, with so much passion. And that passion is reflected in the taste of her veggies, far better than what we get in the market. I, too, started growing a few vegetables in my balcony, inspired by her. I wish I had her green fingers too."
Spreading her love for the environment to other gardeners.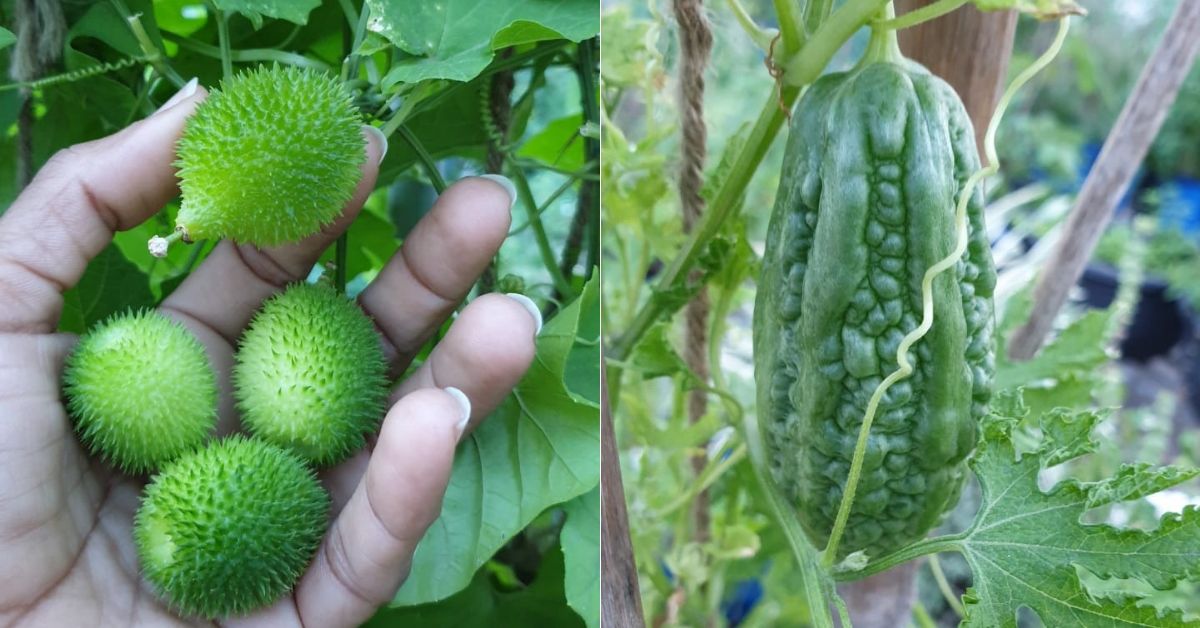 After gaining limelight for her efforts for growing her food, Usha, alongside a few other like-minded urban gardeners, decided to float a closed Facebook group called the Rythu Mitra Group.
The group now encourages locals to start urban ground and terrace gardens of their own.
"We also conduct workshops in the city on waste management, composting, and all aspects of urban gardening like selecting saplings, watering methods, preparing manure, biopesticides to manage crops, potting mixes etc. We also give them free saplings at the end of it."
She is also part of a Whatsapp group called Vizag Gardeners.
"Our Facebook group today has more than 14,700 members and the Whatsapp group has about 200 members."
When asked how she juggles work with gardening, she says, "Since I am a freelance dietitian, I work as a consultant. I spend an hour in the garden in the morning and sometimes in the evening too when my schedule permits. Apart from my mother, my watchman, Appana, provides invaluable help in maintaining the garden."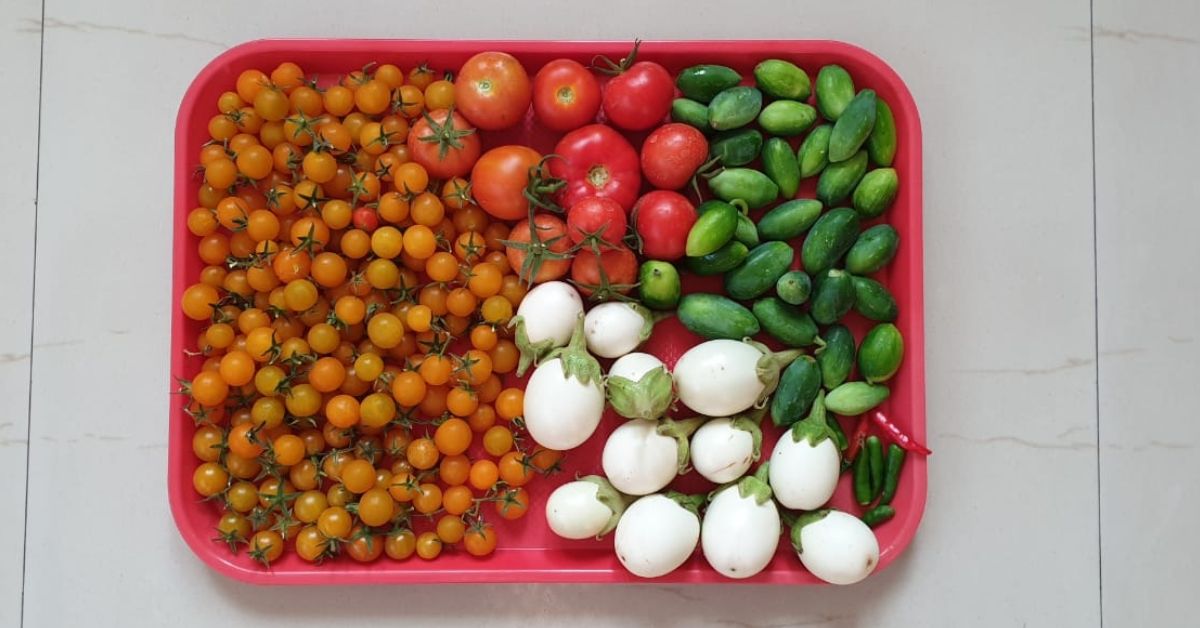 Speaking with TBI, Apanna adds, "In the beginning Usha madam used to teach me how to prepare compost with dry leaves and vegetable waste. And later on I started doing it without her supervision. I like working in the garden. There is a big difference in the taste as compared to vegetables available in the market too."
She concludes the conversation with a final message for those hesitating to make the switch due to a space crunch.
"If you truly and passionately want to grow your own food, you can do it. Stop complaining about space. Today there are people growing veggies vertically in a small space and grow veggies such as carrots and radish in spaces as tiny as two-litre bottles. Start today, even if it is one single pot near your window sill or four pots on your balcony. You will make mistakes, but you will learn too."
If this story inspired you, get in touch with Usha on ushapraju@gmail.com.
Check out the Facebook group, Rythu Mitra here.
Loved her garden? Here are a few more pictures: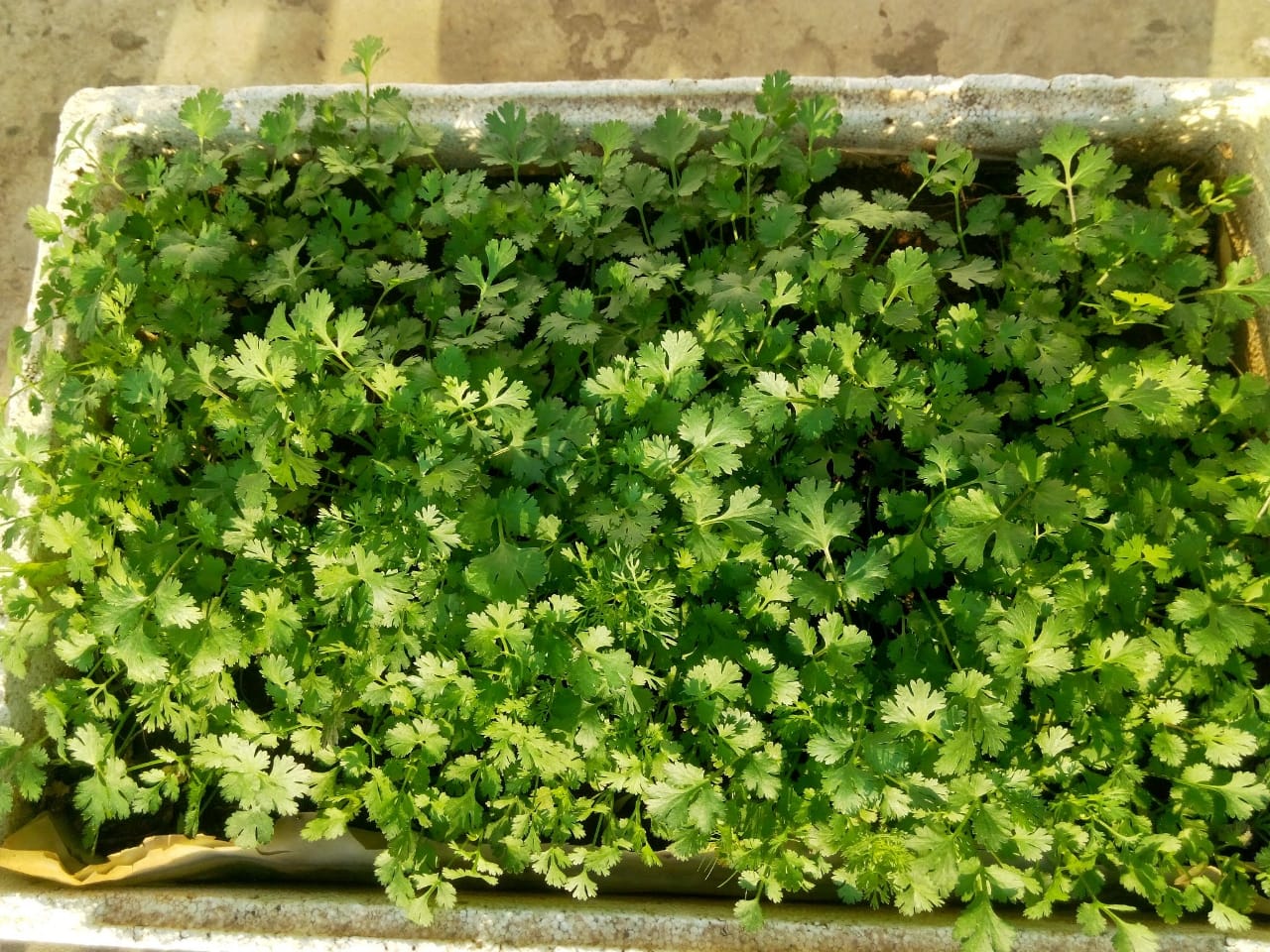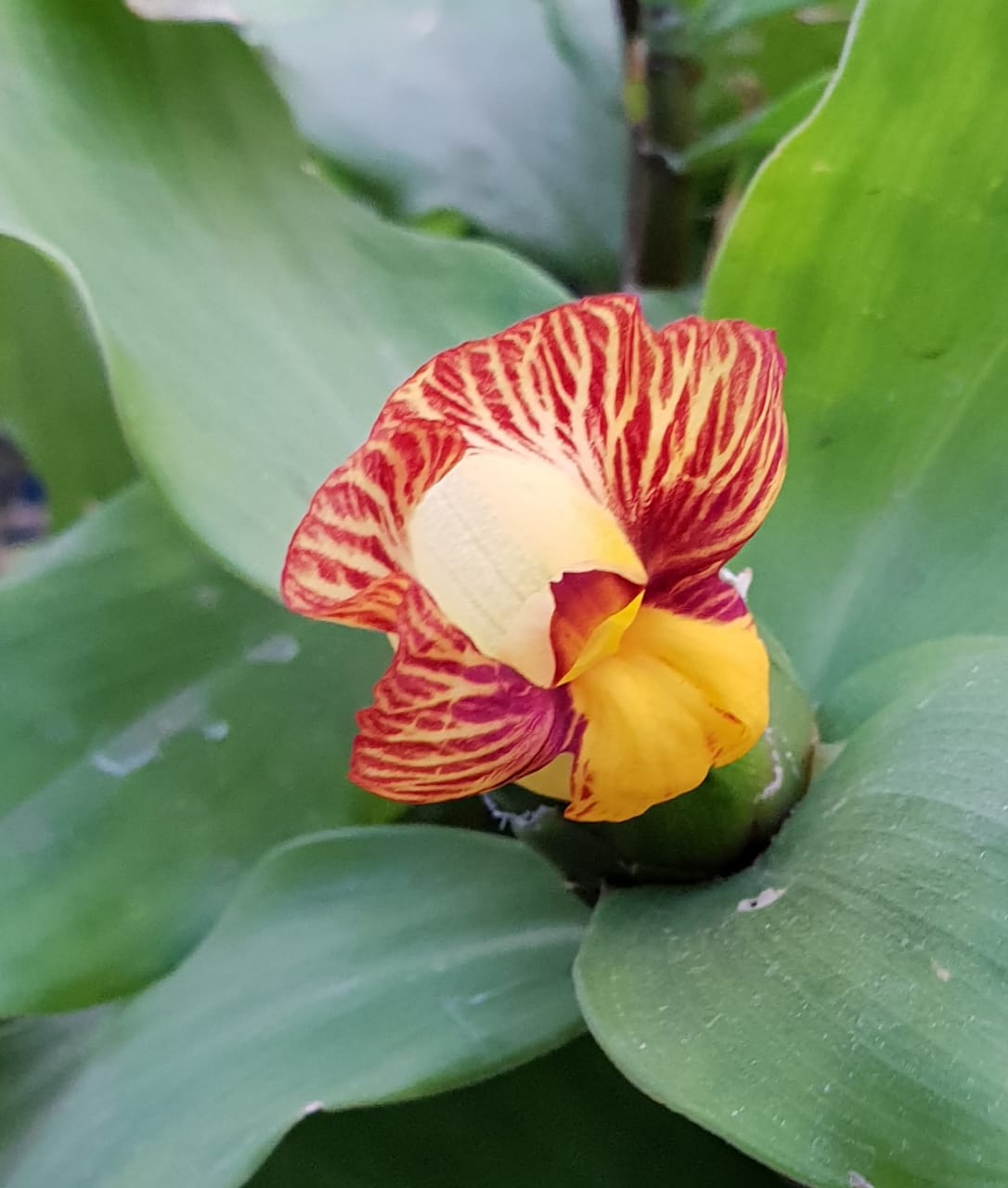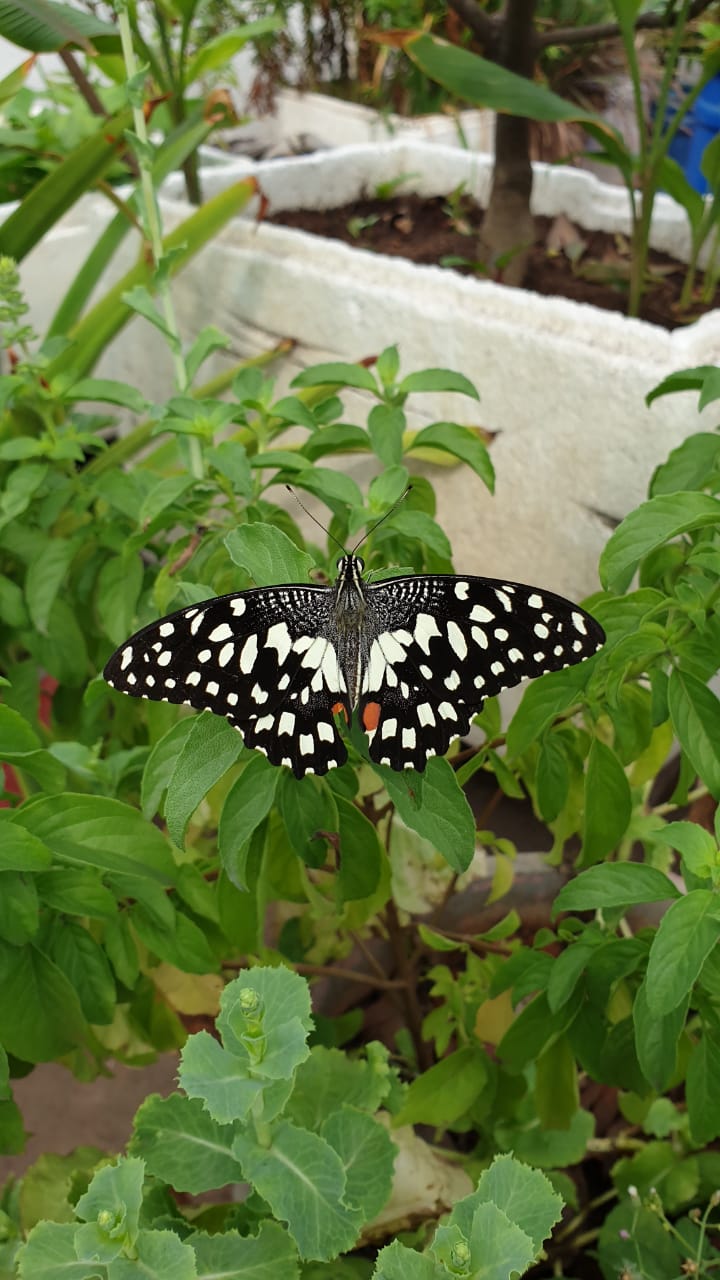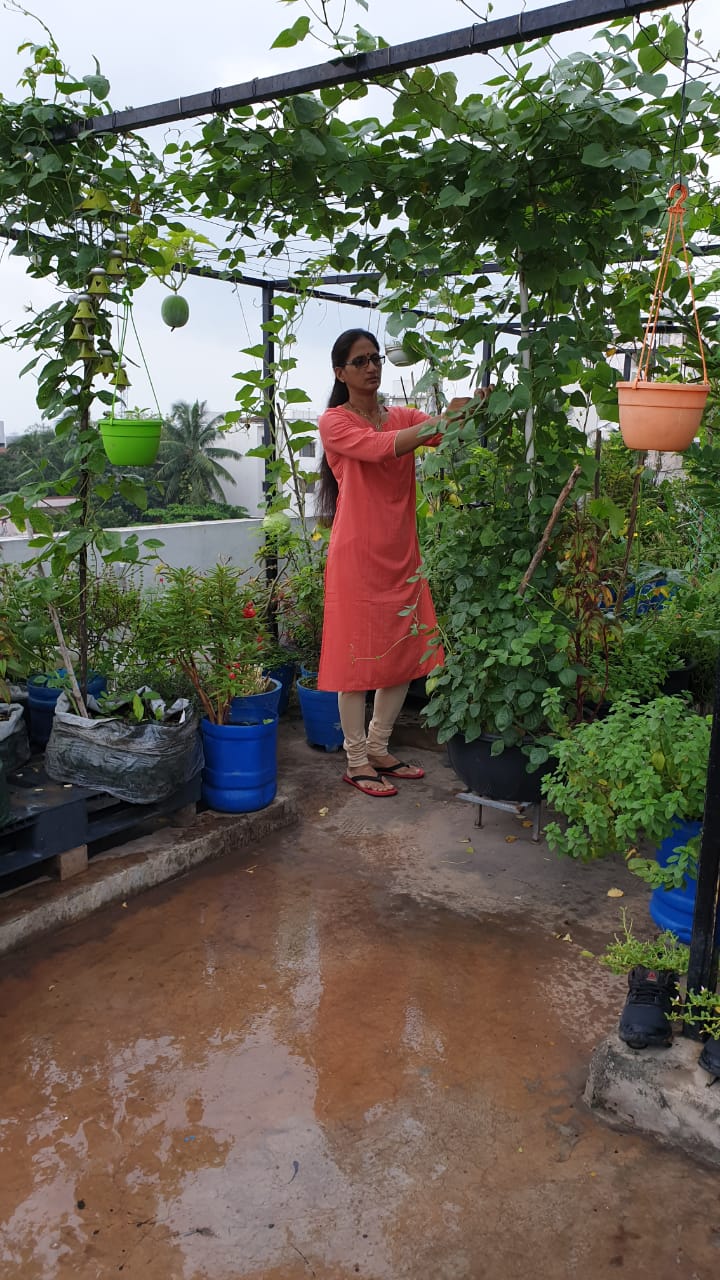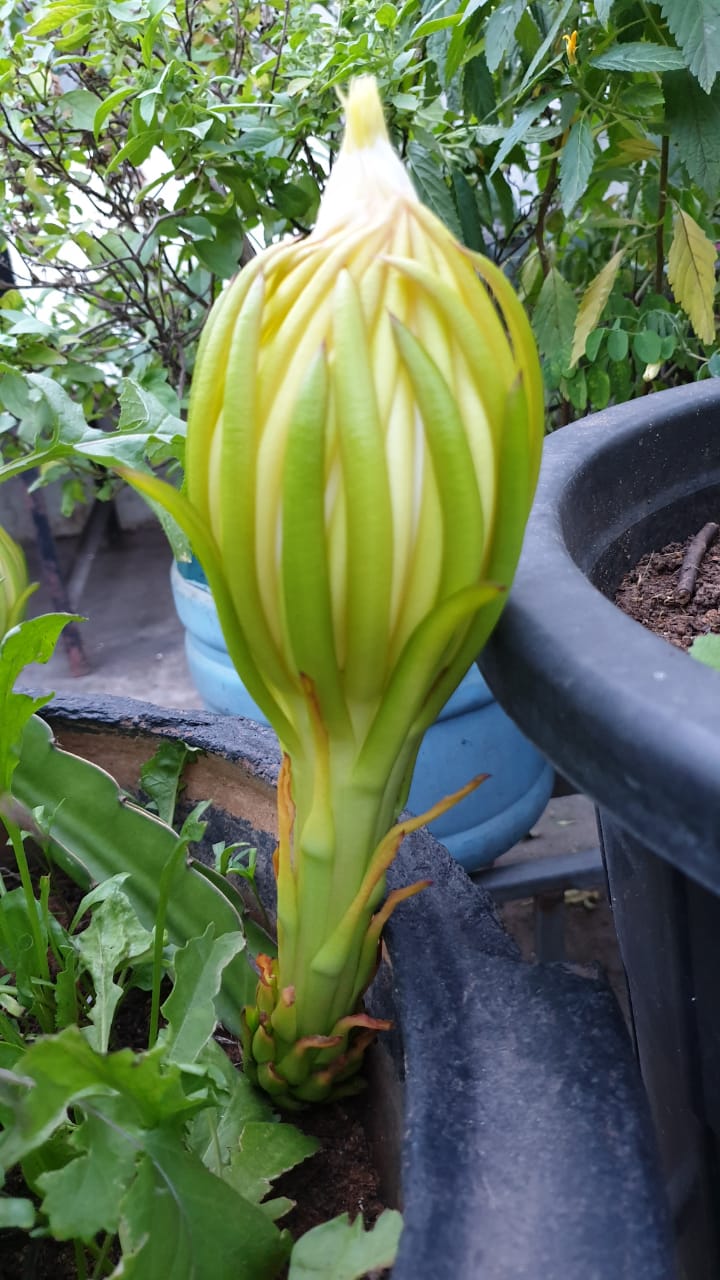 ---
Also Read: Mysuru Man With Lung Ailment Grows 20+ Veggies in Award-Winning Garden!
---
(Edited by Gayatri Mishra)
Like this story? Or have something to share?
Write to us: contact@thebetterindia.com
Connect with us on Facebook and Twitter.