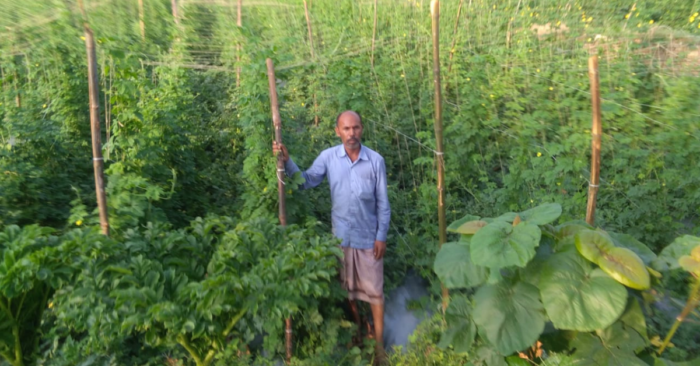 "Daily wage workers are treated like slaves. No one considers them as humans. Even though there were hardships in farming, it is something of your own."
"Our former president, APJ Abdul Kalam, said, [A] dream is not the thing you see in sleep but is that thing that doesn't let you sleep. I, too had a dream of making my farm fertile, and it kept me up on most nights," says Gansu Mahto, a farmer from Sadma village of Jharkhand.
Gansu's father owned a 9-acre plot of land, but its produce was hardly enough to sustain the family for six months. The eldest among three brothers, Gansu decided to halt his education after passing out of Class 12, and work as a labourer to earn extra money.
---
A chemical-free fertiliser that is made from recycled  flowers, which improves soil texture, and makes plants more robust and greener? Yes it exists! Check it out, here.
---
In 1991 when he was just 18, the man was working as a daily wage construction worker at Ranchi, where he would earn Rs 50 per day. He would travel 50 km on a bicycle every day from Sadma to Ranchi and back.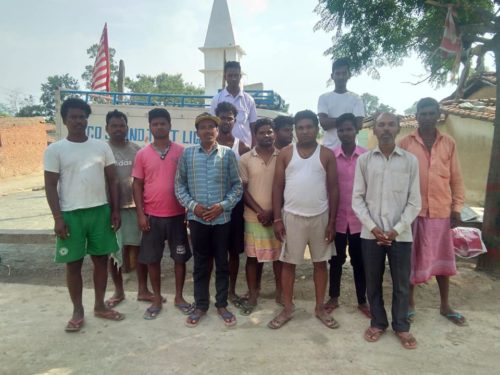 "Daily wage workers are treated like slaves. No one considers them as humans. Once, after completing some backbreaking tasks, I took a little break to relax, and my supervisor lost his temper. That's when I thought that even though there were hardships in farming, it is something of your own. You are not a slave to anyone," he says.
After working for three years as a labourer, Gansu returned to his barren land and started toiling day and night to make it fertile. Initially, he began by growing 'Goda Dhan,' a type of paddy that can be grown on barren land.
The turning point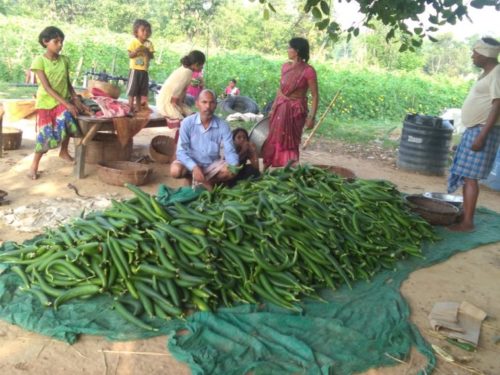 In 1998, Gansu tried planting some capsicum in just 0.15 acres of his farm, which was a huge success and he earned Rs 1.2 lakh from it that year. This gave him a ray of hope, and he kept experimenting with different crops at his farm. He would also visit progressive farmers to learn from them.
In 2015 while visiting one such farmer, he met a Krishi Mitra—a government officer employed to help farmers—at his village, who suggested that he join them for a 5-day training programme at Chhattisgarh.
"The programme was being organised by successful farmers to help marginal farmers like us. We had to pay Rs 5,000 for the travel and the stay, and it was a big amount in those days. But I wanted to take this chance. In hindsight, had I not spent Rs 5,000 then, I wouldn't have reached 50 lakhs today," says Gansu.
Gansu attended the programme and ended up learning several tricks to start organic farming. He also learnt about how agriculture can become profitable only if the investment cost is almost zero. His biggest illusion that a barren land could never become fertile was also erased through this training.
"There were people who did not have any land of their own and were farming on leased land and earning profits. I thought if these people could do it, why not me?" he says.
1. First steps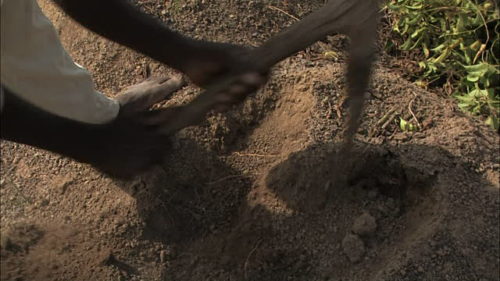 Gansu returned with a dream of making his farm fertile enough, to feed his family for not just six months, but the entire year. He strived day and night for 15 days and provided all possible nourishment to the soil of his farm.
"I gathered all the dung from the cattle on the farm, made organic fertiliser and fed my land with the same. After 15 days, when the soil looked ready, I started planting watermelons," informed Gansu.
2. Kisan Credit Card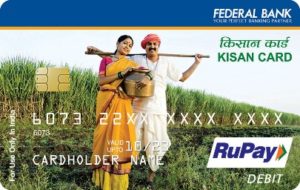 Gansu made use of his Kisan credit card to get a loan of 1.20 lakh. He used the money to install drip irrigation, mulching, and a greenhouse and poly house on his farm.
The Kisan Credit Card scheme is a credit scheme introduced in August 1998 by Indian banks. This model scheme was prepared by the National Bank for Agriculture and Rural Development to provide term loans and agricultural needs.
Its objective is to meet the general credit requirements of the agriculture sector by giving financial support to farmers. The premium is borne by both the bank and borrower in a 2:1 ratio. The validity period is five years, with an option to extend for up to three more years.
The Kisan Credit Card (KCC) offers credit to the farmers in two types—cash credit and term credit—for allied activities such as pump sets, land development, plantation, and drip irrigation. Click here to apply for one.
3.Drip Irrigation and Mulching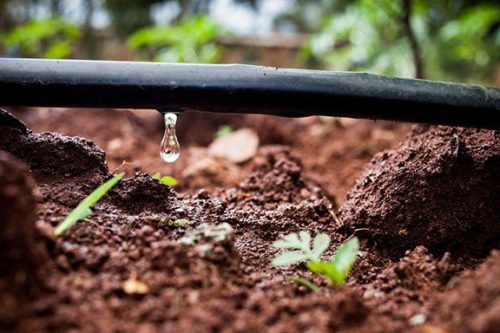 Gansu used the loan to install a drip irrigation system and mulching on the farm. For this, he applied for Prime Minister Krishi Sinchayee Yojana. Under this scheme, farmers can get a subsidy of 90% to install a drip irrigation system on their farm, so, Gansu ended paying only Rs 6000 per acre for this purpose.
Click here to apply for a subsidy for drip irrigation and to know more about this scheme. You can also download the mobile app for PMKSY here.
Gansu also uses the mulching technique, which protects the saplings from excessive heat or cold and limits the growth of weeds too.
4. Green House and Poly House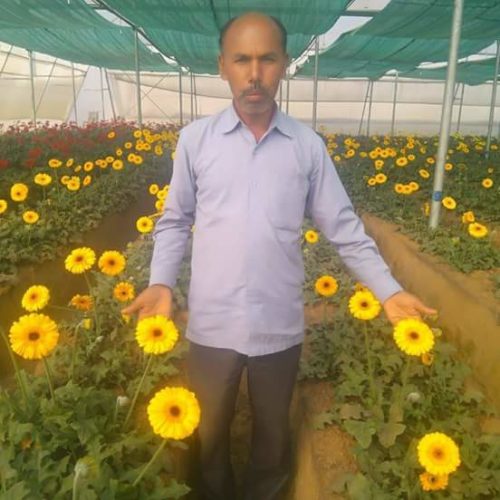 Gansu has set up poly house in 4000 square meters of his farm. Farmers can get a subsidy of 90% for this purpose as well.
"Poly houses helps us grow unseasonal and exotic vegetables, which have a huge demand in the market. The climate inside can be controlled, and hence lesser pest attacks are seen here. Thus one hardly needs to apply pesticides or chemical fertilisers. The quality and taste of the crop cultivated inside the poly house is also better," explains Gansu.
Click here to apply for a poly house.
Turnover of Rs 50 lakh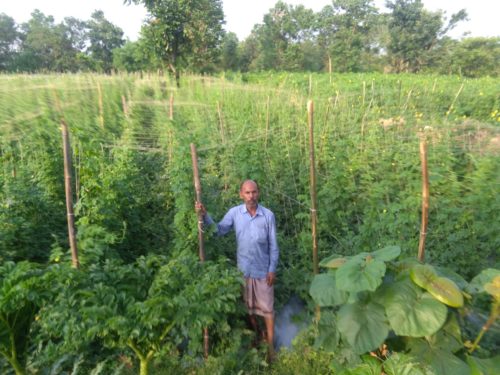 The watermelons were ready to be harvested in 75 days, and all the above techniques gave him an excellent quantity and quality of the harvest. Consequently, Gansu made a profit of Rs 2 lakh after selling them for a reasonable rate in the market.
After watermelons, Gansu planted capsicums at the same plot and earned Rs. 4.5 lakh. Once Gansu was successful with vegetables and fruits, he thought of trying flowers and in 2016, he planted gerberas in his poly house. This year Gansu sold the flowers and earned Rs 35 lakh.
In 2018 Gansu planted capsicum in 2 acres, brinjals in 2 acres, tomatoes in 1.5 acres, cucumbers in 1 acre, cabbage in 0.50 acre land and paddy in the rest. Along with this, he planted gerberas.
His turnover from this was Rs. 50 lakh and the total profit earned was Rs 20 lakh.
Showing other farmers the path of success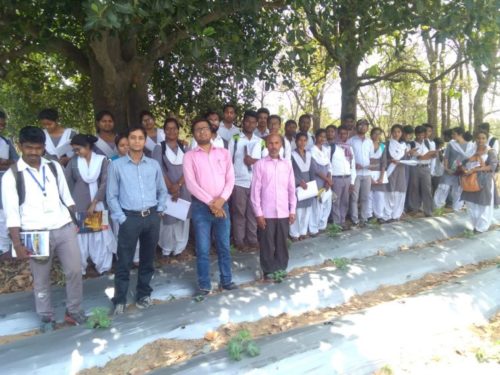 Today, Gansu is a successful farmer, but he has struggled hard. Now, he wants other farmers to follow the same path, without encountering the roadblocks that he did.
"I did not have any aim in life before this. I would work to ensure there was food on the table. But now my life has an aim. I was lucky that I could meet the right people at the right time and change my life. Now I want to change the lives of every farmer in my country. And I will do anything possible to ensure this," he says.
So far, Gansu has given free organic farming training to almost 15,000 farmers. He also shares his knowledge with the agriculture students who visit him often. Many youngsters who had left their farms and village to work in the cities have come back to their roots after Gansu's training.
Gansu's eldest daughter, who has a BEd degree helps him out on the farm. His son who is preparing for his medical entrance exams, also helps out whenever possible.
"I wake up at 5 AM every day and work on my farm till 8. After that, I leave to visit the farmers who need me. Meanwhile, my eldest daughter takes care of the entire farm. My family supports me fully in helping other farmers," says Gansu.
Why are organic products expensive, and what can we do about it?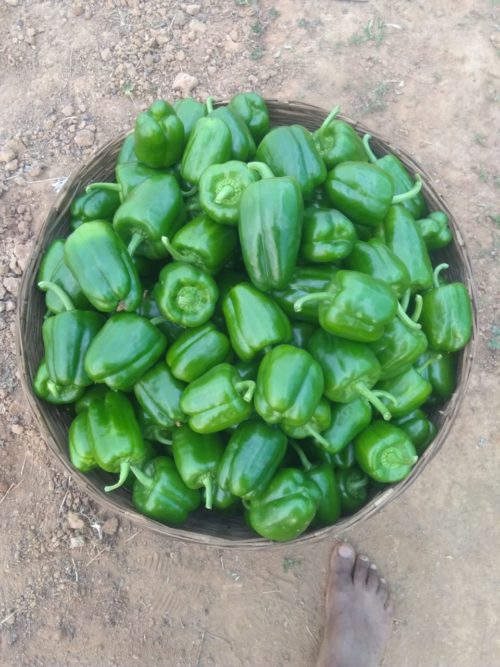 Gansu explains that at present, there is a high demand for organic produce in the market, but the supply is low. Hence, whatever organic produce is available in the market, is very expensive. But this issue can be resolved if we have enough supply to meet the demand.
Thus to change this situation, Gansu has pledged to divert at least 20, 000 farmers in his area towards organic farming.
"It is a myth among farmers that organic farming gives lesser produce and hence, lesser profit. On the contrary, when you go organic, you save the money you otherwise spent on chemical fertilisers and pesticides, thus gaining better profit. Organic produce is healthier and tastier. If every farmer grows organic produce, the prices will automatically come down," says Gansu.
Gansu appeals to every farmer in distress to not lose hope and contact him if they need any help. You can call Gansu on 9065224475 or visit his place at – Gansu Mahto, Village –Sadma, Block–Oramanjhi, Ranchi, Jharkhand.
---
Also Read: 97-Year-Old Pioneering Farmer Goes From TBI Hero To Padma Shri Winner!
---
(Edited by Gayatri Mishra)
Like this story? Or have something to share? Write to us: contact@thebetterindia.com, or connect with us on Facebook and Twitter.
We bring stories straight from the heart of India, to inspire millions and create a wave of impact. Our positive movement is growing bigger everyday, and we would love for you to join it.
Please contribute whatever you can, every little penny helps our team in bringing you more stories that support dreams and spread hope.
Tell Us More