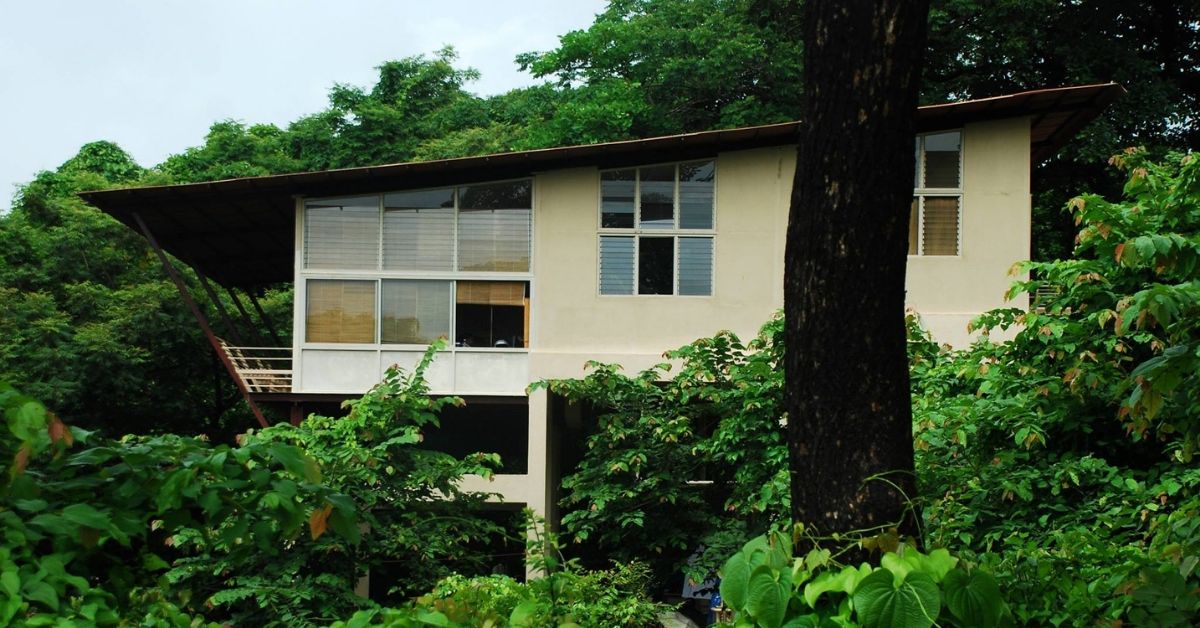 "Throughout our projects, we have used waste materials like cracked tiles for wet areas, broken stone slabs for flooring and waste steel stitched together for grills. In the jungle lodges we designed, we used the fallen wood from forest trees."
About 11 years ago, my parents decided to renovate our home, and construct another floor above the existing ground floor bungalow.
I was in Class 8 at the time and what dominates the memory of this almost one-year period is heaps of stones and sand in the yard, cement dust that permeated through every nook and cranny of the home, and the loud noises made by the construction machines.
Even after the construction ended, it felt like the assorted debris had lingered on. My brother and I would fall ill frequently; our dog developed skin rashes that stayed with him till he died and most of the plants in our yard—including the lush mango trees—withered.
---
Sustainability is not limited to the infrastructure of a home. Instead, it is a continuous effort to adopt small changes that make a lifestyle truly eco-friendly. Check out our range of home appliances that will save energy, water and make your home sustainable.
---
That was my first-hand experience of seeing how the construction of just one floor can adversely affect the environment. No wonder then, that in the rapidly industrialising and urbanising world, cement is responsible for about 7% of the carbon dioxide emissions.
Using cement, sand, and stone for construction is the norm, and very few follow the less-travelled road of sustainable buildings.
One architect in Goa, however, is propagating the idea of using locally available sustainable materials, often recycled, for the construction of new houses.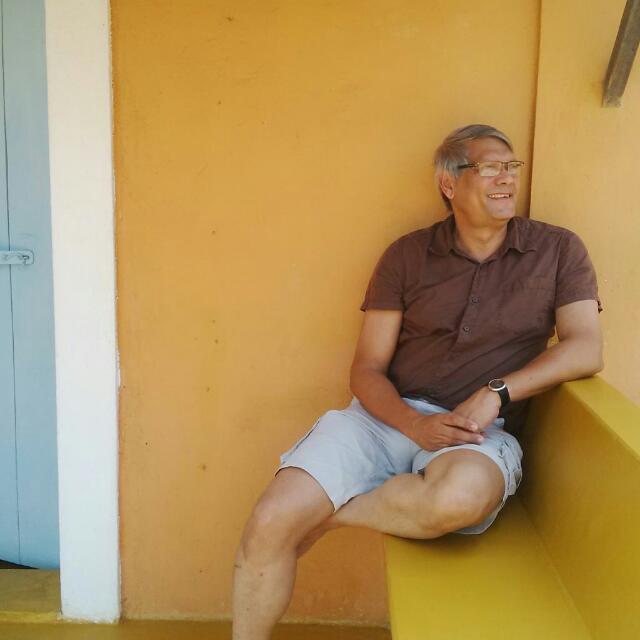 Dean D'Cruz not only wants house owners to utilise construction materials and human resources of the location where their homes are situated but also wants them to form a community of neighbours where resources are shared. These steps, he believes, will maintain the sustainability of the houses for years to follow.
"In our projects, we have worked with families who have actually been a part of the construction and detailing process, buying materials themselves and choosing them appropriately… While this needs to be done, we need to go well beyond this and look at a greater difference if we truly are to achieve sustainability," the architect tells The Better India.
He adds that ensuring a safe, empowering space to the local community and engaging with them long after the construction process is completed are two crucial factors to "sustain" the sustainability model.
A graduate of the JJ College of Architecture in Mumbai, D'Cruz came to his home state of Goa almost 35 years ago, and set base here. He has worked on over 350 projects across India.
Over 300 of these are residential houses in Goa, and 40 are hotels across India. At least a quarter of these have been built in the most sustainable ways possible.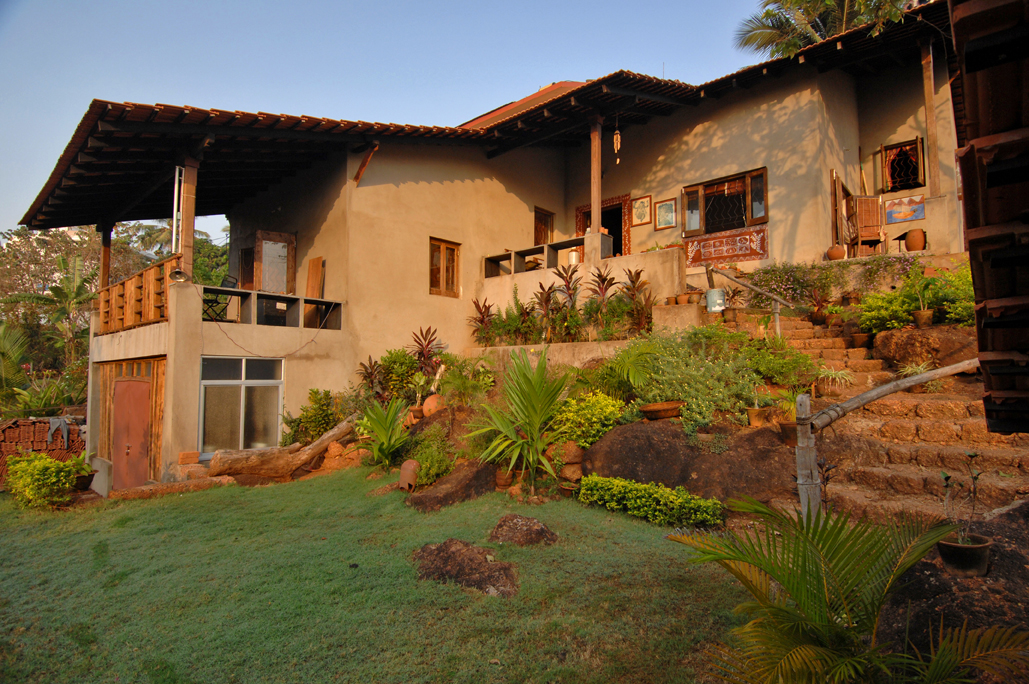 In 2001, he co-founded Mozaic, an architecture firm that advocates sustainable housing. Along the way, he also met like-minded people who not only joined the firm as professionals but also consulted with him for the construction of their homes.
"Sustainability was always on my mind even as I entered the field of architecture. And although sustainability may begin at the materials you use, it does not stop there. It should be implemented in the design, in utility and community building," he says.
Seek local, stay sustainable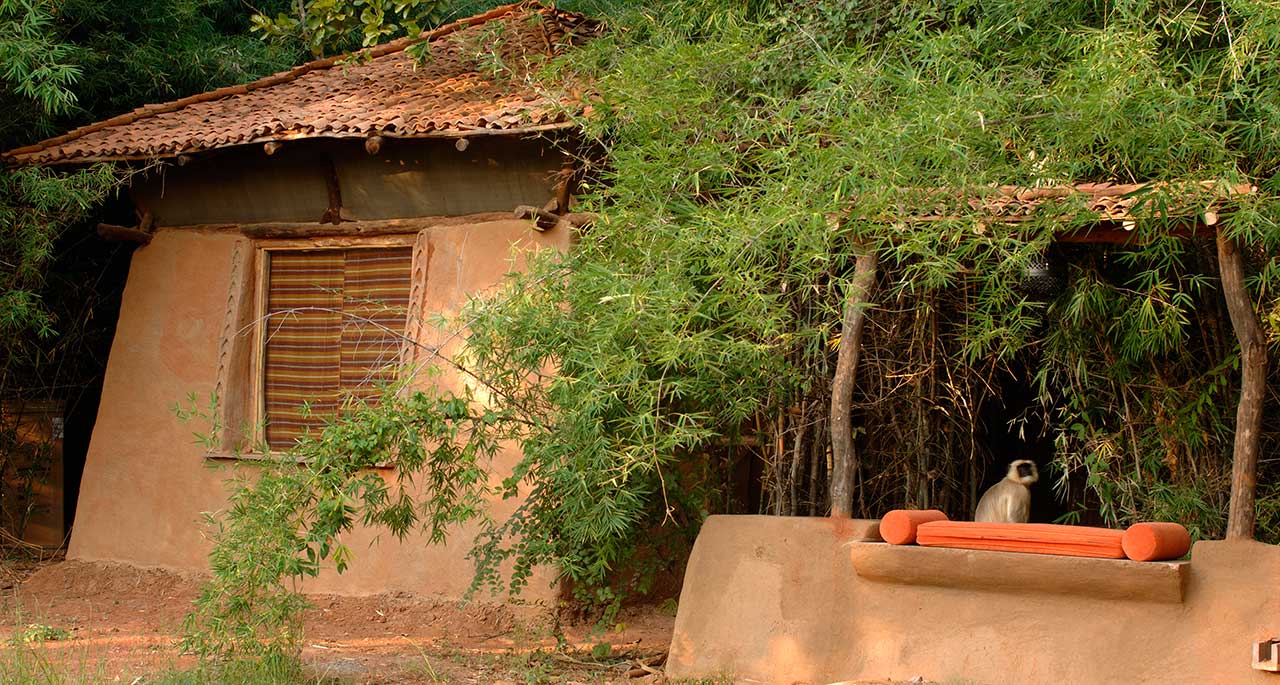 D'Cruz's projects make use of materials that can be termed unconventional in the present architecture scenario.
However, this "shop local" mantra is just going back to our roots when houses were constructed with wood, mud and other materials that were available in the proximity of the house's location. Back then, transporting material from one region to another was not feasible, and today, it is expensive.
Let's take the example of Commander (Retd) Anant Narayan, a client who built his home in 2005.
With a budget of Rs 15 lakh, the retired Naval officer wanted to construct a three-bedroom home complete with a study, a dining area, and balconies.
It would have been nearly impossible with the commercially mass-produced materials. However, Narayan, who wanted to get creative with his home and knew about D'Cruz's work and decided to consult with him.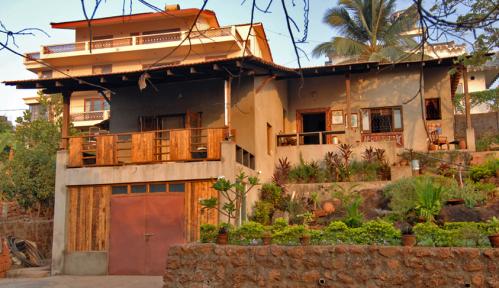 "We built the walls using laterite stone instead of constructing them with a steel foundation, bricks and cement. The laterite was cheaper than the usual bricks, and since the cost was an important factor dominating our designs, we decided to go with it. The roof, too, was not a cement slab but made of Mangalore roof tiles. The arrangement of the tiles is such that there are gaps in between two tiles and that allows for ventilation of air. In a hot and humid place like Goa, this is crucial," he explains.
Many designs of D'Cruz's make use of waste materials available nearby. In one instance, the team used timber from trees that had fallen near the site, which was used in the construction of a five-star hotel.
In another instance, they got bike handles from a local garage and used them as a tap for a washbasin!
"In one homestay on top of a hill, the stone we excavated from the pool was used for the construction of the building. We avoided the use of wood in the doors, windows by making them of light steel frames and rebated the stonework itself to create the seal. Throughout our projects we have used waste materials like broken tiles for wet areas, broken stone slabs for flooring, waste steel stitched together for grills and many other modalities that several architects and NGOs are using today. In the jungle lodges we designed, we used the fallen wood from forest trees," D'Cruz says.
Doors and windows in his designs are rarely brand new since D'Cruz believes in recycling materials for the gateways.
"Depending on the location of the house, we search for material that can be recycled. This is not a brand new idea, and in fact, several architects are already implementing it. Whether metal, glass, wood, stone or soil, we try to keep it local. That way, your home remains sustainable in several meanings of the term," he explains.
Design is everything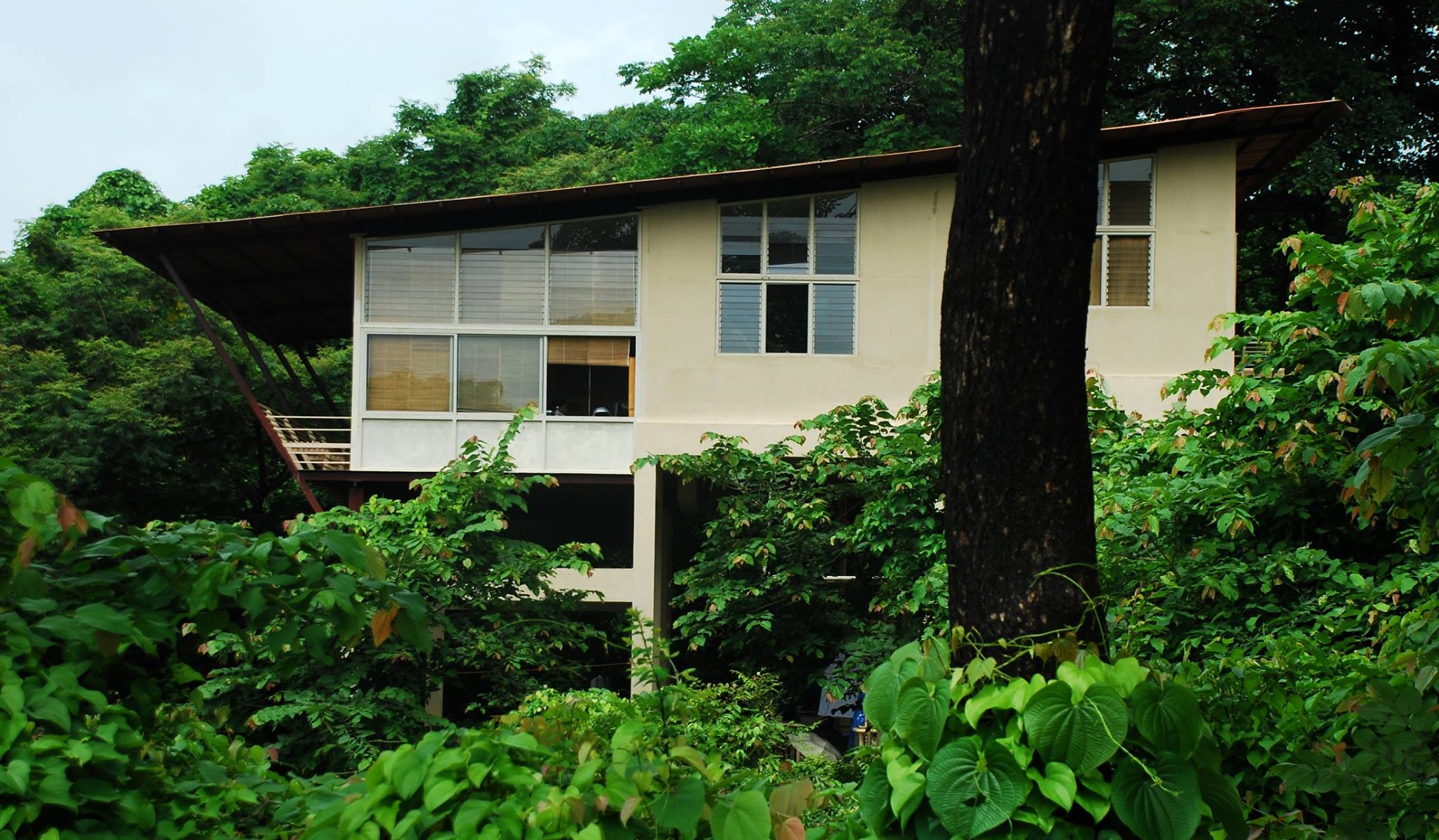 Mozaic's office is located amidst a forested area. And instead of building strong walls to keep the wilderness away, it takes extra effort to be a part of nature.
One of these efforts is to have huge windows with sliding glass doors and cane curtains. This allows natural light to brighten the office and also keeps the premises well ventilated, so the staff does not have to rely on artificial lights or air conditioners during the day. At times, birds fly inside the office!
Explaining why designing is just as, if not more important than sustainable materials, D'Cruz says, "How you use space and resources is a crucial aspect of architecture. If a room is restricted to single-use, it begs for more rooms to be constructed for other purposes. Instead, we try to make a place multipurpose. We actively seek methods to reduce the work both in terms of labour and material used."
Narayan's house is also a lovely example of how design can not only save space and money but also help a home truly be a part of the environment.
For starters, the 500 square metre plot of land where he was to construct the house was on sloping land. Usually, the land would be flattened to lay the foundation. However, D'Cruz decided to utilise the hard rock on this slop as the foundation and build the house on three levels instead.
"Not only did this bring the cost down, but it also allowed us to base the house on the existing stone itself. There are no cement columns, even inside the house. Rather, we used the old technique of having load-bearing walls that take the weight of the roof," Narayan says. He also explained that no walls divide his dining, kitchen and drawing room, so it feels like a vast space and also allows for excellent ventilation.
Building a house with the community & building a community with the house: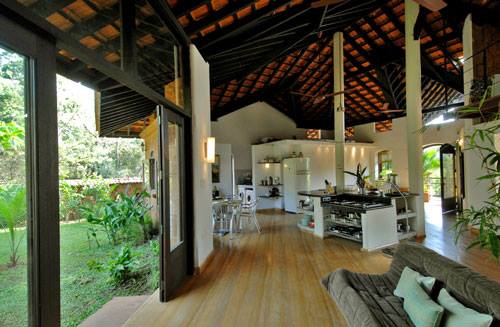 Explaining how he encourages community building with his projects, D'Cruz says, "Houses need to respond and adapt to changing family structures and other such cultural changes over the years. They need to reduce their footprint with a community approach, having clusters of houses with shared resources rather than individual ones with repetitive infrastructure that could have been easily shared."
Communities built on a cooperative basis, besides sharing common infrastructure of water, sewage, waste etc., now also have community kitchens which foster social interaction and community bonding.
"Homes need to be built by communities and not contractors. They need to be low on energy in building and usage, equitable in the demarcation of spaces for the people who support and maintain the homes, and finally, bring people together rather than isolate them. We have to learn to empower communities to recall traditional building methods, which have been lost by factors like urbanisation or industrialisation. They need to be recyclable themselves at the end of use," he concludes.
---
You may also like: Building Low-Cost Green Houses Since 1996: Architect Brings Back Mud Homes In India!
---
(Edited by Gayatri Mishra)
Image Courtesy: Dean D'Cruz/ Mozaic
Like this story? Or have something to share? Write to us: contact@thebetterindia.com, or connect with us on Facebook and Twitter.