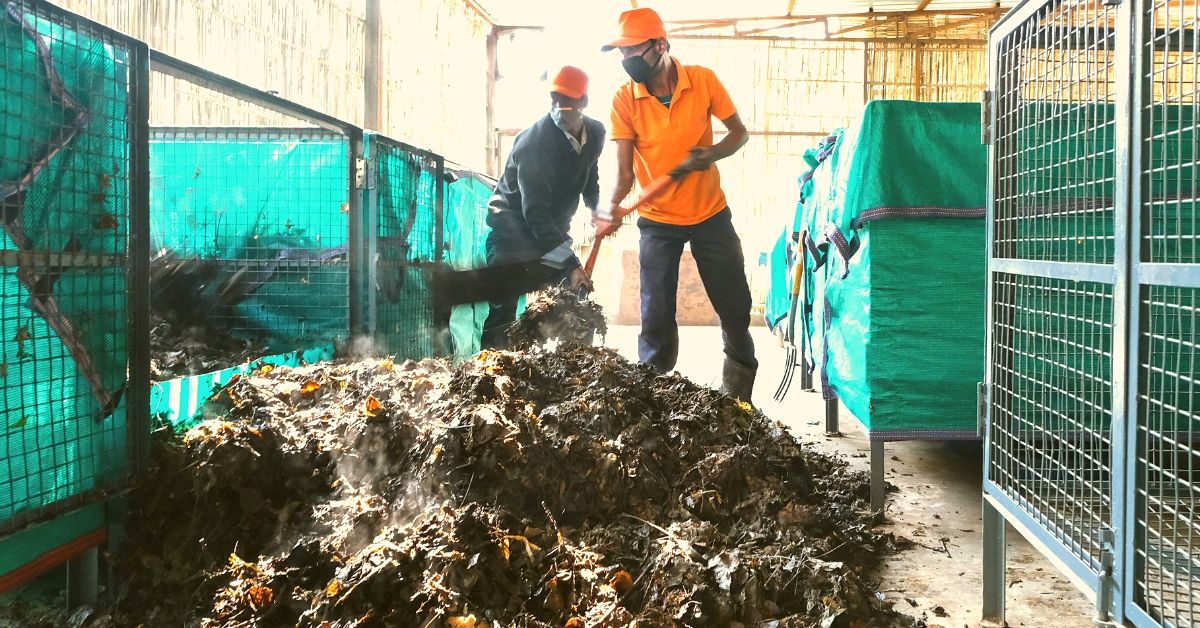 "The next time you dispose your trash, ensure you segregate. Why? We can collect double the amount of recyclable plastic and paper from segregated dry waste as compared to the mixed garbage you are currently throwing out."
With 25 towers, 32 villas and 6,000 residents, Orchid Petals is one of the largest gated-residential apartment complexes in the bustling metropolis of Gurugram.
This gated community in the Delhi-NCR region comprising of 1,532 households generates 1,900 kg of waste every day, of which wet waste makes up 1,000 kg, dry 700 kg, and the rest is domestic hazardous material. Today, the apartment complex segregates 95 per cent of its waste at source.
---
You can compost wet waste right at home. Buy these home composting kits available at The Better India Shop today.
---
It took them just seven months to achieve this target. Earlier this year, the local municipality recognised their efforts with the Swachhta Award.
However, there are three facets of their segregation practice that other housing societies should take note of—segregation of daily household waste, separate collection of e-waste, and operating an in-situ composting unit for wet waste with a capacity of one tonne per day.
Daily household waste is segregated at source into three categories – biodegradables or food waste or wet waste (green bin), non-biodegradable or dry waste (blue bin) and domestic hazardous reject or waste (red bin).
To the uninitiated, domestic hazardous waste refers to material which can hurt garbage collectors or workers while sorting out the waste like syringes, blades, broken glass, knives, diapers, sanitary napkins, etc. This also includes reject like floor sweep, nails, hair, and lenses, among others. When dealing with this particular category of waste, workers are strongly recommended to wear masks, gloves and other protective gear.
None of this would have been possible without the 'Alag Karo' (segregate) programme launched in 2017 by Saahas, a Bengaluru-based non-profit with expertise in waste management. Working with housing societies, the programme seeks to build a robust waste segregation system at source to ensure little garbage flows into landfills.
The non-profit is currently working with 40 housing complexes in Gurugram, catering to more than 20,000 households and addressing more than 20 tonnes of waste daily out of which seven tonnes is composted through in situ composting units. "We have also begun working with DLF Cyber City, a commercial complex with 13 building complexes containing around 350 offices. In more than 35 schools, we have conducted awareness sessions about waste segregation," says Sonia Garga, Project Director of Saahas, speaking to The Better India (TBI).
The Alag Karo initiative is supported by the CSR arms of Coca-Cola India, Tetra Pak and the German Agency for International Development, GIZ.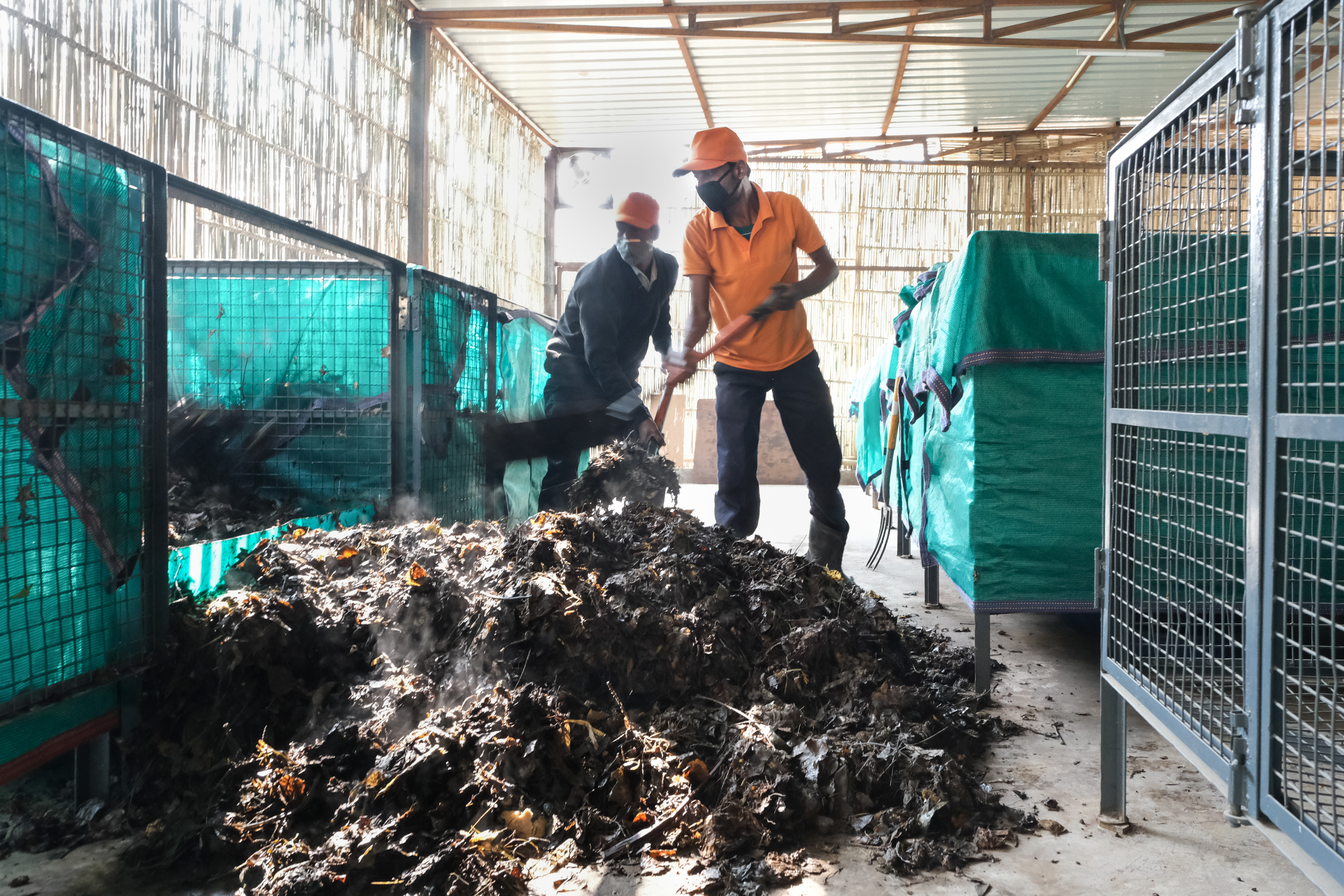 Laying the groundwork
It was in the summer of 2018 when Orchid Petals first teamed up with Saahas to implement the 'Alag Karo, Har Din Teen Bin' (segregate waste and dump it in three different dustbin everyday) programme. After bringing in the Residential Welfare Association (RWA) board members, the next step in the process was acquiring a group of volunteers from apartment complexes to adopt and oversee this waste segregation programme.
Working in coordination with the RWA leadership and volunteer groups, Saahas oversaw the training of residents, domestic help and the housekeeping staff on the finer details of waste segregation and collection besides monitoring the entire process hands on.
To institutionalise the process, Saahas has recommended the RWA to modify the housekeeping contract to ensure source segregation forms a critical part of their standard operating procedure. Setting the right system in place meant additional housekeeping staff for the RWA. Receiving feedback, and addressing challenges, Saahas' focus is on institutionalising source segregation.
What they built was a robust system which took into account crucial data points and ground realities.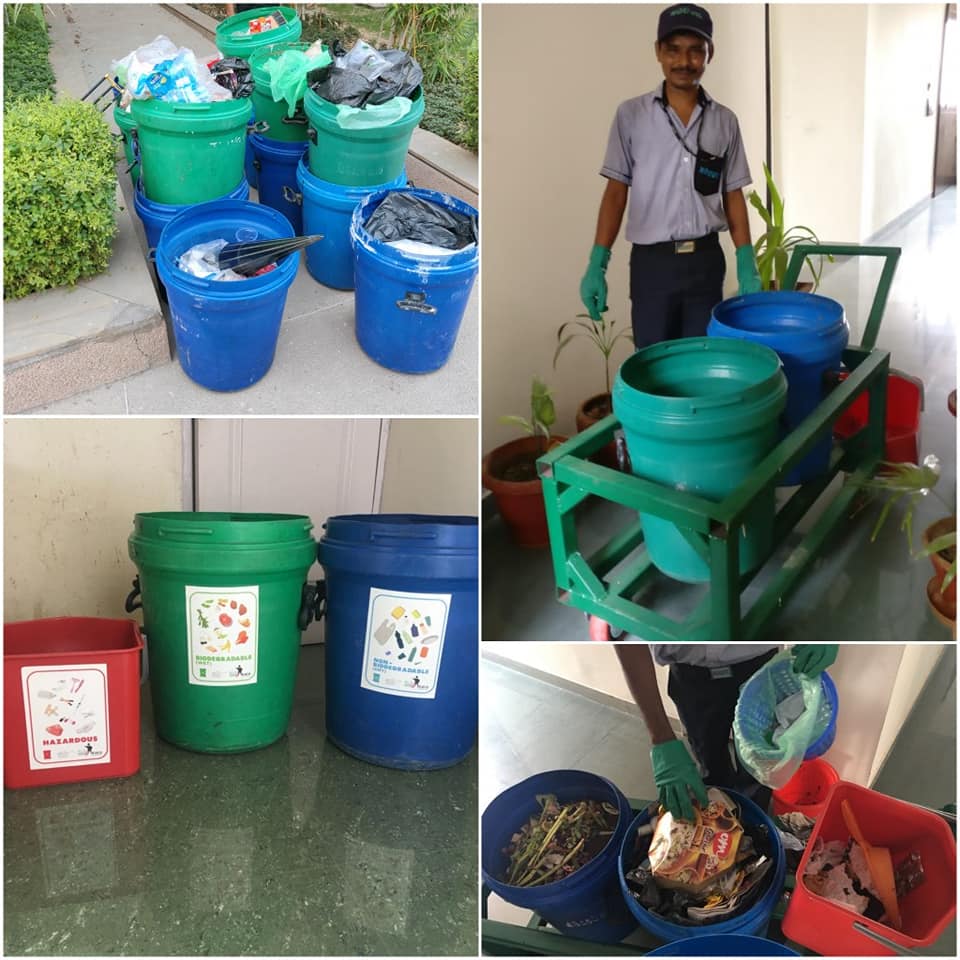 How does the waste segregation process work at Orchid Petals?
After each household segregates their waste into dry, wet and domestic hazardous reject, the housekeeping staff collects the segregated waste through door-to-door collection at a set time in the morning. They collect the waste in three separate bins on a cart.
After collection, the dry and domestic hazardous waste bins are kept at the garbage collection point which the local municipality collects in the afternoon, and the wet waste is transferred to an on-site composting unit. The compost made from the wet waste is either used in the complex's greens, or is made available to the residents and municipal authorities at Rs 5 per kg.
This is where the responsibility of the RWA gets over.
The municipal waste collector truck transports the dry waste to a centre, where alongside garbage coming in from other apartment complexes, it is further sorted into different categories. Each category of waste is sold to an aggregator who eventually sends it out for recycling.
Nearly 60 per cent of the waste is biodegradable waste, 30 per cent is dry which includes recyclable and non-recyclable, and 10 per cent is domestic hazardous waste, informs Sonia Garga, Program Director at Saahas while speaking to TBI.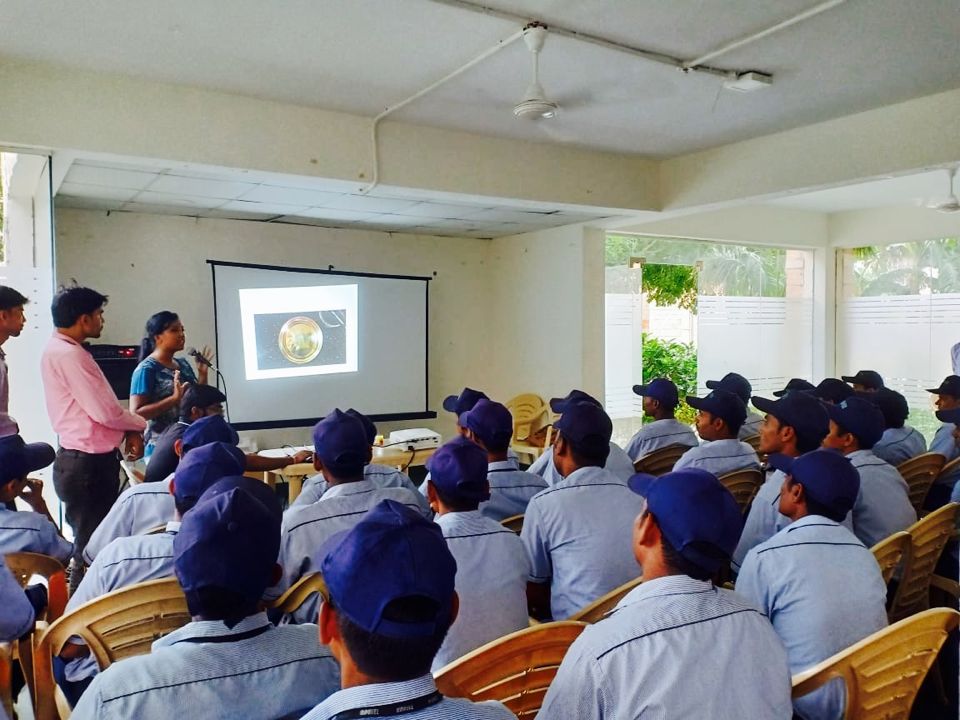 Challenges in implementing Alag Karo
"We must ensure waste is picked up in a segregated manner day after day. For this process to operate well, we found that only door-to-door collection works because that fixes accountability. Also, residents can receive feedback on how they are disposing their waste, while the housekeeping staff ensures better monitoring of the process," says Sonia.
Before partnering with Saahas, Orchid Petals had a system of common bins on every floor, where residents would discard their waste at their convenience.
"Taking that convenience away and asking people to store the waste at home until the housekeeping staff arrives in the morning to collect it was a challenge. People would complain saying that they won't be home at this time or they won't be able to open the doors at that time, etc. To get everyone on board, it was decided to test out common dustbins on each floor for a month or two, observing whether the residents are disciplined enough to sort out their waste before dumping them in the right dustbins for dry, wet, and household hazardous waste," recalls Sonia.
This experiment failed because there is no accountability in terms of how residents dispose their waste. Within a month, the residents of Orchid Petals eventually had to adopt the process of door to door collection.
It is essential to understand the domestic hazardous category of waste, especially to ensure good wet and dry waste which means 100 per cent resource recovery.
In case waste is segregated into two categories, and 15 houses give segregated waste, but the 16th gives mixed waste, where will the mixed waste be thrown?
"If it is out in the wet waste bin, we would be compromising on the quality of compost, and if it is put in the dry bin, we would be spoiling the dry waste. Salvaging recyclables from dry clean waste is more than double as compared to mixed waste. This means higher resource recovery and reduced use of natural resources. Moreover, when a waste collector carries only dry waste to their centre for sorting and processing, it drastically improves the working conditions," she says.
Also Read: 5 Innovative Lessons India Can Learn From How This IAS Officer Managed Leh's Waste
Working with mixed waste exposes them to hazardous conditions, often resulting in physical injury. After salvaging any recyclables, there is nothing you can do with mixed waste besides sending it to landfills, resulting in the release of nasty odour, diseases in neighbourhoods and finally methane-induced fires, adds Sonia.
In other words, proper waste segregation at source is common sense that is both good for the environment and those dealing with our garbage.
Taking a leaf out Golden Orchid's book, you can do the same too. Start now!
(Edited by Saiqua Sultan)
Like this story? Or have something to share? Write to us: contact@thebetterindia.com, or connect with us on Facebook and Twitter.
We bring stories straight from the heart of India, to inspire millions and create a wave of impact. Our positive movement is growing bigger everyday, and we would love for you to join it.
Please contribute whatever you can, every little penny helps our team in bringing you more stories that support dreams and spread hope.