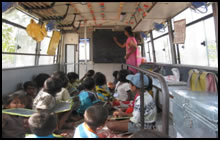 Watch this video to know about Door Step School India is a developing country with a developing population, developing economy, developing education. But is education really developing amongst the people
Watch this video to know about Door Step School
India is a developing country with a developing population, developing economy, developing education. But is education really developing amongst the people who are born poor and underprivileged. Door Step School has taken the big leap to change the present and to make 100 percent literacy a reality. This is a group of people whose main motivation in life is 'service to society' and they believe the best way to do so is to usher in a wave of knowledge that engulfs the future of our nation – the children. Meet Mrs. Rajani Paranjpe, the founder member, who says "We go where ever the children are and start the class right there".
This inspiring lady, whose mission in life is spreading primary education, has closed many prisons as the saying by Victor Hugo goes "He who opens a school door, closes a prison". When approached by The Better India for a brief glimpse into their world and how they work, she was kind enough to answer all our questions. Below is a detailed interview with Mrs. Rajani about her fantastic initiative, Door Step School:
What is the main objective that Door Step School is aiming at?
Hundred percent literacy through total school enrollment and quality education for all.
We bridge in the gaps in government's efforts in achieving these goals. Our public education system faces three major problems in this regard, namely, non-enrollment, wastage (dropping out of school at early stage) and stagnation (not achieving the expected level of learning at respective stages in school). All our programs are designed to address these problems.
Education moves on to every door step – What was the initial thought process behind this philosophy?
I am a Social Worker by profession. I took this path because I always liked to work for and with people. So after nearly 15 years of my graduation (and infact 15 years of married life!) I took up a course in social work and after a few years of working in the field I joined the College of Social Work Nirmala Niketan, Mumbai, University of Bombay, as a member of faculty. I used to teach Research Methodology and Indian Social problems.
I selected Primary education as the mission of my life because I felt:
Education or rather illiteracy was the problem we needed to address on a war footing
Working with just one person in a family is usually sufficient because that person with a little education sees to it that his/her children get education.
We focused on 3-18 age groups, because my experience says it is far easier to teach a child than to teach an adult.
Messages such as health and family planning etc. can be given to a much larger population at much lesser cost if the population is literate.
Education is one national problem which can be solved permanently once all the children are in school and are literate.
I made a plan to start four programs through Door step School. They are literacy classes (literacy is defined as being able to read a newspaper), study classes, pre-primary education and community libraries.
After having a clear idea of what I wanted to do, I shared it with like minded people one of whom was Ms. Bina SethLashkari, a student of mine for two years. She and a few others from the college joined hands with me and we founded the organization in 1988-89 in Mumbai.
We named our organization 'Door Step School" because we go where ever the children are and start the classes right there. E.g. we held classes on pavements or on road construction sites, building construction sites outside big markets, railway stations etc. We have added a few more programs along the way but the core programs have remained the same.
What challenges did you face in the initial day? How did your team deal with them?
We did not face many major challenges as such. I think the following factors helped us in our smooth functioning:
All of us who started the program were professional social workers and were in the field of social Work for some time before we started an organization.
The field we have selected is relatively simple, the work is primarily developmental,
The time was ripe for such activities and
We had a very focused approach with clear plan in front of us.
However, after we started working with the children of construction workers, we faced the challenge of tracking them when they moved from one site to another. Our search for an effective solution to this problem is still on.
Could you provide a brief insight into the projects that you run?
As I have mentioned earlier, all our programs are designed to address three major problems of our public education system. The target group is 3-14 (although we cater to children upto 18).
Pre-primary education serves two purposes – it prepares the child and the parents for schooling. On a more practical note it gives us the idea about which children are ready for school admission at the beginning of the next academic year. This ensures near-complete and timely enrollment.
For admitting children to school a birth or age certificate is required which many of the parents we deal with do not possess. We help them to get the age certificates and enroll children in school.
We provide school transport so that children attend school regularly which helps preventing school dropout and stagnation.
Study support classes to children attending school helps improve the quality of education which in turn reduces the chances of dropping out of school prematurely.
NFE (Non–Formal Education) classes helping reduce illiteracy.
School on Wheels, a bus which is designed as a class room helps us to take classes for children who are on streets and there is no place to gather them and teach them. It helps to cover those who would otherwise remain untouched.
School and Community Libraries as well as Reading Classes based in schools help in improving reading ability which is basic to any educational achievement
As an ending note, would you be able to tell us the difference that Door Step School has brought about on our society?
It is difficult to answer this question because the work we are doing is very small as compared to the need for such programs. Therefore I would rather not claim anything on the scale of society or nation.
However in the lives of children whom we have touched we have definitely made some impact or the other although this impact is not perceptible or measurable always. Some of our children have completed education and doing well in life. Some have left education midway and continued with their lives. It is their children who will benefit from the exposure we have given to their parents.
We experience this and we have many examples to show that a child who was with us even for a short time has nurtured a dream of sending his/her children to school and acts upon it when the time comes. We see this change in the attitude of 'parents' as our major gain. It shows that the root of education has struck in the family and now we do not have to worry. It will spread, we hope.
To know more about Door Step School, visit their website here: www.DoorStepSchool.org
Tip provided by a TBI reader, Zankhana Patel.
This article has been written by Malavika Tewari. Malavika is a NIFT graduate and has been working in the apparel sector for past 2 years. She has great fervor for reading and has observed the delight in writing for past few years.
We bring stories straight from the heart of India, to inspire millions and create a wave of impact. Our positive movement is growing bigger everyday, and we would love for you to join it.
Please contribute whatever you can, every little penny helps our team in bringing you more stories that support dreams and spread hope.