Every morning, as I walk to the bus stand, I cross a local school here, a government school. I hear loud singing voices; the same songs every morning – the
Every morning, as I walk to the bus stand, I cross a local school here, a government school. I hear loud singing voices; the same songs every morning – the prayers and the national anthem. I pause and smile. School is such a beautiful feeling! Only when I am returning home in the afternoon do I mutter curses under my breath. Swarms of children run madly in all directions in and out of the school. With their uniform loosely hanging over their bodies and a few torn books falling out of their bags, I see the dismal picture of 'education'. I wish these kids had a way to study at better schools, where they would truly be educated. There could also be an alternate option. Why not improve the quality of education in these government schools? That's exactly what Sikshana does.
In 2002, Mr. E S Ramamurthy, retired chairman of BHEL in Bangalore wanted to work on a social cause. He started working with a primary school to understand their functioning and their problems. Initially he remained associated with aangan badis, overseeing the midday meal programmes. Yet, after it was taken up by the government, Ramamurthy decided to do something more. He decided to focus on the quality of education in government schools and act as a facilitator. The founder member of Sivasri Trust, which operates Sikshana, Ramamurthy started out in 2004. In the next one year, he could cover ten schools. Since then, there his idea has known no bounds. He gradually strengthened the Trust and found more board members. In 2007, one of the funders, Mr V.R. Prasanna, having returned from the US after 16 years, joined the Board as a fulltime Director.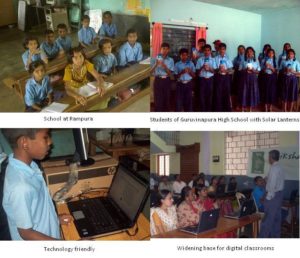 Prasanna explains the Sikshana model, "I realised that the model was very successful and could be replicated. I joined as the Programme Director with a view to scale it up. It is a decentralized approach. We try to understand the basic needs of each school, based on the village and community conditions. The idea was to empower schools by disbursing funds and bring in management concepts. Since 99% of our schools are in rural areas, we noticed that students found it difficult to express what they knew. Hence, we focused on four skills – Read, Write, Compute and Express!"
What started with ten schools has today grown to 375 schools, covering almost 50 000 students. Sikshana acts as a facilitator, providing resources and guidance to the schools. In India, 90% of all children in the 6-14 age group attend a public school, which is why the Sikshana team felt that any meaningful effort to improve the educational standards of the new generation should necessarily start here. The value additions are countless. Take technology, for instance. Prasanna explains, "We started our initiative of providing one laptop per school and one pendrive per child. Being able to access a computer helps children overcome their fear of technology. Kids are even learning English faster, because of computers. We have English-Kannada dictionary installed in every system. We make sure every child comes forward to use the facility. We also help those who excel or are able to do better than the others by conducting summer technology camps for them. At the end of every year, we organise a computer summit, across schools. Two students from each school give presentations. This increases their confidence levels. We know that our students will be able to become whatever they want in life, because of the kind of exposure they get."
Many individuals who want to make a difference in the society often wonder how they would do it all by themselves. When I look at Sikshana and the magnitude, impact and diversity of their projects, I am assured that anything is possible if you want it bad enough. Prasanna writes on the Sikshana blog, "With Sikshana yet to hit the 20 employee mark and the need to manage nearly 375 schools in 7 blocks, a question that naturally comes to one's mind is how is Sikshana able to conduct such large events in addition to mentoring all the schools. I am seeing increasing signs of the teachers and the department taking ownership of Sikshana. An increasing number of teachers have started to believe in themselves."
Thus, on one hand children are imbued with an enthusiasm to learn actively and on the other, the staff is more aware of its role and potential. With Skishana playing the facilitator, the day is not far when public schools will be at par with, if not superior to, the private schools.
We bring stories straight from the heart of India, to inspire millions and create a wave of impact. Our positive movement is growing bigger everyday, and we would love for you to join it.
Please contribute whatever you can, every little penny helps our team in bringing you more stories that support dreams and spread hope.