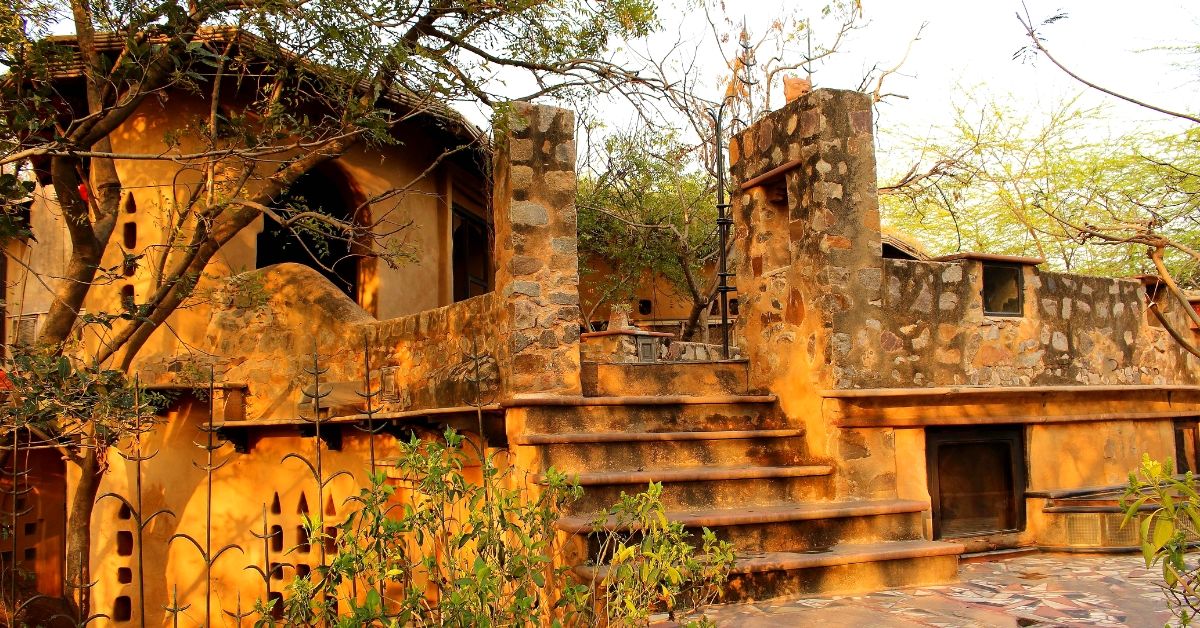 As the architect describes herself, the project aimed to understand and explore the potential of raw and unstabilised earth as a viable material for a contemporary house with more than one storey.
Near Surajkund in Faridabad district in Haryana, is a little village named Anangpur, which is believed to have been the birthplace of Anangpal Tomar, maternal grandfather of the legendary king, Prithviraj Chauhan.
Despite its royal connection, this forgotten region has ended up becoming a mining and quarrying site, which left it ravaged and devoid of greenery, with the original scrub forest chopped and razed down for firewood.
However, one woman brought attention to this little known village when she decided to make her home here 27 years ago.
The interesting thing is that it is not one of your regular housing structures but a contemporary two-storeyed house that would go on to become one of the first 'architect designed' houses in India to be made from sun-dried mud bricks.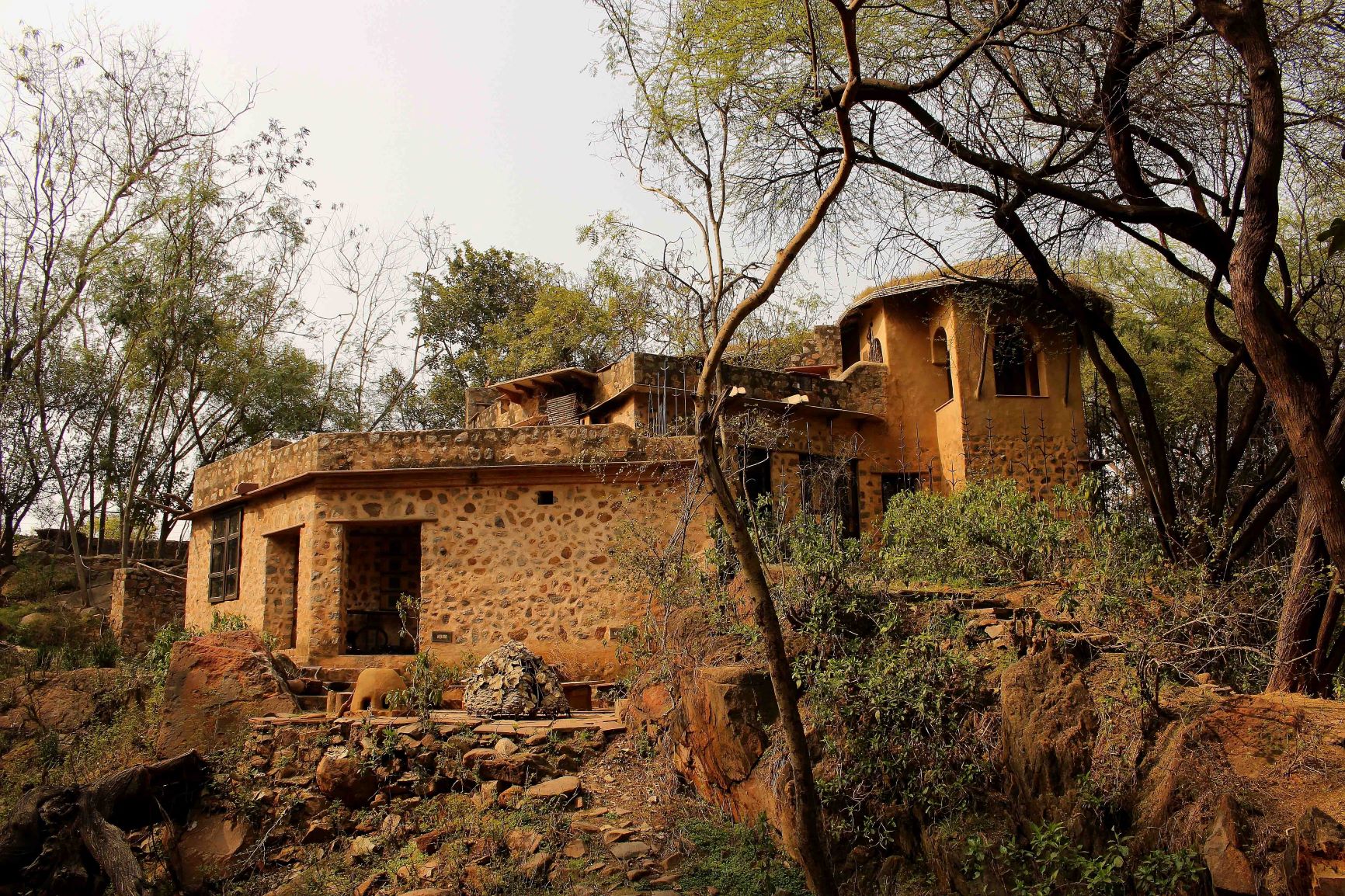 By the early 1990s, renowned architect Revathi Kamath had already worked on many pioneering mud-based architectural projects across the country. Beating the idea that mud homes aren't sustainable or longstanding, she has been living in the same house for the last 27 years that has a series of open-to-sky enclosures, gateways, verandahs, rooms, platforms and steps.
As the architect describes herself, the project aimed to understand and explore the potential of raw and unstabilised earth as a viable material for a contemporary house with more than one storey.
Speaking to The Better India (TBI), she shares that mud houses have been an intrinsic part of human civilisations around the world since ancient times.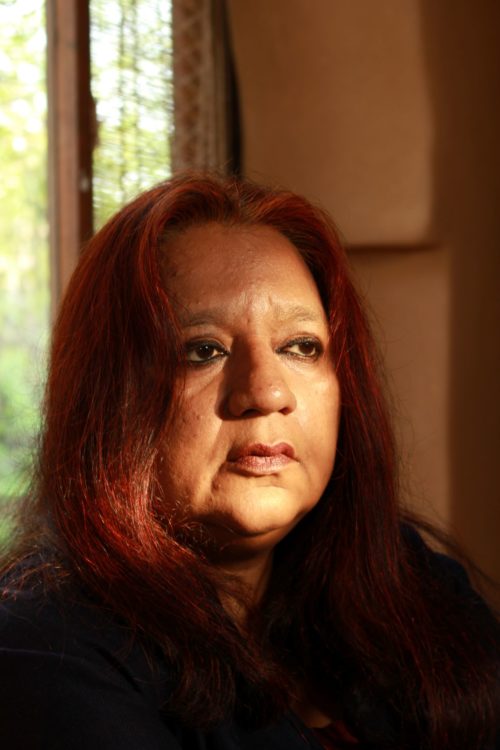 "In India, this changed with the concept of low-cost 'pucca houses' being widely hailed by different governments, a norm that is still being proliferated across the country. If you look into it, even the lowest of the low-cost houses that Laurie Baker championed, came at the cost of four fully grown trees to fire the bricks. Low-cost is one thing, but that aspect must never be a priority over ecological factors," she explains.
She further shares that the bricks for any regular construction comprise a standard strength of 75kg/ sq. cm. "The fact that mud houses are susceptible to rain has always been there. But I wanted to work on a project that could not only counter this factor but also have the sun-dried mud bricks reach up to the same strength that any regular brick possessed. I believed it was possible to do so with proper designing," she says.
Talking about the low-cost aspect for pucca houses, Kamath explains that conventional methods cannot go beyond a certain point.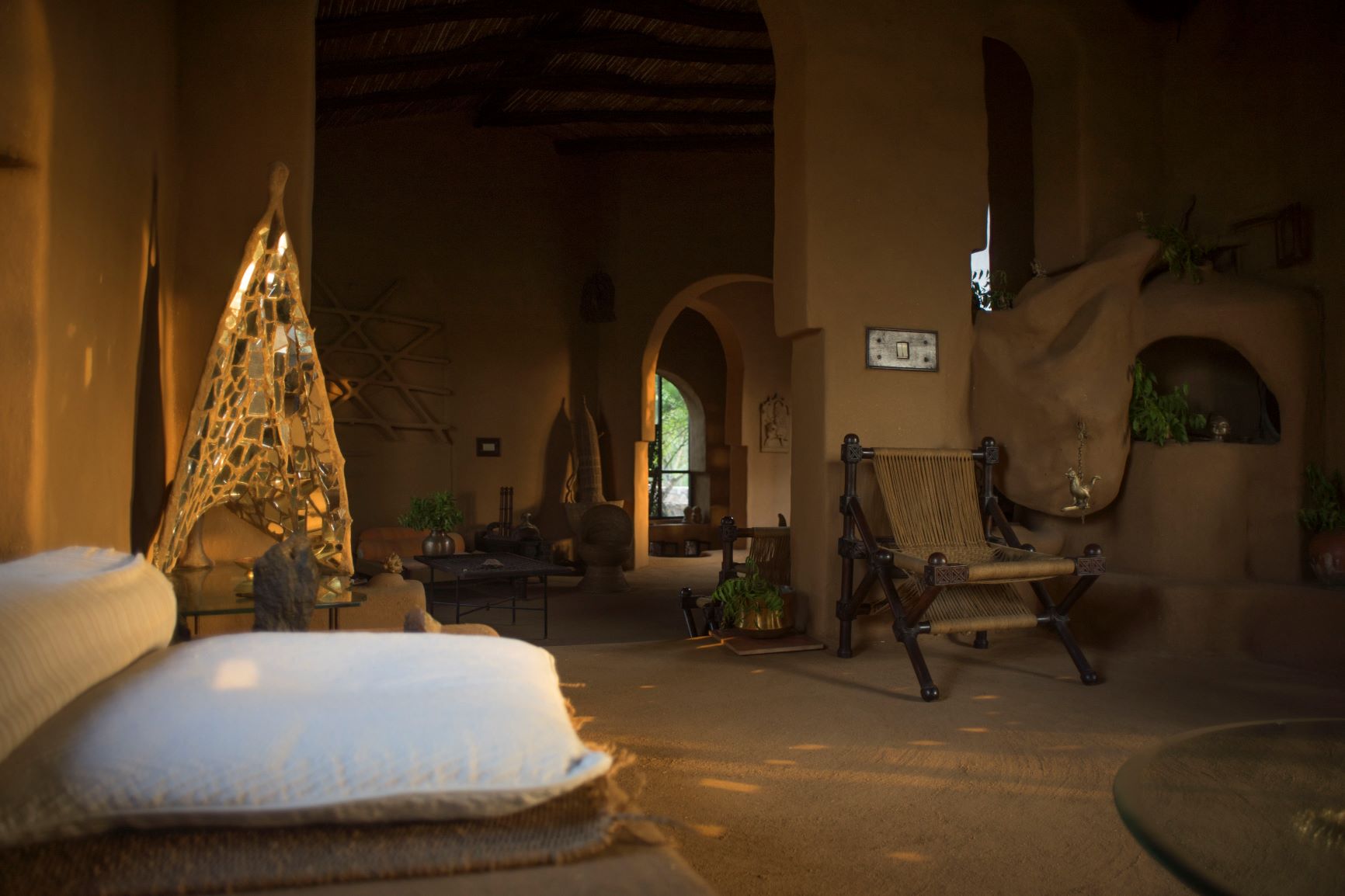 "Mud, on the other hand, could. Traditional brick making does not require an incredible amount of skill. However, if you notice, women are rarely allowed to partake in its creation and are mostly seen only carrying these. With mud architecture, I found two achievable aspects: first being that the ecological footprint cab be significantly brought down and the second is that it involves large scale participation of women," she says.
With a crew of mostly women and old men, she set out to create a mud-based structure that would become "home". Interestingly, the construction material, which was a perfect mix of red quartzite and clay, was sourced from the very site where the house was to be constructed. It was dug out from about four feet below the surface of the site after which the topsoil was restored.
As for the foundation, Kamath explains that most foundations that you'd find in conventional constructions aren't very good at keeping away water. For her house, she decided to go ahead with a 'pucca' foundation made of locally available schist in random rubble masonry with lime mortar, which she prepared at the site using traditional methods.
"I've experimented with different types of foundation designs that involve using locally sourced rocks in the past and wanted to incorporate the same here too," she adds.
For the construction of a two-storeyed mud house, regular-sized bricks wouldn't have worked well.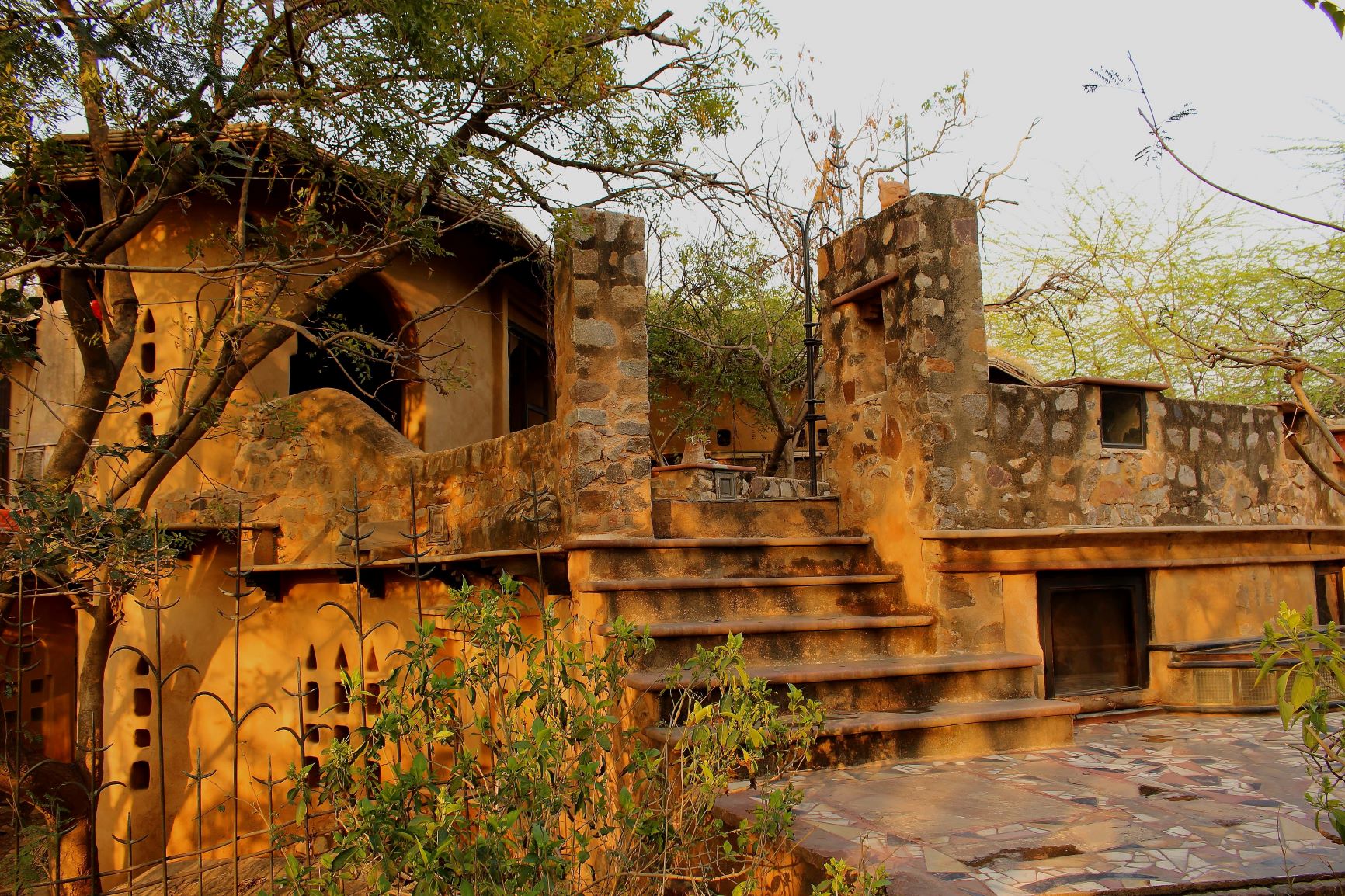 So, Kamath decided to create a mud wall that comprised sun-dried bricks of one-foot thickness each. "This way, two floors in a mud structure could easily sustain," she says.
The final part, which is the rendering, was also done by the women. "I was particular about that. Using mud and cow dung, I felt that this work would bring forth the creative energies of women, who are otherwise mostly seen and utilised as beasts of burden in regular construction sites. We've also worked with various oils for waterproofing too. One only needs to redo the rendering once in every five years, so whatever materials are cheap at the time, those are utilised," Kamath shares.
Kamath shares that many pucca houses in Delhi have been mud plastered or rendered by her team of women workers in the past and continue to do so. Being excellent insulators, she explains that the heat factor is optimally addressed by mud—be it entire constructions or even just rendering.
Mud as a construction material isn't the only amazing feature of Kamath's home. It also comes with a live roof with grass growing on it and constructed using 'bamboocrete', a revolutionary construction material.
Kamath shares that while it is not entirely possible to avoid cement from the construction of a house, everything in her home is 100 per cent recyclable.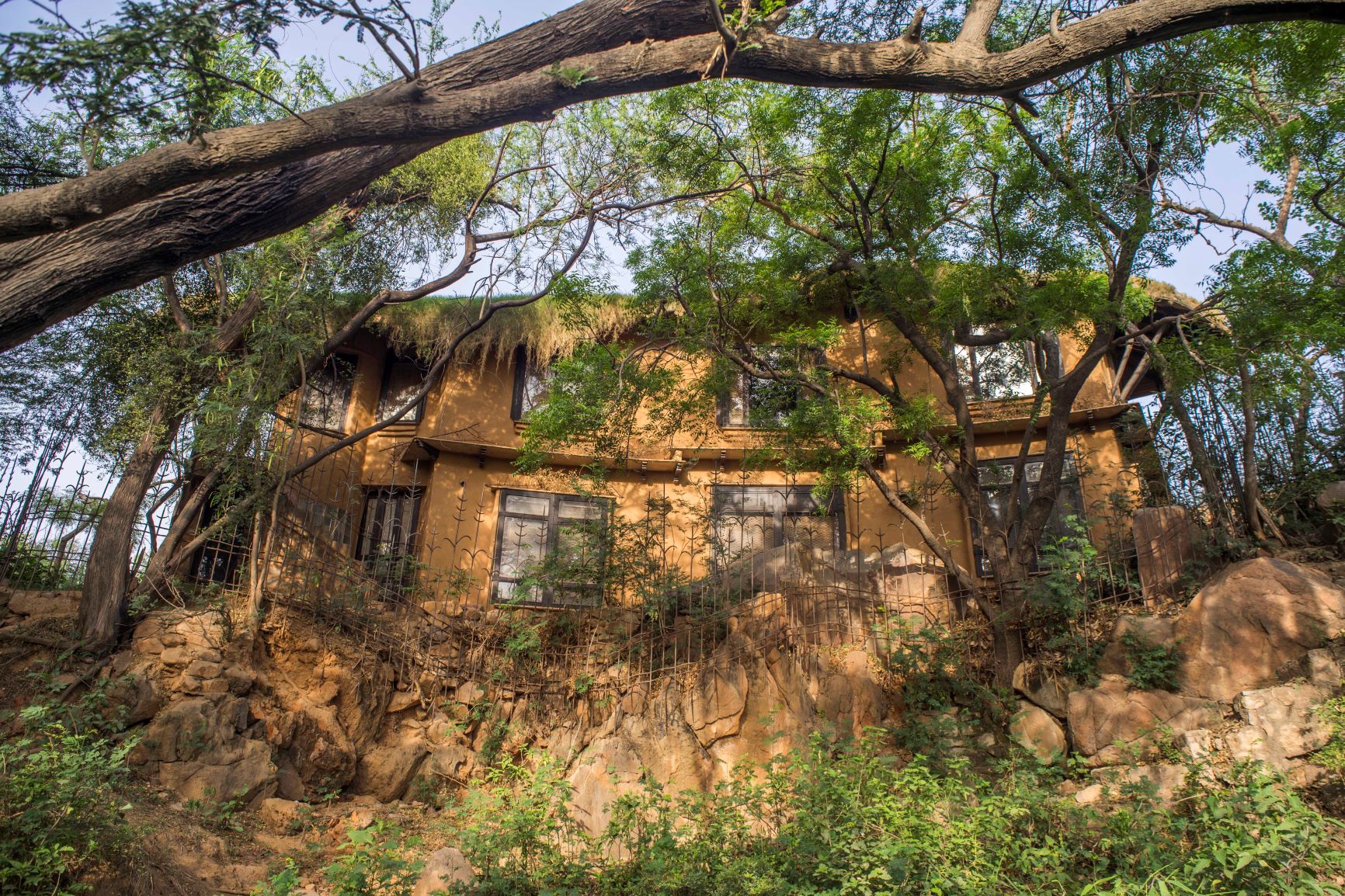 "Taking the roof and foundation into consideration, a total of 0.3 per cent of cement can be found into the entire structure," she says.
Lastly, she adds that mud is a fantastic material to work with, where every person involved in the process of construction finds absolute joy—be it the women workforce or the masons. "Though I've faced certain masons finding it inconvenient to work with mud in certain occasions, their distaste too passed after the initial apprehension," she concludes.
---
You may also like: Kerala's 'Guardian of Native Paddy' Lives in a 150-YO Home Made of Mud & Bamboo!
---
With an illustrious career graph spanning nearly four decades, mud is just one of the construction materials that the 64-year-old has worked with. However, the woman is often dubbed to have pioneered contemporary mud architecture in India with her extraordinary projects found across the country. Some of her noteworthy works include Desert Resort in Rajasthan, Laxman Sagar Resort at Pali (Rajasthan), Nalin Tomar House and Tower House at Hauz Khaz, Museum for Tribal Heritage at Bhopal and many more.
You can look up more of her work here.
Courtesy: Kamath Design Studio.
(Edited by Saiqua Sultan)
We bring stories straight from the heart of India, to inspire millions and create a wave of impact. Our positive movement is growing bigger everyday, and we would love for you to join it.
Please contribute whatever you can, every little penny helps our team in bringing you more stories that support dreams and spread hope.