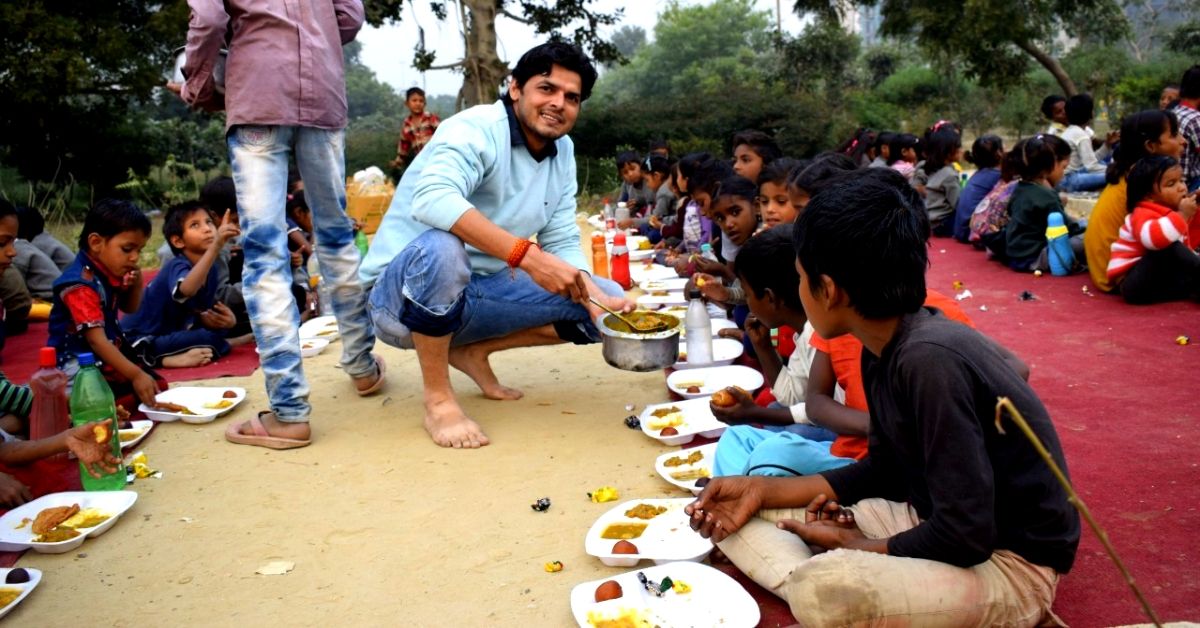 A whiteboard, markers, and a duster for the teachers and a carpet laid on the ground for them to sit on, 15 such study centres across Uttar Pradesh, Bihar and recently, Rajasthan, are providing free-of-cost education for slum and street kids since 2013.
A make-shift tin-sheet structure with an open roof, an open field nearing harvest, a pavement by a bustling suburban street or sometimes even an isolated corner under the shade of a century-old banyan tree. These might seem like random locations in cities and villages for you and I, but for over 3,000 underprivileged street kids, these spaces come alive as schools working for their better future.
A whiteboard, markers, and a duster for the teachers and a carpet laid on the ground for them to sit on, 15 such study centres across Uttar Pradesh, Bihar and recently, Rajasthan, are providing free-of-cost education for slum and street kids since 2013.
Thanks to the vision of a railway section engineer, Sushil Kumar Meena, also the Founder and President of the Nirbhed Foundation.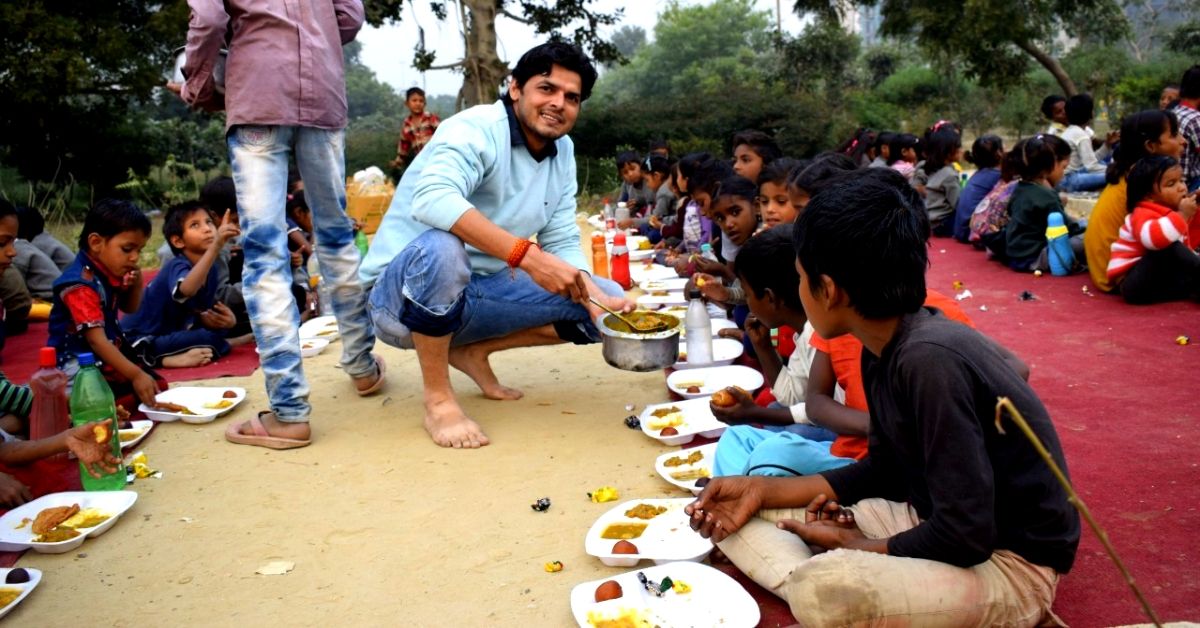 The Better India (TBI) got in touch with Sushil to map the beginning of this journey.
Sushil was born into a lower-middle-class family in Rajasthan that later shifted base to Ghaziabad. After completing his secondary education in the city, he moved on to pursuing engineering at Harcourt Butler Technological Institute (HBTI), Kanpur.
Growing up, Sushil had observed his own father stress on the importance of getting a good education and never shying away from helping underprivileged students around them in academics.
Besides, his grandmother was known for running food drives for the poor. It was as if the spirit of wanting to serve the less privileged ran through the family, and which Sushil too had inherited.
As a National Social Service (NSS) student from HBTI, Sushil recalls visiting a rural village for a camp. Interacting with the villagers, he was deeply moved by the issues that marred the quality of their life like inaccessibility to sanitation or even a proper school for their kids. As a student, he lacked the resources to help them.
Little did he know, as an adult, he would impact thousands of lives.
When Sushil was posted with the Railways as a section engineer in 2012, he carried forward his father's legacy. He set up Nirmaan Coaching Sansthan that helped economically weak aspirants crack government services exams with facilities like free books, stationery, learning material free of cost.
It was also at the time that his travels into the slums of Ghaziabad where many of these students resided, opened his eyes to the harsh conditions that several children lived in.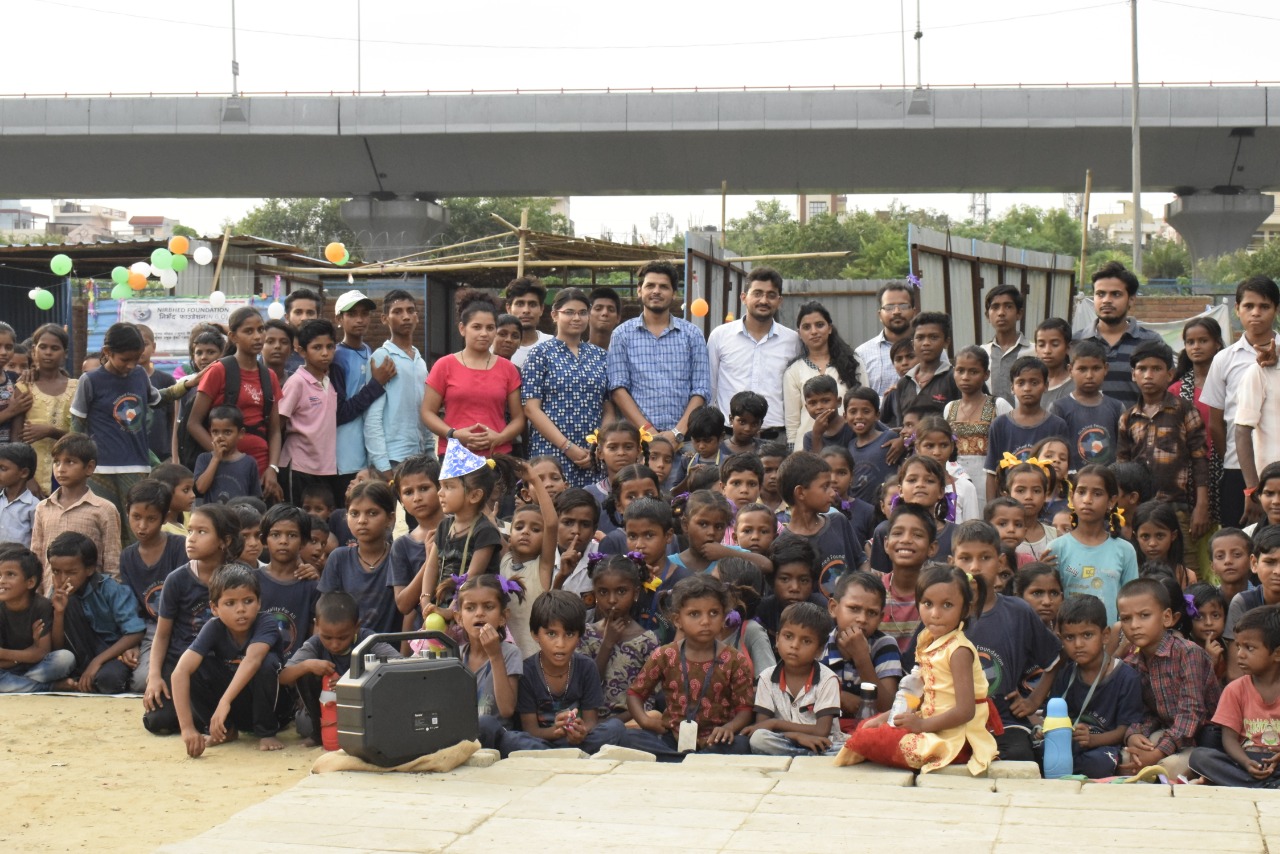 To put it simply, the atmosphere was least conducive to growth. Children as young as seven years old worked as rag pickers or begged on the streets to supplement their family income. Whether it was leftover food from any birthday party or even food left for the dead during shradhs, they would pick it up right away and eat it. Forget picking up books to read or write; they had never stepped inside the gates of a school. It was absolutely heartbreaking.
Sushil was aware that if he asked the parents of these kids to send them to study, they would refuse outright.
"These children are their assets. Asking them to quit their jobs to study would hurt their families financially. So we had to think of an innovative approach to convince the parents."
The team, which included Sushil and a few like-minded friends who joined the cause, would visit the slums for surveys. They held clothes distribution drives, where they used the opportunity to sit down and have a talk with the families of the kids.
"We told them, 'Your kid earns you an income by selling small products or handicrafts. But when he/she takes the money, often, due to lack of basic education, they cannot even calculate how much money they have to return in the middle of a transaction. Don't you think, sending them for a few hours to learn these skills would help?'"
It wasn't as simple as it seemed. While some parents agreed, the majority of them refused their help calling them, 'nautankis' who would con them like other NGOs in the past had, who did surveys but never helped them.
This changed when Sushil abruptly stopped the survey and promised the slum dwellers that they would only see teachers the next day.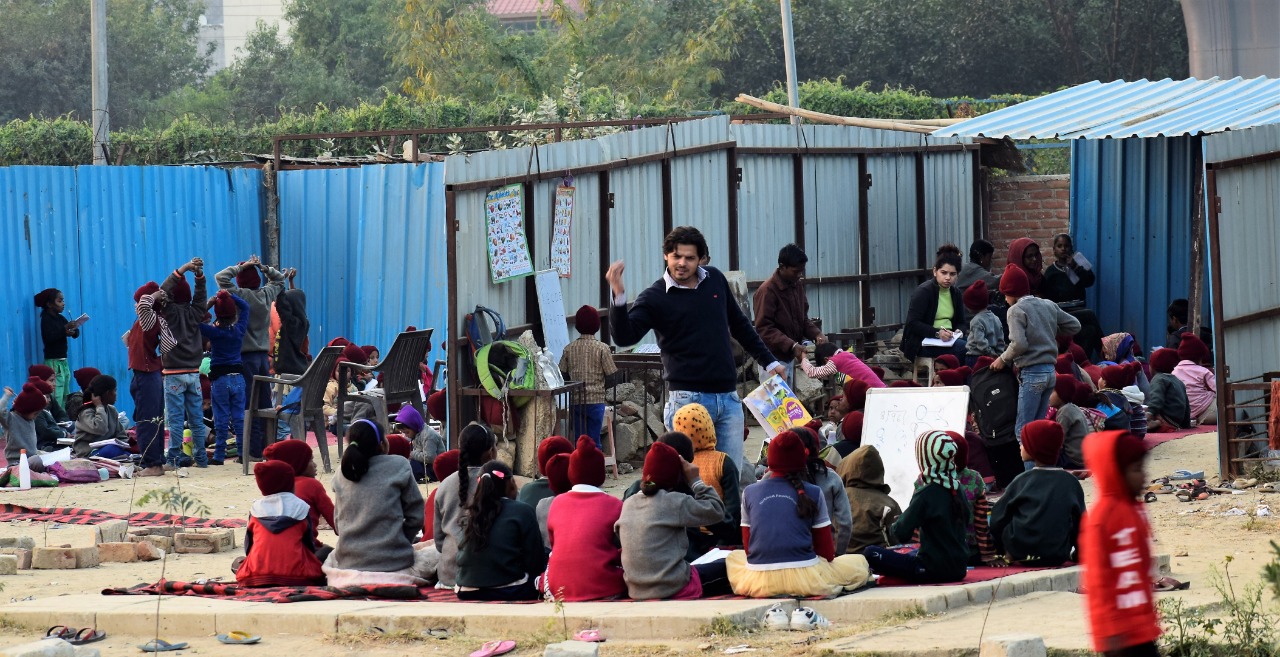 Alongside a few of his friends, he adopted another strategy to help students spend more time studying. They helped the children earn what they would in a month in the matter of a few days, by helping them make and sell handicrafts. When the parents received the income, they readily agreed to let the students spend long hours at the study centre.
Yes, there were plenty of challenges that we had to overcome, but we kept our calm. Many of the parents who vehemently opposed our work at the start are the same ones who have walked up to us with tears in their eyes, touching our feet and telling us how education is transforming their lives. When the parents saw their children read books, they allowed themselves to dream that their children just might have a future different than theirs.
The school couldn't run at the time they wanted since many of the children worked during the day. So the classes start in batches from 5:30 am and last till nine at night. At the start, many of the volunteers who taught the kids included students who were preparing exams for government jobs that Sushil coached. Since most of these exams have content from the syllabus of class six to nine, it was an excellent method for them to not only teach the slum kids but revise too!
When Sushil's team first started teaching in Indrapuram, the number of kids kept rising day by day, until it was close to 300 kids. At the time, he realised the need for them to be formally registered in schools. When he reached out to some of the top NGOs in the country working in the educational sector, he was shocked by their response.
"One of the NGOs told me, they weren't running a project under which they could help the kids. They neither entertained nor directed me in any way. When I visited the nearest Government school, it was in a dilapidated state facing a severe staff shortage. They refused to let older kids sit in lower classes, citing their age. That was when we decided to register ourselves and scale up the impact formally."
Thus in 2015, Nirbhed foundation was registered as a non-profit. It became a place where no child is ever refused help. The students that they equipped in one centre would go to other slums and teach others like them. Thus, the chain of change multiplied.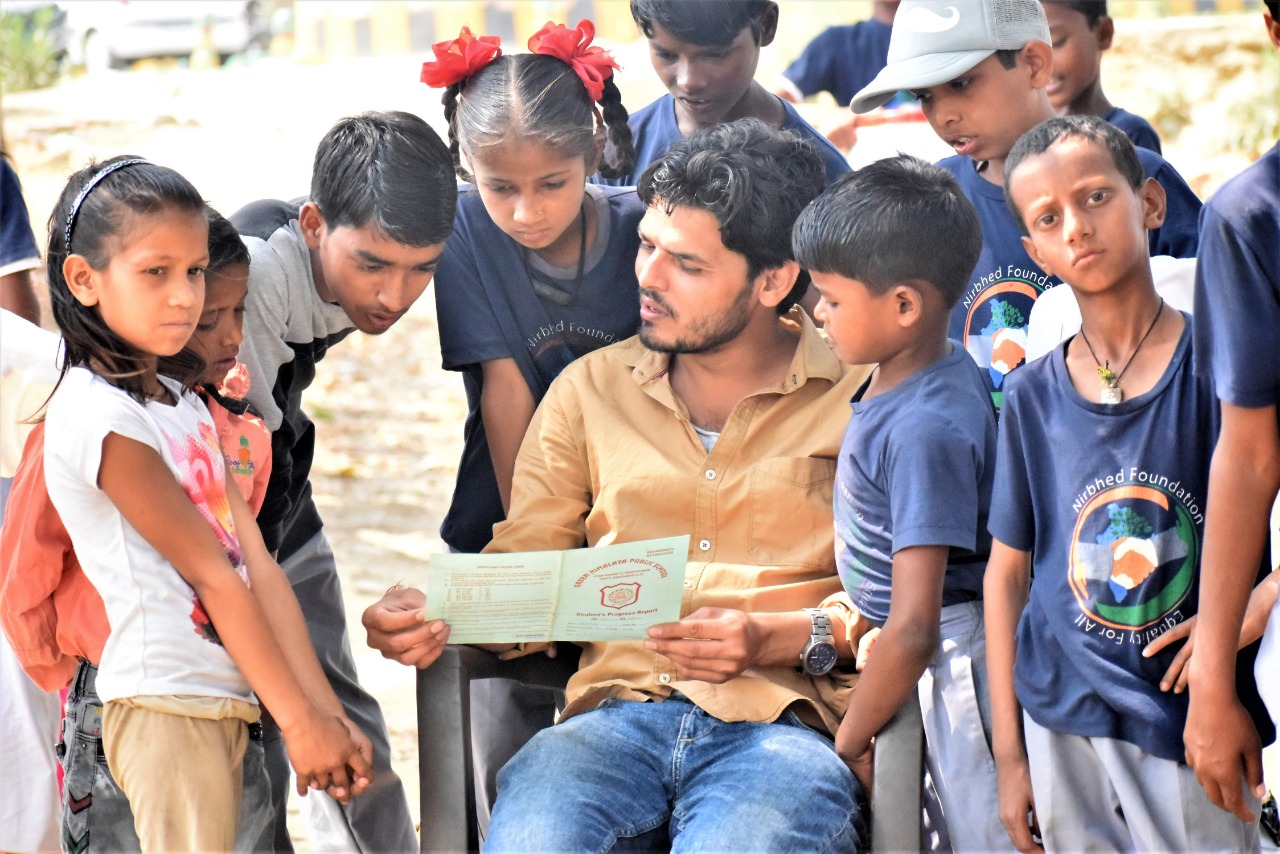 "Many of these kids, when they are called 'sir' and 'ma'am' by other kids, have their beliefs strengthened in the transformative power of education. We have given them a different coloured t-shirt with the Foundation's name to set them apart. Ours might not be a formal school, but to help children experience the feeling of going to school, we made uniforms and ID cards for them too. Such has been the impact that several children have left other NGOs with proper buildings, air-conditioned computer rooms, benches and chairs to sit in open-shed structures and study with us.
In one of their locations, the students themselves cut down six-foot high bushes to build their make-shift school.
This gives me hope that even after I am long gone, these kids will keep the change going.
Today, after six years of successfully running the project, the team which registered itself as a non-profit Nirbhed Foundation in 2015, has over 50 volunteers. Most of them are either students or working professionals who feel for the cause.
The syllabus that the team follows is from the NCERT books. To retain kids, they even started a one-time meal at some of their centres, a model they aim to replicate shortly with all the centres.
Education is one of the projects that the Foundation works on. Apart from this, they also impart vocational skills like tailoring, handicraft making, etc. to help these kids and their families earn a livelihood.
---
You May Also Like: 22-YO Mumbai Woman Turns Skywalk into Classroom; Teaches Kids of Beggars for Free
---
"Many of them are not entertained in public offices due to lack of documentation, so we help them out with that too. Our 4 BHK office in Ghaziabad functions as a hostel for the kids, a storeroom for clothes donation drives and even an in-house medical centre, where we make affordable healthcare accessible to their families."
At the moment, Nirbhed feeds 460 people every day. The Foundation has now tied up for food and clothing donation with food courts of malls like Shipra Mall in Ghaziabad, Logix City Center in Noida, Zomato, several high rise societies, Reliance Mart etc.
Several good samaritans who wish to celebrate their birthdays and anniversaries, do it by sponsoring meals that the team prepares for the kids too!
Their tie-ups have helped boost their clothes donation drive where a lot of branded reject clothes make their way to several slums.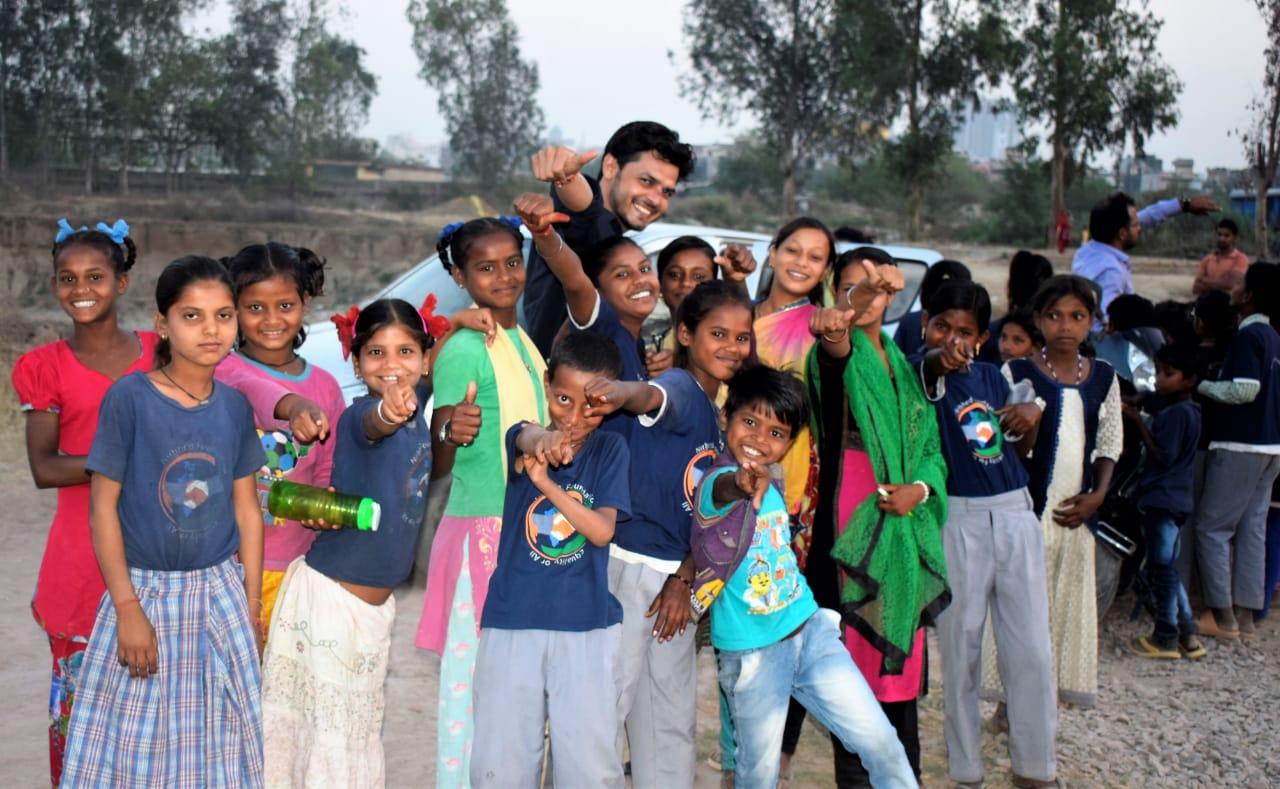 "From newborns to senior citizens, we have clothes for all. For the longest time, we did not take any form of financial donation. We request our donors to donate in kind. But as time passes and we work towards registering the kids in formal schools, we need assistance.
In a final message for the youth, he says, "Despite being a young country, our youth lacks 'motto' in their lives. They are bright and capable of bringing change; all they need is the will and the direction to use their skills and talents to impact others, especially the less privileged. We often say the system is resistant to change. But who is the system? It is you and I! Instead of chasing a cushy life abroad with a hefty paycheck, what if our youngsters – the doctors, engineers, scientists, teachers of tomorrow, decide to stay in India and work? If we join hands, the day that the rupee surpasses the dollar won't be far."
To support Sushil and the Nirbhed Foundation, get in touch with him on +919599044255 or write to him at nirbhedfoundation@gmail.com.
You can also sponsor the registration of a kid in a school, with Rs 2,000, using the bank details below:
Nirbhed Foundation
Acc no- 727101010050096
Ifsc- UBIN0572713
Branch- Rajnagar Extension, Ghaziabad
(Edited by Saiqua Sultan)
Like this story? Or have something to share?
Write to us: contact@thebetterindia.com
Connect with us on Facebook and Twitter.
We bring stories straight from the heart of India, to inspire millions and create a wave of impact. Our positive movement is growing bigger everyday, and we would love for you to join it.
Please contribute whatever you can, every little penny helps our team in bringing you more stories that support dreams and spread hope.