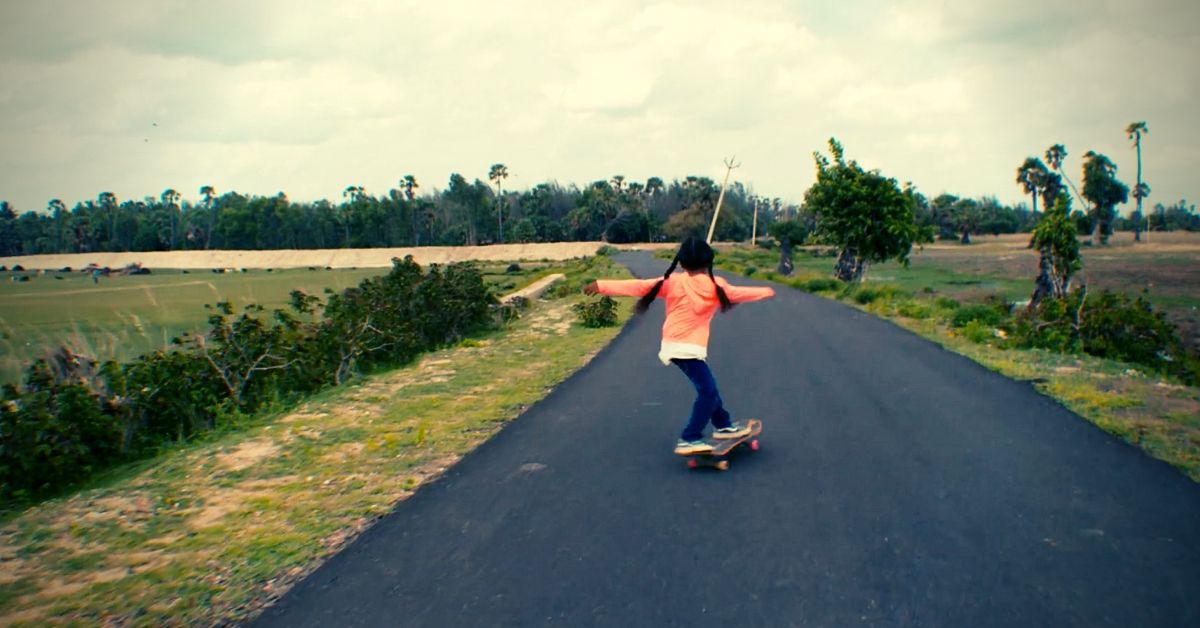 "If my marriage had gone well, I would have kept Kamali locked away at home like I was and married off to a man at 17. My girl mustn't grow up like that!"
At an age when imagination defies logic, many of us have weaved fantastical dreams of flying with the belief that magic exists.
But for little Kamali, with the break of dawn, these dreams never faded. They grew with her until she was strong enough to hold a surfboard and flew amidst the waves.
Every day, this nine-year-old, who lives in the deep alleys of a colony of fisherfolk in Mahabalipuram, Tamil Nadu, steps out of her home armed with her skateboard and a unique sense of confidence. People turn to look at her, some in awe and others in concern.
She is different from others in the area, but that does not worry her family, because they believe that their little girl is indeed a special child—gifted with the power to fly above all challenges, stereotypes and judgment.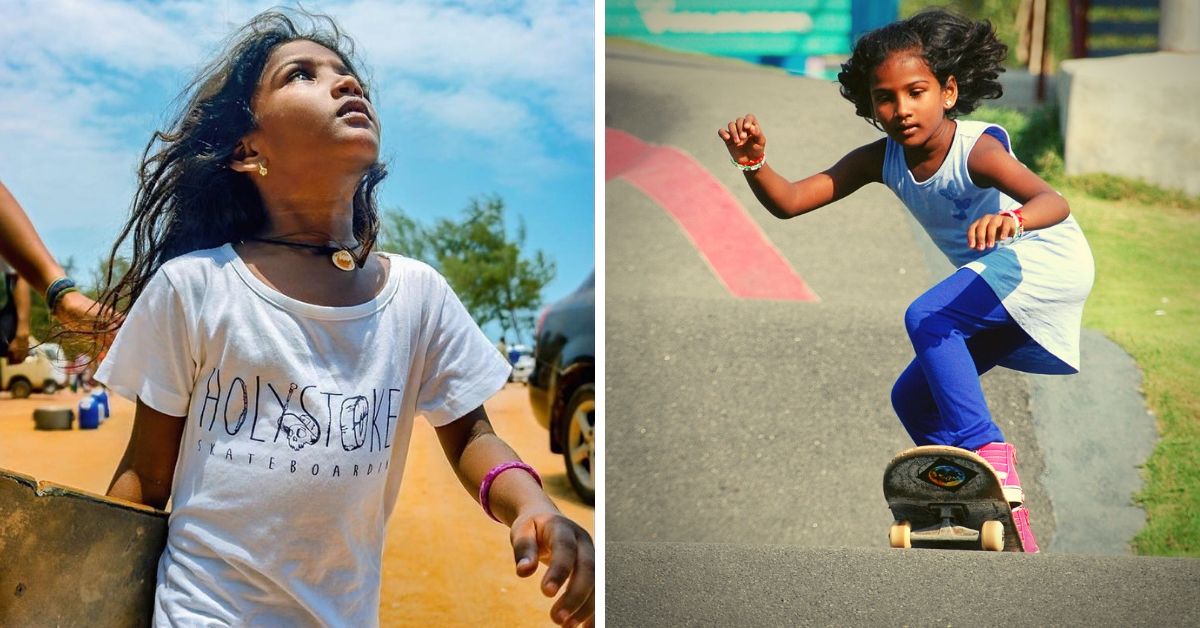 It is this spirit that finds expression in Sasha Rainbow's award-winning film, Kamali, which traces the child's journey to freedom and empowerment.
Shot two years ago, it revolves around seven-year-old Kamali, the first girl skateboarder in the region. Raised by her mother, Suganthi, who led a restricted life behind locked doors until marriage, Kamali has grown to become a silver lining, not just for her family but for the entire community.
"If my marriage had gone well, I would have kept Kamali locked away at home like I was. And, married off to a man at 17. My girl mustn't grow up like that," Suganthi shares in the film.
A symbol of freedom, this chirpy and excited child began her journey four years ago when American professional skateboarder, Jaime Thomas arrived in Mahabalipuram, one of India's surfing hotspots.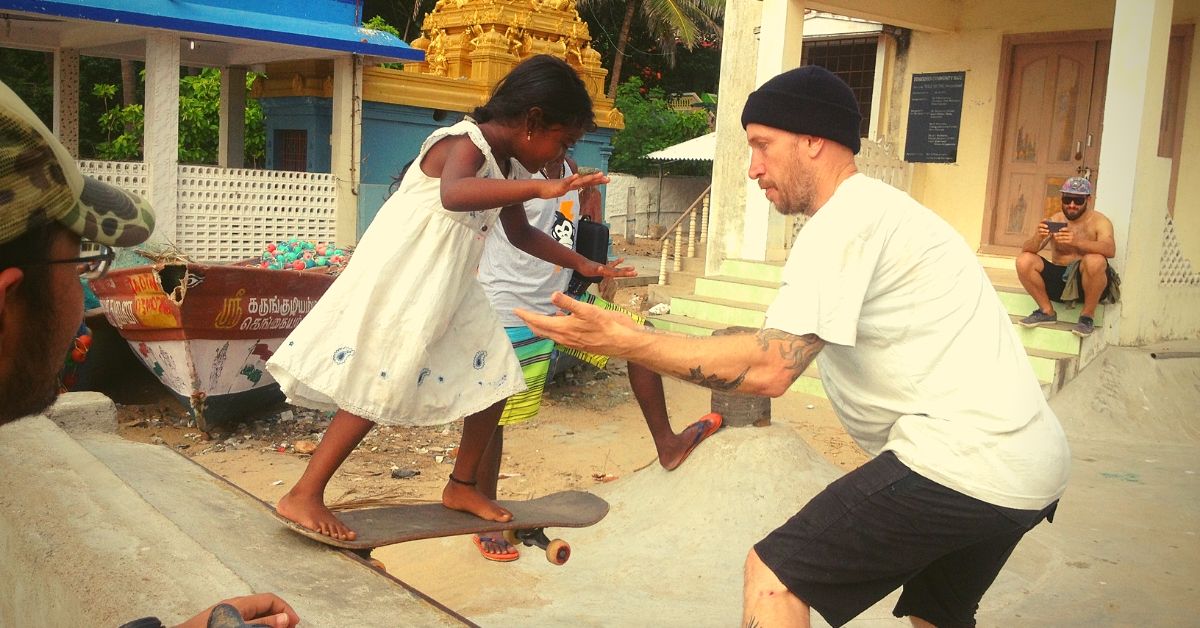 Speaking to The Better India, Kamali says, "I was already surfing at that time. My uncle is a surfing instructor, so I had already learnt the basics of surfing and skateboarding from him, but I was scared of heights. But then Holystoked & Temple Adventures built a skateboarding ramp near the beach, where Jaime sir came, taught me 'drop in' to help me get over my fear. Now I love it!"
Recently, she was at Shanghai to witness the 2019 Vans Park Series, a global skateboarding competition.
"It was amazing to watch professional skateboarders compete. I had never seen anything like it. I learnt so many new tricks and met so many great people. I hope to be as good as them one day," she exclaims.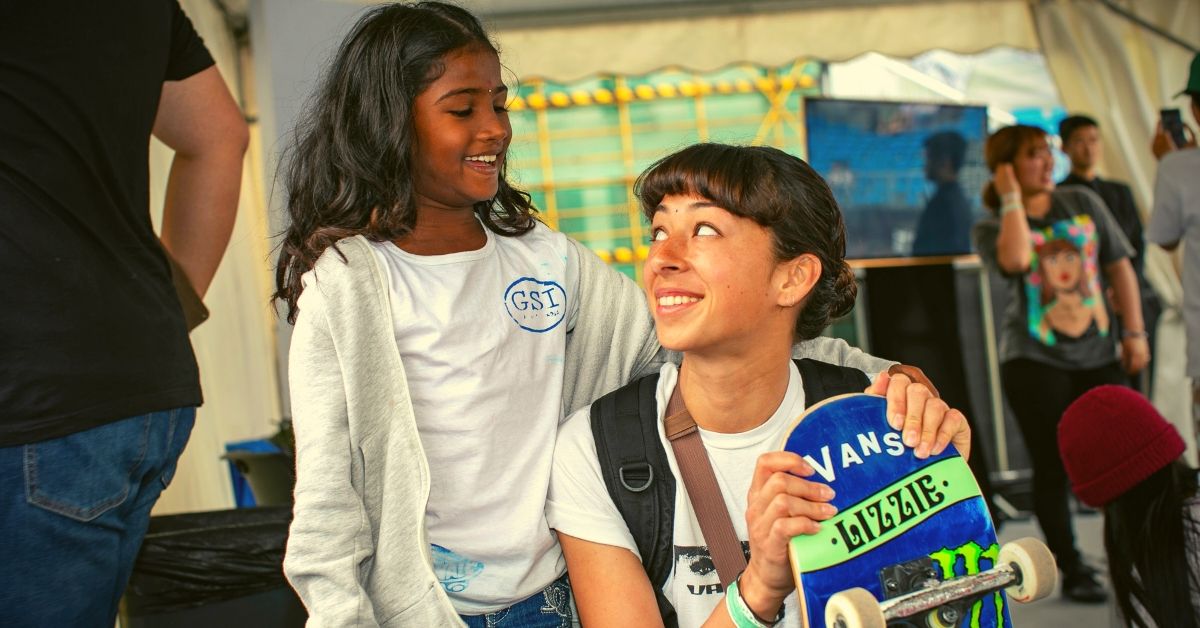 While she draws inspiration from these international skaters, Kamali has emerged to become one in her town. Her friends at school and home have begun to take an interest in the sport. Among them is her six-year-old brother, Hari.
"He is still learning, but with practice, I feel he will become a great surfer. But, he also wants to become a police officer. So I guess he will become India's first surfing policeman!" chuckles Kamali.
Her own future, she feels is full of possibilities. "I have many ambitions. I want to become a surfer, a skater, a doctor either for humans or for animals!" she adds.
A tale of struggle and strength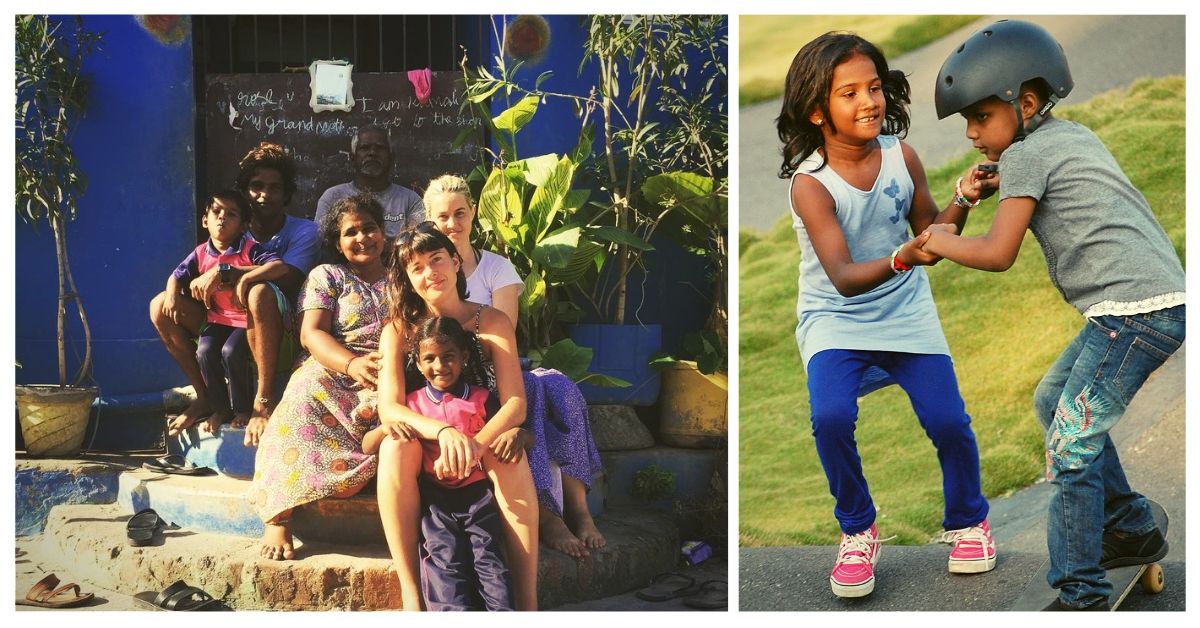 Film director Sasha captures Kamali's innocence and struggle with an important focus on her mother, Suganthi.
On e-mail, she writes to The Better India, "I was shocked because I had seen her as a motherly figure, but we were the same age (31) and had lived such completely different lives. Here I was, on the other side of the world in New Zealand and this was Suganthi's first time leaving her village for another city. But, in fact, Suganthi was (and is) far braver than me; she is making radical decisions in a space where everyone knows her and her family."
Her film details Suganthi's childhood and life, comparing it with Kamali's potential future. She shares, "In the film, Suganthi thanks God for the terrible experiences of a bad marriage, which inspired her to give her daughter a free life. She is certain that Kamali would have otherwise been locked away as she was. This woman has an amazing spirit and ability to draw positive lessons from life! She's my hero!" Sasha won the Best Director award at the 7th Mumbai Shorts International Film Festival 2018. And, after winning several accolades, the documentary has now qualified for the 2020 Academy Awards.
Suganthi has shared that many people judge her for letting her daughter skateboard. They ask her what will happen if Kamali falls and hurts herself. They warn her that she could be risking the girl's potential to marry.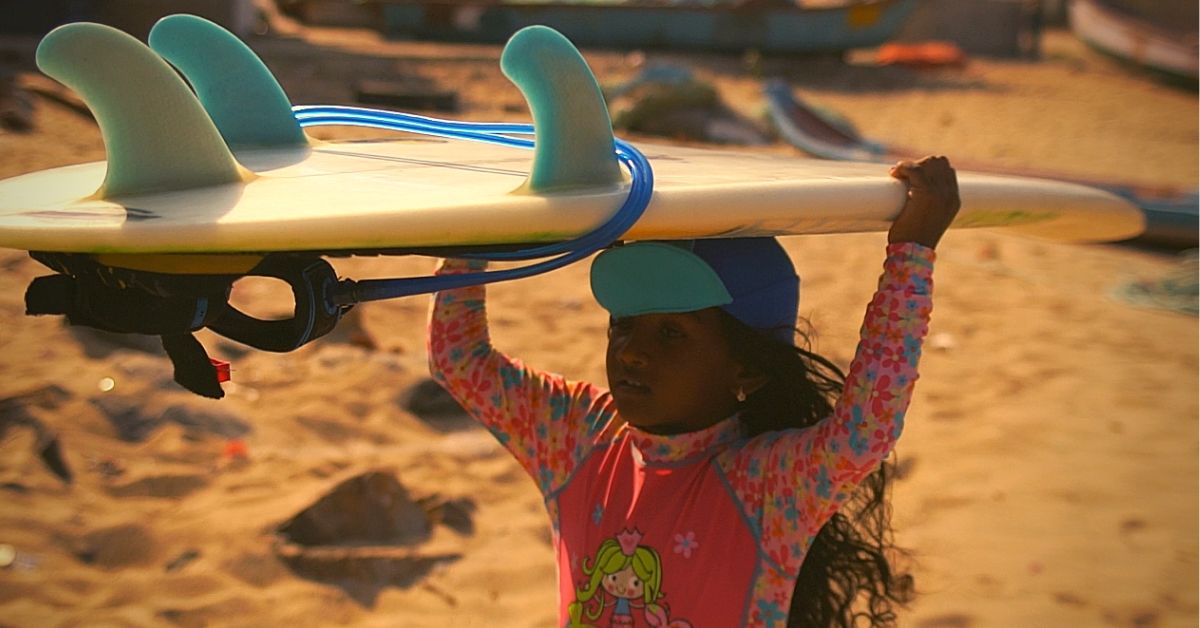 Sasha adds how Suganthi is undeterred, saying, "I remember being so impressed because she [Suganthi] had decided after watching the Paralympics that even losing limbs doesn't stop people. That Kamali should follow her passion and be allowed to play as the boys do. That was really when I realised the power of positive storytelling!"
A single mother, Suganthi works all week as a fish seller in a nearby market, for more than 14 hours a day to fulfil Kamali and Hari's dreams. While sharing her struggles, she was interrupted by her daughter, who in all her innocence asked, 'What are your struggles, mummy?' only to be mellowed down a moment later, realising the answer.
Suganthi's struggles as a child and a married woman have taught her to be strong for her children. Speaking to The Better India, she says, "Every morning, their innocent faces reassure me of a better future. I always tell my precious children to be brave and never afraid because fear limits people from greatness."
A reluctant road to fame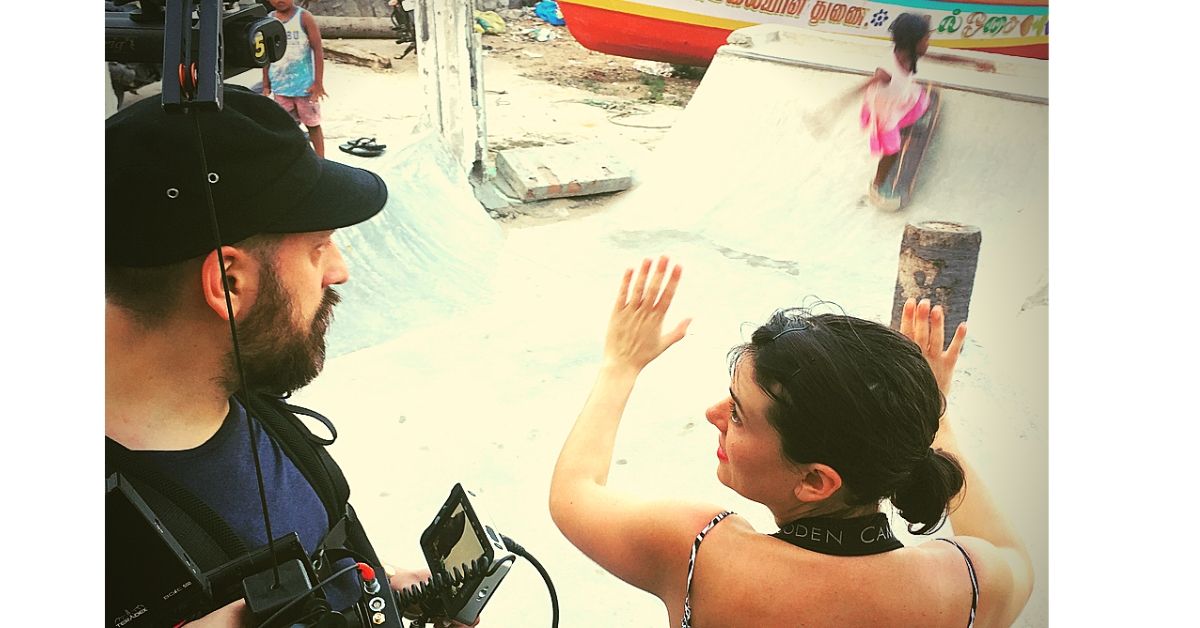 With the sports and film came fame and popularity which overwhelm the family. "She is a very energetic child at home and among friends, but with new people, she becomes shy. And now when people recognise and approach her, she gets a bit more conscious," Suganthi says.
During the conversation, Kamali revealed that she tries not to talk too much at school. "I like being quiet and doing my own work. It's nice that so many people are congratulating me, but sometimes too many people come asking for a photo. I don't like so much crowd."
Despite the age gap, Kamali's best friend is Aine Edwards, an IT professional from Chennai. She has been helping them sift through the journey, to make sure Kamali can focus on her sports and studies.
Speaking to The Better India, Aine says, "I met her when she was two-years-old and looking at her grow into this remarkable child is so fulfilling. We all are doing our best to give her the best opportunities because she has the potential to push Indian skateboarding to newer heights."
---
Also Read: Meet India's First Professional Female Skateboarder Who Wants More Girls to Take up the Sport
---
According to director Sasha, the film represents an incredible moment in India and shows how massive change can start with just one person. And with her grit and positive attitude, this little girl is truly causing ripples across the country!
To know more you can reach out to them here and watch the trailer of the film below.
(Edited by Shruti Singhal)
We bring stories straight from the heart of India, to inspire millions and create a wave of impact. Our positive movement is growing bigger everyday, and we would love for you to join it.
Please contribute whatever you can, every little penny helps our team in bringing you more stories that support dreams and spread hope.