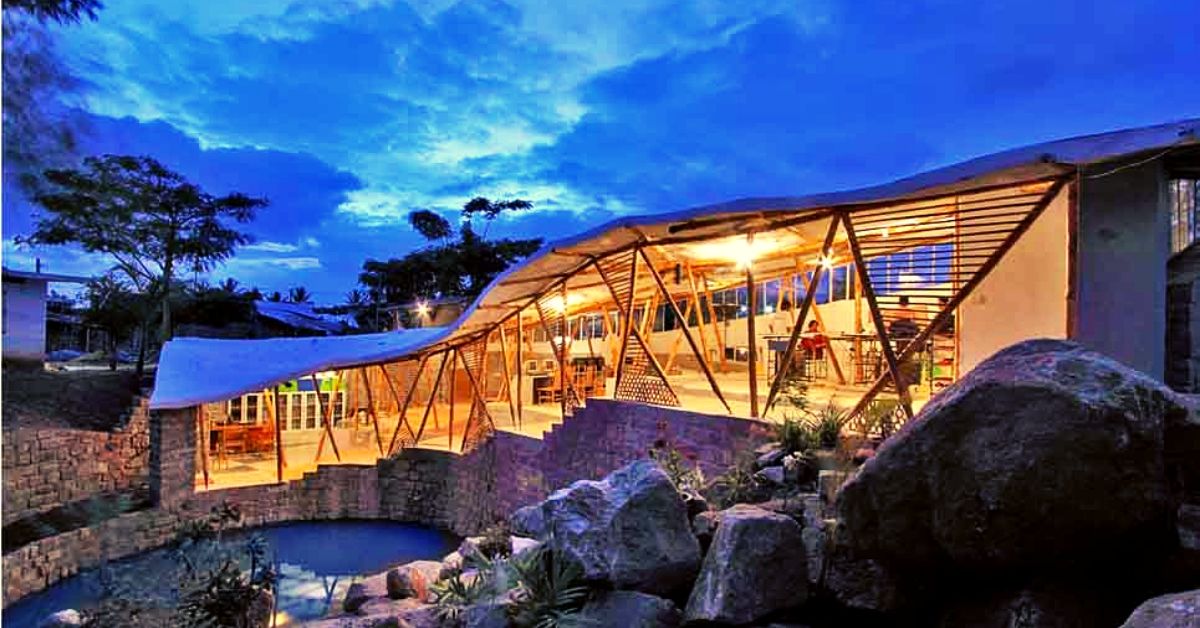 Architect Neelam Manjunath has been using bamboo, mud, stone and construction waste to build heritage sites, apartments, homes and even her own office. Here's why she has spent 30 years advocating the use of bamboo in the construction of sustainable homes.
NNeelam Manjunath, a Bengaluru-based architect has promoted the use of bamboo to construct sustainable homes for three decades now.
Manasaram Architects, a private practice she started in 1991 in New Delhi, before shifting base to Bengaluru in 1994, has been responsible for designing and constructing numerous bamboo-based projects at home and abroad.
"My tryst with this unique material began in 1999. While working on a project for the Raj Bhavan in Bengaluru, I was asked by my client to use bamboo. Here, I found a material with a lot of potential, which was rooted in our traditional construction systems and largely unexplored," says Neelam, speaking to The Better India.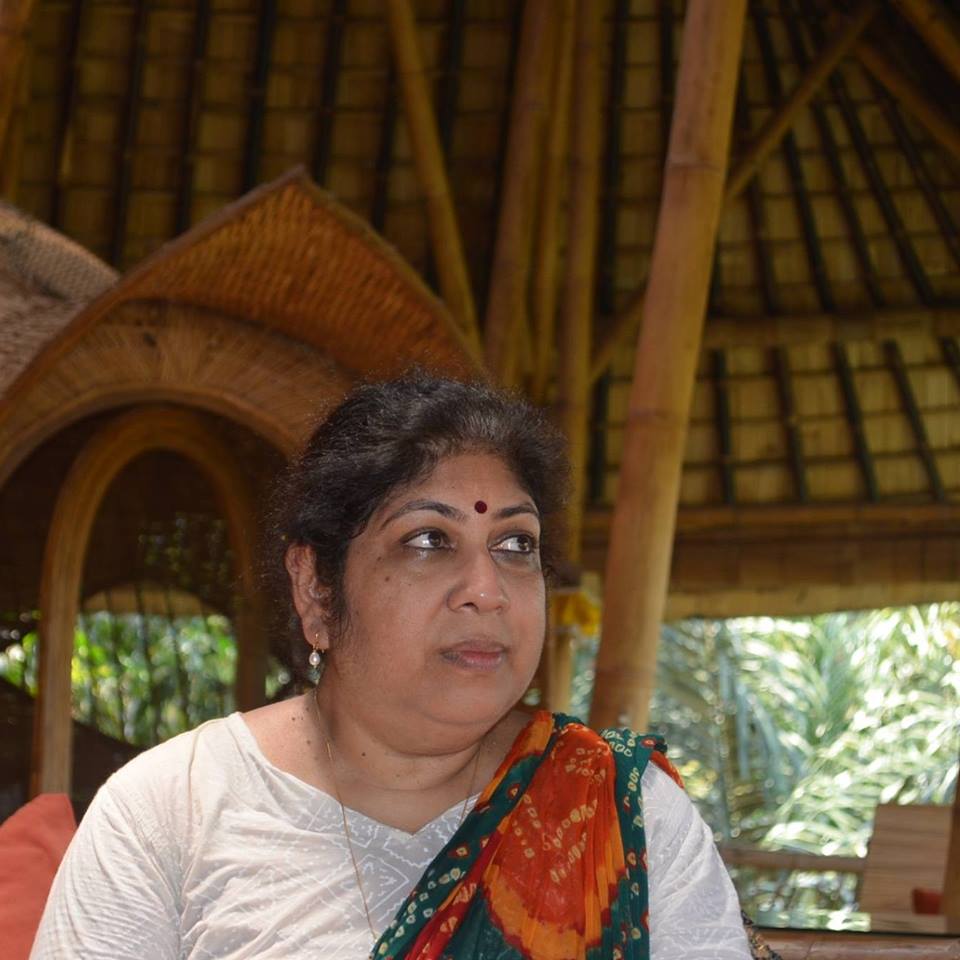 With the then Governor Ramadevi as their client, the objective of this project was to remodel a dilapidated brick building which contained the pantry and VIP toilet block.
"Bamboo-crete walls have been used with cement plaster for all the walls with openings left in the plaster to serve as windows. The project uses up to 60% of recycled material from the old buildings, including the under-structure of the roofing. The roofing is corrugated bamboo mat sheets developed at IPIRTI (Indian Plywood Industries Research & Training Institute), Bangalore. Also, a fascia of 3 mm bamboo mat board (BMB) has been put for protection against sun and lashing rain," says this description of the project.
Advantages of using bamboo
Neelam lists some of the plant's amazing properties:
1) Bamboo is a green, biodegradable and eco-friendly material.
2) It grows very fast. For example, some species of bamboo grow four feet in a day.
3) When you harvest the bamboo, it's not like cutting a tree; it will again grow back within the year. Unlike, trees which you cut and then takes 30 years to regenerate, this doesn't happen to bamboo. It is a very resource efficient material.
4) The material has a high tensile and compressive strength. Its high fibre strength makes it the only replacement for steel, especially in small buildings—the largest chunk of the construction sector.
5) Bamboo can also be easily processed and ensures lower labour costs since you can hire unskilled workers who can be trained during construction.
6) Finally, it does not require advanced energy-intensive machinery to make it usable for construction, unlike say wood or steel.
Moreover, this is the material used, particularly in disaster-prone areas.
"Bamboo combined with cement-based mortar can be used in residential construction in seismic regions, particularly in developing countries. Bamboo houses remain serviceable for much longer periods than other forms of housing in disaster-prone areas. It is durable with a minimum life span of 30 years, it can withstand wind speeds of up to 150 km/hr, is earthquake safe, waterproof, fire retardant, lightweight, cost-effective and easy to transport and erect," says this study conducted by Manasaram Architects.
Of course, this also depends on how you use bamboo. Some people construct their entire structures with bamboo, which is inefficient. When one makes a sensible construction with bamboo, they are very safe and healthy, as witnessed across different parts of India.
Read here about Neelam's office called The Bamboo Symphony in Bengaluru to get a sense of what it means to use bamboo to make "sensible construction."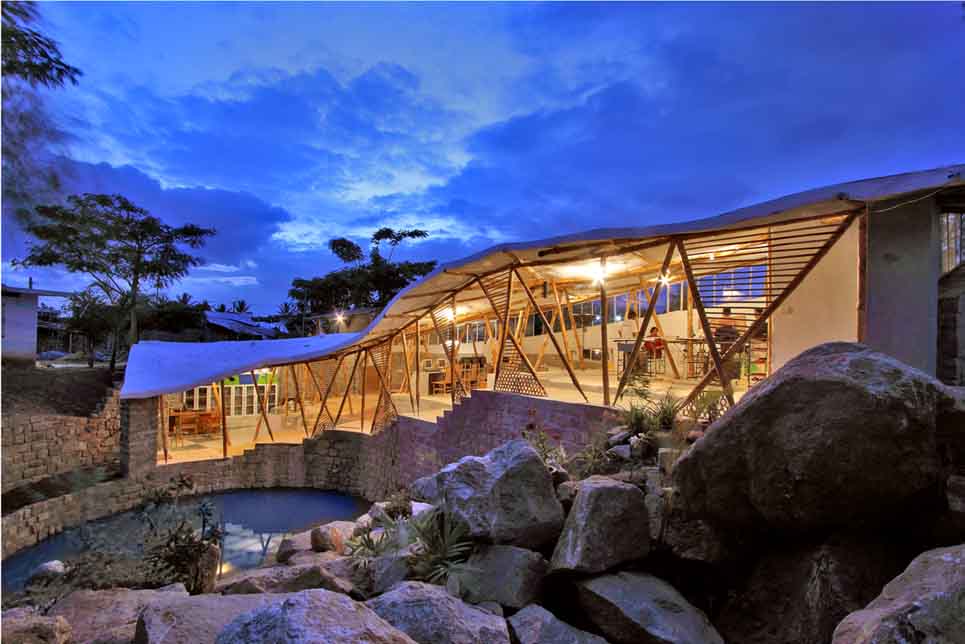 Treatment
A critical element of employing bamboo is how you treat it. Like wood, it needs a coat or varnish or seasoning to protect it from the elements. Like any natural material, even bamboo requires such protections.
"Since bamboo is biodegradable, it needs to be treated properly to ensure it doesn't decay fast. There are various treatment methods, and what you employ depends on what kind of structure is being built," says Neelam.
According to Anupama Mohanram, Founder of Green Evolution, a sustainable architecture firm, some of the treatment procedures include dipping it in a solution of borax and boric acid and/or removal of starch that would attract insects. Borax is also a fire retardant to some extent, but further treatment for fire could also be carried out by other methods.
This treatment, Neelam argues, also helps the bamboo last for a reasonable extent.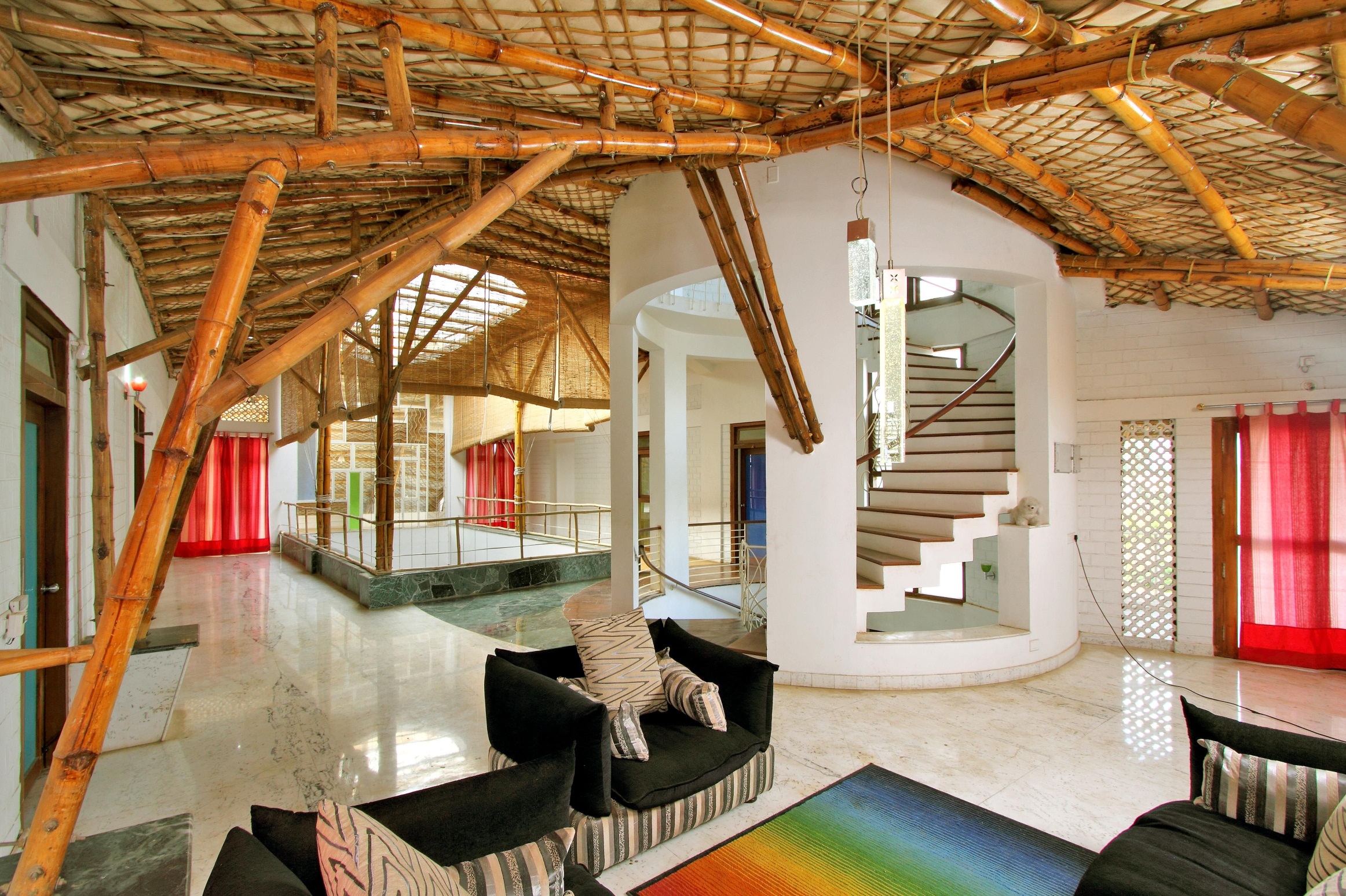 "After treating the bamboo, we need to ensure the presence of moisture so that the bamboo doesn't split fast. For example, the water pond in our office was built to humidify the atmosphere, which also helps in the maintenance of the bamboo members. We also don't allow the bamboo to touch the ground because it's a hygroscopic material (readily attracts water from its surroundings, through either absorption or adsorption). We even set up a fascia of bamboo for protection against sun and lashing rain," she says.
Challenging misconceptions
One of the biggest misconceptions surrounding bamboo is that it can only be used to construct temporary structures. The implication here is that these structures don't last. This perception has retarded the growth of bamboo as a source of home construction.
"Bamboo houses in our villages are known to have lasted for over 100 years, and it needs to be made a popular building material of choice instead of limiting it to wealthy patrons. It is very well suited for mass use, but matters is how you use the bamboo and what other material you use to compliment it. If we can't protect bamboo, we will be unable to mainstream it as a major material of choice. We have concrete and steel but cannot use it too extensively because of climate change concerns. We need some alternative materials. Timber is an alternative, but it cannot be grown fast," argues Neelam.
Also, what many architects don't know is that bamboo has been part of the National Building Code (NBC) under the Bureau of Indian Standards (BIS) for the past 15 years.
The NBC provides guidelines for regulating building construction activities across the country.
Besides its eco-friendliness, various applications, and structural strength, adopting bamboo also has consequences for the rural economy.
Nearly every town and city in India has its own bamboo bazaar. Manasaram Architects source their bamboo from the local bamboo bazaar in Bangalore, buying it for Rs 23 and Rs 15 for 4-inch bamboo sticks and two-inch bamboo sticks, respectively.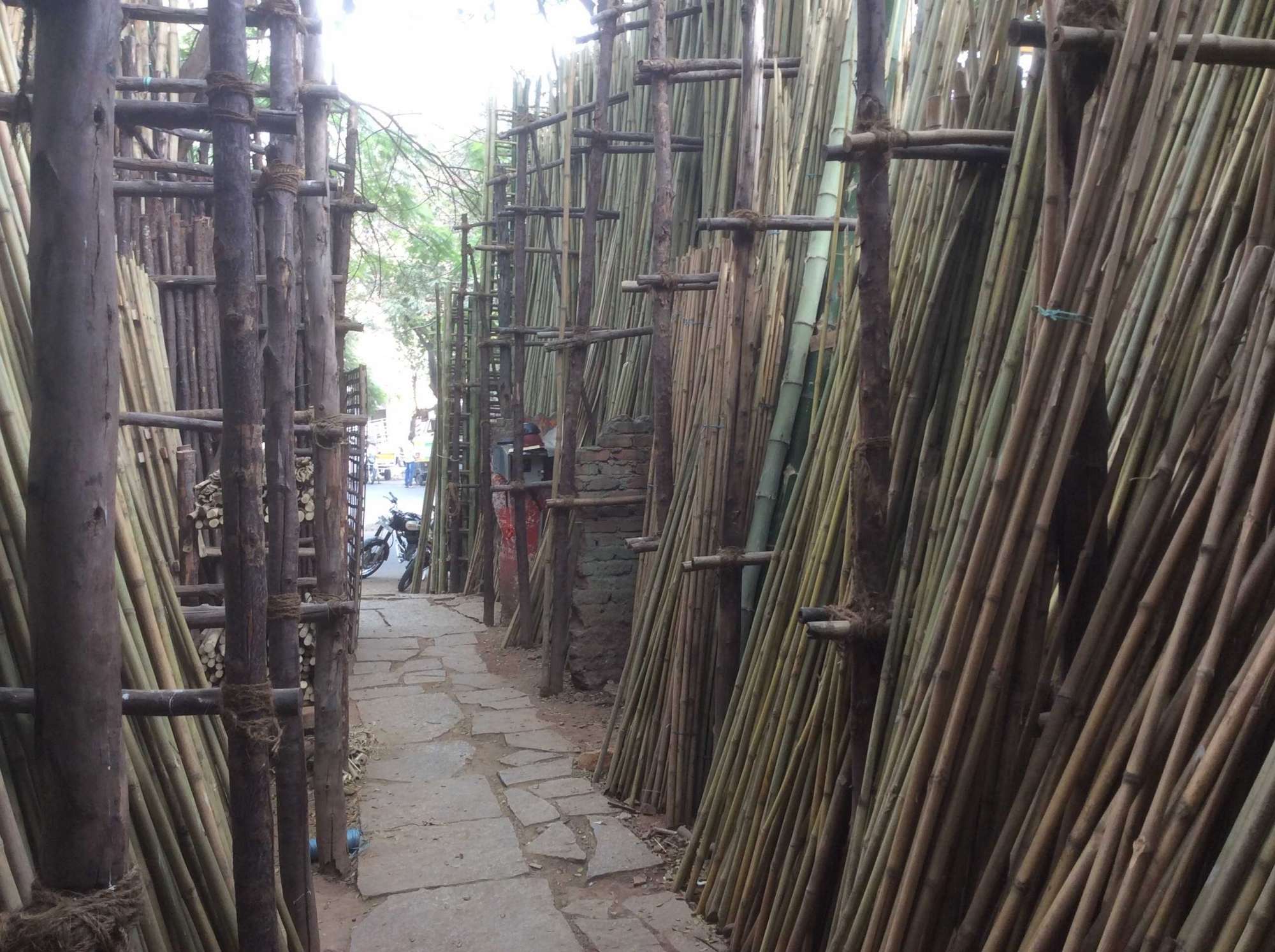 "When you buy cement, you are paying a corporation. When you buy bamboo, you are directly paying the farmer, who sell at these bazaars," says Neelam
As a member of the Bamboo Society of India for 30 years and the current chairman of its Karnataka Chapter, she has pushed the cause of bamboo for a very long time.
At the moment, she is trying to include bamboo into the schedule of rates so that authorities can use it to construct government buildings, but a lack of funds is preventing her from lobbying effectively.
---
Also Read: Pune Couple Builds Cement-Free Breathable Homes That Don't Need ACs or Fans!
---
She also says that what bamboo needs is greater research into its application. At the moment, she has 15 projects under different stages of construction with one going up to 2 lakh square feet. She has also written a book titled 'Symphony of Bamboos' that offers reader greater insights into this plant that breathes sustainability.
For nearly three decades, she has done her part, and clearly isn't stopping anytime soon.
(Edited by Gayatri Mishra)
Like this story? Or have something to share? Write to us: contact@thebetterindia.com, or connect with us on Facebook and Twitter.
We bring stories straight from the heart of India, to inspire millions and create a wave of impact. Our positive movement is growing bigger everyday, and we would love for you to join it.
Please contribute whatever you can, every little penny helps our team in bringing you more stories that support dreams and spread hope.
Tell Us More