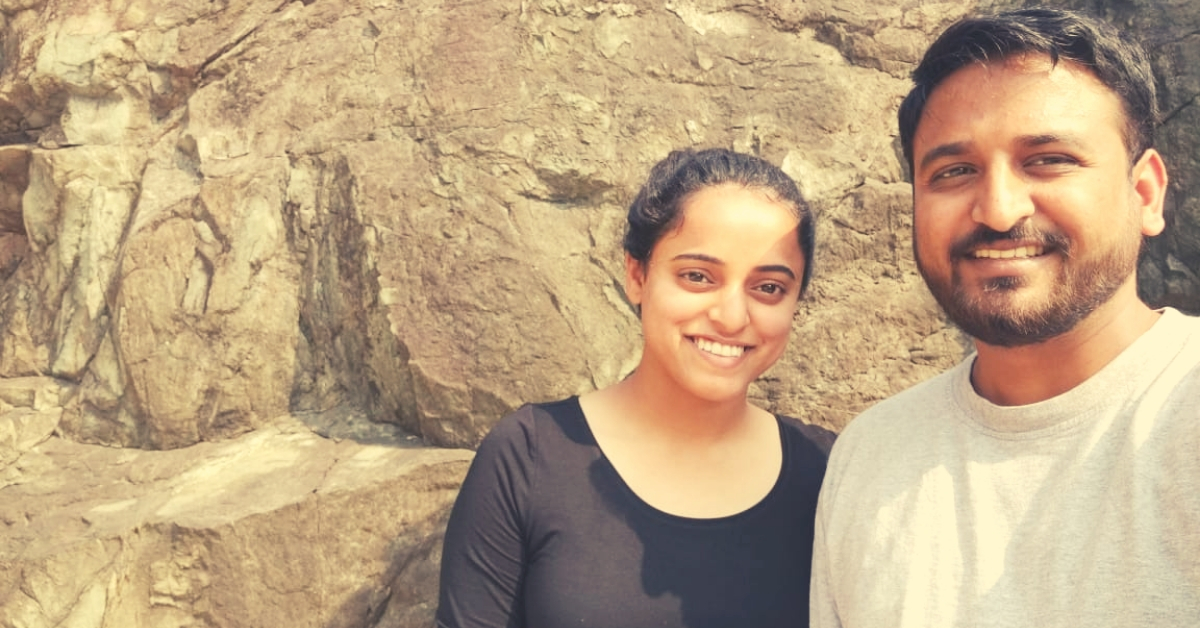 Blending nature, tradition and innovation, these eco-friendly homes stay a remarkable 25 degrees Celsius inside even when it's 38 degrees outside!
Dhruvang Hingmire and Priyanka Gunjikar aren't your conventional architects. Besides building homes with their own hands, the Pune-based couple practice a form of architecture that uses natural materials and employs local labour and construction.
Since they started 'Building in Mud' three years ago, the couple has used their unconventional techniques to design and construct six homes with three more projects underway.
Take the example of a recent project at a private retreat in Thoran village near Kamshet, a town between Mumbai and Pune.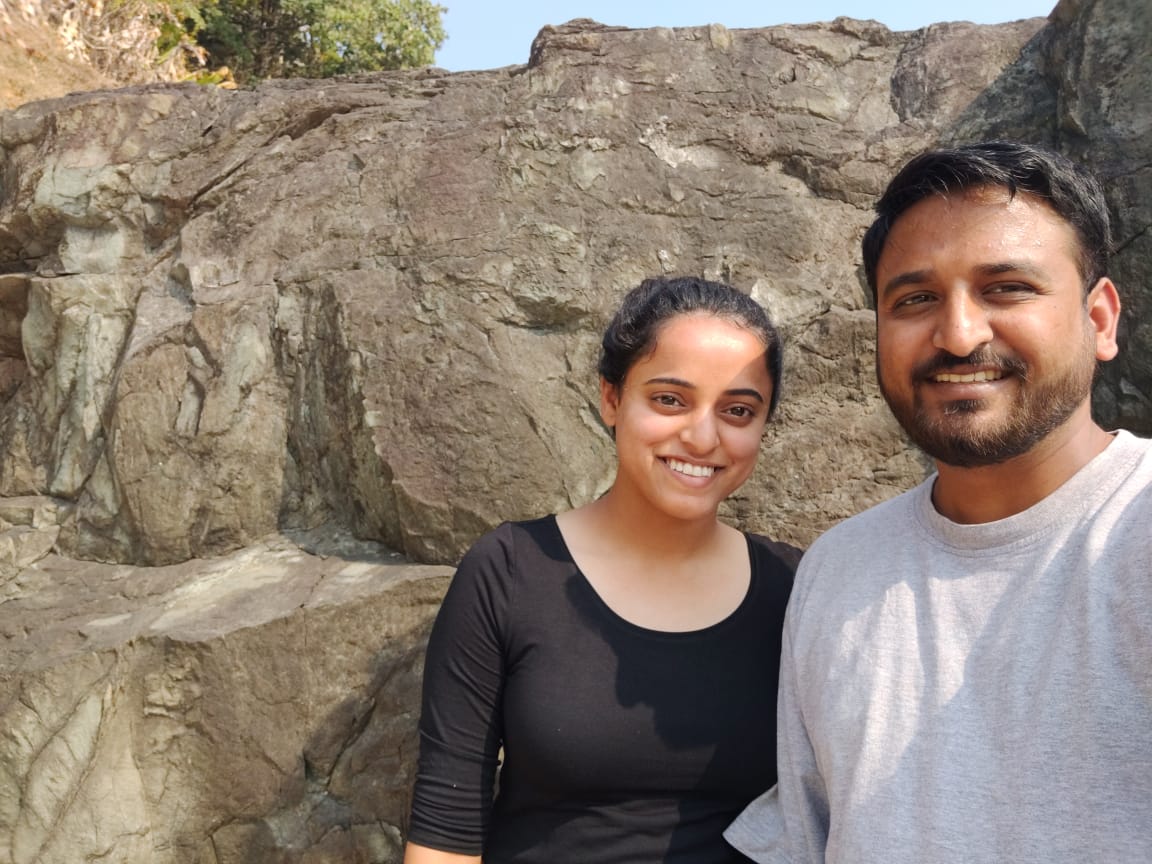 Located near a forest on a hill slope, the couple first did a recce of the area to gauge what materials were available.
"We found a lot of black stone that locals used to construct their homes. However, we found that stone wasn't used above seven feet of the structure because lifting it is hard. Besides, bricks were being used because the soil there is very good," says Dhruvang, in an exclusive conversation with The Better India.
To bind these bricks, however, they didn't use any cement but went for mud mortar. For the ground floor, they employed stone masonry (black stone with mud mortar). After seven feet, the local labourers used bricks, binding them with mud sourced from the site.
Besides the two floors, there was a small attic on top, built from mud, bricks and wood. The roof was made from a local timber called 'ain' instead of the conventional teak.
"When you use teak as a building material, you are promoting a form of monoculture. Today, we see many forest department officials and local agriculturalists setting up teak plantations that harm the local ecosystem. Instead of one, we use different types of timber like ain, haidu, jambul and shiva, sourced locally. On top, we went for clay roofing tiles," he says.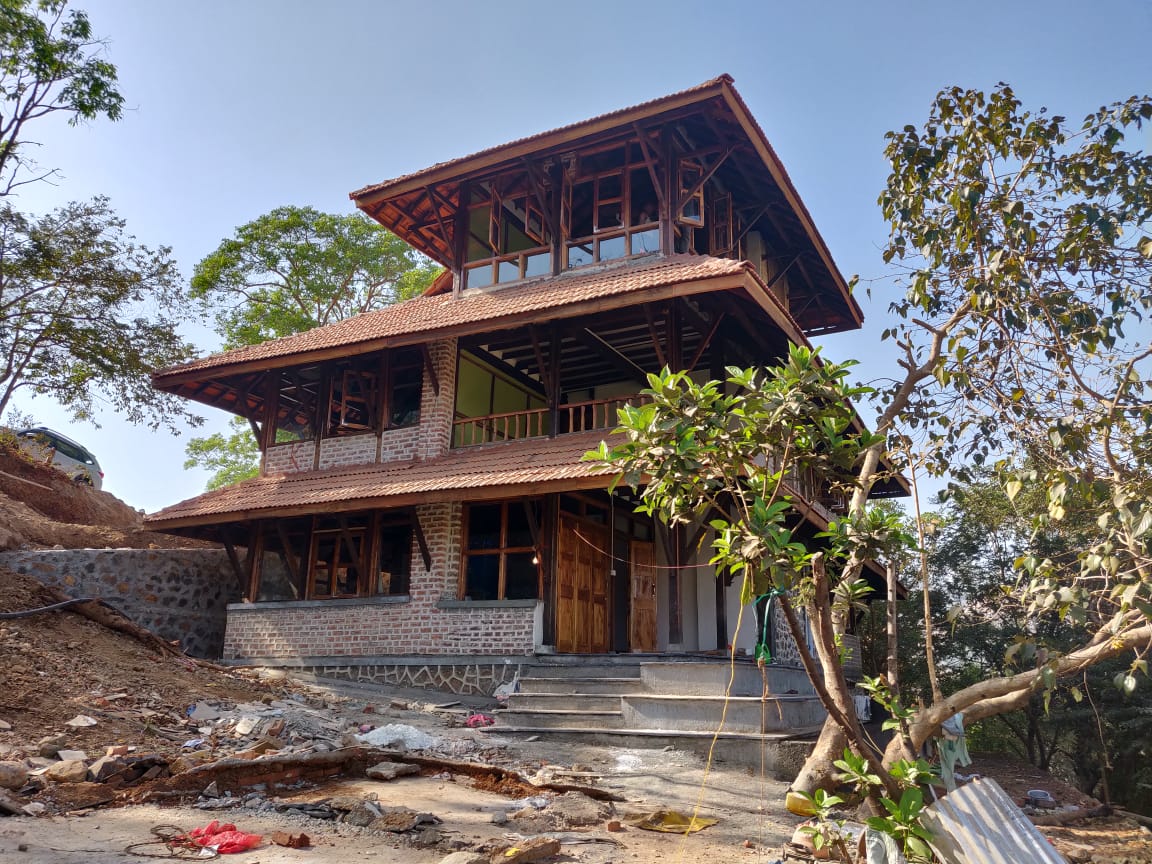 Their client from Pune, however, wanted a low-maintenance house, as it was a second home; the interiors had to be designed accordingly. He wasn't keen on regular maintenance. While the house was tiled like any other building, lime plaster was used to bind it. This took care of maintenance since traditional lime plaster is often chosen as a good candidate for restoration. It also strengthens with age, as opposed to cement plaster which develops cracks.
"We have to find a balance between ecological viability and the client's wishes. For an earlier project near Bhor, the client wanted a rustic look to the house. So, we didn't go for interior plastering. But, in the Kamshet project, we wanted a low-maintenance house. So, we went for lime plasters unlike cement, which is bad for the environment. Moreover, lime is completely recyclable and possesses a greater thermal insulation value," informs Dhruvang.
Lime helps trap the heat during the summer and release it during winter. It also traps the heat during the day and releases it at night.
The combination of lime and mud, alongside stone and bricks, allows the structure to breathe.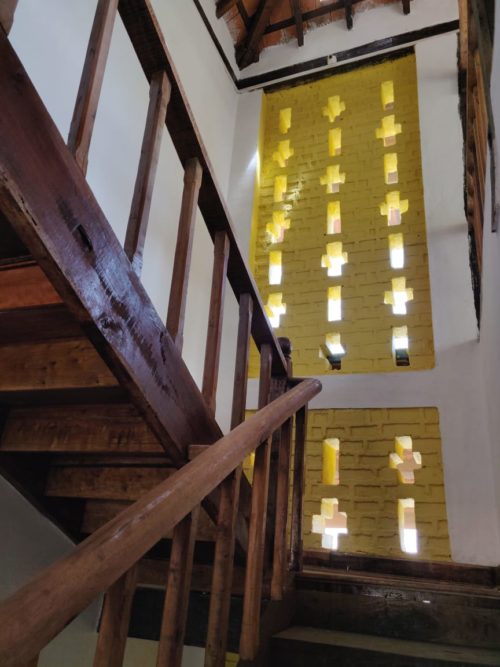 When you use cement, you are obstructing any breathing that happens through the walls of your building, and that is why it heats up so much.
"After the completion of this project, we monitored the temperature inside and outside the house. Recently, it was 38 degrees Celsius outside, but a remarkable 25 degrees inside. So, you don't even need an air conditioner. Even in summers, we don't use fans, except perhaps in the attic," he adds.
The project began nearly two years ago, but there were some on-site concerns because the local labourers were not construction workers but farmers who had to till their land when the season began. After building the first floor, the labourers had to tend to their farms. After waiting for the monsoons to subside, they resumed. However, this isn't a regular occurrence.
Essentially, it takes about four months to complete the core structure, and another four to five months to finish the interiors.
Inspiration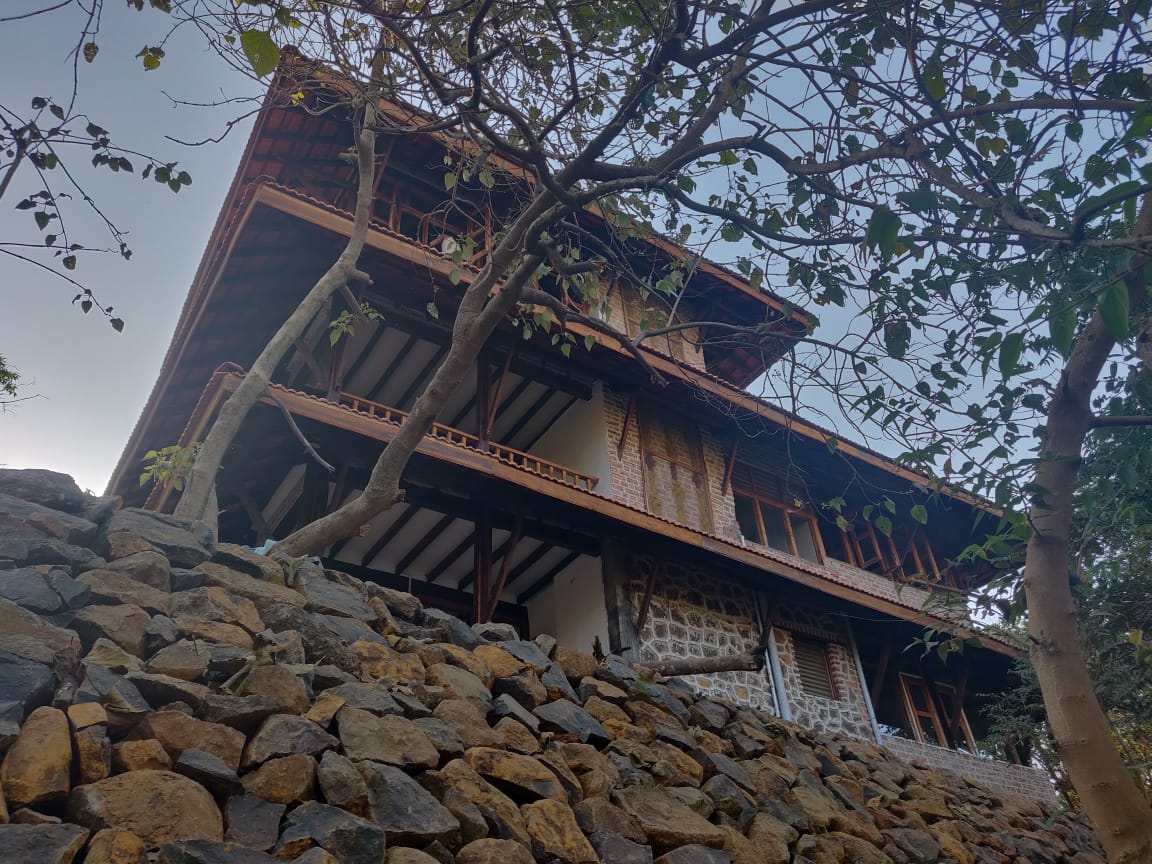 Born and raised in Pune, Dhruvang attended Rachna Sansad Academy of Architecture in Mumbai, where he met his future wife, Priyanka. In college, they were influenced by a senior architect, Malaksingh Gill, a proponent of eco-friendly, culture-sensitive architecture and student of the famous Lawrence Wilfred "Laurie" Baker, a British-born Indian architect.
Dhruvang's parents are also architects of repute who work on residential/commercial projects. While his parents inspired him to become an architect, the path he chose was inspired by Malaksingh. Priyanka, meanwhile, was a gold medalist who chose to pursue an unconventional practice.
One particular incident in college drove Dhruvang to his current path.
"During our fourth year of architecture, as part of our ecology and architecture elective taught by Prof Malaksingh, we visited a village near Satara, Maharashtra, a drought-prone area. We were sent there to study the homes built in the area—the architecture and material used. There, we found a small and beautiful mud house with just an old lady," he recalls.
The students were eager to document the house and went around drawing sketches. Dhruvang ended up speaking to the lady, who had built the house.
She had ingrained her bangles into the mud and cow-dung plaster for the interiors, adding a personal touch to the design.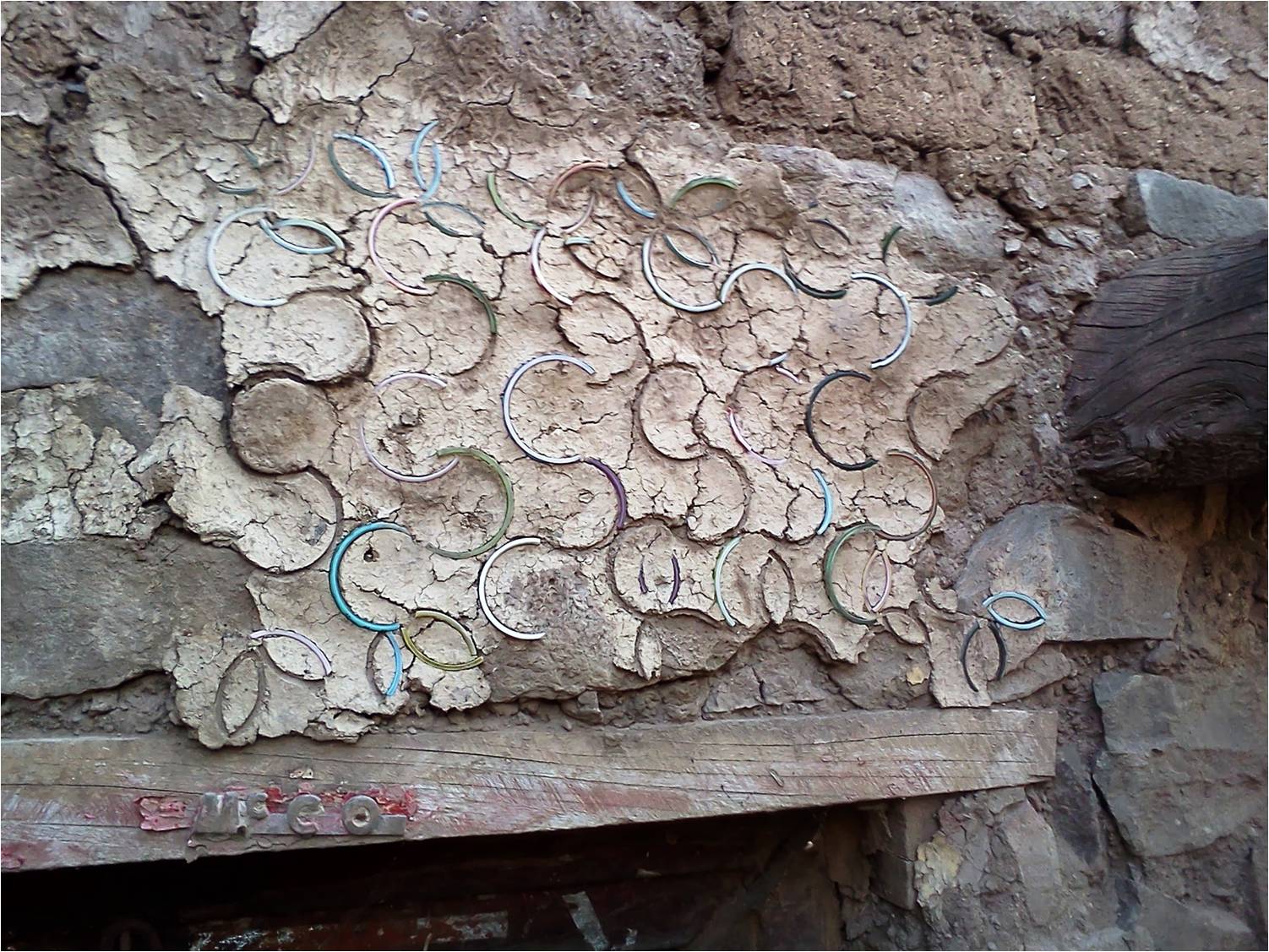 "She asked us whether we would like to have some tea. There was no water in the village for the past week, and they had only received two buckets of water from a tanker costing Rs 10 each. The lady had just one bucket left, but she was still willing to serve tea to ten urban kids. The house wasn't in the best condition because she couldn't manage the upkeep. But the ten of us who had received four years of education on how to build houses could do nothing to help someone who was offering us all that she had merely as a courtesy towards her guests! We could draw sketches, but didn't know how to build a home, practically," he recalls.
That's when Dhruvang decided that he would not move into conventional architecture but work towards actually building homes.
After graduating from the Academy, both Priyanka and Dhruvang joined Malaksingh's practice, working there for three years. The legendary architect's projects were an education in utilising natural materials and vernacular technologies. Before taking his course on Ecology and Architecture in their second year in 2011, neither had any idea about mud buildings or sustainable architecture.
"He took us on field visits to his ongoing projects where we helped build structures with our own hands, right from making and moulding the mud to building walls, we observed entire houses getting built. We visited villages to document the buildings and local lifestyles as well."
These site visits allowed them to understand architecture not only through the prism of technical building and construction but also through the socio-cultural aspects of the residents.
They learnt how locally-available building materials affect people and how their cultures and geographical conditions determine architectural designs.
Process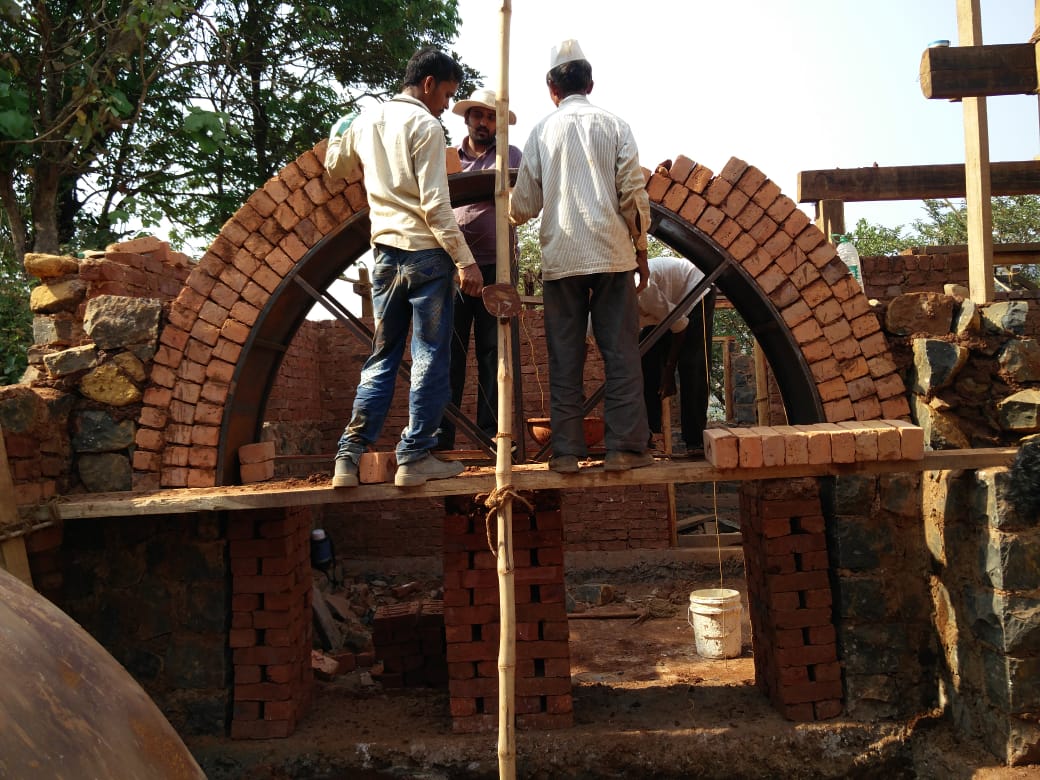 Whenever Priyanka and Dhruvang get a project, they conduct a preliminary recce of the location and its surrounding areas. They study the houses, materials and where these can be procured, and the technology used.
With mud for instance, different methods are employed to construct a house, depending on the climatic zone. Within Maharashtra too, the type of building changes if it's in the coastal regions, interiors or the ghats. The couple adopts their designs and construction technology accordingly.
"We have an ongoing project on the Konkan coast. There, we are building with the red laterite stone available. We also use a lot of wood because traditional houses there are primed with it. It also helps in resisting lateral loads like earthquakes and high winds. We analyse all these aspects across a 20-30 km radius around the site to determine the building technology and materials to use," says Dhruvang.
Under natural materials, there are a lot of choices. So, one might use basalt stone found in the interiors of Maharashtra or red stone known as laterite in the coastal areas.
Even using natural materials doesn't make sense if they come from a place far off. Then, the building isn't local anymore. While it is natural, the structure is not necessarily eco-friendly. Secondly, it has to be natural with minimal processing.
With wood, the couple does not polish it because that brings in a lot of chemicals into the house. Besides, the polish makes irreversible and structural changes to the wood. Instead, they go for traditional oiling.
A critical facet of their design process is the deliberate choice of going as vernacular as possible. "We don't believe that a design needs to stand out and speak of the architect who built it. The more the building merges with its surroundings, the ground and landscape around it, the better it is. I think that's where the architect does a better job. Our motto is learning from the vernacular and giving back to the vernacular," he says.
In a recent column for a national publication, Dhruvang spoke of this aspect of his work, while reminiscing on their first project.
It was a farmhouse 25 km away from the municipal town of Bhor in Pune district, made between December 2016 and January 2018.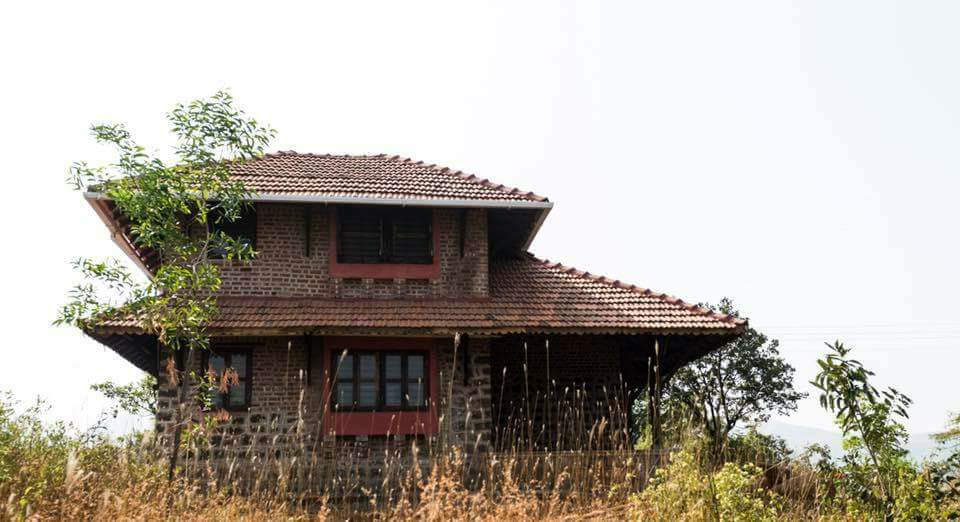 "Cities became the seat of modern development. The emphasis shifted from local to global, and while specialists like architects, contractors and engineers emerged, the skill of construction got generalised. Institutions such as hardware shops became one-stop solutions for materials and skills. But this "development" came at a heavy price. So even to build a house in a village, one now has to depend on nearby cities for material and skill. This has led to a collapse of the village economy," he writes for The Times of India.
However, the Paralikars (clients) chose to employ a traditional beldaar, who manually breaks boulders into stone with extreme skill and precision, even if it meant the client had to pay extra, than use a standard stone-breaking machine.
They even employed local carpenters, who have the intrinsic sense of sustainable building design, and develop products with serious utility value. Local carpenters are not only extremely skilled in constructing, say a wooden roof, but also discern which particular variety of timber to use.
What you have at the end of a day is a stunning, yet sustainable home, which employed local talent. However, there is no point in romanticising these traditional methods and copying them blindly.
Let's take mud houses, for example. Across villages, there is a lack of planning in building houses with little space for light and ventilation. It's a myth that mud buildings are dark and dingy and require a lot of maintenance.
"We need to tackle the problem at its root, and not dismiss the material altogether. These issues can be dealt with better designs," informs Dhruvang.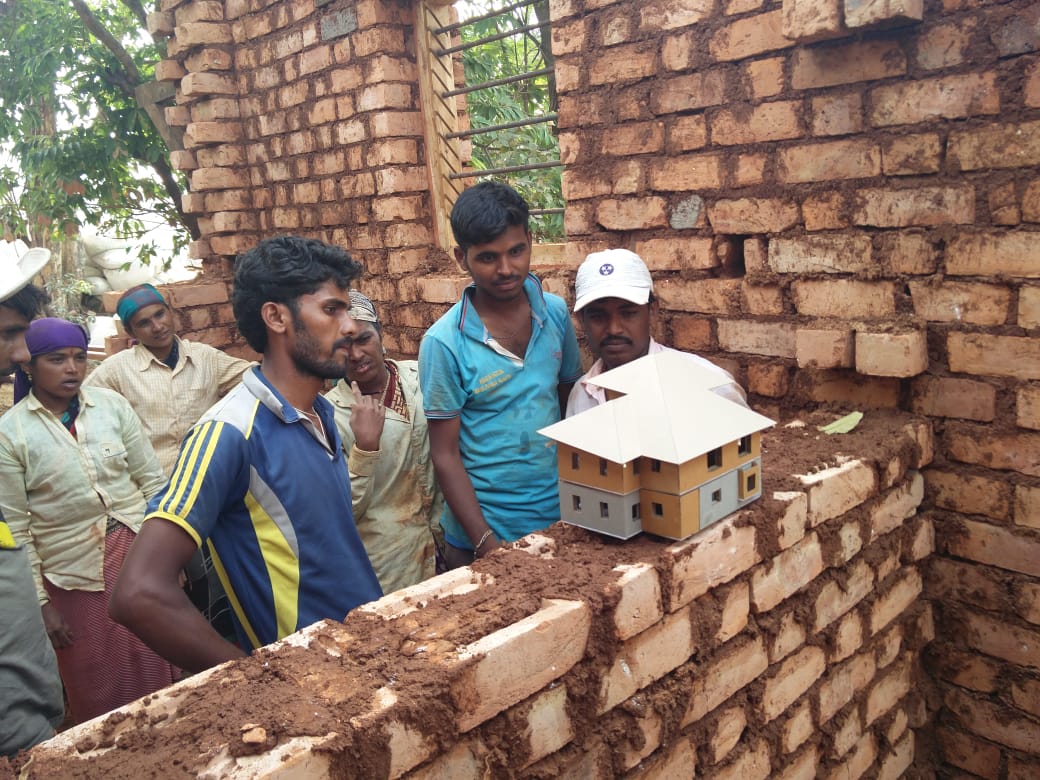 One impact of the project near Bhor was that the local material supplier, who was also the Sarpanch of his village, sought the couple to rebuild his house.
"Initially, he was thinking about demolishing and rebuilding it. After we spoke to him, he decided not to demolish, but retain whatever he could and modify the planning. It was a huge house with a traditional courtyard designed for a joint family which had broken down into three nuclear families. We re-planned it and did the roof again entirely in timber. The old look of the house wasn't compromised, and we gave them the functionality they wanted. Usually, people demolish an old house completely and rebuild it, but this is sometimes unnecessary and wasteful," he says.
---
Also Read: NID Grad Recycles Ceramic Waste to Make New, Eco-Friendly Tableware
---
What about the money? Are the couple sacrificing a lucrative career?
"We don't think of our work as a sacrifice. It is a privilege to work in places that are beautiful and so close to nature. We don't work much in the office, because the designing is done within a month. Unlike regular architects who give a drawing of the design to the contractor to execute, we work with the locals. They aren't necessarily literate, but more educated because unlike conventional architects, they know how to build. And as Laurie Baker once said, our real teachers are in the villages," Dhruvang concludes.
To know more, write to Dhruvang at dhruvang.hingmire@gmail.com.
(Edited by Shruti Singhal)
Like this story? Or have something to share?
Write to us: contact@thebetterindia.com
Connect with us on Facebook and Twitter.
Tell Us More
We bring stories straight from the heart of India, to inspire millions and create a wave of impact. Our positive movement is growing bigger everyday, and we would love for you to join it.
Please contribute whatever you can, every little penny helps our team in bringing you more stories that support dreams and spread hope.