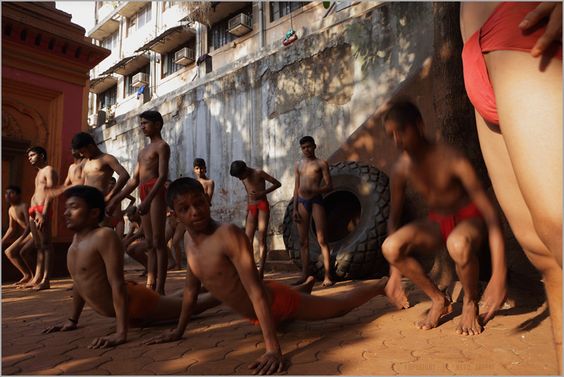 Did you know that Shahaji II, the Maharaja of Kolhapur, sponsored a 22-year-old wrestler from Satara for the 1948 London Olympics? Or that Chatrapati Shahu Maharaj built hundreds of akharas to create a city that produced legendary wrestlers?
Editor's Note: An earlier version of this article wrongly used images by photographer Indrajit Khambe. The images have been removed. We deeply apologise for the error. 
The year was 1948 and Khashaba Dadasaheb Jadhav was all set for his first feel of the big stage at the London Olympics. It was also the first time in the history of the Games that India was participating as an independent nation.
A resident of Goleshwar village in Satara, Maharashtra, the 22-year-old was among the 79 participants representing independent India. His talent, strength and stamina were recognised by Shahaji II, Maharaja of Kolhapur, who sponsored his trip.
Though he finished sixth in the flyweight category, he got a taste of wrestling on a mat.
Once back home, he practised rigorously and clinched a bronze in the bantamweight freestyle category at the Helsinki Olympics in 1952.
Jadhav made history with the first individual medal for independent India at the Olympics.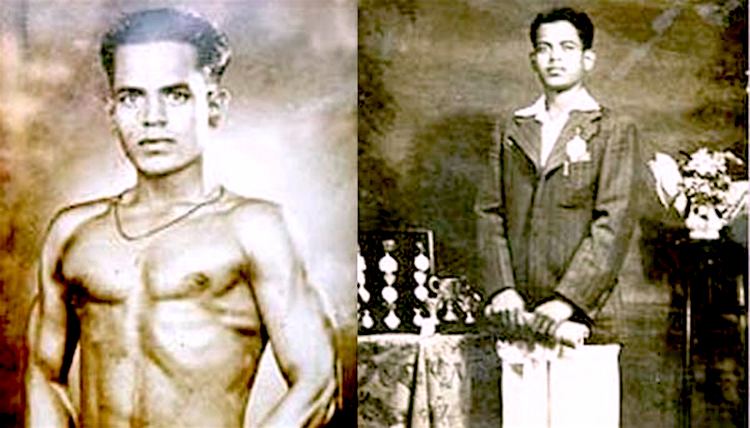 This was nearly 56 years before wrestler Sushil Kumar won a bronze in the 2008 Beijing Games.
Although there is a common notion that wrestlers or pehlwans mostly hail from regions of Haryana (thanks to films like Dangal and Sultan), it was Kolhapur that was once famous for having the beefiest men with the tiniest of loincloths.
Seeds of pehlwani were sown during the reign of Chhatrapati Shahu Maharaj who ruled the princely state from 1894–1922.
The progressive ruler was instrumental in building hundreds of Taleems or Akharas (wrestling grounds), as they are known in the north.
Taleem is an Urdu word for education, thus denoting that wrestling is a sport meant to be learnt with utmost focus, perseverance and discipline.
As the sport flourished under Shahu Maharaj, families not only in Kolhapur but also other districts like Satara, Sangli, and Nagpur started sending their children for training in wrestling.
Every time a child won a kushti in a local match, his parents would swell with pride. Even today, the emotions are the same in this dying sport in Kolhapur.
I say dying sport, as the taleems have reduced to only a handful, and the culture of kushti is superseded by the need to earn a stable income.
However, unlike in Maharashtra, noted wrestlers in the north are given government jobs.
"There, recognition with jobs at decent levels in the police and other security forces, are quick," says one teacher to The Hindu. "Here, those who quit kushti become labourers."
Some gifted wrestlers have ended their careers as watchmen at sugar factories.
Distressed farmers are also a reason behind this as most pehlwans belong to agrarian families. With farmers' issues on the rise, many parents cannot afford the training and living expenses required to support a wrestler.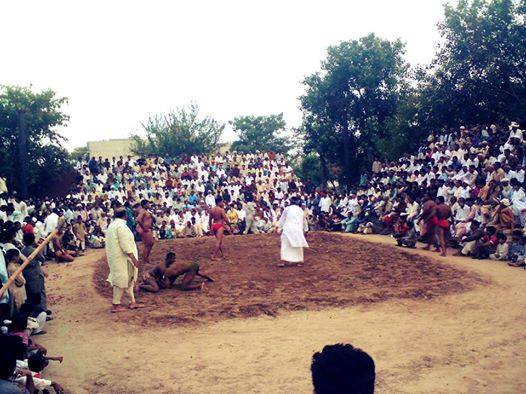 As per the figures mentioned in The Times of India, a pehlwan requires Rs 15,000 every month for a rich diet that mainly comprises almonds, pistachios and cashew nuts, along with copious quantities of eggs, milk, fruit, and desi ghee.
A typical day in Kolhapur's Moti Baag taleem, next to a small temple, begins at 5 am.
Around 150 pehlwans from all ages, some as young as five, start their training with Surya Namaskar (sun salutations), baithuks (sit-ups), and other warm-up exercises.
Since a system of hierarchy is followed, the senior pehlwans engage in wrestling first, while the young ones carry out chores.
From smashing almonds to washing clothes and utensils, the juniors work while observing their seniors and learning a thing or two. Once the seniors complete training, the young ones begin.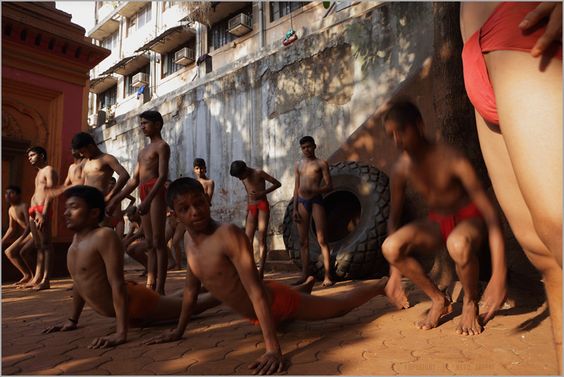 The wrestlers cover themselves in the red mud from the pit before each bout as it helps them in getting a grip on their opponent's body, which is covered with oil and sweat.  
Meanwhile, their teachers lay emphasis on ethics and discipline. To every new student that joins the taleem, the guru narrates the tale of legendary Gama Pehlwan who remained undefeated throughout his career.
Gama or Ghulam Muhammad was born in undivided Punjab. One of his heroic tales narrates a time when he protected a Hindu colony in a mob violation during the partition.
As per the veterans, wrestlers must fight with ethics and morals.
Moti Baag, like the rest of the few surviving taleems, is short of space as around 150 wrestlers live in a 200 sq ft room. This is another reason why parents prefer spending on educating their child instead of sending them to taleems that scream of a future that is uncertain, bleak and dangerous.
While there is a drastic change in Kolhapur's century-old kushti culture, there have been efforts by the government to revive the sport.
In 2015, the Maharashtra government had taken up a conservation project to restore the Rajarshi Shahu Kashbag Wrestling Ground that once glorified social harmony via wrestling.
Today, the ground has a playing area right at the centre, where 4-5 wrestling pairs can play simultaneously. The slanted seating arrangement can accommodate around 30,000 people.
With players like the Phogat sisters and Sakshi Malik winning international wrestling tournaments, India's perception towards this male-dominated sport is gradually changing.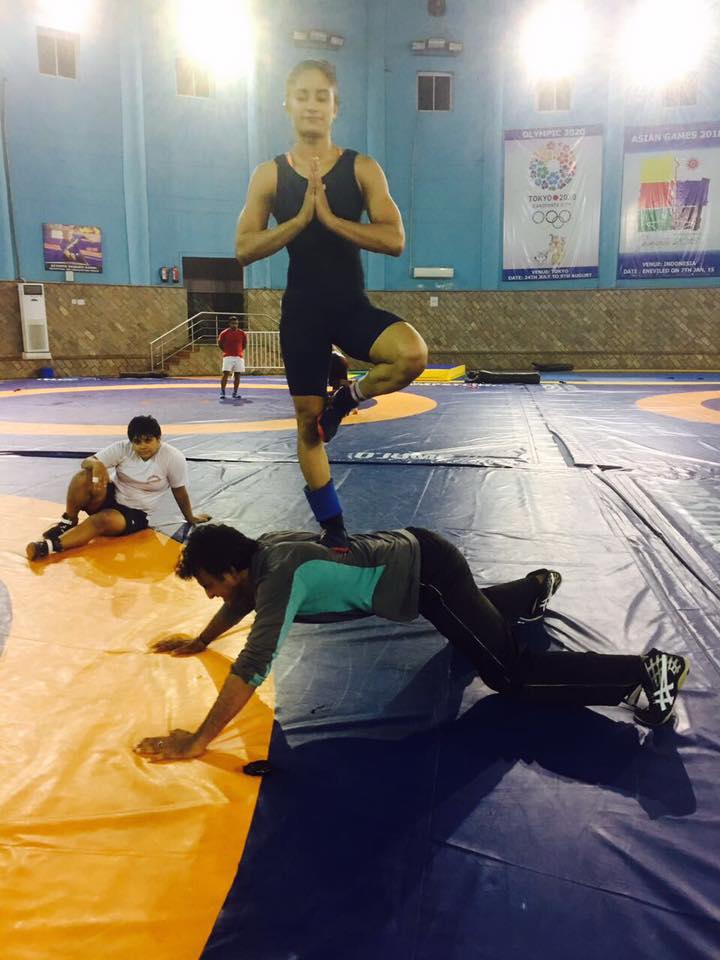 Many girls in Kolhapur are now showing keen interest. As per The Times of India, around 50 girls from Kolhapur train in these akharas and have taken up wrestling as a career.
---
Also Read: Kolhapur to Croatia: Zilla Parishad School Girl Selected for World Wrestling Meet
---
While there is a lot to be done in terms of popularising the sport in the city, it is the veteran wrestlers who are still an integral part of the taleems.
Their refusal to give up on the sport and enthusiasm to pass down the tradition to the next generation ignites hope among children in Maharashtra to make Shahu Maharaj proud by becoming ethical wrestlers.
(Edited by Shruti Singhal)
We bring stories straight from the heart of India, to inspire millions and create a wave of impact. Our positive movement is growing bigger everyday, and we would love for you to join it.
Please contribute whatever you can, every little penny helps our team in bringing you more stories that support dreams and spread hope.