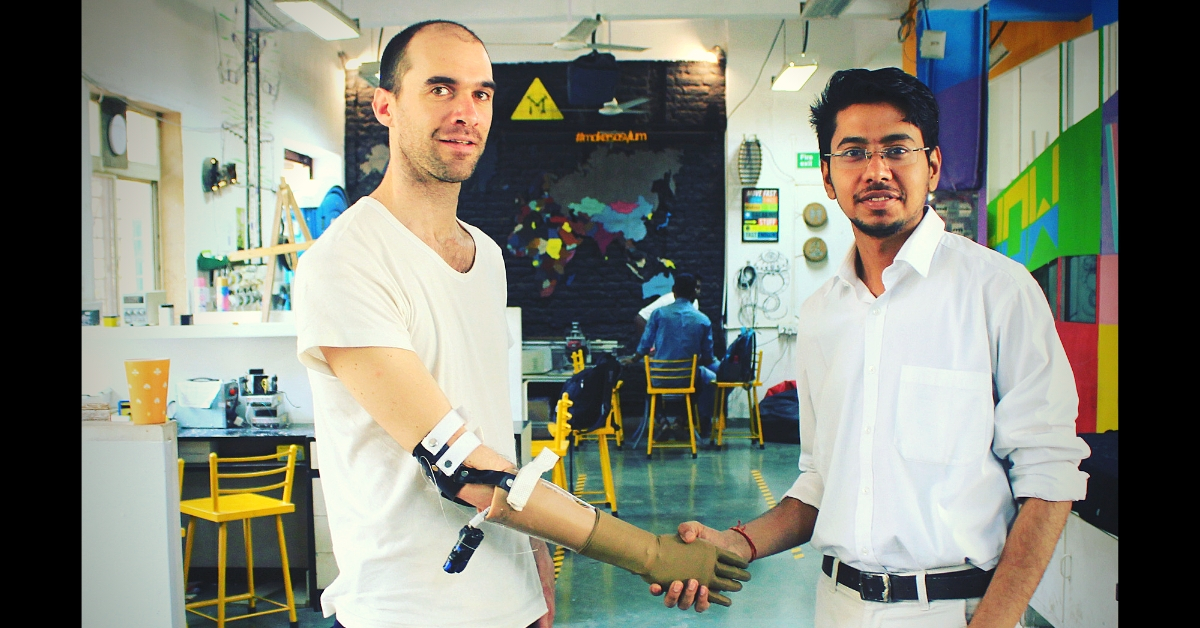 "A little research revealed that every year over 40,000 people in India lose their upper arms, and 85 per cent of them continue to live without any solution. And, the majority come from economically underprivileged sections."
Monotony was never his way of life. An innovator at heart, he was always ready to take risks, all to fulfill his dream.
"I knew what I did not want to do and that is the most important starting point. From there, I eventually figured my path to success," says the 27-year-old entrepreneur, who dropped out of college, twice, to pursue his desired path.
Meet Prashant Gade, a man from Khandwa, Madhya Pradesh, who overcame doubt, dilemma, and discouragement, to find his direction and create a robotic prosthetic arm, that has now given thousands a new chance at life.
In the search for purpose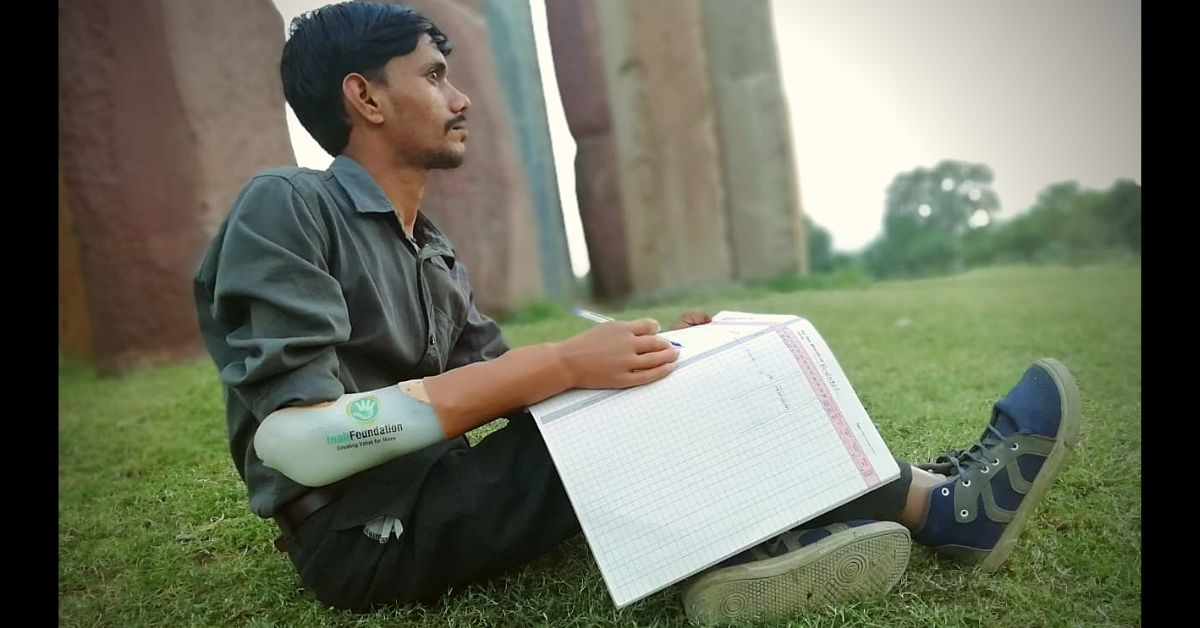 He always dreamed of becoming an engineer and creating innovative devices that could have a social impact. So when he finally enrolled in an electronic engineering course, it was a dream come true.
But, his high spirits were short lived.
"My idea of education was very different from the reality there. Every time I would approach a professor with a new idea, he would first ask me about my grades. The world there was more inclined towards grades and rote-learning than real, practical education. I could not align myself to this attitude that discouraged creative thinking. It was a huge let-down, and I felt like my bubble had just been burst!" he tells The Better India.
Following this disappointing experience, he dropped out of college in the final year, in pursuit of real experience and learning.
"I was looking for a job when I came across a post on Facebook about a robotics course. My long-term interest in the field helped me find the right avenue," says Prashant, who enrolled for the six-month FAB training course in Pune. It was a distance course, being conducted under the aegis of the Center for Bits and Atoms of the Massachusetts Institute of Technology (MIT).
He had to complete a project to graduate from the course. While searching for inspiration, he came across the story of Nicolas Huchet, a Bionico hand-maker, who after losing his hand in an accident, made himself a bionic arm.
A rocky road ahead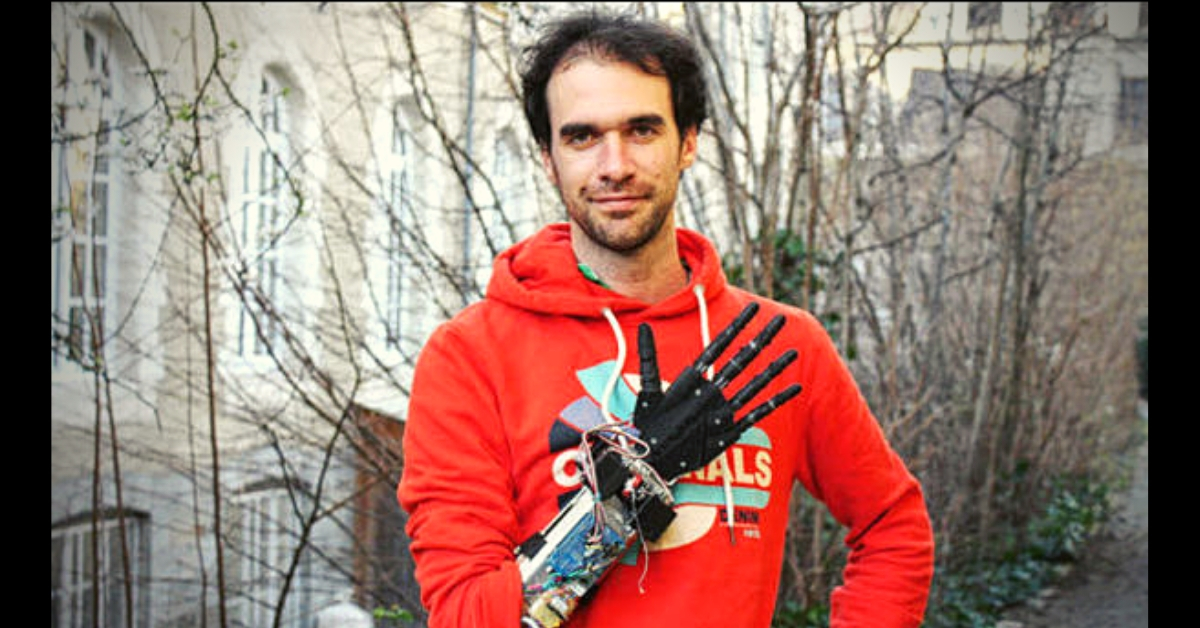 "I was inspired by his work and began creating a prototype, but an unfortunate incident inspired me to begin work in this direction. While in Pune, one day, I came across a seven-year-old girl who was born without arms," he shares.
Prashant's device was far from ready, so he decided to gift the little girl prosthetic arms. He was shocked when he found out the cost! Firms not only in India, but also China, USA, and Europe stated approximately Rs 24 lakh for two arms.
---
Also Read: Telangana Encourages Marriage Among the Differently Abled With Rs 1 Lakh Incentive!
---
"Plus, being a kid, she would have to get the art changed every two years as she grows older. How can a person afford that kind of expenditure?" he exclaims.
The pertinent question pushed him to create an affordable and more effective alternative.
"Research revealed that every year, over 40,000 people in India lose their upper arms, and 85 per cent of them continue to live without any solution, the majority of whom come from economically underprivileged sections. This gave me an idea about the potential of my innovation and how it can impact people in and beyond the country," he adds.
Just 23 at the time, he began his quest to perfect a low-cost semi-bionic arm. He wanted to dedicate himself to finding a solution and use it for social good, free of cost.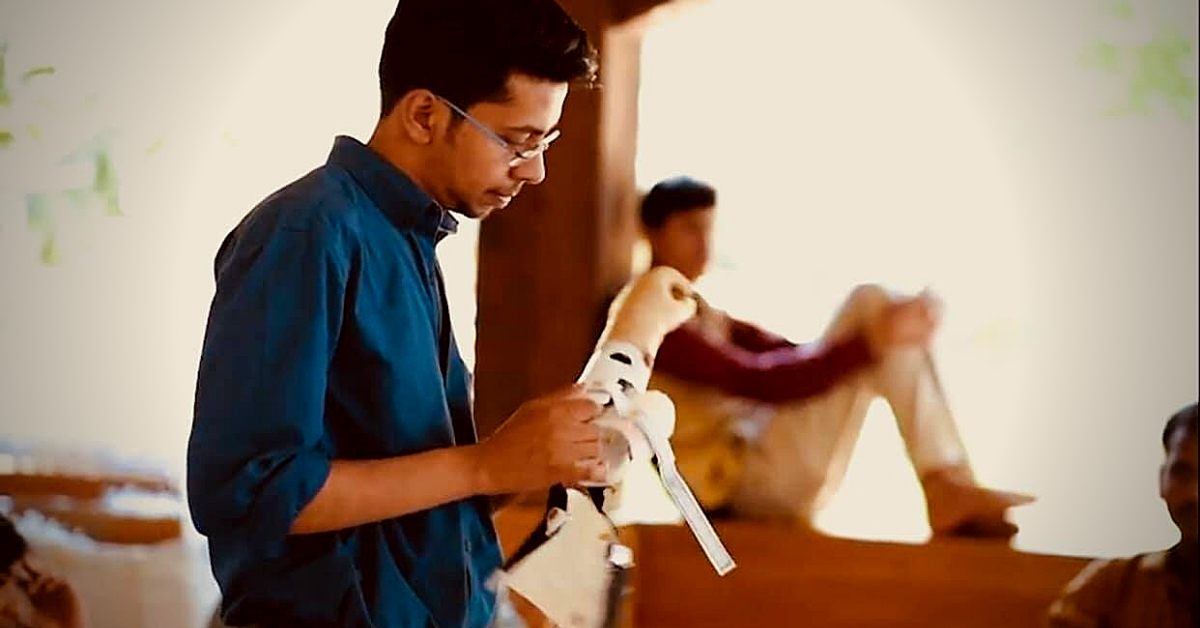 But resistance towards his plan on the grounds of practicality continued to come his way.
"Many people said that I was stupid to throw off a comfortable life that engineering promised. My parents were also not convinced. They thought this to be too early to work for social change. My father advises me to work on myself first before working for others, and so, enrolled me into another computer science course. But I was not going to let go. I continued and tried getting funds through various avenues. Although I did not get any at first, my idea impressed the Technical Secretary of Jaipur Foot, who soon gave me a seed grant to design seven such hands," he says.
Overwhelmed, Prashant took a photograph of the cheque and sent it to his father.
"I wanted to let him know that I was dropping out again. Only this time, I knew what I was going to do. He just replied that he respected my decision. Then, I was on my own, travelling to Jaipur for real experience," he adds.
Working there had its challenges. In a new city, he had to pay for his rent, food, travel and other expenses.
As money began to evaporate, he had to prioritise shelter over meals, eating just once a day.
"Those were difficult times. I would just drink water and continue to work on my device, without letting myself be distracted. In hindsight, I continued to pursue funds through various online campaigns and videos," he shares.
Soon, his hard work found recognition in the USA, where a retired professor reached out to support him in 2016. "I was invited to the USA to deliver a lecture about my project. They were so happy and supportive that they gifted me ten machines to expedite the work," adds Prashant. When asked more about the donors, Prashant told The Better India that he wishes to keep their identity anonymous.
At present, Prashant Gade's invention of Inali Arms is India's most affordable bionic arm for the differently-abled, priced at Rs 50,000 only!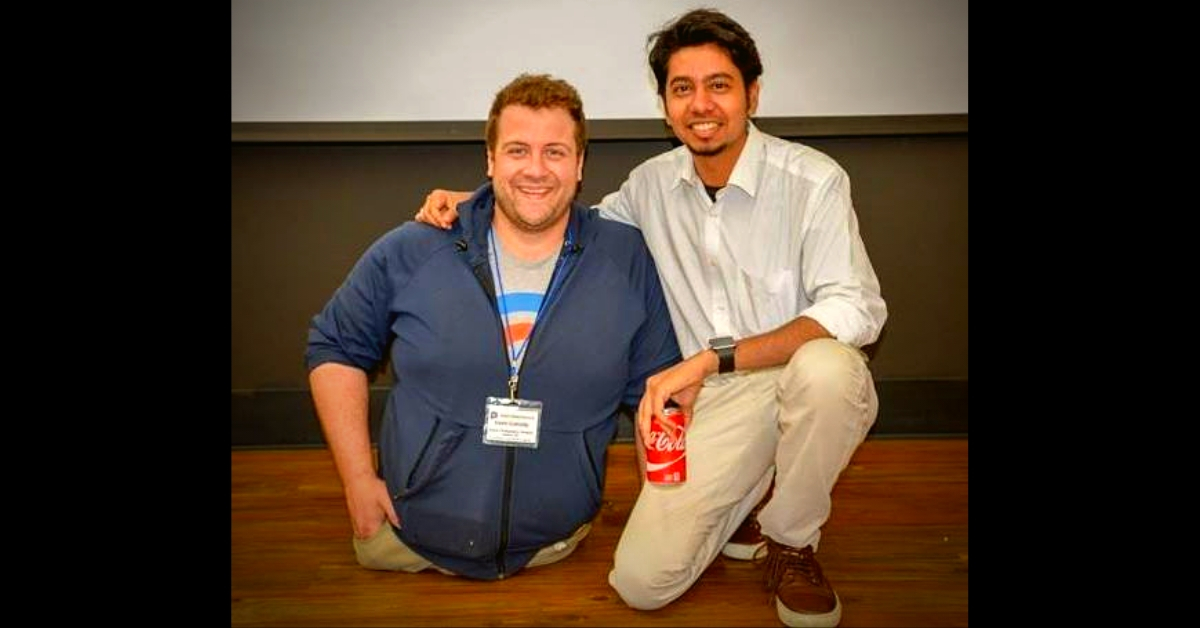 In the last two years, over 700 arms have been designed and given for free, while nearly 300 have been sold across the country.
"Once while traveling to my hometown, I met a boy who had lost both arms in an accident. When I offered to help and asked his father to come to Jaipur, so that we can fix the Inali Arms for him, for free, I was surprised to see him decline. It was just because leaving the job for the day would mean that his family would have to sleep with an empty stomach. That got me thinking about the people who can't reach us because of their social and economic conditions. I realised that we needed to reach them and provide proper prosthetic support," shares Prashant.
The incident also opened his eyes towards the consumer perspective. He realised that consumers might doubt the credibility of a product that comes without a price tag, especially when it is competing with expensive international brands. That's when the selling price of Rs 50,00 was decided upon.
Durable for more than three years, an Inali Arm can pick up 10 kg of weight at a time.
One of the major landmarks in his journey, Prashant reveals was when his invention was eventually tried on and appreciated by his inspiration, Nicolas Huchet.
What is an Inali Arm?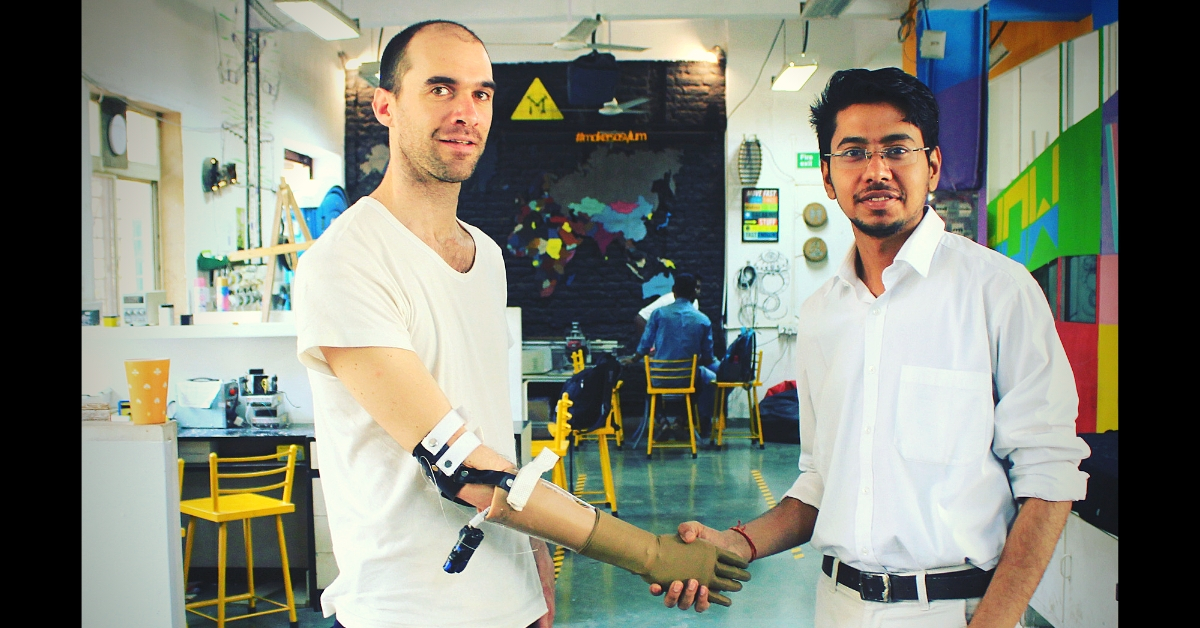 Named after his girlfriend, Inali Wahane, who has been a constant support through the journey, the bionic arm is very different from the conventional one. It was even launched on her birthday on 4 May 2016!
It mimics technology similar to its imported counterparts, but with cost-effective alternatives, like stainless steel for the inner machine, and a mix of silicon and polyethylene for the exterior, for a more realistic look.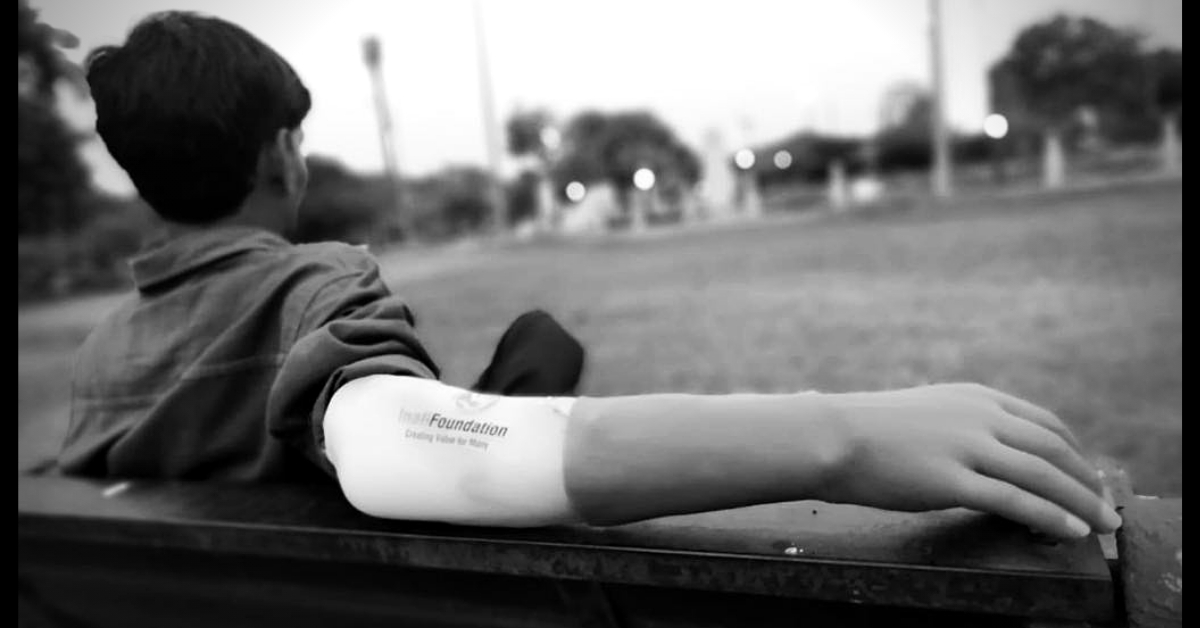 "After a lot of research and tests, we have been able to create a prosthetic arm which can easily control the user's fingers by shoulder thrusts and gestures. Unlike most prosthetics which are connected to muscle movements, Inali Arms operate by detecting brain signals. This makes it more accurate as opposed to muscle movements which can easily be misjudged. Even for people with burns or body fat, or even simple sweating, the conventional prosthetic arms can run a risk of malfunction or zero detection of signals," explains Prashant.
At present, Prashant is set on a mission to distribute Inali arms for free among the lesser privileged in rural and urban India, who cannot afford a prosthetic arm or are unaware if it. Till date, Prashant and his team have donated over 1,500 Inali arms for free and they wish to proliferate their operations on a larger scale.
---
Also Read: The Story Behind the Heartwarming Kerala Pic That Made It To the WHO Calendar
---
Inali Arms being just a beginning, Prashant wants to expand further with affordable prosthetic lower limbs and other body implants, making the future of India's healthcare accessible to all.
Kudos to him!
For more information about Inali Arms, reach out to Prashant on prashant.gd@hotmail.com.
(Edited by Shruti Singhal)
We bring stories straight from the heart of India, to inspire millions and create a wave of impact. Our positive movement is growing bigger everyday, and we would love for you to join it.
Please contribute whatever you can, every little penny helps our team in bringing you more stories that support dreams and spread hope.
Tell Us More