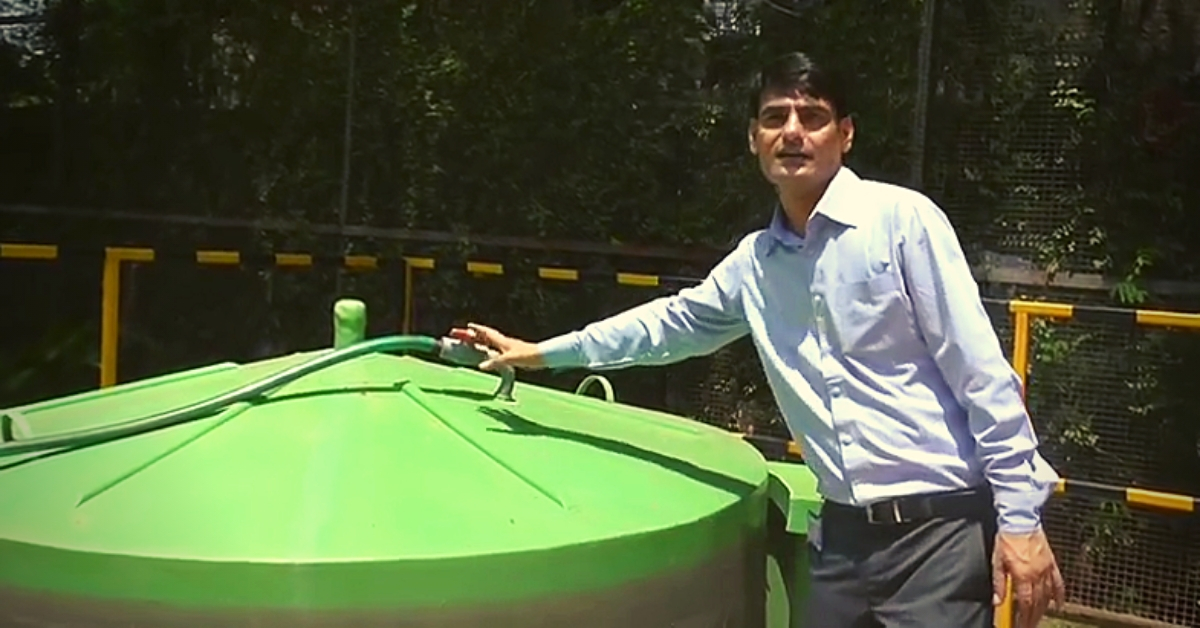 Able to serve a family for four years, the entire portable structure cost him less than Rs 10,000 and took a few hours to assemble. No wonder he is the talk of his neighbourhood now!
Almost 160 years ago, the first successful biogas generation plant was established in Mumbai, India. Since then, approximately five million biogas plants cater to domestic needs like water heating and cooking.
Contrary to this, various countries, especially Germany, have been efficiently harnessing its benefits in other sectors.
"Having been the forerunners, we should have led ahead of all in ushering the biogas revolution, not the European countries like Germany, that have become forerunners of biogas utilisation, both in domestic and public spheres," said a senior corporate executive, while speaking to The Better India.
Based in Jamshedpur, this executive, Gaurav Anand, has led the movement by becoming the first man in the steel city to build a biogas plant small enough to fit into his apartment's balcony!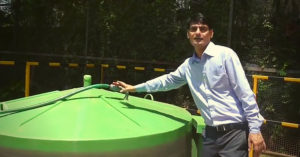 Not only has it slashed his monthly expenditure on LPG, but has also rewarded him with rich slurry compost that makes his garden bloom.
A chief manager, (environment and sustainability) at Jusco, Tata Steel's civic utility subsidiary company, 41-year-old Gaurav has been associated with several sustainability projects, in his professional and personal lives.
The idea to set up such a system at his house stemmed from the need to manage domestic waste in a better way.
"When faced with issues, we always depend on someone else to solve it. Waste management was one such issue that affects the entire nation. I wanted to make a small beginning from my own house and decided to put kitchen waste to best use through the biogas plant," he says.
Thus, in 2017, with the help of a friend, he assembled and created a portable biogas plant of 1-kg capacity in his balcony.
An arrangement which cost him less than Rs 10,000 and a few hours of labour to assemble, now comprises a re-informed fibre plastic (RFP) cylinder and a dome.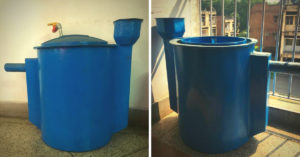 Through an inlet, the kitchen and organic waste travels into the cylinder, which has two outlets, one for the biogas and another for creating the slurry compost. The biogas outlet comes with a 10-metre pipe, which is directly connected to the kitchen and attached to the stove. And the fertiliser from the other outlet gets collected in a tray below.
Explaining the use of the plant, Gaurav says, "In 50:50 composition, I pour around 80 kg of cow dung and water inside the cylinder which is placed in the dome. After this, 500 gm of kitchen waste and a glass of water are poured into it through the inlet. It can take a daily kitchen waste load of 500 gm to decompose and create biogas."
While the biogas takes around 24 hours to form and come out of the outlet, the slurry generation takes ten days.
According to Gaurav, the biogas plant has helped the family cut down on their LPG consumption by half, saving thousands of rupees in the process. He adds that for a family of four or five members, one needs to have an area of 1-metre diameter and a height of 1.5 metres, to successfully install the portable biogas plant.
The project not only earned him community recognition but has also encouraged several residents to embrace biogas more positively.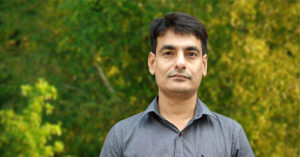 "Changing people's perceptions is the most difficult task, but we have been making progress with our workshops. Recently, I helped install a plant in the temple area of a housing complex to utilise the flower offerings into biogas and fertiliser. Its success encouraged several other temples to request the same," added Gaurav.
---
Also Read: Patna Girl Builds Biogas Plants in Villages, Provides Electricity to Poor Farmers!
---
With more people being inspired and educated about biogas generation, Gaurav sees a hopeful future for the city.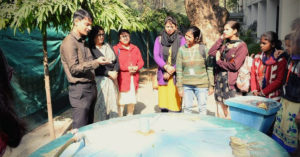 "If people start treating their waste on a domestic level, it would not only reap benefits for them but also drastically bring down the overall waste generation and impact the environment positively. This is my ultimate goal," concludes the community changemaker!
(Edited by Shruti Singhal)