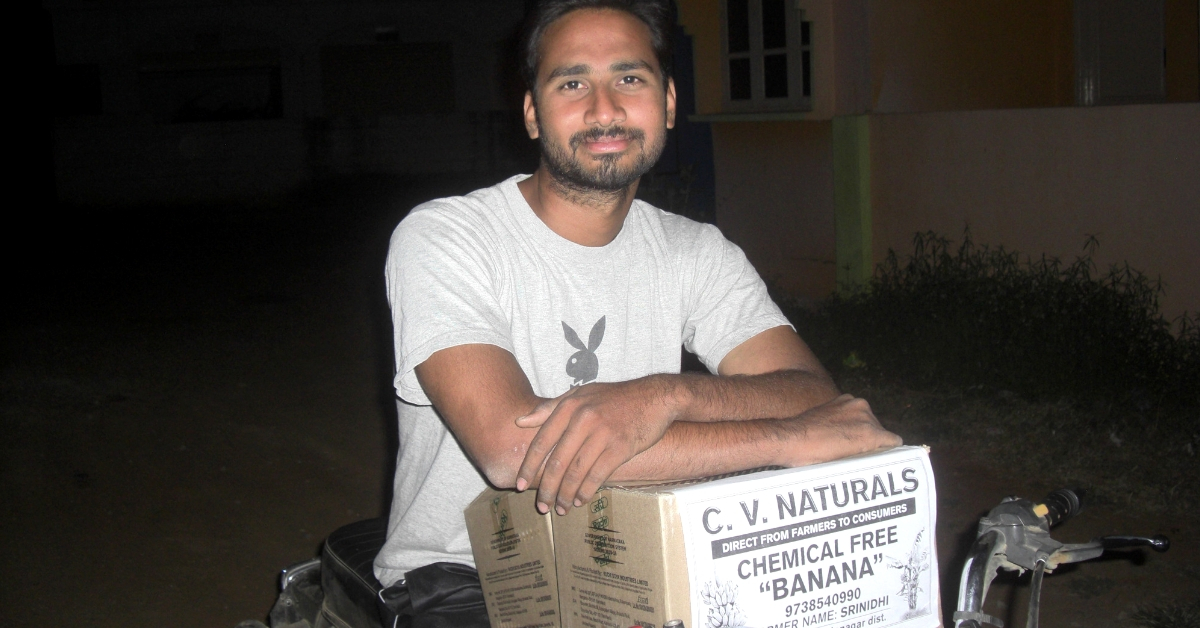 By marketing his produce directly, C V Srinidhi has eliminated the need for middlemen and enjoys almost triple the returns that farmers usually get.
Like every other engineering graduate, Chamrajnagar native C V Srinidhi nursed the dream of clinching a job in the IT sector. His eyes were set on Bengaluru, the IT capital of the country. Friends and acquaintances advised him otherwise, given the pressure and competitiveness of the industry.
Because of this, he began contemplating a change in his vocational trajectory. Farming was the first thing that came to his mind, despite knowing nothing about it.
About an acre of family property lay unused and he wondered, why not! But his family was vehemently opposed to the idea and wanted him to first make a career in his chosen field before considering farming.
After a year of trying, he finally managed to get a job in the Chamarajnagar district collectorate in 2013.
But life would take a very different course for him, and that too along the ways he would have never imagined.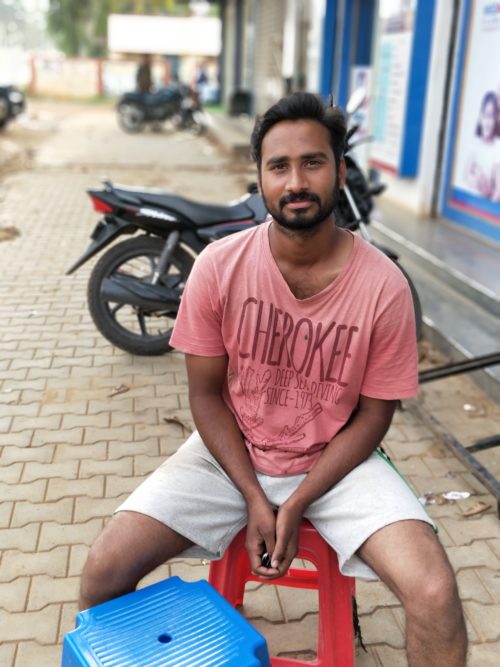 Around this time, his friend gifted him a book on natural farming by renowned author Subhash Palekar. At first, he wasn't entirely sure about the practices that the book hailed, but with time, the book began to interest him, and he went on to read more than ten books on the topic.
With theory and research on various farming practices, Srinidhi now thought of applying them. But he was fixed on one thing—that he would pursue natural farming, sans any chemically propelled practices.
Srinidhi chose to start his journey by cultivating bananas. His first harvest yielded five bunches, which he sold by marketing them. But when his next harvest was ready, this method proved to be problematic. Srinidhi had harvested 50 bunches of bananas!
The fact that these would become overripe and unfit for consumption if not sold in time worried him. Upon interacting with other farmers, he came up with an idea.
"Because I wasn't using any form of chemical fertilisers or pesticides, the bananas were ripening naturally. Which made me decide to sell these in carton boxes and batches of varying ripening periods. The advantage of box packaging was that they wouldn't suffer from transportation damage and have a prolonged shelf-life," he tells The Better India.
With 3-kg packages of varying ripening periods ranging from seven days to 14 and even ready-to-consume, Srinidhi started selling bananas on his bike in areas of heavy footfall across the city.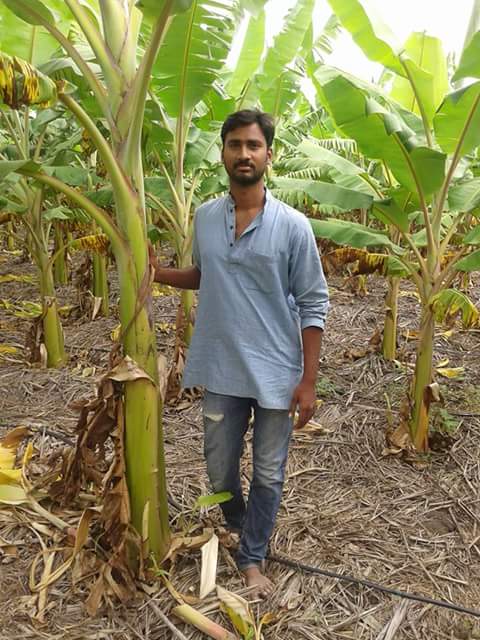 Before that, he decided to brand his venture properly and came up with the name, C V Naturals, where C stood for his hometown, Chamrajnagar, and V after his father, Venkateshmurthy. This was followed by the tagline, "Direct from farmers to consumers".
"Initially starting by marketing these on streets across Chamrajnagar after work hours, I observed that people were coming back for more. The quality was good despite being sold at a price of Rs 100 per box. A regular farmer would sell their produce at Rs 5-10 to shopkeepers, who in turn, would sell these to the consumers at triple the price. Because of the inability of marketing their produce, farmers were worst hit when it came to returns for their produce. Through my efforts, I was eliminating the need for middlemen and getting the returns directly," he explains.
Soon enough, word-of-mouth started working well for Srinidhi with people directly reaching out to him through WhatsApp and text messages. There was even one time when he sold 80 boxes in half an hour!
He credits his mother, Meenakshi, for playing a vital role in this journey. She often helps him in packaging the bananas, amidst other chores.
While selling the produce, Srinidhi also tries to reason with buyers about the hazards of pesticide-induced vegetables and fruits.
"By fertilisers and pesticides, one assumes that these are sprayed on plants and produces as they grow. But one needs to be aware that every crop cycle is roughly subjected to 7-8 chemical treatments—right from the soil. Even the ripening process is induced by chemical additives. Once you know the taste difference between both, you wouldn't ever want to go back to buying the market ones," he adds.
Having found relative success in banana farming, Srinidhi was keen to experiment with other crops. He zeroed in on sugarcane.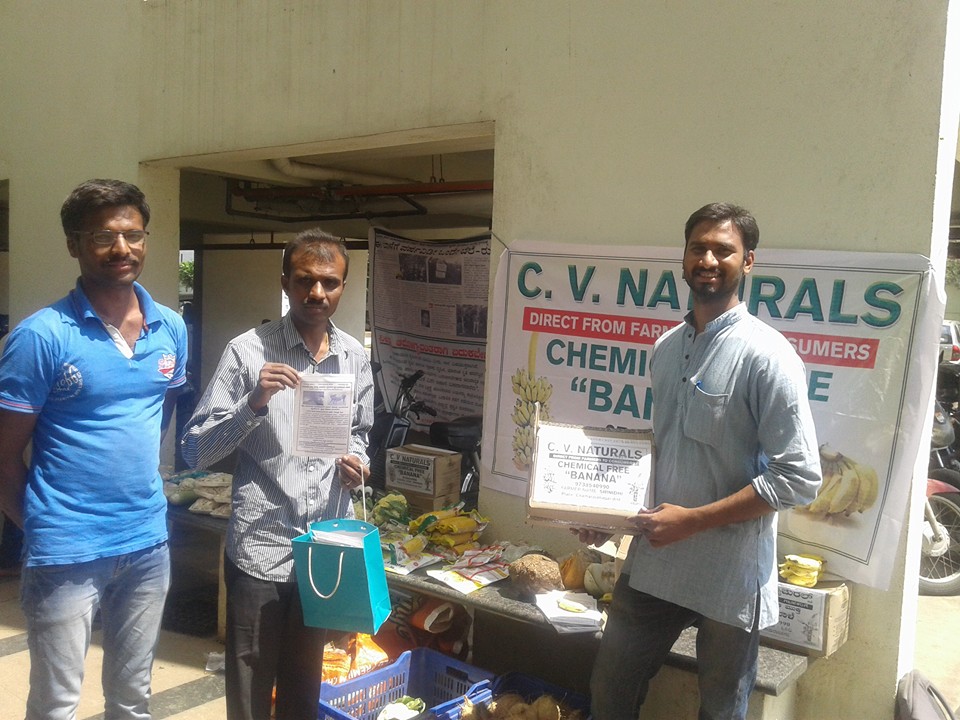 "I'd attended a workshop that inspired me to make this move. Also, I discovered that the soil in my area was more suited to growing sugarcane than bananas," he explains.
But his first crop failed miserably.
"What was worse was that the crop cycle for sugarcane is yearly and I ended up wasting nearly two years before I could start again. One can't remove these crops that easily. But one can only learn from mistakes and prepare better for the next time," Srinidhi says.
The next cultivation proved to be better. He managed to harvest 15 tonnes of sugarcane across the one-acre of land.
"My idea was to sell these in the juice form. Unfortunately, the juicing machine I had ordered from the Philippines didn't reach on time. I had to act quickly, lest the entire produce went to waste. Making jaggery was the only way out," he remembers.
However, there was not much data available on the market value of jaggery and Srinidhi wasn't sure if his direct-to-consumer strategy would work again. But he chose to go with it.
"While the price of jaggery was Rs 30 per kg in the local markets, I decided to up my price to Rs 100 as my produce was 100 per cent chemical-free. Compared to regular jaggery producers who would earn close to Rs 80,000-1,00,000 for their entire produce (30-40 tonnes on an average) by selling these to processing units, I was earning Rs 1,50,000 by undertaking all the steps—right from cultivation to marketing the final product," he says.
Interestingly, six months into sugarcane farming, Srinidhi's relatives decided to lease out their land to him for cultivation.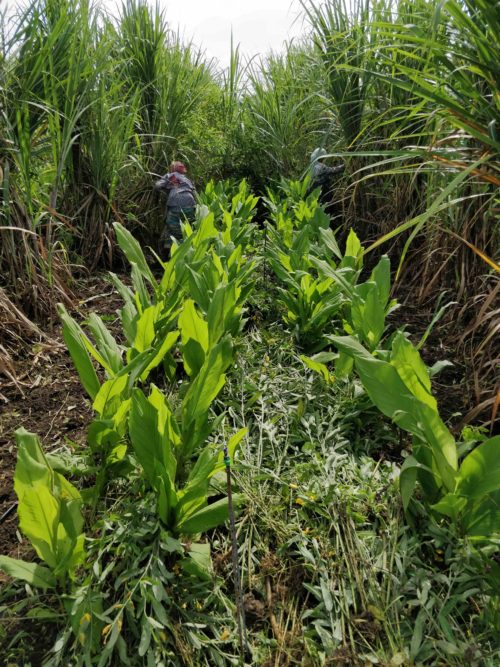 "These were the same people who once criticised me when I'd made the jump to farming. Those two years were the most difficult since my foray into the agrarian world. But seeing how I emerged successful despite a few setbacks convinced them to lease out their land. So, I now cultivate sugarcane across three acres of land and produce up to 30 tonnes of sugarcane. I still market my products directly; word-of-mouth and WhatsApp have played a pivotal role as well," he adds.
Irrigation has been a constant issue while cultivating sugarcane, for which he has finally found a solution. "I've recently installed a drip irrigation mechanism across my farm, which is proving to be a boon for these crops. I've also been growing turmeric alongside the sugarcane," he adds.
With the juicing machine now at his disposal, he has even ventured into selling sugarcane juice.
"Selling juice is even more profitable for a farmer when compared to jaggery, as the quantity extracted is more. From one tonne of sugarcane, you can make about 100 kg of jaggery, while juicing it would procure 600 litres of juice. So, even if you sell jaggery at Rs 100 per kg, you can earn up to Rs 10,000 from one tonne of sugarcane. On the other hand, if I sell a 250 ml cup of sugarcane juice at Rs 10, every litre earns me Rs 40. That multiplied by 600 litres equals Rs 24,000. You do the math now," laughs Srinidhi.
Rooting for the humble crop besides its lucrative returns, Srinidhi shares that both jaggery and sugarcane juice are extremely good for health.
"The health benefits are plenty, and again, the taste of the products are completely different if the crops are chemical-free. That has worked in my favour. Once you know the taste of a naturally-farmed product, why would you go back to consuming products that you know are harmful to your health!" he adds.
Bananas and sugarcane aside, the 29-year-old is now on a new pursuit—selling nugge soppu or moringa leaf powder.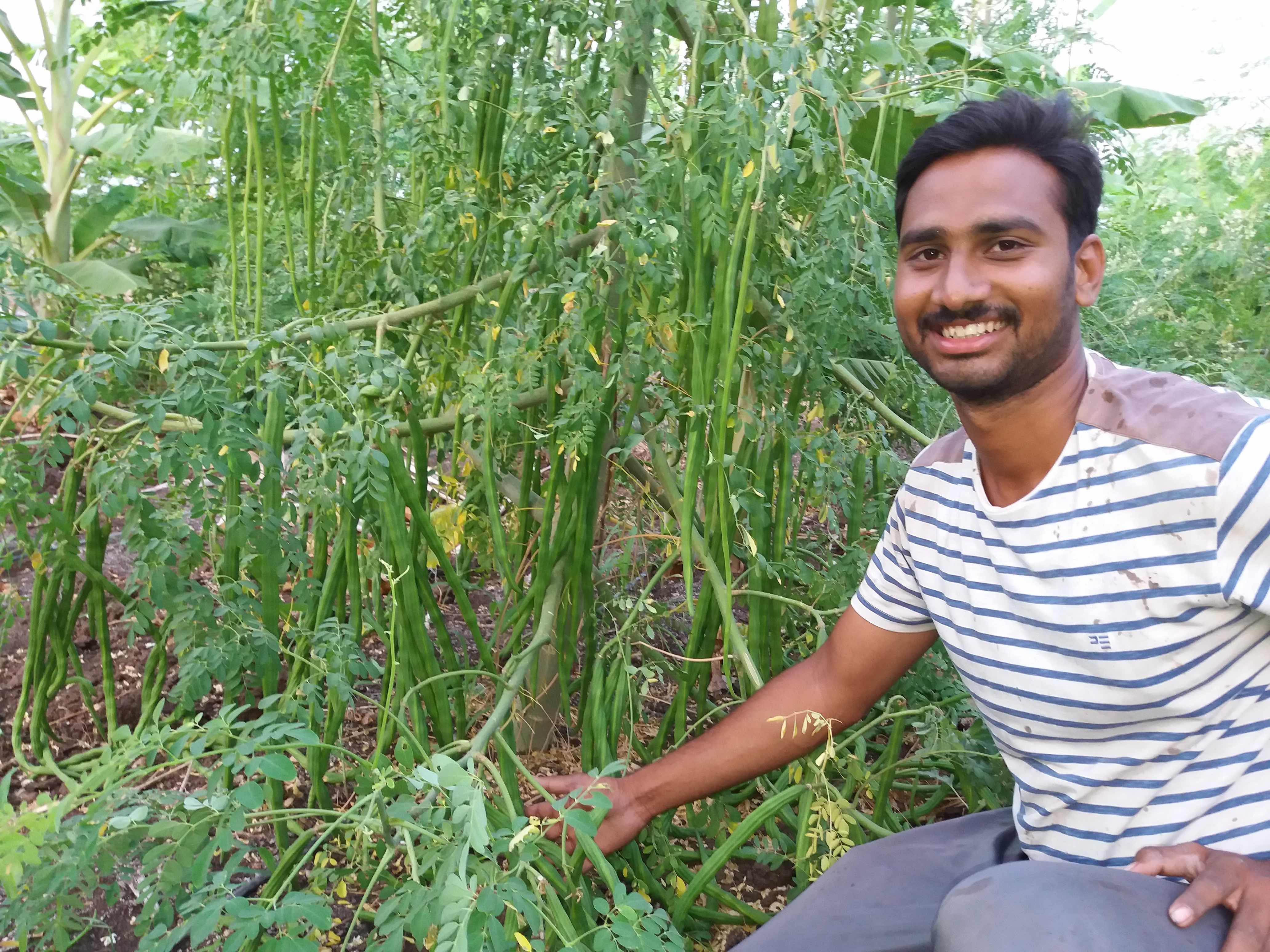 "Now that this local green has been globally recognised as a superfood, there is a great market for it. In Ayurveda, it has been documented to have over 300 health benefits. Being a rich source of calcium, iron, vitamins as well as proteins, those who are suffering from calcium deficiency, knee pain, diabetes, and even malnutrition can consume this regularly. I'm utilising the power of social media and WhatsApp to sell this product and hope it does well," he concludes.
It is impressive how despite facing setbacks, criticism, crop failures and monetary losses throughout his farming journey, Srinidhi chose to persist instead of giving up.
---
You May Also Like: 25-YO Karnataka Man Goes From MBA to Organic Farmer, Earns Rs 7-10 Lakh Yearly!
---
Today, people reach out to him seeking his advice, such has been his growth as a farmer.
Srinidhi's story showcases how persistence is the key to overcome roadblocks enroute success and that anyone can try their hand at farming and emerge successful if they have the will to pursue it with dedication.
For any information on natural farming or products for purchase, you can reach out to C V Srinidhi at +91 97385 40990 or write to him at srinidhipes@gmail.com.
(With inputs from Rajath Sharma)
(Edited by Shruti Singhal)
Like this story? Or have something to share?
Write to us: contact@thebetterindia.com
Connect with us on Facebook and Twitter.

We bring stories straight from the heart of India, to inspire millions and create a wave of impact. Our positive movement is growing bigger everyday, and we would love for you to join it.
Please contribute whatever you can, every little penny helps our team in bringing you more stories that support dreams and spread hope.
Tell Us More