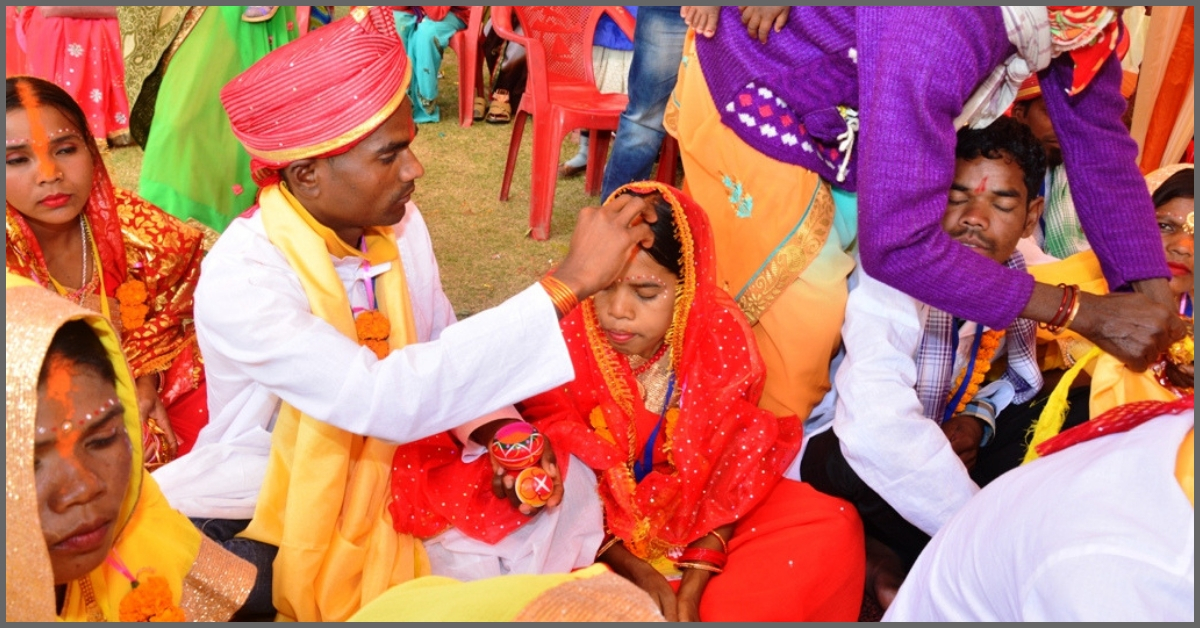 "These villagers earn about Rs 200-250 a day, which is not on a regular basis. In such a situation, they cannot afford to throw a party for the entire village. The villagers, however, do not allow their wedding to be solemnised until they are served food and drinks on the occasion. Thus, thousands of couples never get married."
After living-in with Ramlal Munda for almost 30 years, Sahodari Munda finally got the status of his wife. Her son, Jeeteshwar Munda, who also has a five-month-old daughter, got married on the same day with his partner, Aruna Munda.
Their wedding was conducted in a Mass Marriage organised by NIMITTA, a social organisation in Jharkhand, which helps live-in couples in the tribal community get married.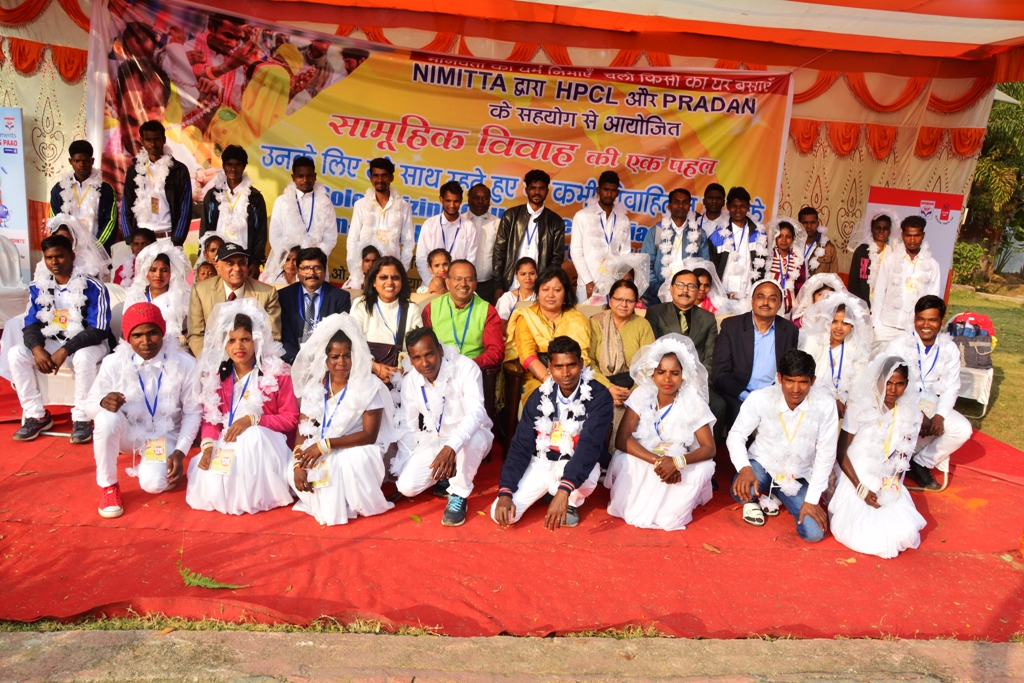 Sahodari Munda of Gumla district, says, "I am so relieved to be finally called the 'wife' and not a 'Dhukni'. Now, my status in the society will increase, and my son will have official claims on the ancestral property of my husband."
'Dhukni' or 'Dhukua' comes from the local word 'Dhukna', which means "to enter or get in".
So, a 'Dhukni woman' is a term given to a woman who has 'entered' the house of a man and is living with him without marriage. This relationship, in the tribal community, is referred to as a 'Dhuku marriage'.
Thousands of couples in the tribal villages of Jharkhand stay in live-in relationships as they cannot afford to organise grand weddings.
Pratima Kumari of Charkatangar village, Gumla, who got married at the mass wedding, says, "The villagers do not allow us to get married till we throw a feast for the entire village. Since many of us are daily wage earners and cannot afford to spend such kind of money, we never get married."
Nikita Sinha, Founder, NIMITTA, says, "These villagers earn about Rs 200-250 a day, which is not on a regular basis. In such a situation, they cannot afford to throw a party for the entire village. The villagers, however, do not allow their wedding to be solemnised until they are served food and drinks on the occasion. Thus, thousands of couples never get married."
She adds, "We have come across many such cases where the entire village is living as 'Dhukua' because none of them could afford a decent wedding."
In the last three years, NIMITTA has solemnised the marriages of around 200 live-in couples in the state.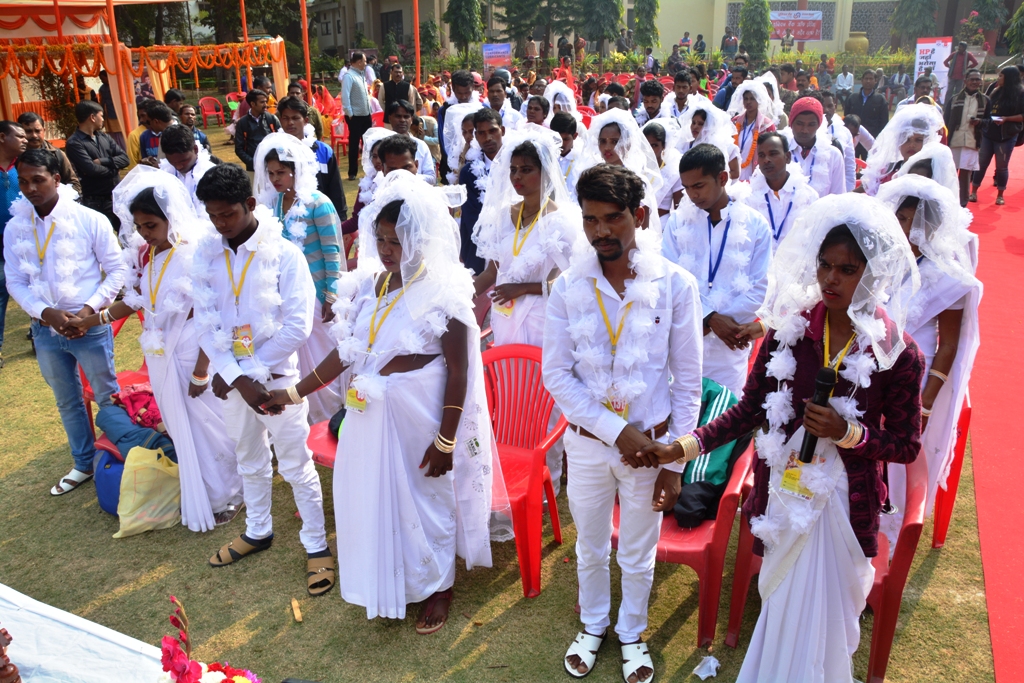 "We get them married in a ceremony as well as get their marriages registered, so that in future, they do not face any problems," Sinha says.
While the couples in live-in relationships are not harassed by the villagers, the women are never given the respect they deserve. Any children born out of this relationship too are not socially recognised.
"The term 'Dhukni' itself is derogatory. It makes one feel that the woman has forcibly gotten into the house of the man. These women are never given the rights of a wife; they cannot apply sindoor, nor do they get a part in the husband's ancestral property, if he dies," Sinha informs.
In a 'Dhuku' marriage, if the man dies, the woman is left with nothing as the relatives of her partner do not share the property with her and she is forced to live on the mercy of others.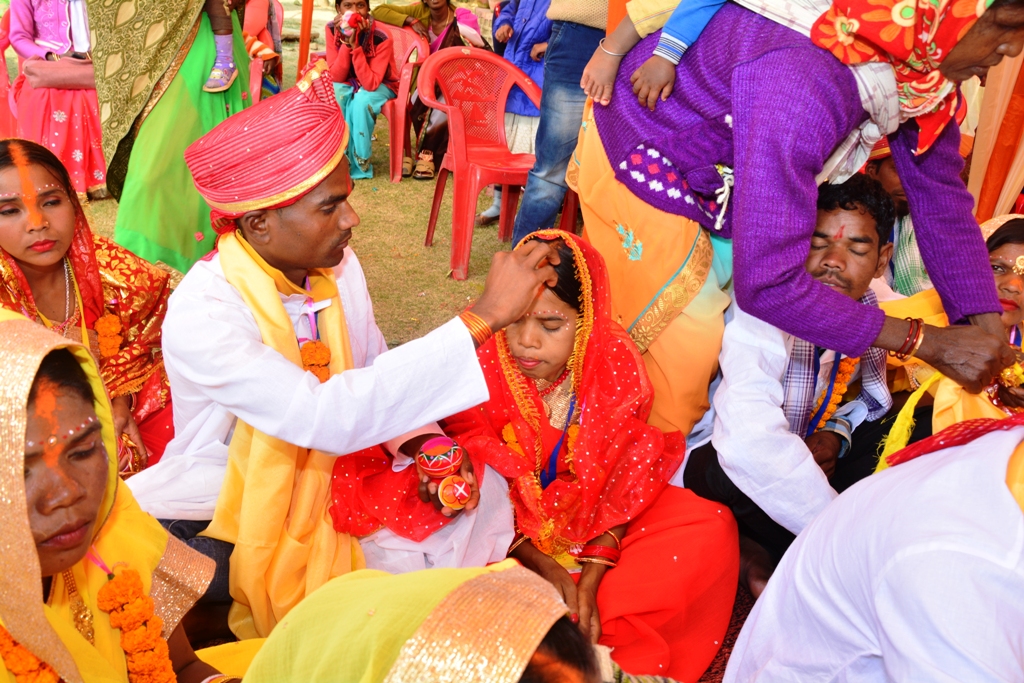 Sheela Munda, a young 'Dhukni' woman, says, "As I do not apply sindoor, I do not feel safe while stepping out of the village because men often harass me, assuming that I am not married."
The Dhuku marriage takes a heavy toll on the children born from the union.
"Getting a child's ears and nose pierced is a tradition in our society, but children born out of Dhuku marriages are not allowed to go through the process. As they result, they are never socially recognised in the community," says Brsamuni Devi. She has a son and a daughter from her live-in relationship.
This, however, is a minor issue as compared to the bigger problems these children face.
Human trafficking is a major concern in the state where children are easy targets. If a child born from a Dhuku marriage has been trafficked and rescued, reuniting him or her becomes a challenge.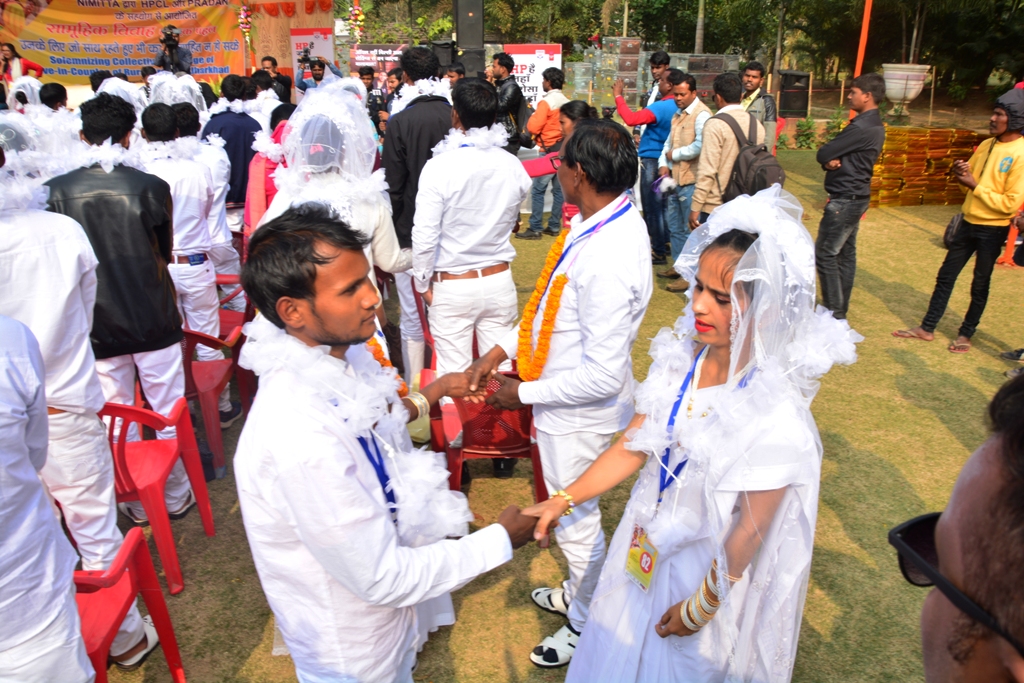 Aradhana Singh, a retired police officer who has worked extensively against human trafficking, shares, "Most of these children do not have any proof of identity. They are not mentioned in the ration card of their family nor do they have an Aadhaar card. In such a situation, repatriating them with the family becomes a challenge as their address or names of parents cannot be found."
---
Also Read: Jharkhand's Women Are Using Marigolds To Earn Lakhs & Beat Illegal Opium Farming
---
The lives of women who were married with the help from NIMITTA have changed significantly.
"After getting married, the first thing I did was to get my daughter's ears and nose pierced. I am so relieved now, because she will not be treated differently in society. Also, we will now be adding her name in the ration card," says Dayamani Khess, who lives in Khunti.
Another woman who recently got married after living-in with her partner of ten years, says, "Now the villagers treat me with respect. Also, I am now confident that my husband will not just walk out of the house any day and start living with another woman."
However, getting these couples married is not an easy task for the organisation.
"We face opposition from the villages as well as from the men. Many times, the villagers are adamant that they will not let anyone in their village get married until we throw a feast for each one of them. If they become too aggressive, we move out of that area," Sinha shares.
She adds, "We choose villages where locals can be counselled to agree for the weddings. Some Village Pradhans are very supportive, and they permit us to get the couples married without much hassle."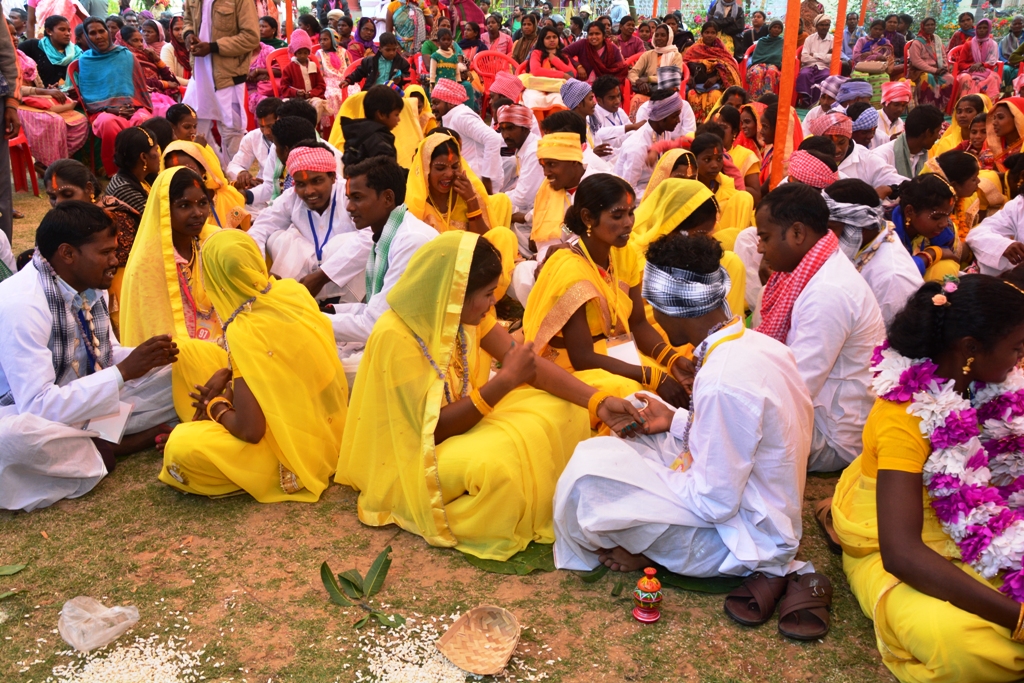 However, sometimes the boy refuses to get married. "In such cases, the villagers counsel him and get him to agree," Sinha states.
The idea of organising mass marriages came to her mind when she was in a village in Khunti several years ago. A drunken man had approached her and asked her help in marrying a girl.
"We first thought that he was in love with a girl who he wanted to marry, but on visiting his place, he introduced us to the woman who was a mother of his 10-year-old child," she recalls.
---
You May Also Like: Rs 145 to Rs 15,000: How One Org Turned 10 Lakh Jharkhand Women Into Entrepreneurs!
---
She concludes, "That was when I was introduced to the concept of Dhuku marriages and decided to help the women."
(Edited by Shruti Singhal)
We bring stories straight from the heart of India, to inspire millions and create a wave of impact. Our positive movement is growing bigger everyday, and we would love for you to join it.
Please contribute whatever you can, every little penny helps our team in bringing you more stories that support dreams and spread hope.