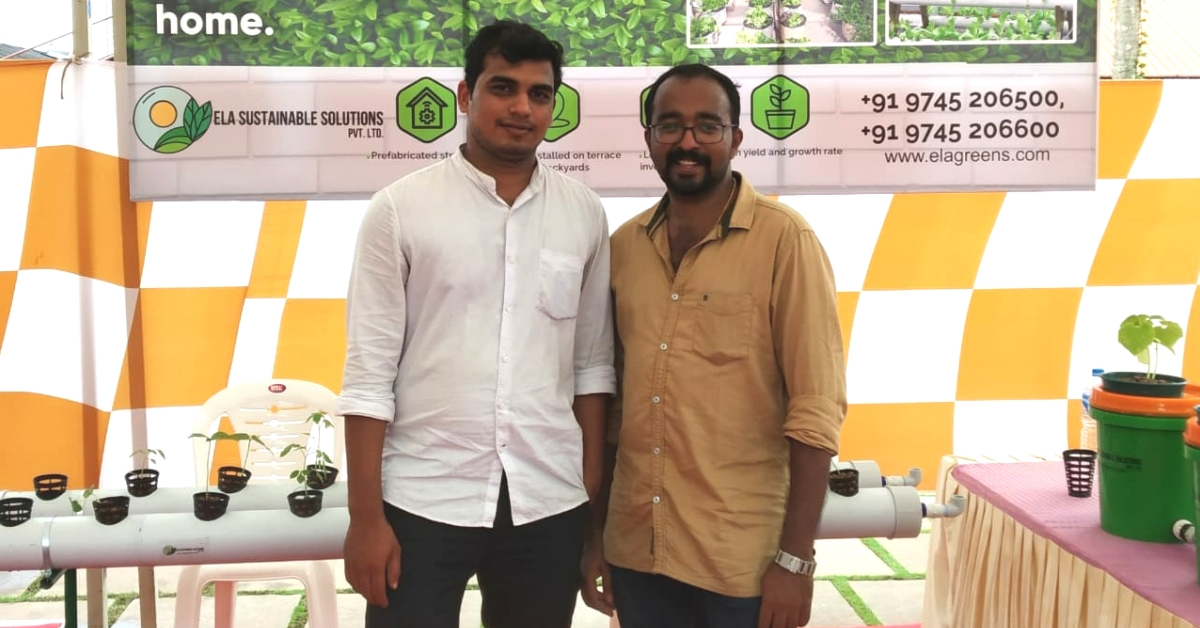 Run by a Kerala teacher-student duo, Shijin V S and Amal Mathew, both electrical engineers, Ela Sustainable Solutions helps urban farmers set up hydroponic farming systems and mini-polyhouses in spaces as small as 100 sq ft!
Growing your veggies and consuming them fresh from a farm; no chemical-doused produce, authentic taste and only the best quality.
Sounds like an amazing concept, doesn't it?
If you're an aspiring urban farmer but push your dream aside because 'hey, there's no space for people to live in the city, how do I grow vegetables?', this article is a must-read for you.
Run by a Kerala teacher-student duo, Shijin V S and Amal Mathew, both electrical engineers, Ela Sustainable Solutions helps urban farmers set up hydroponic farming systems and mini-polyhouses in spaces as small as 100 sq ft!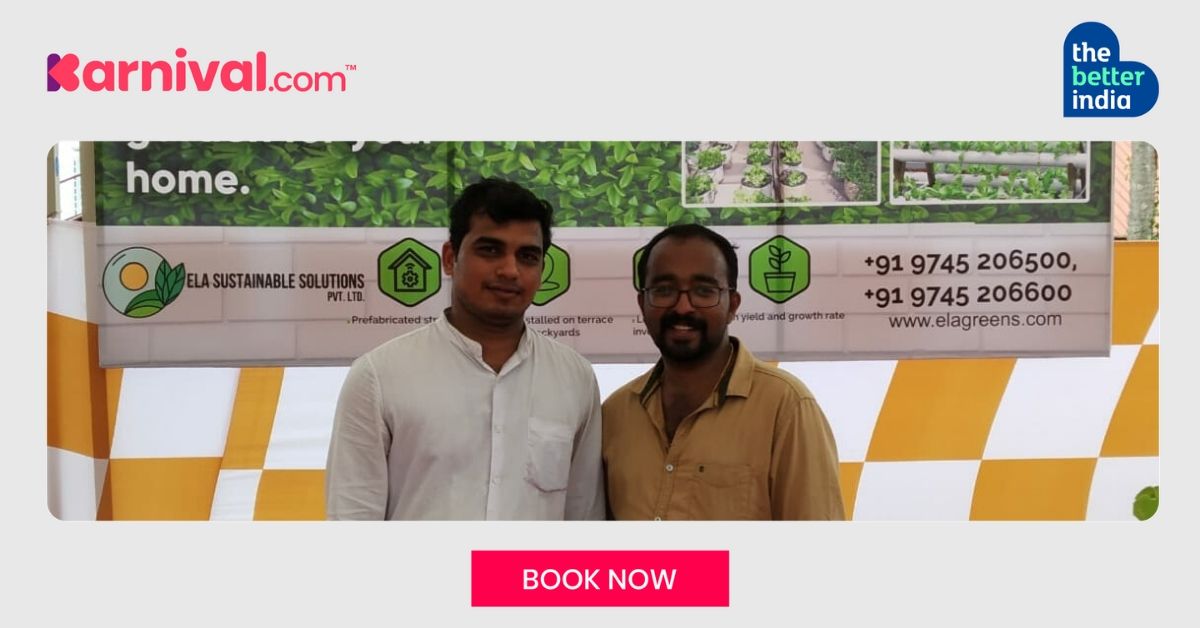 From tomato, cabbage, capsicum, cucumber, beans, tapioca, cauliflower, carrot, radish, brinjal, ladies finger to leafy greens like spinach, lettuce, and coriander, you can grow all your veggies using these technologies.
Apart from setting up your own hydroponic farms and polyhouses, you can also gift entire smart garden kits to your loved ones. Especially the urban farmers of tomorrow, i.e. children.
The Better India got in touch with CEO Shijin V S to learn about the duo's journey and understand how Ela could help more urban farmers grow their food, cut down grocery costs and eventually become self-sufficient!
---
What's exciting even further is that the student-teacher duo is now holding a workshop in Kerala that will teach you the ropes of hydroponics & how to grow veggies at home in a limited space. Want to attend the workshop? Book now.
---
Amal, an engineering graduate from AISAT Kalamassery, founded Ela Sustainable Solutions. He was taught by Shijin, and as a part of his academic project, worked on the simple concept of small-space urban farming.
But it was only a matter of time until Shijin moved on to become a lecturer at a private Engineering college in Pandalam and Amal went to work as a technician at Reliance.
In 2016 though, the duo got together to build a prototype of the model. When presented at an exhibition at a prominent institute, it drew the interest of several people around them.
And so, in 2017, they quit their respective jobs for a startup.
"Being from Kerala, both Amal and I realised a gap in the market where most of the produce, be it vegetables or fruits, are doused in chemicals and pesticides. This results in several health issues. We wanted urban farmers to grow food in a safe and organic manner, and understood that the biggest challenge for many of them was space and resources. So we had to develop a technique that would tackle these issues too," says Shijin.
This led to Ela Sustainable Solutions.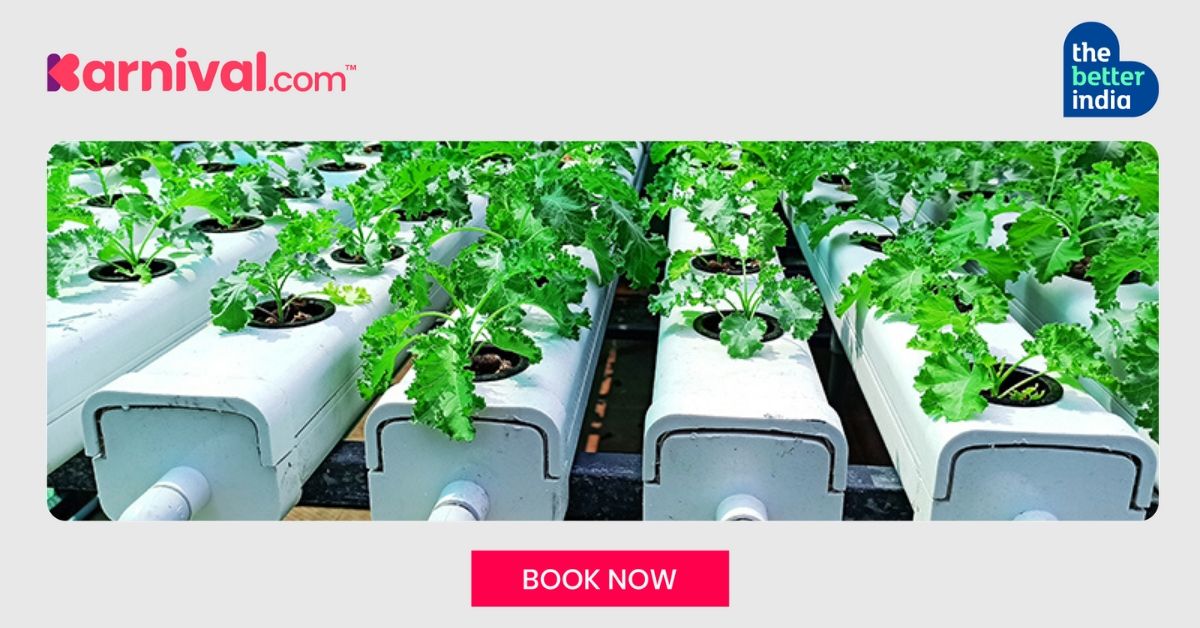 Deriving its name from a Sanskrit word, ela which means 'earth', the duo first started with an automatic gardening system, where the irrigation as well as the fertilisation of crops, could be automated.
It was only later that they dabbled into setting up mini-polyhouses and hydroponics systems.
Large-scale polyhouses consume space and are expensive to set up. Since the crops are grown inside a glass structure where everything can be artificially controlled, the chances of pests affecting the crops are high.
So they started setting up mini-polyhouses.
A 100 sq ft polyhouse can accommodate 40 plants and costs Rs 36,000 for installation; a 200 sq ft polyhouse at Rs 55,000; while a 300 sq ft unit can accommodate 120 plants at Rs 76,000.
It was around this time that they also realised that good quality soil is very difficult to find. They started setting up hydroponic units that would eliminate the use of soil to grow a range of vegetables apart from root-based ones.
They also explored several methods like the dutch bucket hydroponic technique and nutrients transfer technique for these units.
Speaking to The Indian Express, founder Amal Mathew explains the process, saying, "The hydroponic system is a method of growing plants in a water-based, nutrient-rich solution without soil. The vegetables will be planted in net pots fixed in holes made in a food grade PVC pipe. Clay balls will be used to plant vegetables instead of soil. The plants will be floating, and water will be circulated from a reservoir using a 30-watt motor at regular intervals, and NPK solution will be added to the water to provide an adequate quantity of nutrients. It is convenient as there is no need to water the plants or pluck the weeds."
As against larger hydroponic units, Ela's smallest hydroponic unit can accommodate 25 plants, and be set up for Rs 10,000. It can grow all leafy plants using artificial grow lights.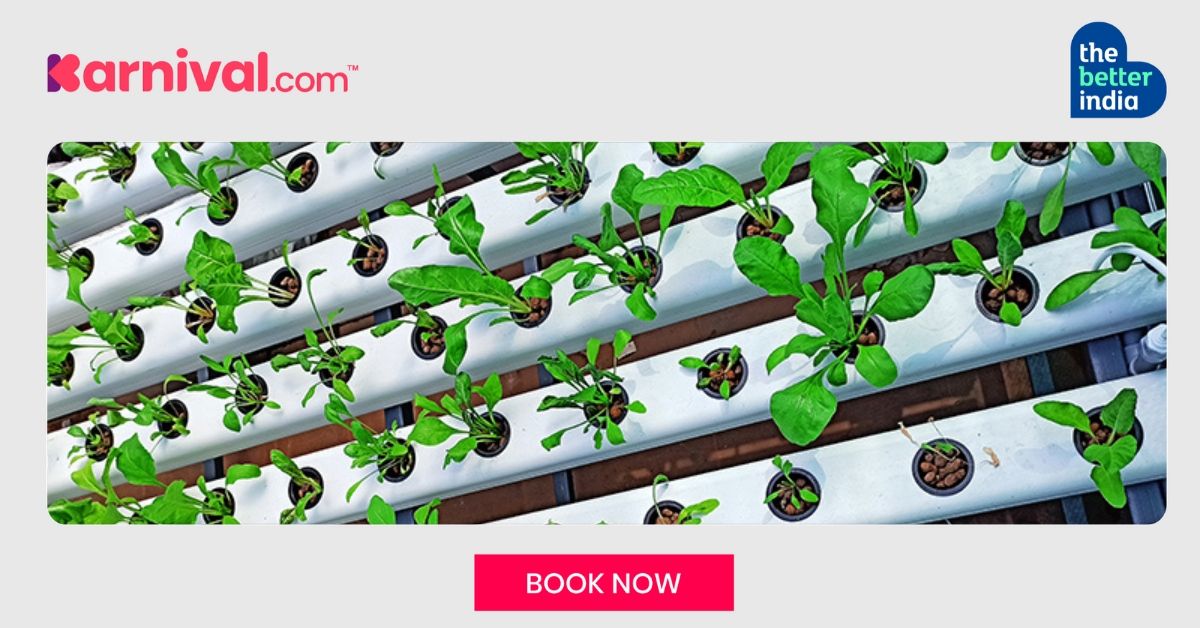 The unit also comes with seedlings and NPK solution, so you don't have much to do. A reservoir and motor pump irrigate the plants automatically.
While a 100 sq ft unit with 120 plants costs somewhere close to Rs 35,000, one with 250 plants costs Rs 65,000 and can be set up in the space of 150 sq ft.
Shijin shares, "When both concepts are used together, it ensures maximum yield, keeps pests at bay and does not let external climate affect the crops. And so, we also came up with something called a 'Smart Garden', a modern concept of growing vegetables at home by providing water, light, and nutrients automatically, combining polyhouse farming and hydroponic farming."
---
Learn the basic principles of hydroponic farming along with hands-on training and detailed theory from Shijin V S and Amal Mathew. Book yourself for an exclusive workshop with them in Kerala, here.
---
He continues, "The polyhouse with 40 to 120 grow bags is equipped with a fertigation unit where fertiliser, soil amendments, water amendments, and other water-soluble products are injected into an irrigation system. It ensures a regular supply of nutrients to the plants by a timing controller. The polyhouse is also equipped with a temperature sensor with a cooling system, the fan of which automatically starts working if the temperature increases more than 30 degree Celsius."
Last but not least, they have also made it possible for people to gift a garden to their loved ones. "We realised that concept of hydroponics and polyhouse is new in Kerala and many times, people are not willing to invest above Rs 10,000 for such projects. So we came up with the novel concept of gifting package garden units."
Starting at Rs 1,500, the DIY gardening startup kits have a model as well as instructions on how to grow veggies using hydroponics at home, and to check and maintain PH levels.
The duo feel that these would also be a good way of incorporating a love for farming in children and explaining to them the importance of growing their own food.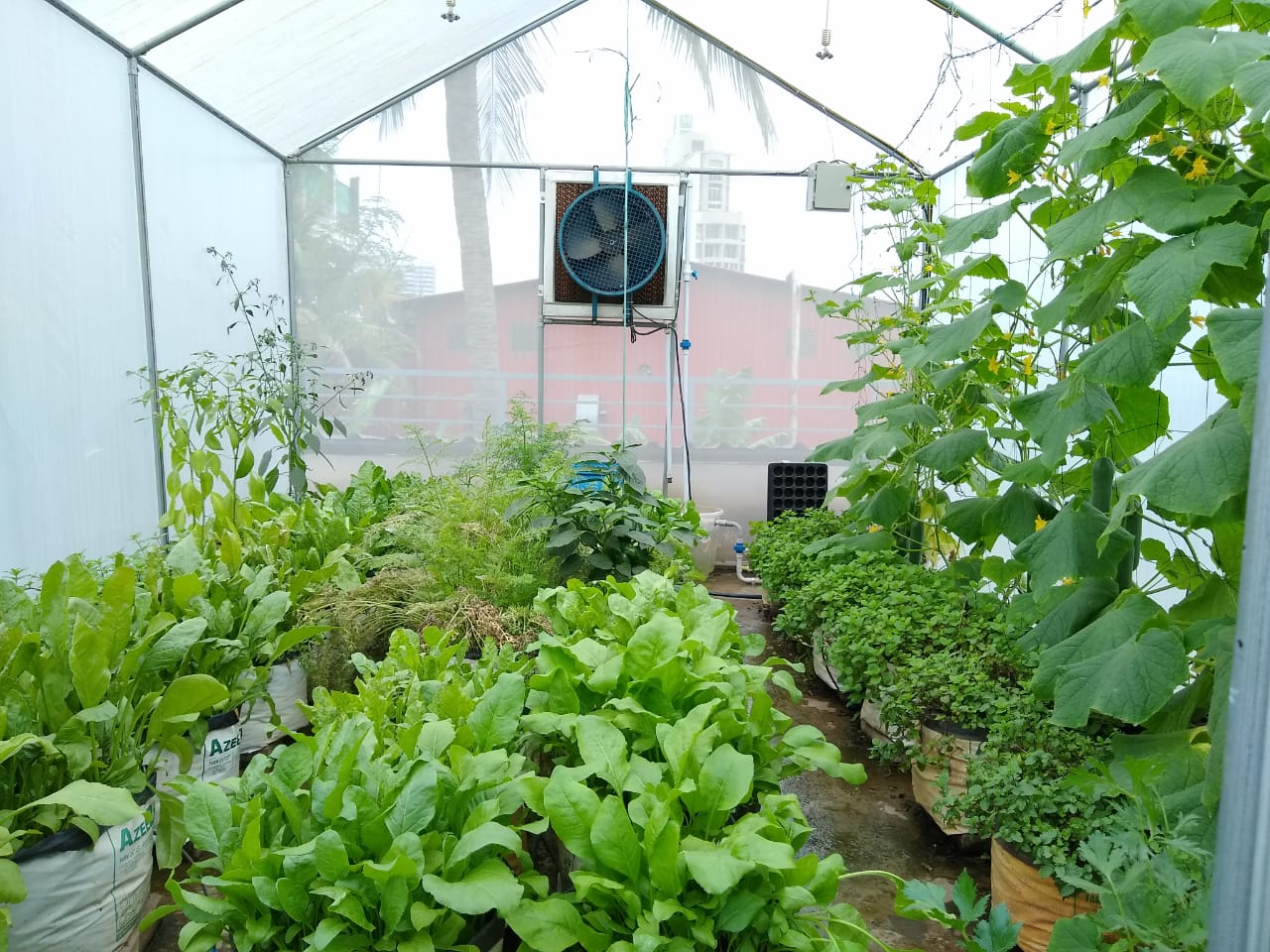 ---
Read more: At 19, He Moved From UK to Puducherry. Today, His Organic Farm Is Smashing Stereotypes!
---
Even though Ela Sustainable Solutions is only four months old, the pair, through their other proprietary company, Greenlife, managed to execute over 20 polyhouse and 30 hydroponic projects in the last year.
Greenlife was also used as a base to study the market, develop the product and get consumer feedback to improve the final product to be launched through Ela, says Shijin.
Ela Sustainable Solutions is now being groomed by Ernst & Young under the Kerala Startup Mission and is also exploring a tie-up with the government where urban farmers can get subsidies to set up backyard, rooftop or home polyhouse and hydroponic systems.
We wish the duo the very best!
Hydroponics made easy! Get hands-on training from the best. Workshop by Shijin V S and Amal Mathew of Ela Sustainable Solutions, Kerala. Book now!
(Edited by Shruti Singhal)
We bring stories straight from the heart of India, to inspire millions and create a wave of impact. Our positive movement is growing bigger everyday, and we would love for you to join it.
Please contribute whatever you can, every little penny helps our team in bringing you more stories that support dreams and spread hope.
Tell Us More