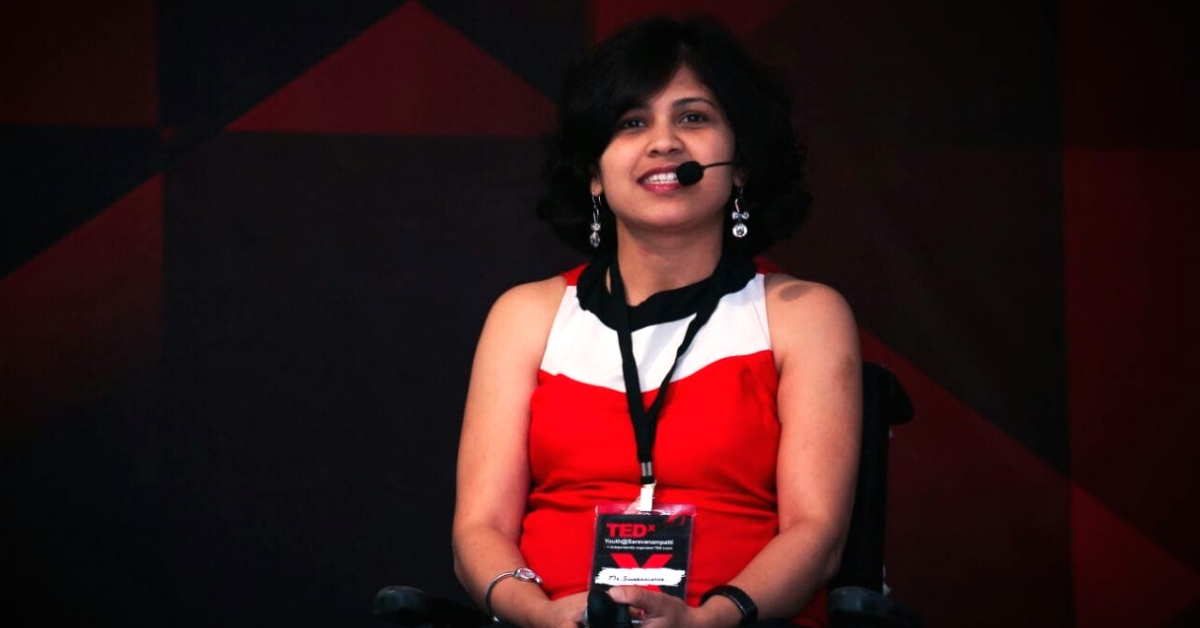 Managing trustee of Swarga Foundation, Swarnalatha is paving the way for other people with varying forms of disability embrace their impairment and make the best out of their lives too.
Between adversity and our response is a space. In that space are the power and freedom to choose to crumble, or to elevate both ourselves and others.

Stephen R. Covey
Life hadn't been too considerate to Swarnalatha when she was growing up. One of four sisters born to a devout patriarchal family based in Bengaluru, love and care that any child would inherently need seldom came their way.
But she learnt to be strong and independent early in life. She started earning at the age of 14 by taking tuitions for kids in the neighbourhood. She soon took up a Diploma course in Computer Science after finishing school.
When things seemed to be finally taking a good turn, Swarnalatha's life was to fall apart yet again.
Towards her second year in college, she was sexually abused by her uncle, which not only left her physically but also mentally broken. Despite the incident leaving her with a fractured jaw, none of her family members believed her and instead treated her as the culprit.
"I had to leave college mid-way, and it took me about two years to recover from the trauma that I had to endure. It was harrowing, especially when my own family members refused to stand by or even believe in me," Swarnalatha remembers, as she speaks to The Better India.
But she wasn't going to let the incident scar her for life and decided to complete her Diploma. But it took her a year to save enough money after doing odd jobs to do so.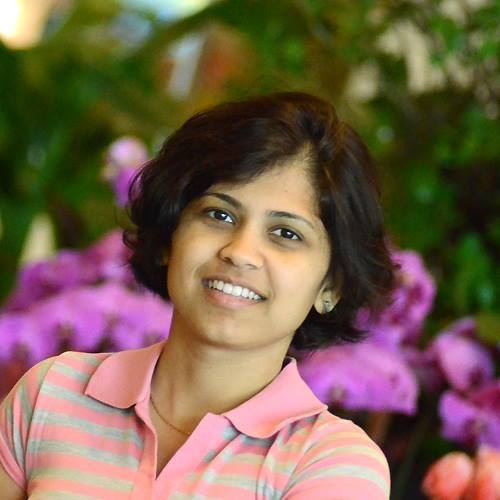 Unfortunately, her father passed away during this time.
Since her elder sister was married and had already left home, the responsibility of supporting the family fell on her shoulders. At 18, she took up her first job and began juggling between multiple jobs to meet their household needs.
It was during this time that Swarnalatha met Guruprasad and fell in love.
This, however, was met with much opposition from their respective families but the couple decided to get married nevertheless. While Guru's parents did come to terms with their union eventually, Swarnalatha didn't have much luck—she was disowned by her family.
But with Guru on her side, life seemed to have finally looked up for her. She had a loving husband and a great job, and four years into their marriage, they were blessed with a son too.
Little did she know that testing times were slowly going to make their way into their lives.
"It was 2009. My son, Gagan, was about two-years-old, when one fine day, I felt a bit feverish at 10 am and took leave from work. When I began to feel worse, I took a Paracetamol, thinking it was just another fever. By 3 pm, I could not feel anything from the neck down. Fortunately, I had informed Guru about the situation, and he rushed me to the nearby hospital. Following multiple tests, they concluded that I had multiple sclerosis," Swarnalatha says.
Until the diagnosis, the couple had never heard about this condition, and once they grasped the entirety of what it was and what it could do to an individual, they were completely devastated.
"There is no cure. It really was shattering when you see all your aspirations—professional and personal—sinking right in front of your eyes, and there is nothing you can do about it," she says.
While the steroid-powered medication did help her regain 60 per cent of her mobility, the rest was gone forever.
"I was depressed and nothing was helping. Somewhere into the fifth month since my diagnosis, we moved to Coimbatore, and it was then that the condition began to deteriorate. From walking on my own feet to holding people for support, I moved to a walking stick. Then came the walker and finally, the wheelchair. It was debilitating. I lost many friends during this period and was also asked to resign from the MNC where I was working owing to my condition, but I was not going to give up," Swarnalatha shares.
Light came back to their lives when Swarnalatha gave birth to Gaana, their daughter, in 2011.
"A lot of people were in opposition while I was carrying her. But for me, it was a sign that if one has the will, there would always be a way. I had always wanted a daughter, whom I wanted to treat like a princess, and give all the love that I had never received growing up," she says.
To motivate and keep herself engaged, she began organising puppet shows and other activities in their residential complex. "This helped me to overcome my depression and people really appreciated my efforts," she shares, happily.
However, her condition worsened shortly after and she had to be hospitalised for 93 days.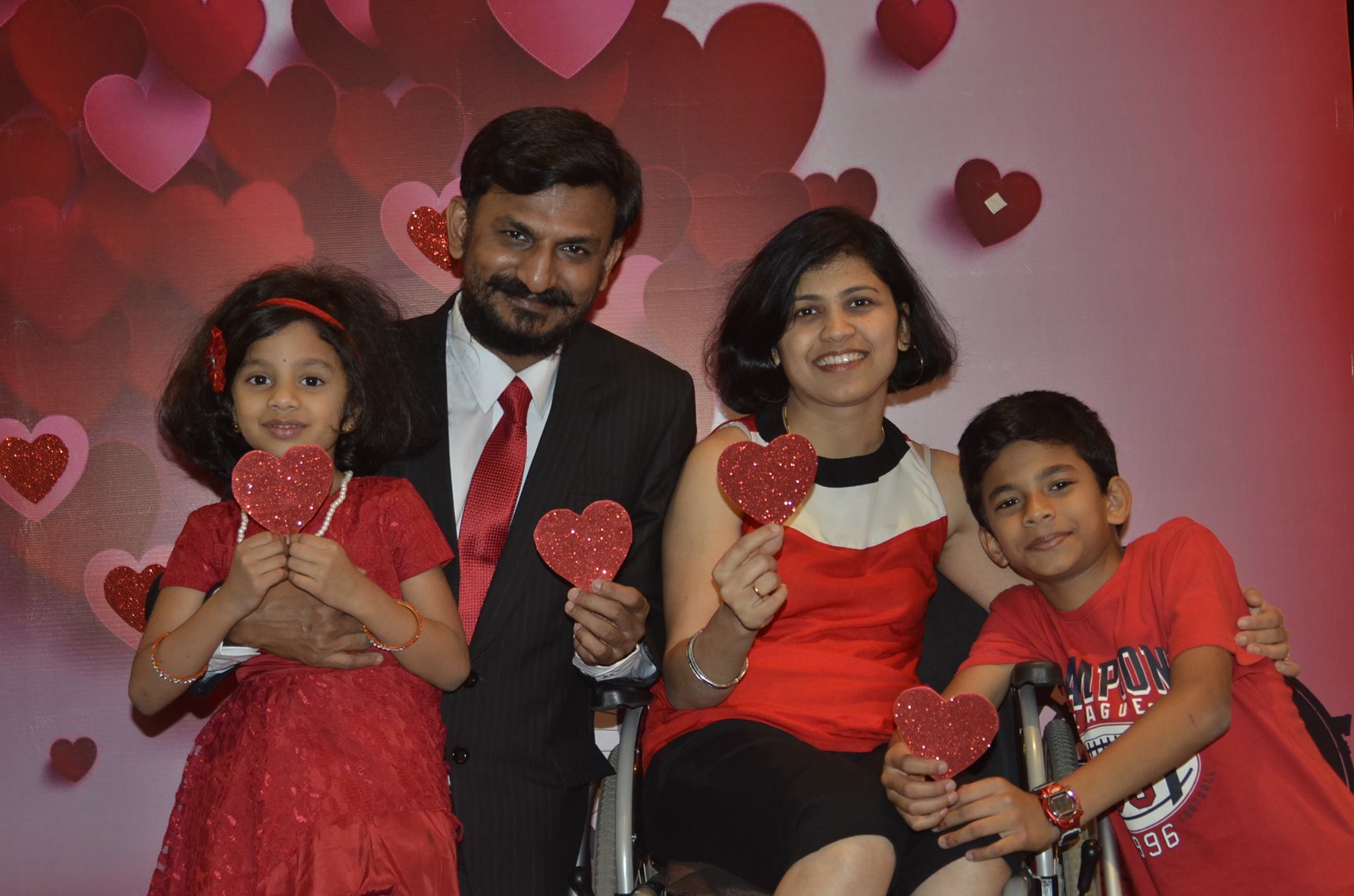 "This was indeed a period of transformation for me. From elderly to young children, I met a lot of people, who had fewer opportunities. I felt blessed because I was well educated and had even worked for a while. It was during this time that I decided to put my privilege for the better benefit of others. I was educated, so I had a voice, but what about those who didn't?" she implores.
This idea was reinforced when Guru's father was diagnosed with Parkinson's, and there were two people in the house with disabling conditions that many hardly knew.
In 2014, Swarnalatha and Guru laid the foundations to this dream by founding Swarga Foundation.
"Through Swarga, we wanted to improve the lives of individuals with multiple sclerosis and other neuromuscular disorders by increasing awareness among the general public and thereby, transforming the general attitude in society towards differently-abled individuals," she explains.
She continues, "This transformation will increase empathy and improve access to opportunities that are currently inaccessible due to lack of infrastructure and misinterpretations of disabilities among the general public."
And in the last four years, the Foundation has managed to achieve many milestones and that too, at the policy level.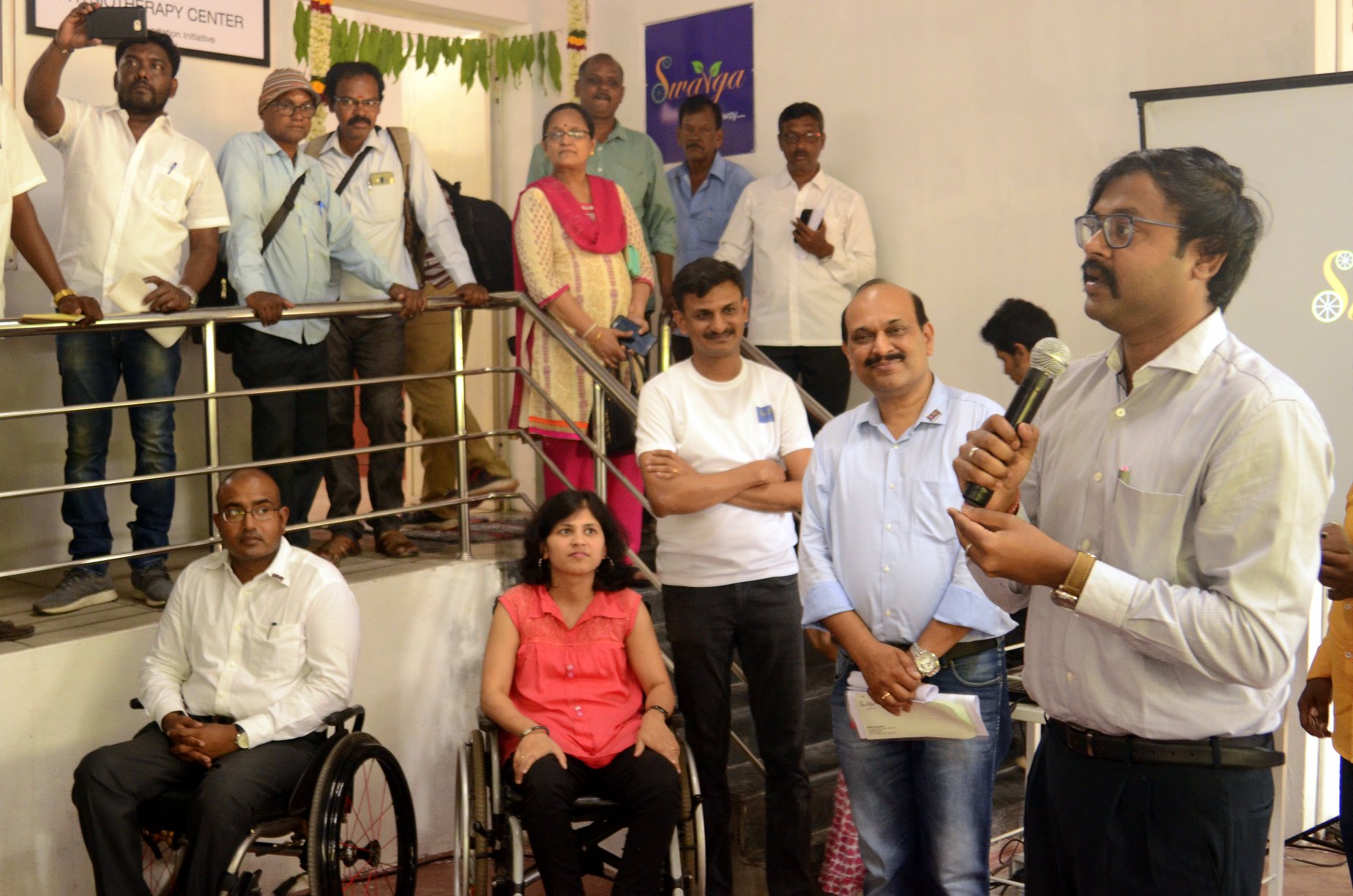 "To improve the accessibility of Coimbatore Railway Station, we teamed up with the Salem Railway Division and voluntarily became a member of the 'Station Improvement Group' in 2016 to address accessibility issues," she shares.
Making their own apartment complex disabled-friendly, and ramps at all public spaces, the Foundation then moved on to renovate three wheelchair accessible toilets across six platforms of the Coimbatore railway station.
They also completely modified a regular toilet at a platform lounge into a unisex wheelchair-accessible toilet, and renovated an elevator that was now wheelchair-friendly too. In addition to that, they have also made eight government schools in the city disabled-friendly, which managed to bring not just differently-abled students but also teachers back to the campus!
So, how does the Foundation meet its funding for all their initiatives?
In 2016, they flagged off a pioneering calendar series that featured 12 remarkable people and their extraordinary stories of endurance. "The concept was not only widely appreciated but also helped us fund almost all of our initiatives through sales. In addition to that, many corporates have come aboard and supported us in different initiatives," Swarnalata shares.
Another amazing initiative spearheaded by Swarga Foundation includes the 'Sarathi' project.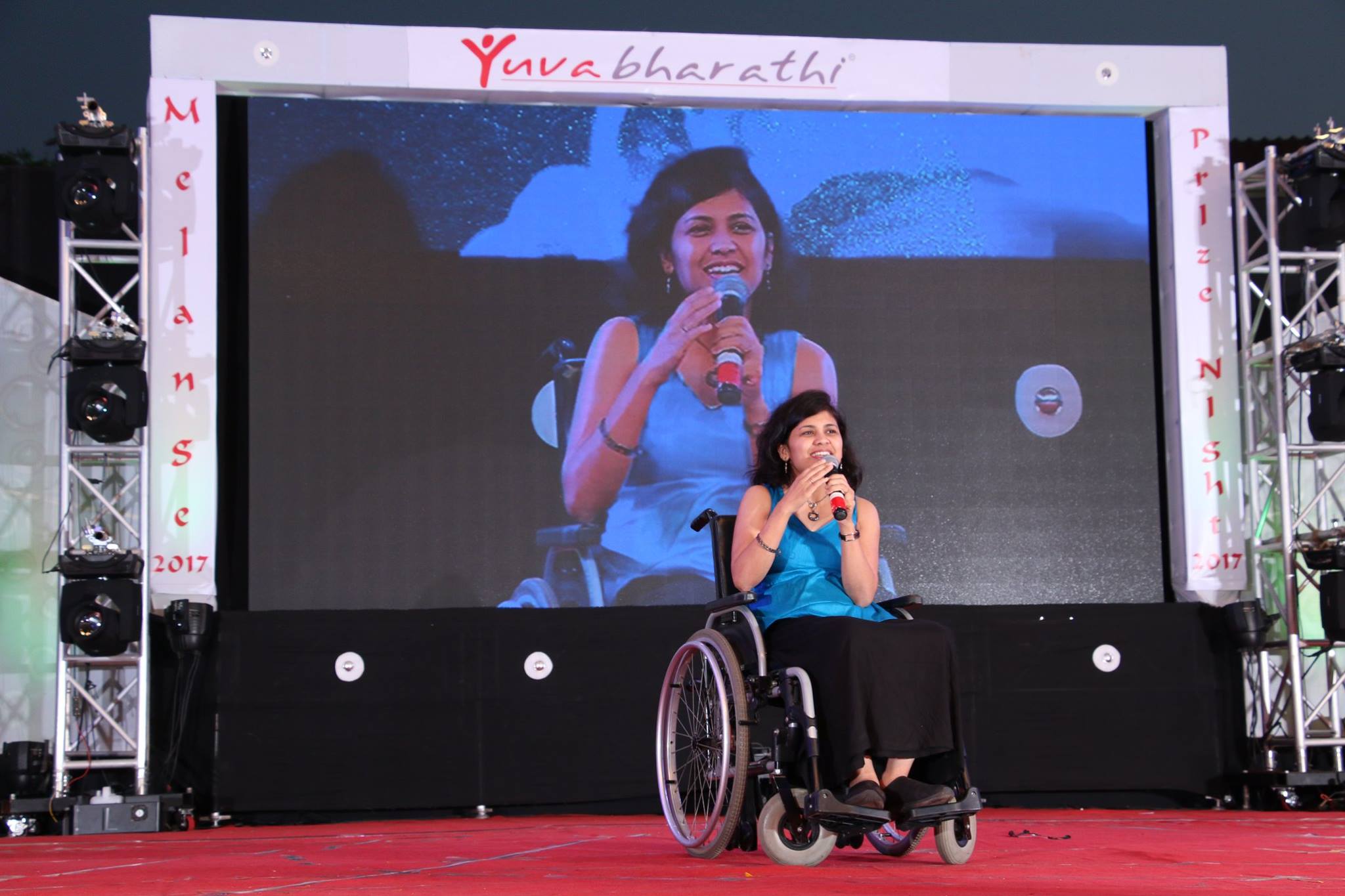 Launched in 2017, it is Tamil Nadu's first wheelchair accessible transportation service that provides hassle-free travel to any destination of choice for those with mobility impairments and senior citizens. The van is not only wheelchair-friendly, but it is also equipped with a built-in chemical toilet, a sofa-bed with a guardrail, as well as a temperature-controlled cabin.
Yet another initiative led by the Foundation was their free physiotherapy sessions, which then opened up doors for Sowkhiya physiotherapy centre to be established last month.
"This is a 2,000 sq. ft. outpatient therapy centre managed and run by Swarga Foundation. Qualified physiotherapists will be providing free therapy services to individuals with neurological disorders and anybody requiring physiotherapy," she says.
Swarnalatha has come a long way since that fateful day 11 years ago.
Having spoken about her journey as a motivational speaker at various platforms including TEDx and India Inclusion Summit, she is paving the way for other people with varying forms of disability embrace their impairment and make the best out of their lives too.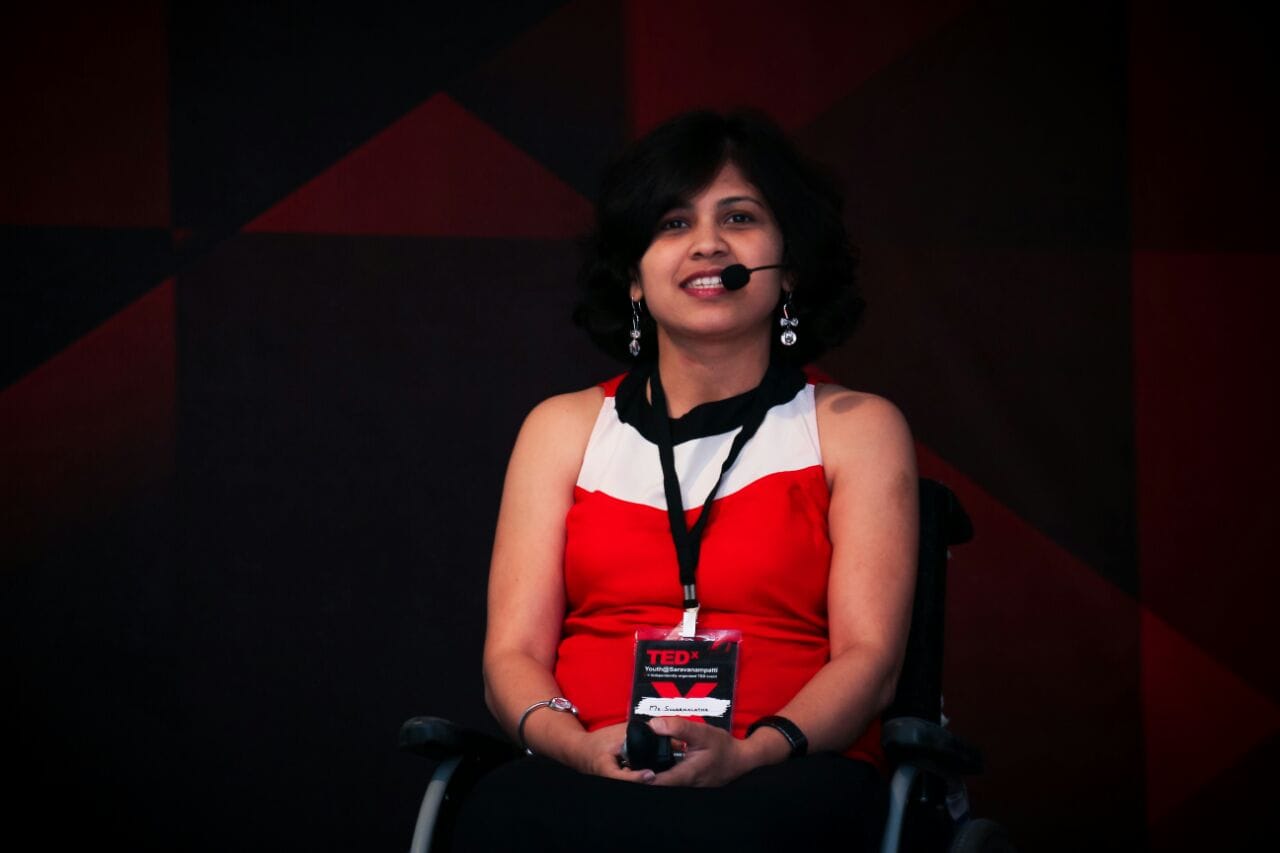 In fact, she loves engaging in different activities including singing and photography, and has tried her hand at writing short stories too.
Not stopping at that, she has also participated in various beauty pageants, even emerging among the top finalists. "My achievement was to prove that no disability can be an obstacle to a mind that is determined to achieve," she asserts.
Throughout her journey, Swarnalatha shares that Guru has been her ultimate pillar of support, who stuck with her through every setback life gave her. Both Gagan and Gaana are old enough to understand their mother's condition and are achievers in their own lives, Swarnalatha proudly shares.
"To all those people who said that I wouldn't be able to have a normal relationship with my children, their achievements are proof that life will always have a way," she adds.
---
You may also like: Dear States, End Your Cruel Apathy And Give The Disabled Their Legal Due!
---
As of the future, the 39-year-old envisions establishing a rehabilitation centre for those grappling with multiple sclerosis. "This would bring a respite to many who were abandoned by family members and spouses and give them another shot at life," she concludes.
We salute the indomitable spirit of Swarnalatha and how she braved through the obstacles that snowballed into her life and emerged victorious through them all. We also hope that her story will inspire not just those with disabilities but also remind each one of us never to take our abilities for granted.
To know more about Swarga Foundation, check their website here.
(Edited by Shruti Singhal)
Like this story? Or have something to share?
Write to us: contact@thebetterindia.com
Connect with us on Facebook and Twitter.