On January 6, 1950, the Indian Express carried an article about a historic exhibit displayed in Madras (Chennai) by an electrical engineer.
"To my knowledge, this is the very first time that such a demonstration is shown in Madras, if not in India," wrote TN Seshadri, a journalist with the publication, adding that "The whole apparatus is built with rather crude components but that in itself is a major point of merit. Mr B Sivakumaran, an electrical engineering student of [the] Central Polytechnic Madras has rigged up the apparatus. He should be congratulated on his unique achievement and the ingenuity with which he has assembled the whole thing to work."
The report was about a television.
At the time, India was still not a republic, but within nine years, we would get our very own public service broadcaster, Doordarshan.
On September 15, 1959, with a small transmitter and a makeshift studio, Doordarshan (or DD) was to make its debut as it started its experimental telecast in Delhi.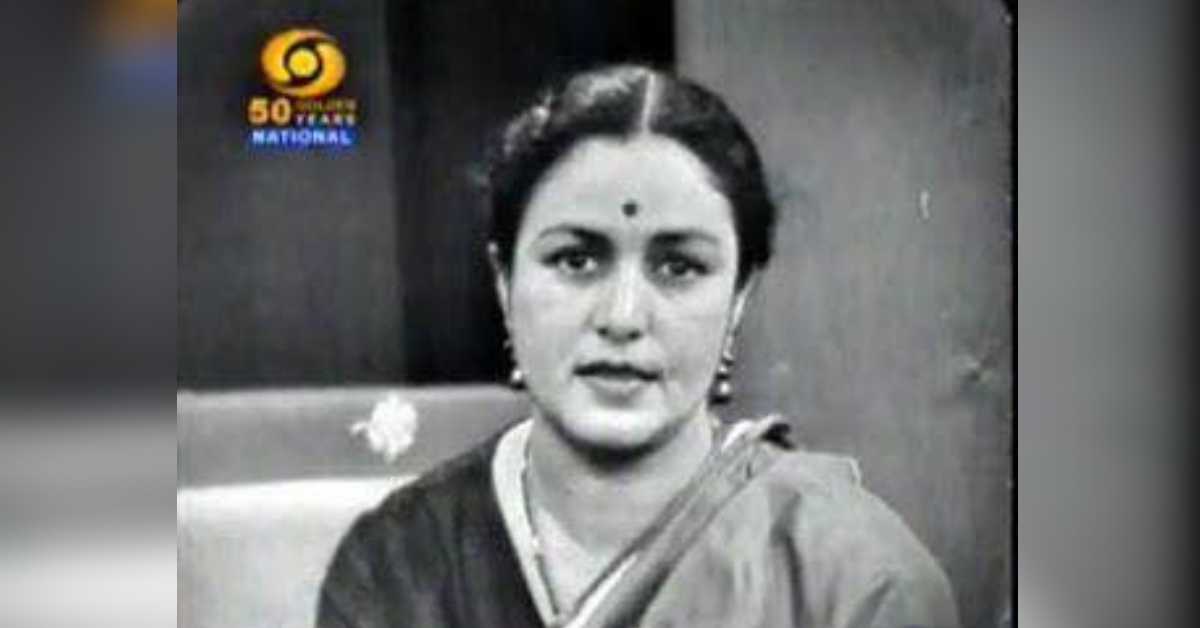 The telecast was a five-minute news bulletin, and Pratima Puri was chosen to be the very first newsreader of India!
Born Vidya Rawat in Shimla, Himachal Pradesh, Puri began her career at the All India Radio (AIR) station in her hometown. She was gifted with a voice that was made for broadcasting, which worked out very well for her career at the radio station. Later, when the Indian government decided to run a channel of its own, Puri was selected as the news announcer.
It wasn't until 1975 that six other cities apart from Delhi got a television service, and DD remained the sole provider. Only a handful of people watched the television back then and Puri's screen time was limited, to say the least.
However, her simple look, pleasant voice and delivery engaged her audience and she became an iconic figure of her time. During her career with the state-sponsored broadcaster, she interviewed several eminent personalities including Yuri Gagarin—the first human in space!
DD began a daily transmission in 1965 and was a part of the AIR. Salma Sultan had joined DD in 1967 and soon took over Puri's role as the news anchor.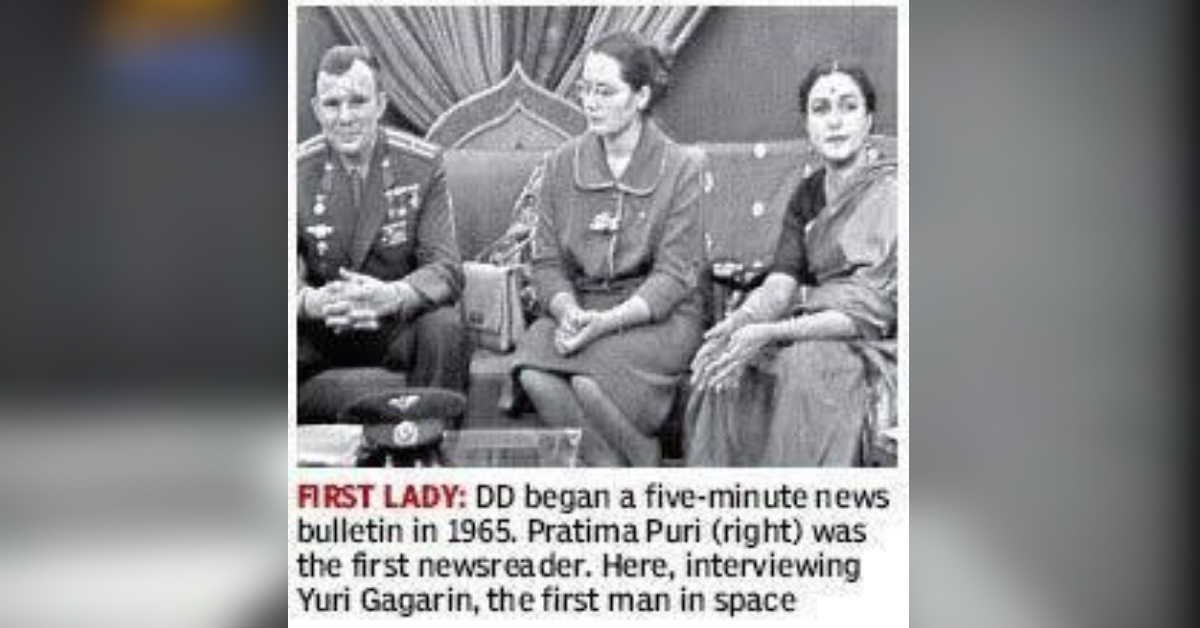 "Those days (1967-68), they would not take young people for news reading but mature ones. Pratima Puri and Gopal Kaul were regular faces then. But Kaul never wanted to read [the] news so once, when it was time to read [the] news, he came entered the office with a completely-shaven head! Panic-stricken, [the] producer started looking for someone to replace him, and their choice zeroed on me. I was asked to give a quick audition," Sultan had said in an interview with The Hindu.
---
You may also like: From Tsunami to R-Day Parade, This Lady Has Brought DD to Your TV for 32 Years!
---
Shortly after, Puri's role changed, but she continued working with DD. After Sultan's audition, the broadcaster had realised that they need to start training news anchors as they were expanding. So, India's first newsreader started training her successors for the job.
Pratima Puri passed away in 2007 but is remembered for paving the way for other women who wanted to follow the same path, and is undoubtedly an inspiration for all journalists.
(Edited by Gayatri Mishra)
Like this story? Or have something to share?
Write to us: contact@thebetterindia.com
Connect with us on Facebook and Twitter.