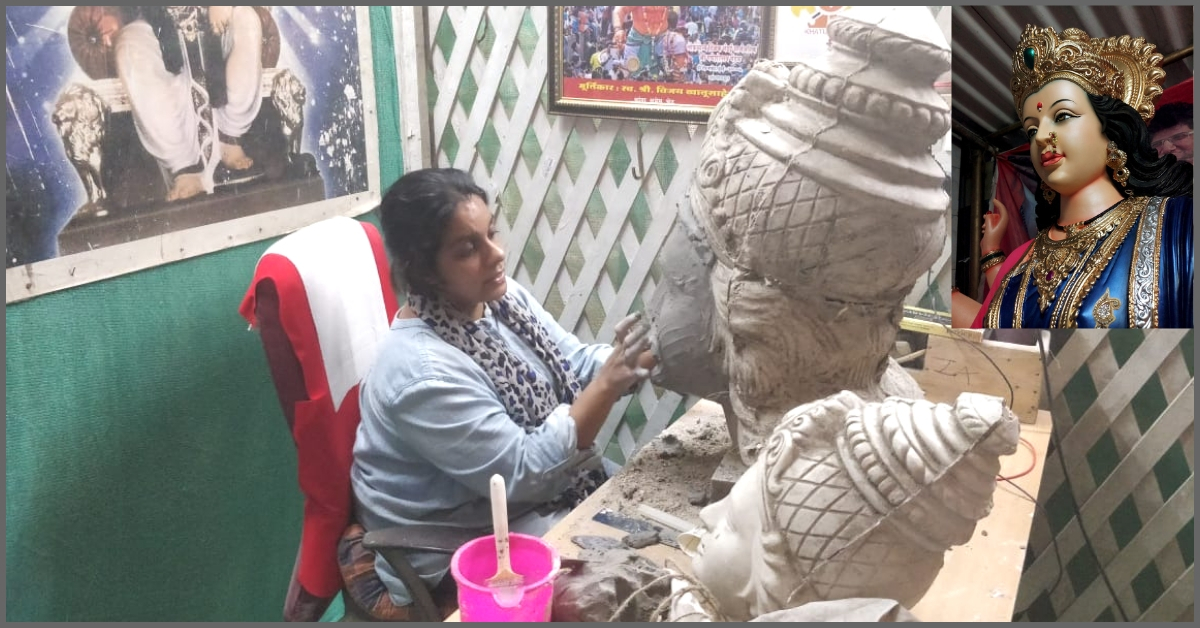 In fact, a month before the festivities of Ganesh Chaturthi and Dussehra, the bylanes of Parel, Lalbaug, Girgaon and Prabhadevi, all suburbs of Mumbai, are worth a visit.
It's that time of the year when almost every street and nukkad in Mumbai is decorated with flowers, and illuminated with colourful lights and lanterns — with attractive idols of different deities at the centre.
Last month, it was Lord Ganapati, and this month it's Durga Devi.
---
Why celebrate with PoP or chemical paint? Get home an eco-friendly Ganesha idol instead. Click here to bring one to your home today!
---
The deities are aesthetically made with intricate details. The expressions of the eyes—gentle, soothing, smiling—in all deities is mesmerising. In fact, a month before the festivities of Ganesh Chaturthi and Dussehra begin, the bylanes of Parel, Lalbaug, Girgaon and Prabhadevi, all suburbs of Mumbai, are worth a visit.
Of course, a layperson isn't allowed to enter these premises where gigantic idols of the deities are arranged. From five feet to 30 feet, the idols are in various stages of completion.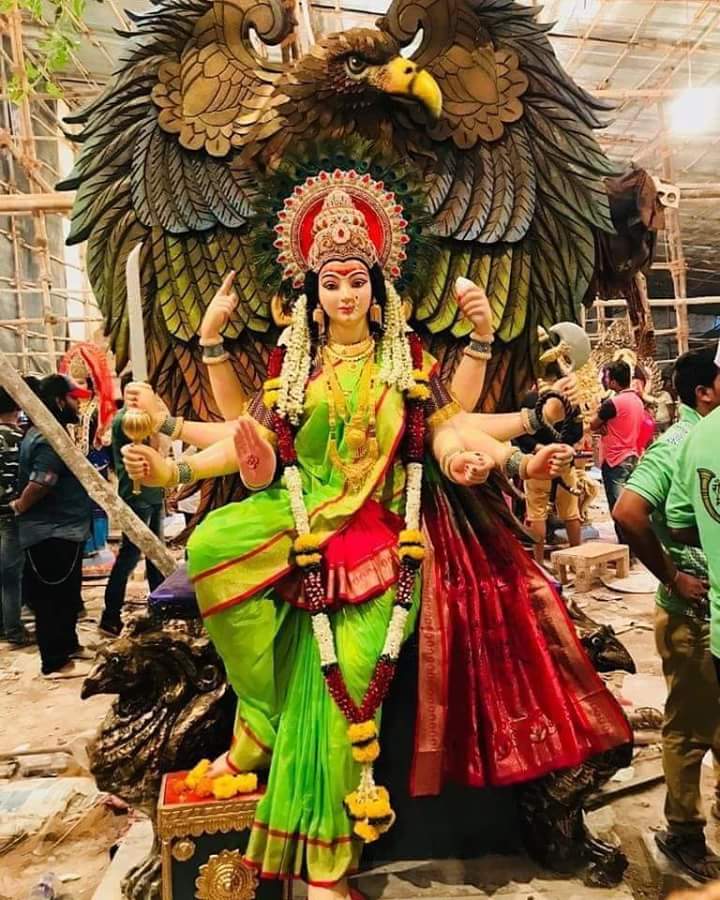 These places are known as karkhanas (small factories) of the murtis (idols), owned by families like Khatu, Patkar, Kothekar, among others. When asked permission to meet them, you are informed that "Seth office gaye hain!" (The master has gone to the office).
The question that promptly comes to one's mind is, "An idol maker and office?"
The answer to that lies in the fact that most of the present-day owners are second and third generation idol-makers and the karkhanas were started by their grandfathers or fathers, with them continuing the legacy.
The present murtikars started playing with clay and colours and made small idols during their childhood in their family karkhanas. The first generation may not have held jobs, but the present is employed in banks, ad agencies, government offices, schools, entertainment industries and others.
"I wake up at 6 am, and by 7 am, I reach my karkhana. I work till 9 am and leave for the office. Then, I return from the office by 7-8 pm, and I am back with my idols till midnight. I love making idols. It's my passion," says 59-years-old Avinash Patkar. He works as a designer in the central government's Regional Design and Technical Development Centre in Mumbai.
After completing a diploma in sculpture from the J J School of Arts, Patkar even taught at the college for a year until he joined the development centre.
Patkar's daughter, Gautami, a commerce graduate who also works as a research assistant with the Bodhana Arts and Research Foundation, helps him at the peak of the season. She and her mother help paint the idols.
More than working with clay and PoP (Plaster of Paris) idols, Gautami prefers to work with paper-mache.
"Paper-mache-work is very cumbersome and a long process. And that's why we don't take many orders," says the 27-year-old girl, who is also pursuing an advanced course in personality development, and categorically states that even after marriage ("when it happens," she adds, cheekily), she will continue making idols.
---
Also Read: Dedicated to Sex Workers, Kolkata Durga Puja Club's Stunning Street Graffiti Will Wow You!
---
The Patkars made around 120 Ganapati idols and 13 Durga Devi idols this year, with only family members being involved in the process. Besides Gautami and her mother, her uncle Aashish and his wife also participate.
Avinash says, "The eyes of our murtis are painted by my sister-in-law, and they are so beautiful."
A scriptwriter for ad agencies, event manager Reshma Khatu of the famous Khatu Ganesh idols, says, "Continuing my father's legacy after his death last year was more important to me. From June to October, I am with my workers at our karkhana 24×7, except for the five days during my menstrual cycle. I mostly paint the idols and advise my workers in making the customised orders or the special idols."
The Khatu factory is 71 years old, where the first Ganapati idol was made on August 15th, 1947, explains a proud, 35-year-old Reshma. She has a diploma in film direction and plans to work as an assistant director before making films independently.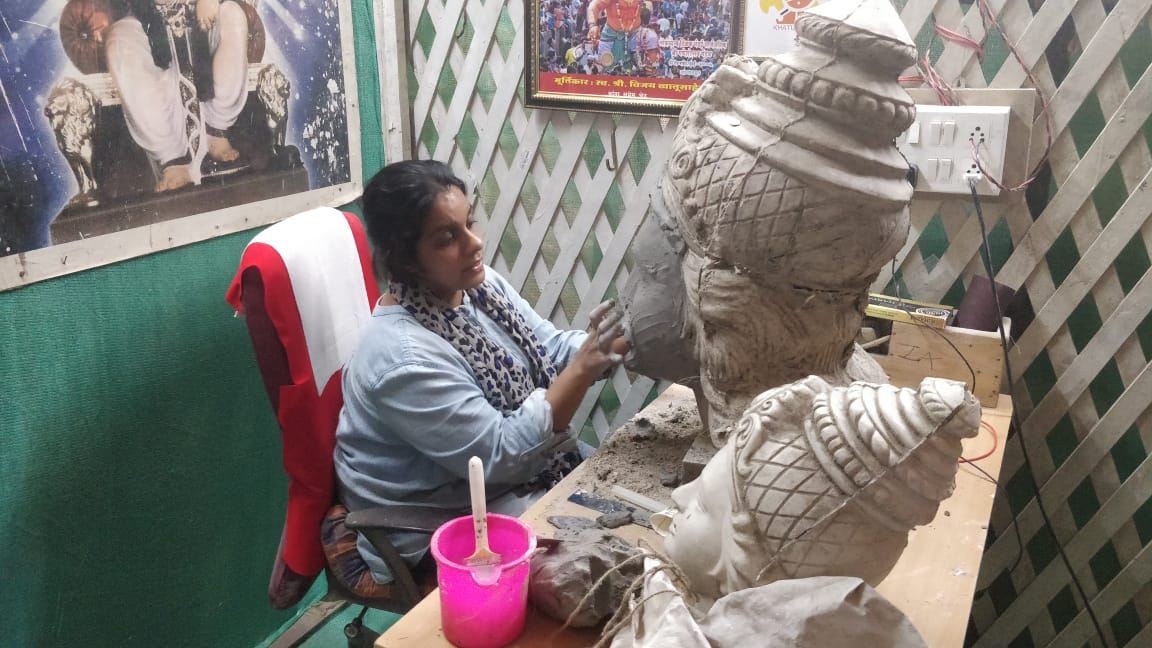 Interestingly, it was the media coverage of the legacy of the Ganesh idols made by the Khatus, following the death of her father, Vijay Khatu, which inspired Reshma. And barely three days after his passing, she took up the reins.
"This is our family legacy. I didn't want to let it go. I stepped in to manage the workers, learn the intricacies of making idols and my brother, Rohit, an interior decorator, started taking care of the accounts. My father made 200 Ganapati idols and 88 Devi idols. Even two years after his death, we haven't lost a single customer, nor has any worker left us," says Reshma.
66-year-old Mohan Kothekar, formerly working with Shri Ram Mills till it closed, was in and out of his father's karkhana since his childhood.
After his mother passed and his father couldn't continue the business, Mohan took some time to learn the finer aspects of the art and took over.
Today, he makes 200 Ganapati idols and six Durga Devi idols. Helping him are his brothers and nephews who are otherwise employed as accountants and account managers in banks, or engineers and lab helpers in colleges.
Mohan Kothekar's daughter, Pooja graduated from J J School of Arts too. She heads a project as a Senior Associate in a PR company. After her young daughter grows up, Pooja too will resume helping Mohan in making idols.
"Our family has been making idols for over 50 years, and after me, my nephews will continue it," says Kothekar.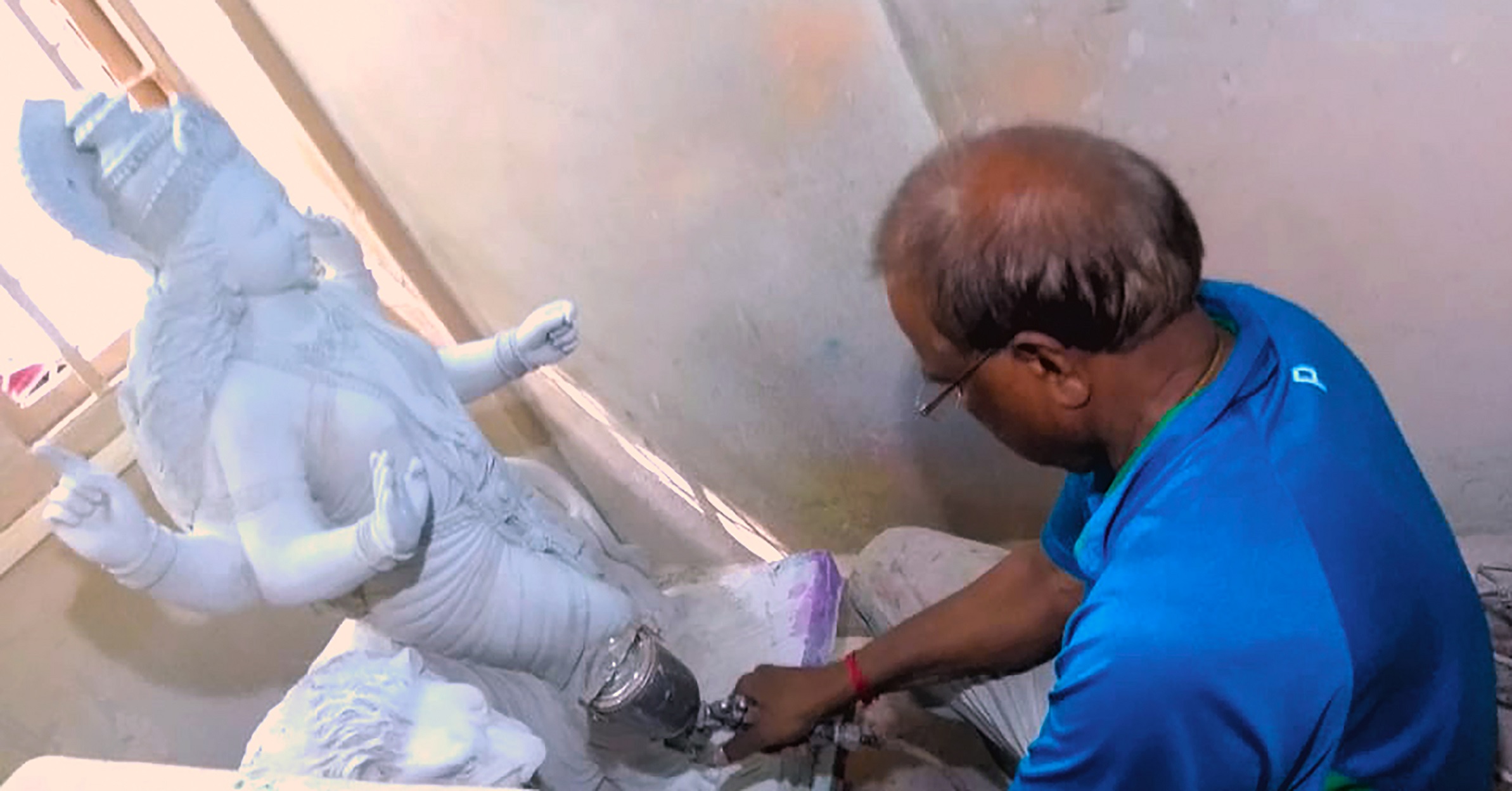 He also explains the difference between the idols made in West Bengal and Maharashtra.
The idols in Maharashtra have softer features, which require special care to make the delicate face and fingers.
The Bengali idols, on the other hand, are made from a particular clay and dry grass. They have the Goddess Maa Durga on a lion killing the demon Mahishasur, Lord Ganesh with Mushak sitting at his feet, Lord Karthikeyan with his peacock, Goddess Lakshmi with a lotus flower and Goddess Saraswati with a swan. The puja pandals are decorated in interesting ways, sometimes depicting current political or sports scenes, or featuring old temples.
Although everyone uses moulds to make the idols, sometimes customers make special requests for specific features. "Some ask for Devi to be placed on a lotus flower, while others may want her to be seated on a tiger, a lion or a peacock. For Ganapati, some ask for an IPL trophy or the cricket world cup. The demands are endless. These things need to be made by hand, and the idols are priced high," admits Kothekar.
Interestingly, none of the idol-makers wanted to comment on their earnings during the festive season. They laugh the question, saying, "The profit varies every year, as so many factors are involved–the cost of clay and colours, the rent of the premises we hire, the labour charges, etc."
More than the profit, it is their passion and their spiritual feelings that keep them involved in the art, they say, adding, "We feel proud that our family is involved in something as pious as this!"
Doubling up as murtikars, these Mumbaikars who are otherwise employed have retained the tradition, the passion and the sense of community, but they have also brought a professional touch to present-day idol making. For instance, the specifications of each idol and other order details and specifications are saved on the computer, so that there are no errors.
---
You May Also Like: Idol of 12000 Nails: Unique Effort Makes Durga Puja Special for Kolkata's Blind!
---
Moreover, a positive aspect of this work is that there are no delays in payment or cut-throat competition as may be common in other fields as it is "the work of God".
Although some of the families have been following this profession for generations, they don't necessarily take on more orders as continuing the quality of their idols is of foremost importance to them.
With the rising demands of a growing population, there are new entrants in the business, who can learn the art from the veterans and flourish alongside them.
(Edited by Shruti Singhal)
We bring stories straight from the heart of India, to inspire millions and create a wave of impact. Our positive movement is growing bigger everyday, and we would love for you to join it.
Please contribute whatever you can, every little penny helps our team in bringing you more stories that support dreams and spread hope.