Indian society may not like the uncomfortable questions placed before it. But this band will ask those questions anyway!
---
This article has been sponsored by Viacom 18
---
In this era of content oversaturation (thanks to social media) the word 'radical' is often bandied about carelessly. But a real 'radical' often challenges the status quo, and that's unacceptable to power brokers in society.
Yes, it sometimes takes a violent and dangerous form, leaving behind a trail of death and destruction. However, on other occasions, their actions are necessary to bring about real social change or even remind society of the ills they silently brush under the carpet.
India's first ska band, the Delhi-based Ska Vengers, is one such group of radicals. They challenge the prevailing political and social status quo through their music.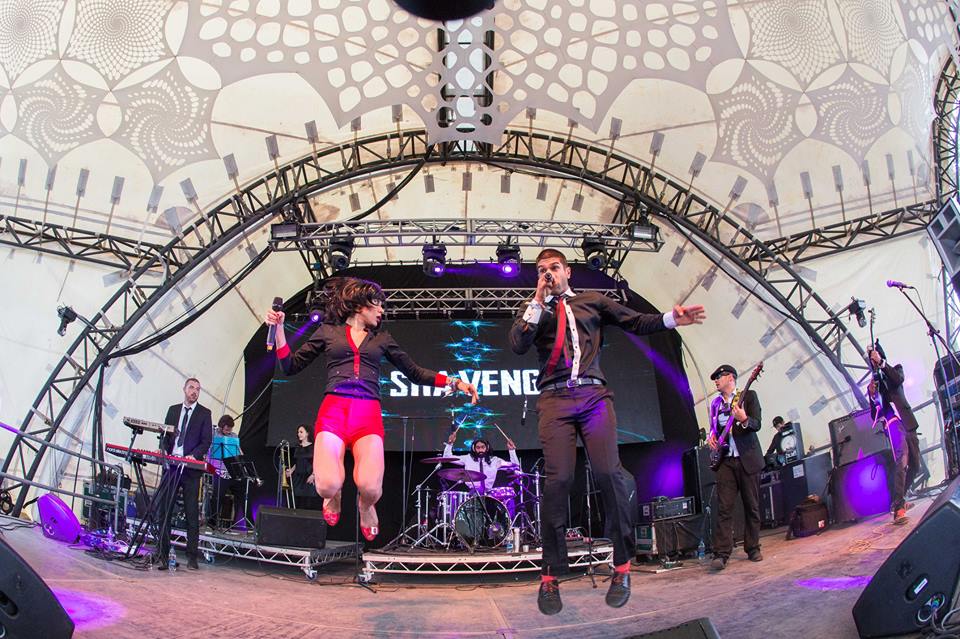 Ska, a precursor to reggae music, is a genre that originated in Jamaica during the late 1950s. It's a genre of music whose ethos is steeped in the anti-colonial movements that were happening across the Caribbean (West Indies) at the time.
No surprise then that Ska Vengers, who have taken that genre along with influences from jazz, hip hop, dub, punk, traditional and Indian folk music, are doing the same with their music.
---
Also Read: Meet a Modern Day Manto: An Instagram Rebel Who's Redefining Women's Role in India
---
More than the catchy rhythms they belt out, it's their lyrical content that has caught the attention of many listeners. Women's rights, the Kashmir problem, human rights abuses in the Northeast, AFSPA, the Naxalite movement, and censorship by those pulling the levers of power in New Delhi are just some of the subjects they have touched upon.
By any metric, if you speak out on these issues with any degree of boldness, there is bound to be backlash both from the majority of citizens and the establishment. And the band faces plenty of it. But they aren't backing down.
Comprising of London-born Stefan Kaye on the keys, vocalists Taru Dalmia and Samara Chopra, guitarist Chaitanya Bhalla, and Nikhil Vasudevan on drums, the group came together in 2009.
"For a long time, we felt like a lone voice. The kind of indie scene we come from is very middle class. We connected to movements, universities or just places where there are social movements, but otherwise, the music industry spaces we perform in are devoid of politics.
But ska and reggae music, it comes from the downtrodden, it has always talked about colonial history and injustice, so if you don't represent that in some way you're doing a great disservice to the genre. And then if you sing that music in India if you don't connect it to things that are happening in India, it's a bit off," Dalmia told The Guardian in an interview last year.
In some way, bands like Ska Vengers are furthering the legacy of Saadat Hasan Manto, the radical Urdu writer, author and playwright, whose graphic realism challenged the prevailing political and social status quo during Partition.
With a biopic on Manto directed by Nandita Das coming out soon, audiences across India and Pakistan now have a chance to revisit his life, writing and politics.
Check out the trailer below:
Manto was considered a radical because he challenged not only the political and social status quo of a 'Hindu' India and 'Muslim Pakistan' but also the very language used to further the injustices that remain prevalent today across the two nations.
This is exactly what Ska Vengers are doing.
Let's take the subject of women.
One of Manto's most exceptional qualities as a writer is that he saw women the way he saw men—as complex individuals with their compulsions and desires.
His description of the female anatomy and sexuality without all the cliched symbols and metaphors that are often used to limit their expression scandalised audiences. His short story 'Mozelle', which is about a beautiful Jewish woman who saves her Sardar admirer and his fiancé from a bloodthirsty mob, is a classic example of what made Manto a writer so ahead of his times.
In Ska Vengers song 'Rough n Mean', which describes the sexual exploits of a married Indian woman living in the city, there is a line about how she likes her sex 'rough n mean', but 'she never cook, she never clean'.
It is a fearless expression of a woman's sexuality, but at the same time describes her unwillingness to abide by society's expectation that she cooks and cleans the house.
Growing up in Amritsar when the horrific Jallianwala Bagh massacre took place, a young Manto wrote a great deal against its horrors and spoke a great deal for freedom from British colonialism. His first original short story Tamasha was based on the massacre.
Also Read: Meet a Modern Day Manto: An Instagram Rebel Who's Redefining Women's Role in India
In their song Frank Brazil, the Ska Vengers tell the story of Udham Singh, an Indian revolutionary who travelled to Britain in 1940 to murder former lieutenant-governor of the Punjab Michael O'Dwyer—the Lieutenant Governor of Punjab who endorsed General Reginald Dyer's action in the Amritsar massacre.
However, more these sample parallels, Ska Vengers' musical spirit is seemingly in sync with Manto's radicalism. Challenging the national consensus on Kashmir, among other hot-button issues, is what makes them radical in today's political climate.
However, their medium of expression—English—is what sets them apart from Manto, who radicalised audiences through the language of the masses—Urdu. Nonetheless, acts like Ska Vengers ensure that Indians don't get too comfortable in their assumptions of society and politics.
(Edited By Vinayak Hegde)
Like this story? Or have something to share? Write to us: contact@thebetterindia.com, or connect with us on Facebook and Twitter.