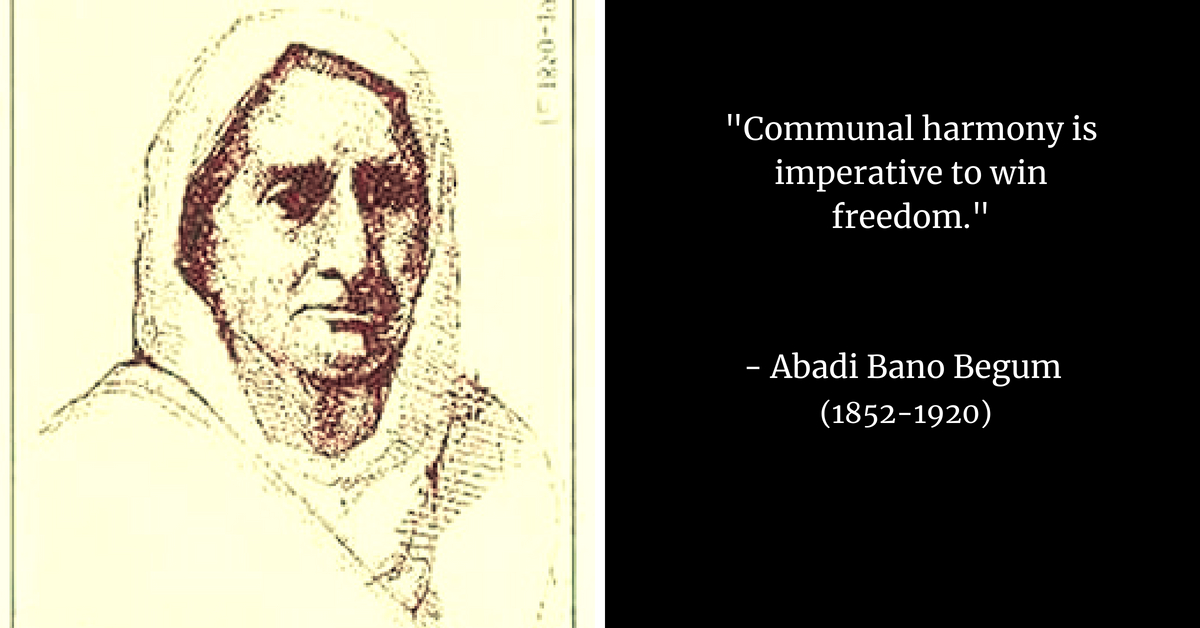 Abadi Bano Begum, who later came to be known in Indian history as 'Bi Amma' was one of the important voices of the freedom struggle. At the time, she was one of the first Muslim women to participate in politics actively.
---
To honour this nation's Independence Day, we bring you the fascinating stories of #ForgottenHeroes of #IndianIndependence that were lost among the pages of history.
---
The revolt of 1857 was titled India's First War of Independence against the British East India Company.
It was a tumultuous time to say the least. Indians were full of resentment against invasive British-style social reforms, harsh land taxes, favours upon rich landowners and princes and the poor treatment of sepoys. Violence and cruelty were inflicted on both sides. Thousands of civilians and entire villages bore the brunt of the uprising.
Abadi Bano Begum was only one among the many children in Uttar Pradesh whose family too became victims and suffered the trauma of the 1857 revolt as they were involved in the rebellion.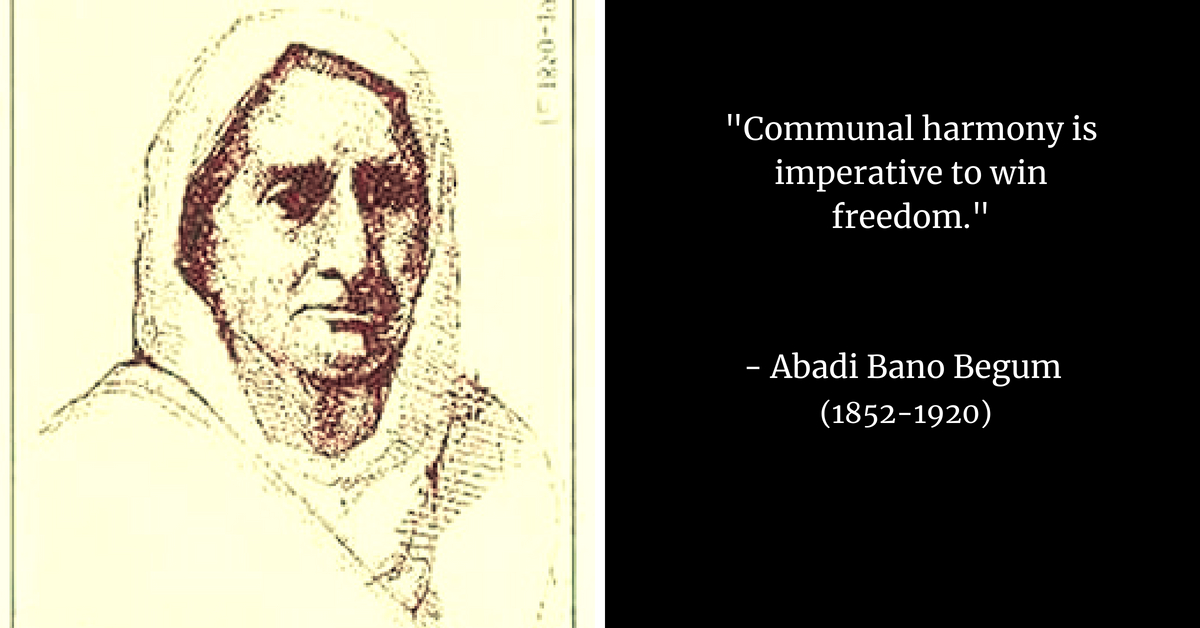 And while one might think the wounds inflicted in their land by foreign invasive powers would throw a young Abadi Bano off, it didn't. As young as she was, it fuelled her desire to see the country free from British rule.
Abadi Bano Begum, who later came to be known in Indian history as 'Bi Amma' was one of the important voices of the freedom struggle. At the time, she was one of the first Muslim women to participate in politics actively. Unfortunately, she continues to remain unsung and largely forgotten for her contribution to the Indian freedom struggle.
Who was Bi Amma?
Born into a nationalist family in Uttar Pradesh in 1852, Abadi Bano Begum was married to Abdul Ali Khan, a senior official in Rampur at a young age. They had a daughter and five sons, including Maulana Shaukat Ali and Maulana Muhammad Ali Jauhar, who came to be known as the popular freedom fighters – the Ali brothers.
Abdul died to cholera, leaving Bi Amma and her children at the mercy of the world. Despite receiving no formal education, Abadi Bano Begum was a progressive thinker. She knew the importance of education and left no stone unturned to ensure that her children received a good education.
In the book, Eight Lives: A Study of the Hindu-Muslim Encounter, Rajmohan Gandhi writes how the young widow dressed her children in humble material and raised them on simple food and the Prophet's sayings. But she ensured the kids attended English-medium schools. When their uncle refused to shell money for their education stating that he would have no part in turning the boys into infidels, Bi Amma pawned her jewellery with the help of her neighbour's maid.
While Maulana Muhammad Ali Jouhar went to the prestigious Oxford University, Shaukat Ali attended the Aligarh Muslim University.
Muhammad Ali Jouhar turned into a prolific English and Urdu writer and became one of the founding members of the All India Muslim League. It was only a matter of time until Shaukat Ali joined his brother in the Khilafat Movement.
Muhammad Ali Johar spent nearly four years in prison for advocating resistance to the British and showing support to the caliphate. Many Muslims in India were against the prospect of having to fight against fellow Muslims in Turkey under the pressure of the British.
In 1920, the Ali brothers allied with the Indian National Congress wherein they agreed to work and fight together for the causes of Khilafat and Swaraj.
This was one of the prime reasons why the Khilafatists became a major part of the Non-cooperation movement which was a nationwide campaign of peaceful civil disobedience by Mahatma Gandhi. It also ensured Hindu-Muslim unity during the struggle.
To sabotage the movement, the British arrested all the major leaders including Gandhi and the Ali Brothers.
And even as her sons were put behind bars, Bi Amma did not stop. She, in fact, took the onus of spreading the message of the freedom struggle and travelled across the length and breadth of the country, addressing crowds and seeking their participation in the freedom struggle.
---
Read More: Lost Her Husband to British Lathi Charge. Yet This Young Girl Kept the Tricolour Flying!
---
For most part of her life, she believed in strict purdah. But she broke the restrictions which were placed on veiled women, when she became one of the first Muslim women to address a political gathering, wearing a burqa. In 1917, she joined the agitation to help release Annie Besant and her two sons from prison. It was at this time that Mahatma Gandhi spoke to her about gathering the support of women in the freedom movement. Her speech in 1917, during the sessions of the All India Muslim League, uplifted the spirit of all those in the Khilafat movement.
She collected funds, organised meetings and asked Indian women to use khadi and boycott foreign goods. Alongside Begum Hasrat Mohani, the wife of Maulana Hasrat Mohani, Basanti Devi, Sarala Devi Chaudhurani, and Sarojini Naidu, she addressed women-only gatherings and encouraged them to donate to the Tilak Swaraj Fund which was set up by Bal Gangadhar Tilak for the Indian freedom movement.
All through her life, she continued to campaign for Hindu-Muslim unity and communal harmony, which she said was imperative to win freedom.
Even as the struggle for Independence continued, the words that she once spoke to her son, Maulana Mohammad Ali, which he later penned, continued to resound across India.
Boleen Amma Mohammad Ali se (The mother of Mohammad Ali says)
Jaan beta Khilafat pe de do (Son, sacrifice your life for the Khilafat Movement)
Tere Saath hai Shaukat Ali bhi (You have the support of your brother, Shaukat Ali)
Jaan beta Khilafat pe de do (Give up your life for the Khilafat Movement)
Tum hi ho mere ghar ka ujaala, (You are the light of my home)
Tha isi waastay tum ko paala (But this was the day I raised you for)
Kaam koi nahi is se aala (No bigger work than this)
Jaan beta Khilafat pe de do…(Son, give up your life for the Khilafat movement)
– Maulana Mohammad Ali Jouhar
Speaking about the freedom fighter's role, journalist Kuldip Nayar said, "It is painful that so far Bi Amma's contribution has been neglected by our educational system and it is the need of the hour that a book be written and taught in schools and colleges." He added that her speech during the Khilafat movement in Lahore reflected her commitment towards pluralism, stating that the language she used was no less than "a piece of literature".
In Rakhahari Chatterji's book, Gandhi and the Ali Brothers: Biography of a Friendship, Maulana Mohammad Jouhar talks about his mother. He said, "Suffice it to say that, although she was practically illiterate, I have, in all experience, of men of all sorts of types, come across none that I could call wiser and certainly that was more truly godly and spiritual than our mother."
Until her death in 1924, Bi Amma worked towards the friendship between Hindus and Muslims, saying that they are "the two eyes of India".
(Edited by Shruti Singhal)
Like this story? Or have something to share?
Write to us: contact@thebetterindia.com
Connect with us on Facebook and Twitter.
We bring stories straight from the heart of India, to inspire millions and create a wave of impact. Our positive movement is growing bigger everyday, and we would love for you to join it.
Please contribute whatever you can, every little penny helps our team in bringing you more stories that support dreams and spread hope.