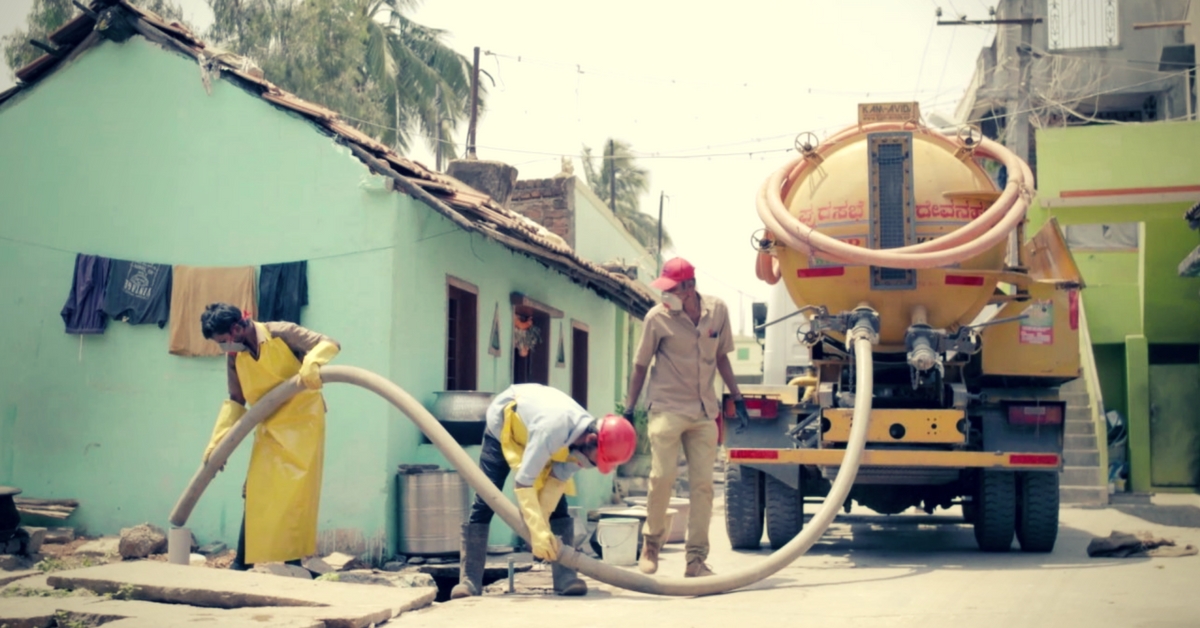 A collaborative effort between non-profits, multinationals, local government, big government and citizens crafted Devanahalli's transformation into an open defecation free town.
With India's urban population all set to touch 600 million in the next 15 years, it is imperative that our cities develop the necessary infrastructure for their residents. A critical component of urban infrastructure is its sewage system.
However, more than 70% of urban India's sewage goes untreated, and our cities dump nearly 40 billion litres of untreated sewage into water bodies every year. The discharge of untreated sewage, especially into our water bodies, has a nasty effect on our health and environment.
What is particularly of great concern is that most of our cities are not bound by a complete sewage network. Even cities that have a partial sewage network do not have the requisite treatment plants, which defeats the very purpose of having a sewage system.
Policy advocates have argued that this is because massive centralised treatment plants require high capital investment to build pipelines, pumping stations and treatment plants.
Besides the cost of constructing and operating them, these sewage networks require extensive digging and can take anywhere between 3-10 years to implement. Most existing sewage treatment plants do not function at optimum levels and fail to meet basic environmental standards for treating wastewater discharge.
Making matters worse is that when cities expand, it is difficult to expand the reach of a massive centralised system especially in peri-urban areas which often receive patchy service. There are also questions of constructing pipelines amidst land ownership and topographical concerns. Finally, there is the issue of regular power supply, required by these centralised systems.
Recent developments in Devanahalli, a town 40 km from Bengaluru, offers us hope that our urban centres can effectively address issues concerning sewage treatment. What the town witnessed was a collaborative effort by the local Town Municipal Corporation (TMC), the Consortium for DEWATS Dissemination (CDD) Society (a Bengaluru-based non-profit working on effective management of wastewater and faecal sludge), the Bill and Melinda Gates Foundation and tech giants Oracle India.
In November 2015, in partnership with TMC and the Bill and Melinda Gates Foundation, CDD Society commissioned India's first city-wide and dedicated faecal sludge treatment plant (FSTP) at Devanahalli. This FSTP has helped the town of just 30,000 people to move towards an open defection free environment.
At this moment, Devanahalli is an ODF+ town with all residents having access to a toilet, besides possessing the facility to regularly and safely collect, transport and treat all faecal matter. A large part of this effort is thanks to the tech giant Oracle India.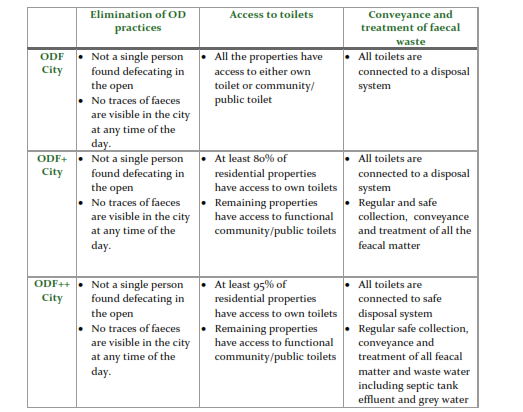 "Before setting up the FSTP at Devanahalli, we set up a pilot at our office campus. Faecal sludge characteristics vary greatly based on weather, containment system, desludging, frequency etc. So, at this pilot plant, we tested the technology before setting it up townscale at Devanahalli," said a spokesperson for CDD Society, speaking to The Better India.
The technology was designed based on inputs from engineers at CDD and its partner, the Bremen Overseas Research and Development Agency (BORDA).
For the past 15 years, engineers from both organisations have gained vast experience working on the treatment of wastewater, primarily through Decentralised Waste Water Treatment Systems (DEWATS).
How does this FSTP work?
"Faecal sludge is collected in desludging vehicles (aka honeysuckers). These desludging vehicles bring the faecal sludge to the treatment plant. The solid stream goes into anaerobic digestion and biogas is produced. It is then further treated and stabilised in anaerobic reactors.
Finally, it is dried in a drying bed and ready for co-composting, where it is mixed with organic municipal waste and co-composted into useful soil manure or compost for farmers. This cycle balances the nutrient requirements of the soil that's depleted through agriculture and overuse," says Sasanka Velidandla, CEO of CDD Society.
The entire plant runs on gravity. It doesn't use any electricity for its operations. Not only has it proven to be effective and cheap, but it also does not leave behind a significant carbon footprint. Moreover, it's close to the source of faecal sludge.
Watch the video below to understand how the entire process works:
There are seven critical stages that this project has undergone.
1) It first conducted a study of the sanitation system in the town, i.e., how much faecal sludge did Devanahalli generate? Without any definitive answers, CDD Society and the TMC first conducted a survey.
Questions like the number of toilets, pits and septic tanks, whom to call for the desludging process and how often, were answered.
Over 15% of households in Devanahalli lack toilets; nearly two-thirds of households without toilets (600-700) engage in open defecation; for households without toilets, the main reason for not constructing one is lack of funds, with lack of space another obstacle; and approximately 7% of households (400-500) have toilets connected to an open drain (insanitary latrines).
After surveying the town, the team learnt three key things—households desludge after long intervals which makes the entire process a lot harder, while private desludging operators travel long distances before emptying their tanker/truck. However, the biggest issue here is the lack of a proper sewage disposal point. These private operators were found dumping untreated faecal sludge into water bodies and empty farmlands.
2) In consonance with Step 1, what CDD Society did was to work closely with the TMC. In fact, when CDD Society first shortlisted four towns for their FSTP project, it was officials from Devanahalli that showed great enthusiasm for the proposal in 2014.
"CDD Society came to Devanahalli and spoke to corporators from 23 wards about the plant. When we went into town to speak to people about the plant, they initially protested that it would be dirty. That is when CDD Society and corporators went door to door convincing the people of its benefits and ensuring that we had the necessary support to get the FSM resolutions passed," says Narasimha Murthy, TMC President.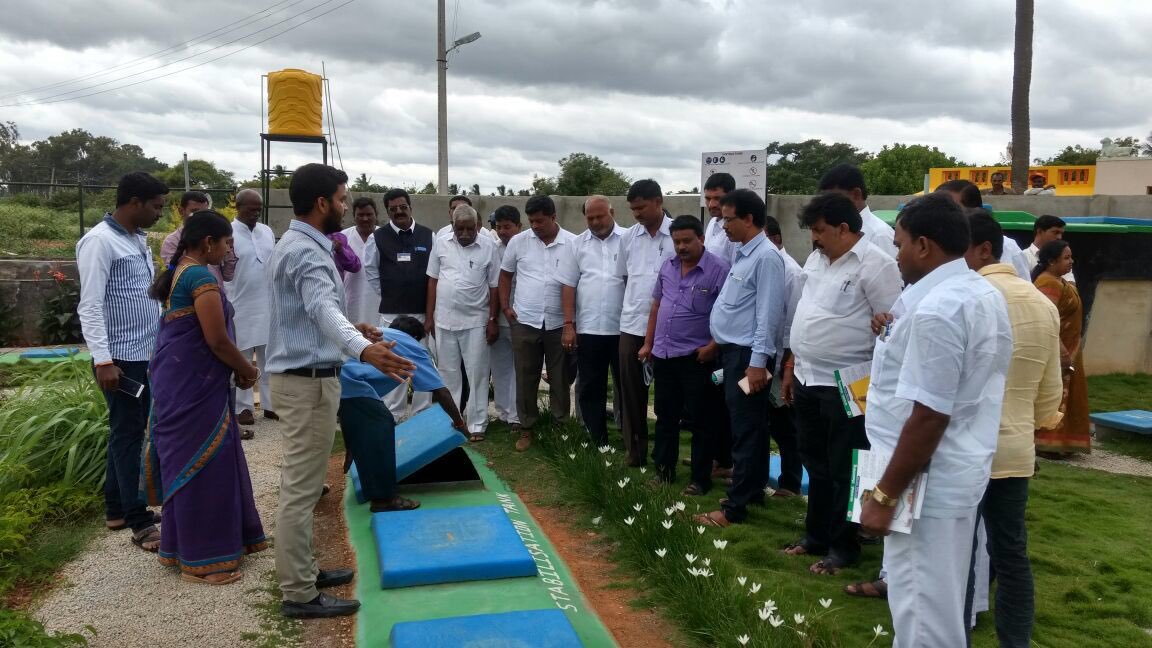 Besides workshops for these corporators on CDD Society's FSM model, private desludging operators also underwent training about the use of septic tanks.
3) The next obvious step was to identify the site for this plant and acquire the land for it. It had to be near the source of faecal sludge, thus reducing transport time.
An erstwhile waste dumping site off the national highway running through the town was chosen. However, acquiring the land included seeking a whole host of approvals from organs of the state—from the pollution control board to planning and zoning authorities, among others.
After acquiring all approvals, in consonance with local authorities, land was cleared and levelled .
4) One of the fundamental aspects of any such project is to establish the regulatory framework for sustained faecal management operations.
The TMC passed four critical resolutions in this regard— "proper regulation of the containment systems that are going to be built for new houses; licensing and regulation of private operators working in the town for desludging; outsourcing the operations of the treatment plant to private operators; and raising property taxes to support the cost of the treatment plant," says Velidandla.
5) To ensure practical implementation of policy, the team suggests:
"Calls coming in from households can be routed to a call centre. GPS devices and cameras can be placed on the trucks to monitor their desludging and disposal. This, in the long run, can also lead to regular desludging. The treatment plant can be monitored for input and output parameters, so it meets standards," adds Velidandla.
6) Establishing a sustainable and low-cost model is critical. The total capital cost of this FSTP was Rs 70 lakh (Rs 300 per capita) with an operating cost of Rs 6 lakh per year. Most municipalities in India can afford it. Typically, the initial cost of a large centralised sewage system is in the range of Rs. 14,000-25,000 per citizen in a city.
Additionally, operating these systems can cost Rs. 3,000-5,000 per person per year for continuous power, skilled operators, chemicals etc.
A 2015 Central Pollution Control Board (CPCB) report says that only 64% of Sewage Treatment Plants (STPs) are working. In this case, the operating costs are low and take just a year to construct. The capital expenditure required for FSM lies in the range of Rs 500-Rs 2,000 per capita.
There is only one operator at the plant. The whole plant runs on gravity. It doesn't use any electricity for operation and hence is effective, cheap and arrests pollution quickly, says CDD Society.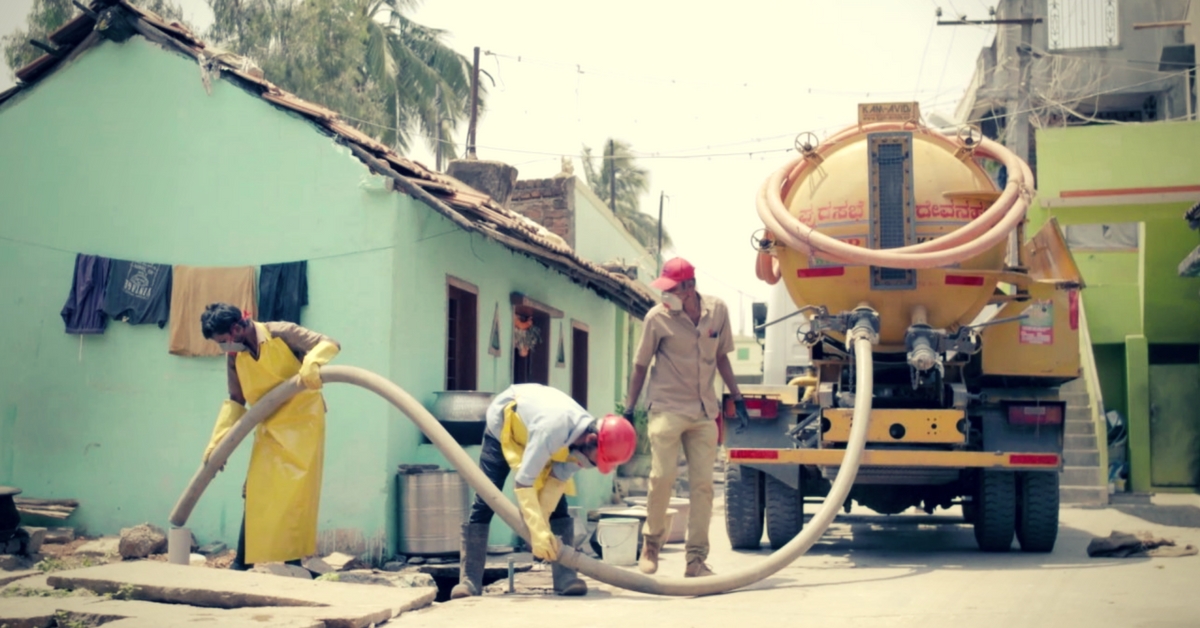 "We are raising money through selling manure, through advertisements, through property tax, and also through collecting fees for desludging," says another senior town official.
7) Community engagement: Farmers today are seemingly reaping the benefits of using faecal sludge compost. "Initially we used to receive fertiliser from the government but using it was a big problem. It used to smell very bad, and the labourers were reluctant to work with it. When we started using it, even our labourers started working better. Now the yield is excellent, we are getting double the crop," says Babu, a farmer.
With the FSTP up and running, in April 2017, CDD Society also got involved in the process of constructing toilets for the town of Devanahalli, which the TMC was already actively involved in through the Swachh Bharat Mission.
Also Read: 6 Steps to Make a Village Open Defecation Free
"We hired a local contractor to construct toilets; and a local non-profit SNEHA to conduct street plays in Kannada as part of information, education and communication (IEC) efforts to spread awareness about the plant, the importance of desludging and to motivate community members to construct and use toilets properly so that they stop practicing open defecation," said Tarika Vaswani, a communications expert with CDD Society. They also worked with women's self-help groups trying to build awareness around how to use a toilet.
What about the cost of building toilets?
In order to construct an individual household toilet, at least Rs. 15,000-20,000 is required. Most of the funds to build the 350-450 toilets that Devanahalli needed to go ODF came from the government's Swachh Bharat Mission. To bridge the toilet gap, CDD Society reached out to tech giants Oracle India, who not only delivered the funds from their CSR kitty but also sent company volunteers, especially those who can speak the local vernacular, to help with the IEC campaigns.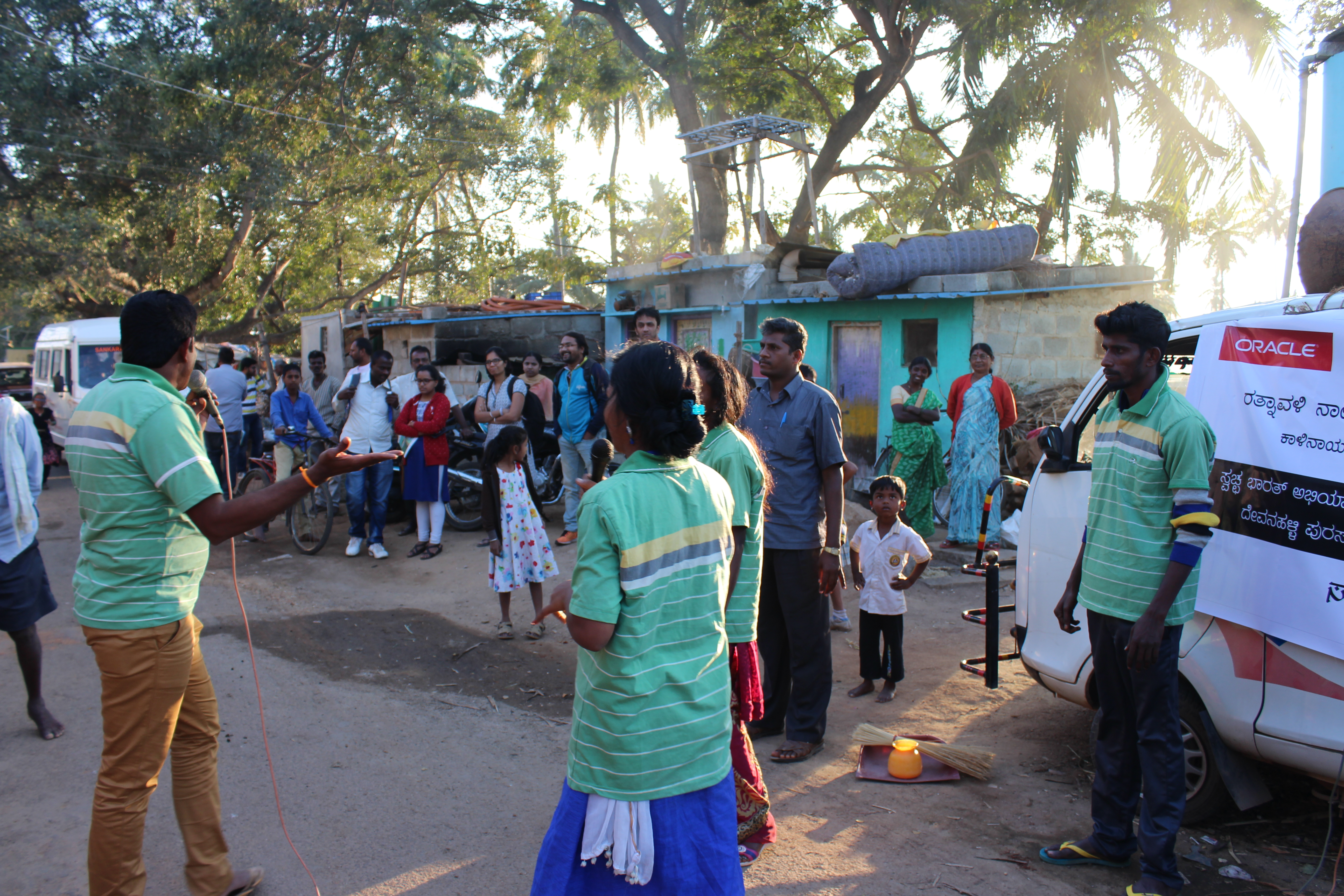 "On one occasion, we had volunteers from Oracle spend an evening at Devanahalli helping with IEC activities. This involved airing a video as well as conducting a street play dedicated to spreading awareness about toilet use. Volunteers, who spoke Kannada, interacted with the locals, going door-to-door and calling them for the street play and video show. They also communicated the importance of desludging, and helped them apply for funds to construct toilets," says Tarika.
Speaking to The Better India, Rajendra Tripathi, Senior Manager, Oracle Corporate Citizenship – India, talked about what attracted the tech giant to this project.
"We found the project, dedicated to the effective management of wastewater and faecal sludge of an entire township, very compelling. The project focuses on an urgent necessity at a time of growing urbanisation," says Rajendra. The company intervened at a critical juncture, when the toilet building exercise was in need of an urgent injection of funds.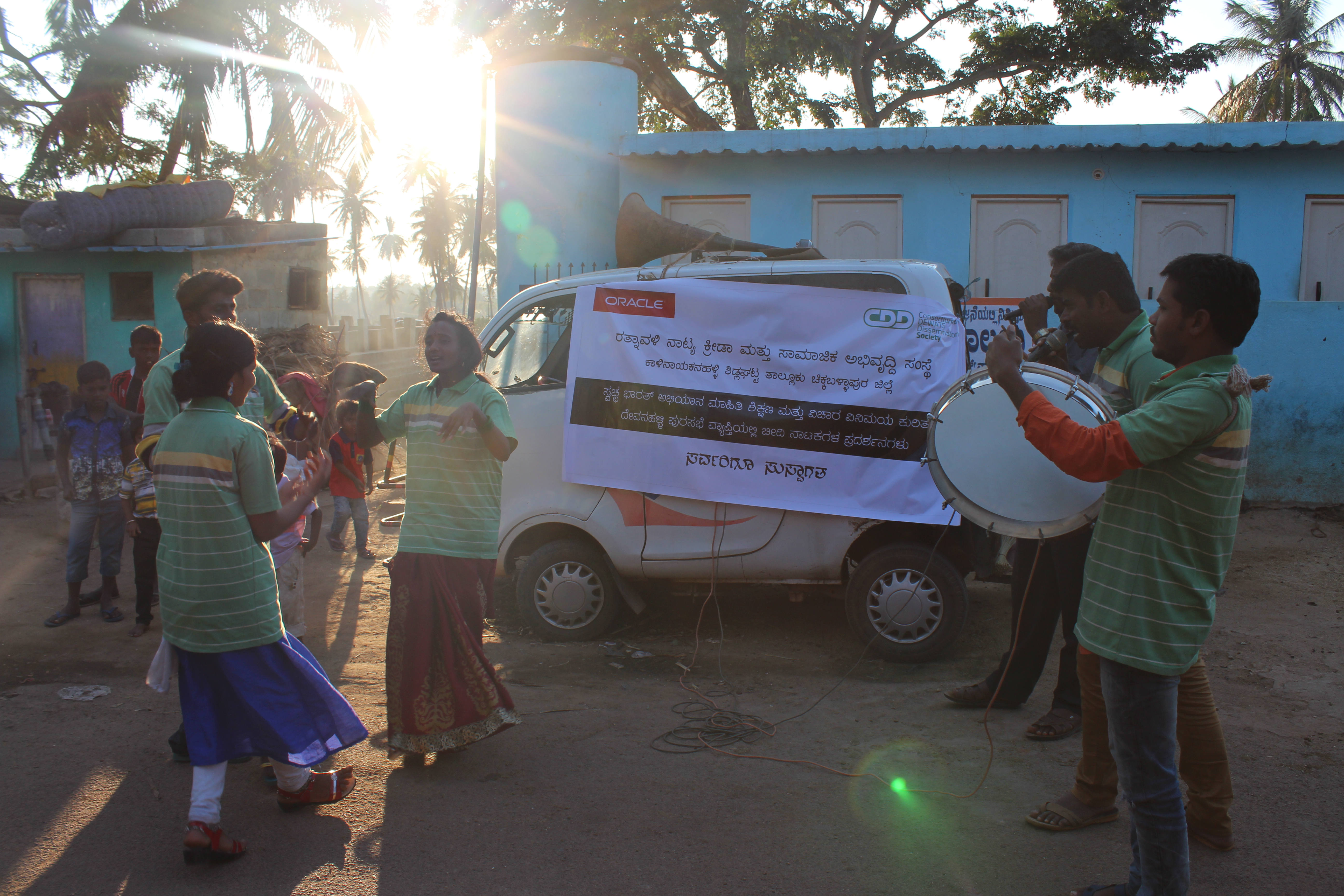 Why was it such a compelling project for the company?
"One single project offered us an opportunity to bring together the aspect of environmental protection and community outreach of our corporate citizenship policy. We had a chance to not only collaborate with non-profits, but also actively participate in serving society.
Also Read: Deep in the Sundarbans, India's Best Gram Panchayat Is Driving Real Progress.
Open defection free missions aren't part of our core business interests, but what it does is help us showcase our company's citizenship values to our employees and in the process help them better engage with Oracle and society at large. This is seemingly a win-win situation for all stakeholders—governments, non-profits and corporations." adds Rajendra.
This sort of collaborative effort between non-profits, multinationals, local government, big government and the citizens is what allowed Devanahalli to attain ODF+ status.
Having said that, CDD and Oracle are still working in the town to construct more toilets. Earlier this month, the multinational approved another grant of Rs. 38.4 lakhs to take the sanitation project further. The aim for Devanahalli is to attain ODF++ status.
Like this story? Or have something to share? Write to us: contact@thebetterindia.com, or connect with us on Facebook and Twitter.
NEW: Click here to get positive news on WhatsApp!