---
---
A year ago, if you would visit the Chota Narena village in Ajmer district of Rajasthan, huge mounds of garbage on either side of the road would greet you. Household waste, menstrual waste and loads of plastic piled up would be an eyesore for onlookers and passers-by.
Today, the waste management system of the same village is in alignment with the Swachh Bharat
Mission and is being considered as a replicable model for the entire district.
This is a result of the efforts put in by two engineers – Kavya Raman and Shuvam Das Choudhury– who decided to set up a garbage segregation, collection and disposal model in the village during their SBI Youth for India fellowship in collaboration with the NGO, Barefoot College.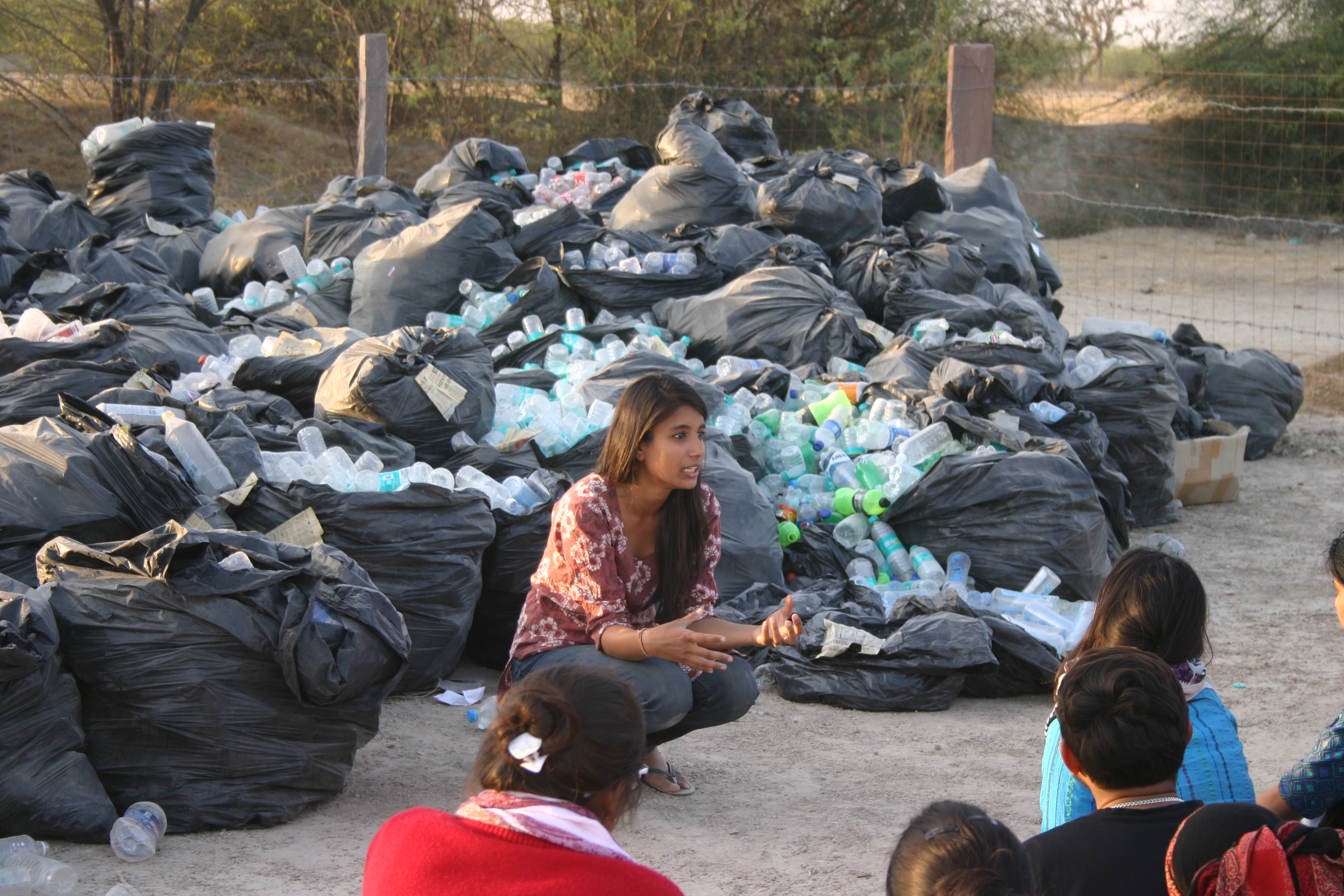 Kavya, who previously worked as a Business Analyst for three years, was posted as a SBI YFI fellow in this village. As part of her fellowship project, she surveyed 300 out of the 400 households in the village, which revealed that over 70% of them preferred open dumping, while the other 30% burned it.
Many local women burned plastic to keep the chulha from burning out, in a bid to save wood and get rid of the waste. Also, stray cattle often consumed plastics while grazing in the open. 75 percent of the total cattle who died in the past year had plastic in their stomach.
The condition shocked Kavya, and hence, she decided to work on waste management, especially for plastic products.
Speaking to The Better India, Kavya says, "Many of the village residents think they are doing the village a favour by burning garbage and not littering. What they do not understand is that this plastic smoke is carcinogenic and a health hazard to women who breathe the smoke in closed quarters." Kavya spent over a month visiting each household to understand their perception of waste and created awareness on the growing waste problem through Puppetry, which is a traditional Rajasthan art form, along with films, videos and presentations.
She set up a 10-member committee from within the village, mostly consisting of respected elders, who shared her vision of making Chota Narena a waste-free village and designed a door-to-door collection model.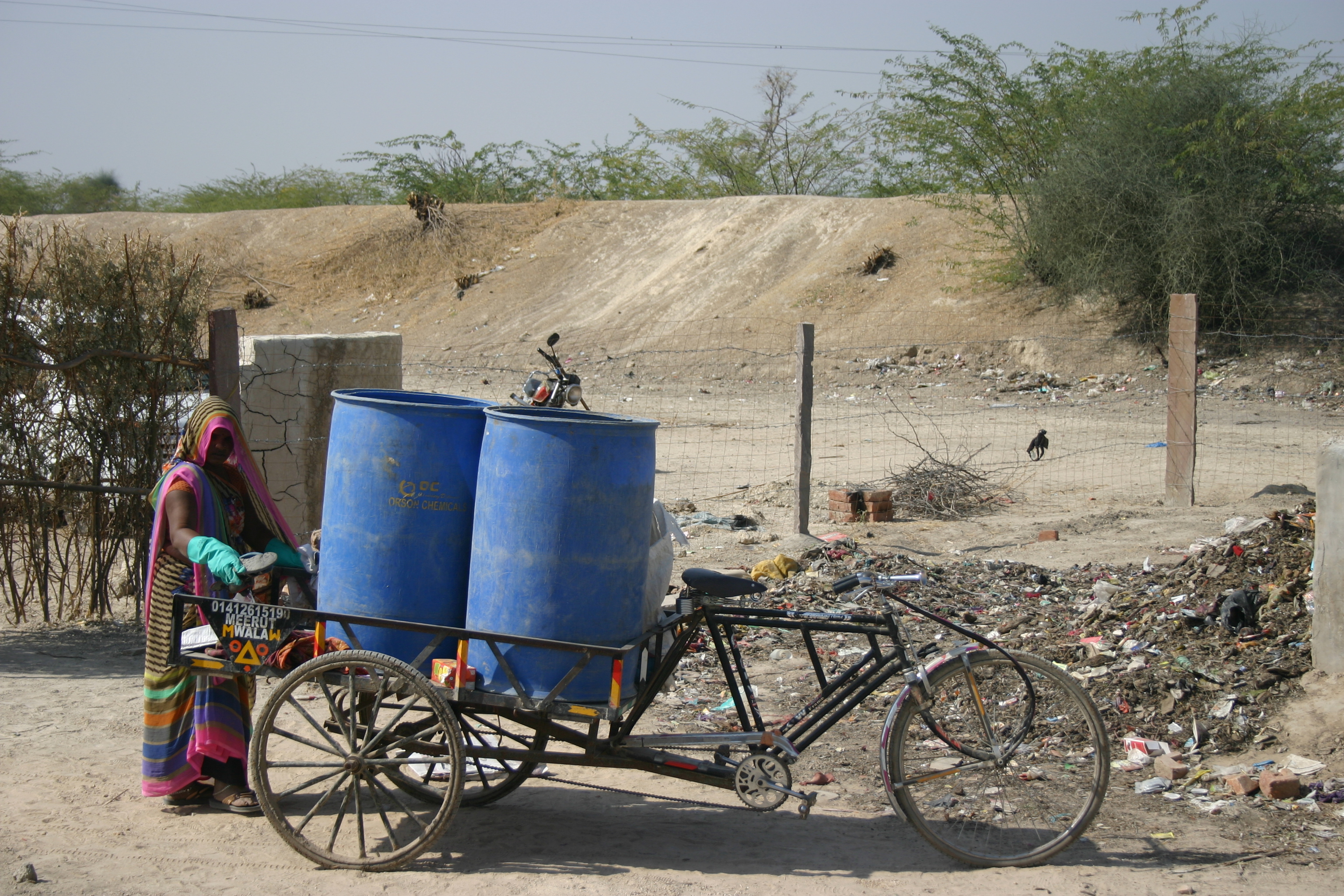 Kavya decided to run a pilot model where she procured two-dustbin sets for a sample size of 80 households. These selected homes were trained to segregate waste into biodegradable and non-biodegradable waste actively.
"Under this door-to-door collection system, we also employed two workers from within the village to visit each household on cycle trolleys and collect the segregated waste in two huge bins attached to the vehicle. This waste was later sent to a recycling unit set up on land procured from the village panchayat which has been equipped with four compost pits, segregation and storage rooms. The funds for the infrastructure was collected from the villagers, Sarpanch, Barefoot and others," says
Kavya.
Each household generated about 15 kilos of biodegradable waste and one kilo of plastic waste every month. While the wet waste was converted into compost at four pits on the site, the non-biodegradable waste was further segregated into categories like plastic, rubber, cloth etc.
Once enough plastic was collected, the committee would sell it to a recycling unit in a nearby town.
The money earned would be put back into the system for the maintenance and running of the waste management model – including wages worth Rs. 6,000 per month for each the cleanliness worker.
Impact of this pilot model
All of the 80 families started disposing of waste scientifically after Kavya's interventions – with zero open dumping and zero burning of waste."There is no more scope for any of these households to dump garbage in the open or burn it because someone is collecting it right from their doorstep. The success of our model reflects in how we have managed to clear three out of four dumping spots used by the 80 households. These dumping zones remain spotless till date," says Kavya.
In the first three months, wet waste was collected and processed into 1,500 kg of compost. They were able to sell the compost for Rs. 25,000 in five months. Over 600 kg of plastic waste was collected, segregated, stored and sold as required.
---
If you too want to strengthen rural India for a better tomorrow, join the SBI Youth for India fellowship and make this year, your #YearForChange. The applications for the 2018-19 batch are now open. To apply, log on here and submit your online application:
Unable to view the above button? Click here
For more enquiries, write to contactus@youthforindia.org
---
"Women are now sensitised against burning plastic, and the recycling of most plastic waste no more poses a threat to grazing animals," she added.
Scaling up the model
Post her fellowship, Kavya is now planning to replicate the model in other neighbouring villages and is in the process of procuring funds from CSR wings. The current fellow, Shuvam Das
Choudhury, also posted in Chota Narena, is scaling up the project to cover the remaining households in the village.
Shuvam, who is a mechanical engineer hailing from Meghalaya first came across Kavya's project and the rampant waste problem in Chota Narena when he reached Barefoot College as an SBI YFI Fellow.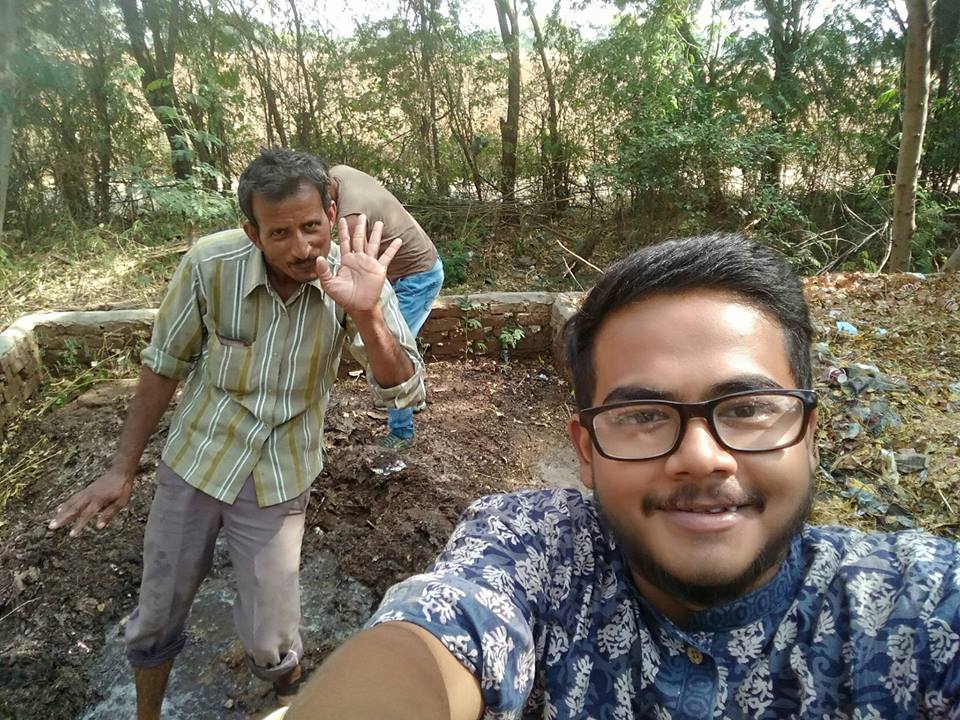 He started working with the same 10-member committee who act as influencers in helping the villagers understand and follow the door-to-door waste collection system. Shuvam helped them define their role in sustaining the waste management model.
After Shuvam's arrival in November 2017, this project has been scaled to more than double, from 80 pilot households to 170 households currently. Apart from the two waste collectors, Shuvam has also trained and employed a supervisor to monitor the day-to-day activities and document the progress.
"Of the many villages that I had the opportunity to visit and interact with the locals first-hand, I realised that there were no waste management facilities in-place which caused distress to them, there was also a lack of awareness regarding the drastic implications of plastic waste. When I went to Chota Narena and saw Kavya's project, I saw a change in the behaviour of the villagers here. I decided to continue the same model and standardise the existing processes, fine-tune the on-going model that can further be replicated in villages that Barefoot College operates in," Shuvam told The
Better India.
Shuvam also shares a critical insight. Like most other villages in the country, in Chota Narena, cleaning and waste picking are still associated with caste, he says.
"People from other castes, despite generating household waste, refuse to touch it and expect the lower caste community to do it. This unfortunate tradition is then passed down successive generations, and young kids of waste pickers abandon education to continue these jobs."
Shuvam believes that if this underprivileged community, as well as their kids, are actively engaged in composting and are trained to explore its potential in the market, it will help create an entrepreneurial spirit in them.
---
Read more: This Former Engineer Is Introducing Rural India to Cost-Effective and Eco-Friendly Toilets
---
The duo has also been asked to provide guidance to the Ajmer District Collector's team on solid waste management – to implement the same model in five other villages.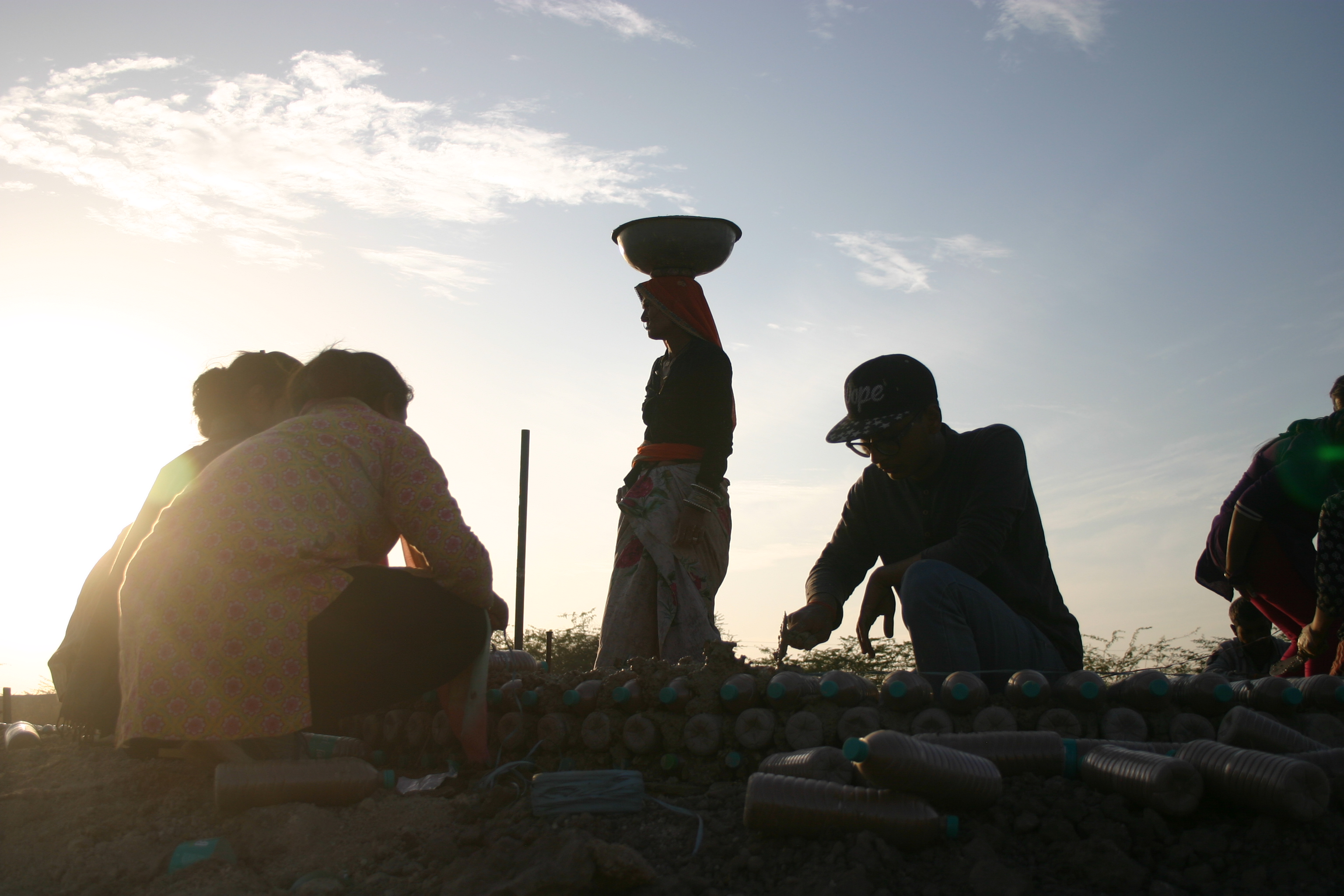 Summarising their vision for these villages, Kavya says, "This simple waste management model, if adopted by the government for a few villages in every state, will create working examples across the country and put an end to the plastic problem we have at hand. While everybody is migrating to the cities slowly in search of a better job and lifestyle, we want to improve the lives of the ones living in villages by enabling them to maintain cleaner surroundings. This also helps in protecting the environment and creating opportunities for individual growth and development for the underserved"
Kavya and Shuvam, together are working towards improving the quality of lives of probably the most important yet the most neglected sect of our society – our farmers; because their environment, health and well-being also matters.
---
If you too want to strengthen rural India for a better tomorrow, join the SBI Youth for India fellowship and make this year, your #YearForChange. The applications for the 2018-19 batch are now open. To apply, log on here and submit your online application:
Unable to view the above button? Click here
For more enquiries, write to contactus@youthforindia.org
---
Like this story? Or have something to share?
Write to us: contact@thebetterindia.com
Connect with us on Facebook and Twitter.
NEW: Click here to get positive news on WhatsApp!