A man who is 84 years old now had decided in his younger days not to migrate from his village but to bring a wave of change and set his village as an example. He has been working tirelessly towards the upliftment of his village through education, livelihoods, awareness and more, and his spirit is undying as he plans to extend his programme to other villages too. Read more to know how he and his small team have been overcoming all challenges and changing the lives of thousands.
A sweet and honest voice greets you when you speak to Bhikhubhai Vyas. His words are as strong as his intentions to bring a change. As this 84-year-old man speaks, you can sense his affection and dedication towards a cause he truly believes in – to make his village a model village and to serve the community.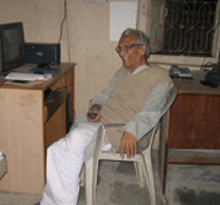 As he talks more about his initiatives, you are convinced and cannot stop admiring the energy of the man. Born in a small town – Valod, near Surat, Vyas has been actively involved in education, community development and various environmental initiatives for over 6 centuries.
"I and a few of my colleagues took a sort of a pledge, not to migrate from our native village for jobs after graduation, and to make Valod a model village for all," Vyas says.
Vyas and his friends planned to join secondary and primary schools to stay in the area and help the tribal community which wasn't approved by their traditional leaders. Hence, they turned towards and joined the Gandhian Ashram at Vedchhi where they got a chance to exclusively work for the tribal community. Vyas joined as a teacher at the Ashram and worked there for 8 years.
"This was a turning point, which changed the course of my life – gradually resulting in a mission – to work exclusively for the tribal and poor. For us, the Ashram became a training ground for village reconstruction on Gandhian lines," he says.
After leaving Vedchhi Ashram, Vyas continued to serve in a remote tribal village in Valod taluka and started a high school there.
Around 28 years back, Vyas and his wife Kokila casually visited a neighboring taluka, Dharampur, for a study tour. They came to know that most of the people there suffered from abject poverty and were illiterate. It was a hilly forest region, had challenging logistics and was such a remote area that it remained totally untouched by mainstream development activities.
Dharampur and Kaprada are situated some 50 km inland from the Arabian Sea, in the Valsad district of Gujarat. It is an exclusive tribal belt, consisting of 231 villages. Although it is rich in culture and landscape, in material terms, it is one of the poorest Talukas in India, surrounded mainly by mountains and forests, except for a small cluster around Dharampur town.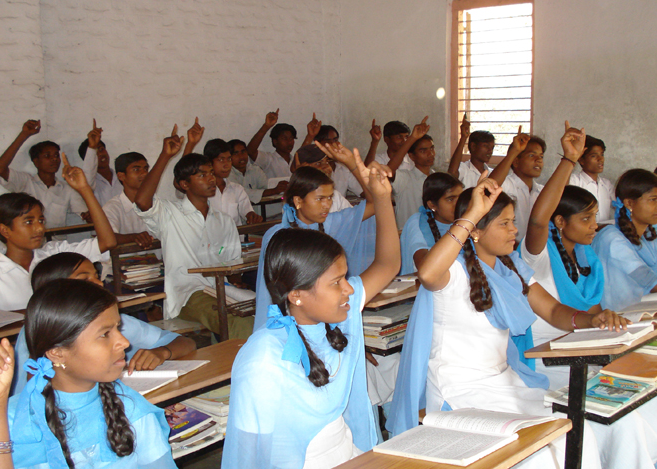 "At that time, we had never imagined that we would be living and working in that block, very far away from our native place.  After some time there, we felt an inner urge to start a few trial programs on our own," Vyas says. A team of 50 workers now work regularly with Vyas and his wife in various programmes for his organization Vedchhi Pradesh Seva Samiti (VPSS).
Educating the kids
"We found out that schools there were very few and they were practically not functioning. Hence, the schooling system became our first area of focus," he says. Hardly 15 % males and 8 % females could read or write at that time in the village.
With support from Tuff, a Swedish Peace organization, the couple started 50 night classes for adults and 50 balwadis (pre-schools) in as many villages, to build up a closer rapport with the community. They also started 20 Non-Formal Education [NFE] classes to tap youngsters.
"Our emphasis is on the improvement of quality of education. Higher education is a new direction for the tribal population. This is the first generation advancing towards higher studies," he says.
Vyas believes that education should not be measured simply in monetary terms; as in the long term, it is going to generate new awareness and create quality leadership. As an example, one youngster from the village pursued a degree in engineering with the programme's help and passed with flying colors. He was offered a job by some company in the campus. He declined it to do his Masters in Computer Engineering.
VPSS lays a special emphasis on girls' education. With the donation of an acre of land from a poor tribal family, a hostel for 11th-12thclass has been started in a village Bilpudi, near Dharampur town. So far 48 out of a total of 150 girls from this hostel have entered the science stream.
Aiming for community and holistic development
On observing closely the miserable situation at the grassroot, VPSS also launched several need-based programs.  They distributed 1,18,000 mango saplings and gave away 4,700 male buffaloes given to 2,350 families at half the price to improve their livelihood.
They also organized 350 cheap mass marriages covering 40 villages. Each couple contributed Rs 1000 as the registration fee. The expenses for meals on a mass scale and other items like vessels, dresses, simple ornaments, shawls, etc. were provided by the project. Every couple was given 10 mango plants as a marriage gift. This program is supported by many donors.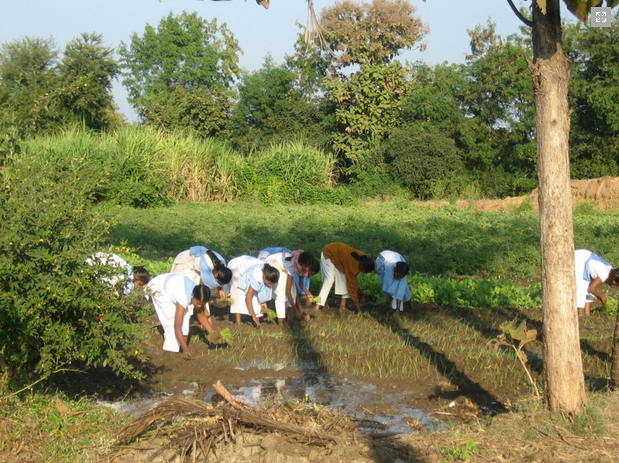 "As most of the villages were facing acute drinking water problem in summer, it was the most urgent need. As we are not for charity, it was a three-pronged approach: first and foremost, community participation; secondly, nothing for free and thirdly, no subsidy from governments. All the wells were dug by the community as shramdaan (donation of effort)," Vyas says.
They constructed 5 large community rain water harvesting tanks and 27 family tanks along with the construction of 530 check dams – with community labor contribution on a 'FOOD FOR WORK' pattern. As a trial plan, 50 PVC plastic tanks (2000 ltr.) to families of villages having acute drinking water problem have been provided at 50% of the price. 15 villages are covered in the first phase of this programme.
Vyas and his team also constructed 200 wells and repaired around 50 of them, covering as many hamlets as possible among the 100 villages the organization works in.
The impact
Today, VPSS  runs 6 primary schools, 2 high schools, 1 hostel for girls for higher secondary education and a scholarship scheme for university education, serving over 1000 students in total.
Compared to the miserable situation existing when they had first put their feet in this dark region 28 years ago, the last 4 years have seen students march from illiteracy to university. Nearly 100 students have taken up Engineering, Nursing, Pharmacy, Rural & Social Studies, Computer, Teachers' Training, General Science, Arts & Commerce in university and more than 400 students have completed vocational courses.
Due to Vyas, his wife Kokila and his team's constant efforts, migration from the villages has halted substantially. The villagers have also seen a good hike in the production of food and vegetables.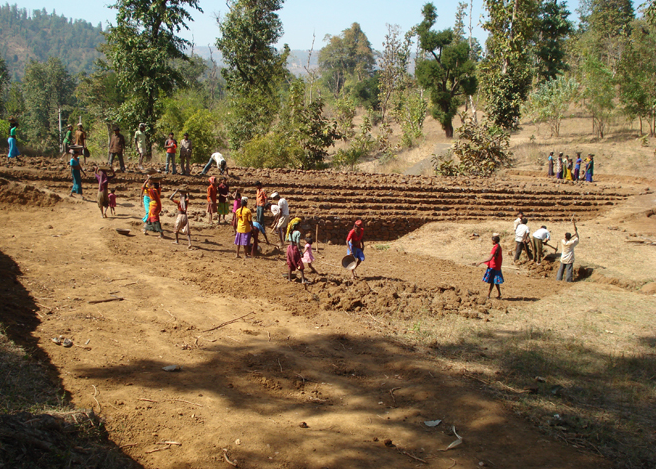 The challenge
To get the support from the government was a big challenge. "When we required permission for schools, the government officials were insensitive and negative. We never asked for grants but only requested recognition for the schools. Finally, we had to get approval for the primary and high schools from Gandhinagar," he says.
Getting steady and qualified teachers was again a big challenge, but the couple got support from their friends for this.
The Future
Vyas now plans to concentrate on about 25 of the most remote and neglected hilly villages of the poor Kaprada Taluka on the border of Maharashtra. His team also wants to provide quality education at all levels by appointing full staff in their primary schools in Kaprada Taluka.
For better crops and harvest, he wants to make farmers oriented towards science developments in agriculture. Also, vocational training on an increasing scale is on their agenda for the future.
"With the passage of time, we came to the conclusion that the root cause of all the problems was poverty, caused by low productivity (as the only source of income is agriculture) and lack of employment. So in the last decade and a half, we have been focusing mainly on programs like water and soil conservation," he says.
Story Tip Courtesy: Saloni Bhatia
Like this story? Or have something to share? Write to us: contact@thebetterindia.com, or connect with us on Facebook and Twitter (@thebetterindia)
We at The Better India want to showcase everything that is working in this country. By using the power of constructive journalism, we want to change India – one story at a time. If you read us, like us and want this positive movement to grow, then do consider supporting us via the following buttons.
Please read these FAQs before contributing.