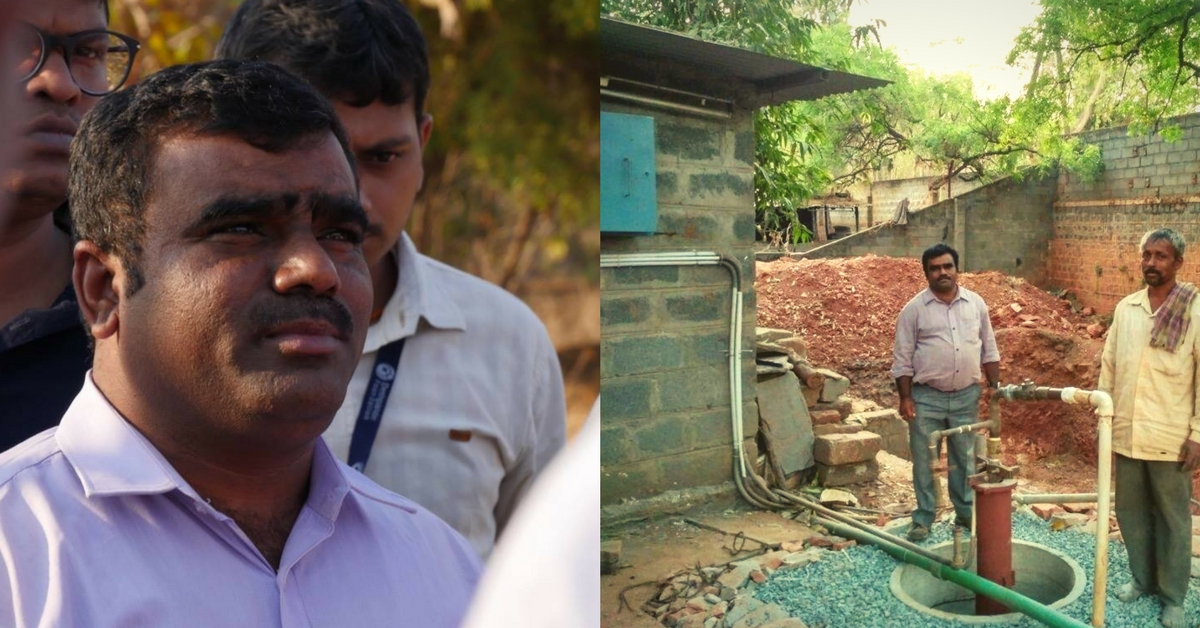 Sikandar Meeranayak and his organisation, Sankalpa Rural Development Society (SRDS), have been assisting farmers to ensure that they have a steady supply of water.
India has long undervalued one of its most precious resources—water, and today, the country's chronic mismanagement of water is staring at it in the cruel face of a back-to-back drought in nearly 2,00,000 villages. According to World Bank data, farmers use almost 70 percent of the total groundwater that is drawn in the country each year. India uses more groundwater every year than China and the United States combined. Due to this massive overuse, groundwater levels are being depleted all over the country by an average of 0.3 metres a year.
In some areas, the levels are falling by as much as 4 metres a year. It is groundwater that once boosted the Green Revolution and ensured food security, but today we are in danger of "killing the goose that laid the golden egg."
We have drilled deep for groundwater, without understanding the severe consequences of our tinkering with ecological systems.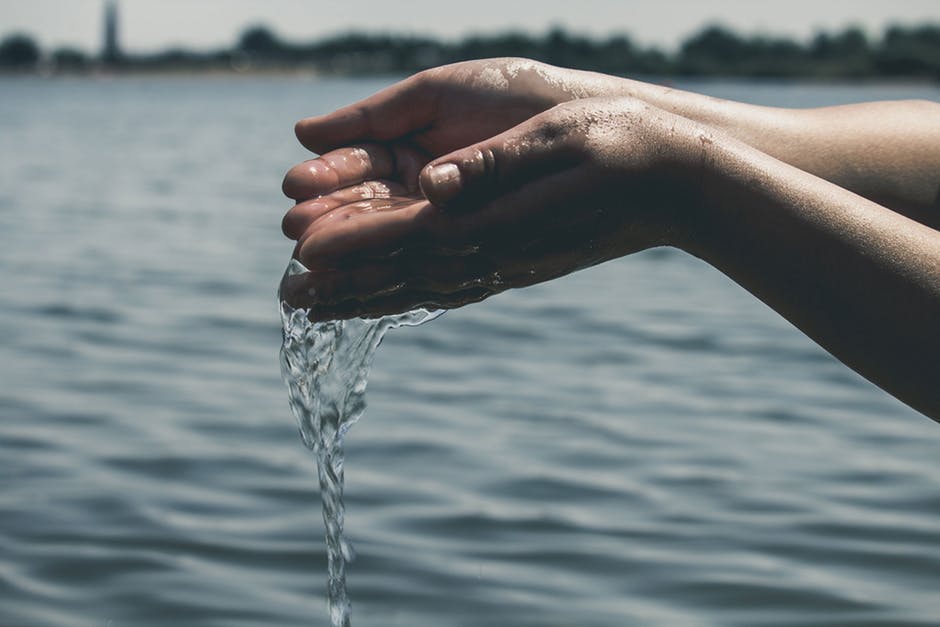 In ancient India, people were well versed in the art of water governance. Traditional methods for water harvesting were successfully put to use by these communities to drought-proof themselves.
Kautilya's Arthashastra has details of how systems of water conservation must be built and managed. The kings did not have fleets of engineers; they provided monetary incentives to communities and individuals to get build water systems.The British subverted this tradition by bringing them under state control and creating large bureaucracies for management.
---
Also Read: This Low-Cost, Lightweight Pump-On-Wheels is a Huge Boon for Farmers
---
Traditional water harvesting techniques such as the jhalara, bawari, nadi, khadin, and tanka have been employed for almost last nearly 1,500 years to conserve water for cultivation. These systems continue to remain viable and cost-effective alternatives for replenishing depleted groundwater aquifers. However, this traditional knowledge and wisdom have been abandoned in the race to embrace new technologies which have upset the ecological equation.
With government support, these structures could be revived and upgraded and productively combined with modern techniques. Sikandar Meeranayak, the founder of an NGO called Sankalpa Rural Development Society, based in Hubli in Karnataka, is one of those working hard to assist farmers to understand the importance of giving water back to the earth.
As a young man, he saw the problems his farming family and neighbours were facing due to the lack of water. He vowed to find a solution, and nine years later, Sikandar has achieved a fair degree of success in his mission.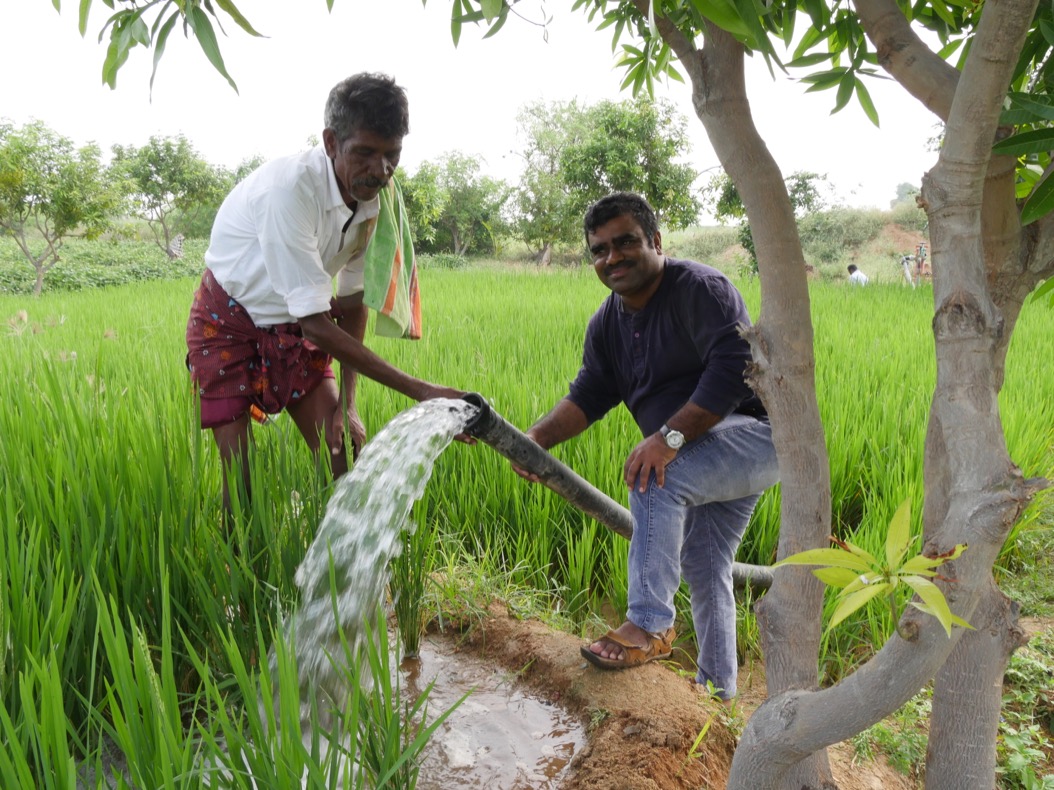 He has implemented over 1130 rainwater harvesting structures both for the water-hungry farmers as well as industrial sites, schools, and urban housing complexes. He has refined his method and made it almost foolproof to channel the monsoon rains back through the borewells into the underground aquifers, where it can be stored for future use.
This method recharges even those borewells that have dried up. After one decent rain, they are flush with abundant water, and the farmers no longer need to leave their land to seek work in the cities.
One such farmer is Shashank, who belongs to the Sira District in Karnataka. Ten years ago he dug a bore well. For three years it produced a steadily decreasing flow, and when it finally it dried up, his farming efforts got limited to one crop per year, and he was utterly dependent on rainfall. His income fell, and he considered abandoning his land to search for work elsewhere.
---
Also Read: Amazing! With No Govt Help, Maharashtra Village Builds Own Water Pipeline
---
It was then that he heard about the SRDS recharge method. At the cost of approx Rs 15,000—his share of the total Rs 30,000—a feeder pond was built, and the rainwater harvesting system was implemented in the dry borewell. He was hopeful but a little sceptical. However, when the rains came, his pond was flush with water, and Shashank became entirely convinced about the model.
Soon afterwards, he refitted the pump to his bore well—and was overjoyed to find water gush out. This year he will be able to grow two crops again and fully irrigate his land. This story is not unusual—it has been repeated over and over in more than 90% of the implemented borewell recharge projects. The direct borewell recharge technique has seen a profound increase in ground-water levels and yielded many other benefits.
Due to the influx of pure rainwater, the quality of the water has improved, there is a decrease in solids and toxins, and the hard water is now usable. Erosion of precious topsoil is arrested by directing the runoff water from the farms and open fields to the recharge pits.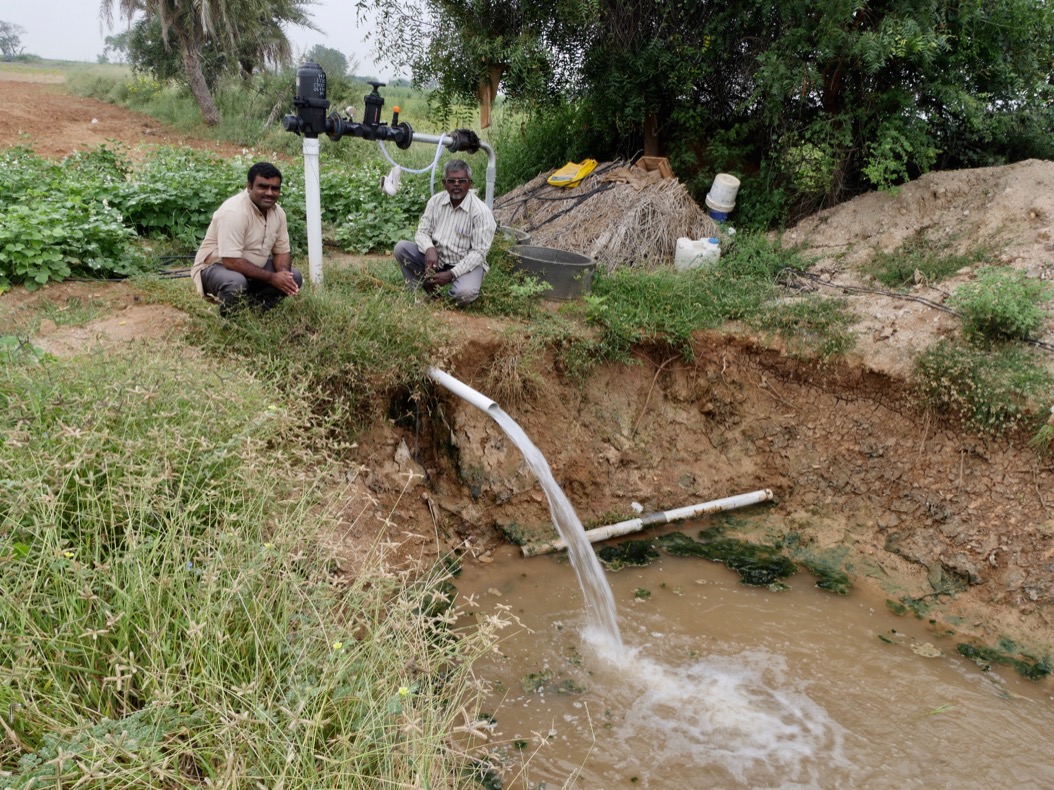 The increased availability of water, enables farmers to gain multiple crop cycles and crop diversification leading to increased livelihood. The expansion in cropping and the resultant prosperity also strengthens employment possibilities for landless and underprivileged. Even better, in regions where multiple recharge projects have been set up, there is a marked and significant reduction in the demand for new borewells.
The method is simple, works well and is cost-effective. In brief, the process is as follows:
1. A pond which is approximately 8 ft deep is constructed near the site of the borewell so that it is in a position to gather the runoff water from the monsoon rains.
2. A pit is dug around the actual borewell casing.
3. The bottom of this pit is lined with filtration material, with a depth of 2 ft—layers of 40 mm stones, 20 mm and 6 mm in size.
4. Then, slits are cut into the borewell casing using a cutting machine, and the casing is wrapped with nylon mesh so that solids cannot enter the casing pipe.
5. At this stage, cement rings are placed around the borewell casing, and the spaces between them are filled with cement to seal them. This 'false well' is then filled with stones.
6. A second 'false well' made of cement rings (with a diameter of 6×3 ft) are placed next to the first 'false well', and the gaps between are filled with cement. This well is left empty. And a cement cover is placed on it to stop rubbish falling in.
7. A 3-inch feeder pipe is fitted coming from the pond to a hole in the first cement ring of this empty well. This brings the water from the pond.
8. During the rainy season, the water flows from the pond into the first empty well where it percolates down through the filtration material and subsequently up into the second well around the borewell casing. It then enters through the slits and filters down into the underlying aquifer where it is stored for the following dry season.
This borewell recharge technique can be easily replicated and implemented anywhere in rural or urban areas. The project can be executed with minimal labour after a short training. Moreover, it can be customised according to needs and geographic conditions.
The work is done on a shared cost basis with the farmers—they are requested to provide materials and labour to contain the cost. It is minimal compared to the cost of drilling more borewells and is far more likely to achieve success.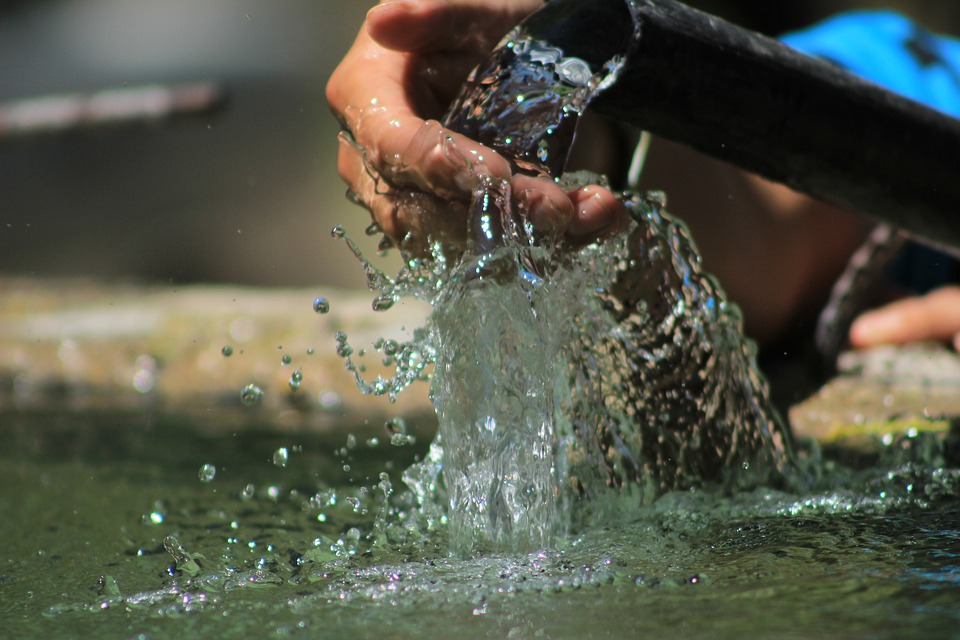 Failure occurs only if the monsoons fail. Even if the feeder pond fills three times during the rainy season, the aquifer will be recharged.
A lot of good ideas got their start when one individual looked at a familiar landscape with fresh eyes. People like Meeranayak have shown there are far more sustainable approaches for mitigating the water scarcity crisis across India. There are undoubtedly many viable solutions to be found if we think out of the box and don't accept limits to how the world works.
(This article has been written by Moin Qazi. He is a Journalist who focuses on Development issues and has co-authored the book, The Essential Microfinance.)
Like this story? Or have something to share? Write to us: contact@thebetterindia.com, or connect with us on Facebook and Twitter.
NEW: Click here to get positive news on WhatsApp!
We bring stories straight from the heart of India, to inspire millions and create a wave of impact. Our positive movement is growing bigger everyday, and we would love for you to join it.
Please contribute whatever you can, every little penny helps our team in bringing you more stories that support dreams and spread hope.