According to Sharad, a beggar cannot just approach a shelter home and stay there.
Sharad Patel, a farmer's son from Mirzapur in the Hardoi district of Uttar Pradesh, was supposed to acquire a degree and settle for a well-paying job to support his family. However, he took a different path and decided to help thousands of homeless people who are forced to beg on the streets of Lucknow.
After finishing his high school, Sharad headed towards Lucknow to study further as there were no junior colleges in his village.
Sharad was a 16-year-old at that time and was impressed with the city, but when he noticed beggars, who were presumably drug addicts, sleeping near a hotel at the Lucknow railway station, something also pinched him inside.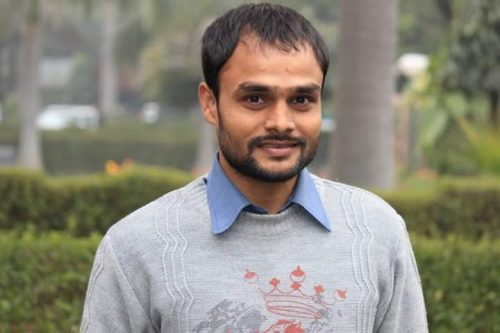 "I kept thinking that someone must help these people. Just like there are langars in a Gurudwara, why could these people not be fed these people at least once a day at a religious place?" says Sharad.
After finishing his graduation, Sharad was determined to help the destitute and declared at his home that he was going to do a Masters in Social Work. Although his family was shocked, his brother stood by him and supported his decision. In 2013, when Sharad returned to Lucknow to get an admission in the MSW course, a beggar asked him for money to buy food. Though he did not give him any money, he did feed the beggar.
This was when he challenged his initial idea of feeding the beggars for free. "How long could anyone feed them? There had to be a permanent solution for this. Making them skilled and providing them employment was the only solution according to me," says Sharad.
Seeing his dedication, Sharad's elder brother introduced him to Sandeep Pandey — a Lucknow-based social worker. Sharad worked with Sandeep as a volunteer for 5 years, and as part of his work, he learnt how to file applications under the Right to Information [RTI] Act, which later helped him in his own project. He also visited the government homes made for the beggars as suggested by Sandeep and found out that all of them were empty while thousands of beggars were sleeping on the streets.
In 2014 Sharad filed an RTI application with the Government of Uttar Pradesh to understand its efforts for the welfare of beggars. The information he received claimed that there were 8 homes in 7 districts of the state that provided shelter and food to beggars.
Sharad investigated further and found that no beggar was living in these homes although the employees were getting their salaries.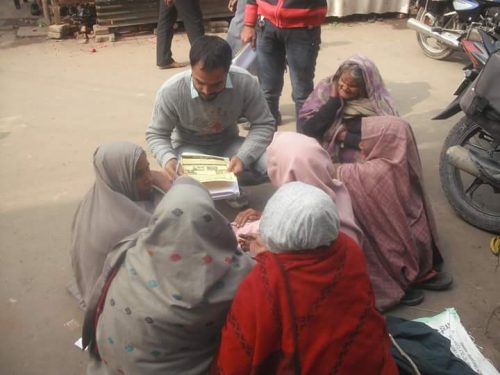 "The revelation compelled me to carry out a socio-economic study of beggars in Lucknow. Lucknow has around 3,500 beggars who spend their lives on the footpath. The majority of them have no skills to generate any income. Even though some of them are educated, they are either unable to work due to ill-health or are not considered for any job. Most of them have migrated from other cities and are excluded from government welfare schemes because they do not possess any proof of identity. They struggle to get medical facilities due to discrimination," he explains.
Thus on October 2nd, 2014, Sharad started a campaign named Bhikshavratti Mukti Abhiyan ('Begging-Free Movement') to eradicate the problems faced by beggars and to make them self-dependent.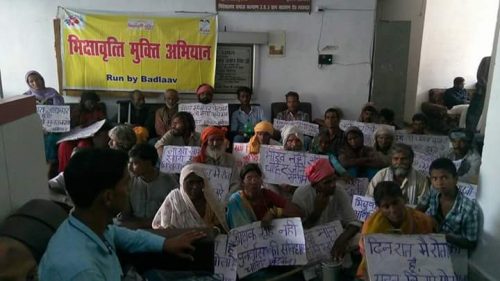 He chose areas in the city that had a dense population of beggars, but building trust and establishing a rapport with the community was tough. Sharad began with ration cards, which entitle poor people to buy wheat, rice, sugar, and kerosene oil at subsidised rates from government shops. He negotiated with the authorities who agreed to make ration cards for hundreds of beggars even though they had no address proof, which is otherwise mandatory. The move infused a sense of belief in the beggars, and the community started approaching Sharad for their cards.
He also managed to help 400 beggars to take possession of government houses under the Pradhan Mantri Awas Yojna scheme. When he found out that there were no schools in the vicinity, he also took up the task of opening a school. Most of these children were used by their parents for begging. It took time to convince them to send their children to school.
However, Sharad has passed this hurdle, and today there are almost 100 kids in his school.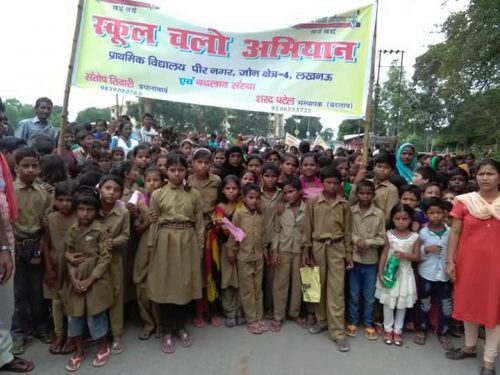 Sharat also began to organise outreach events to promote social inclusion and to discuss some of the problems the community faces. He invited the government officials to make every one of these issues.
"Sharing space and views with government officials and other dignitaries boosted their confidence and gave them a sense of acceptance," says Sharad.
As funds were needed to rehabilitate these beggars who were now ready to change, Sharad registered his NGO 'Badlaav' in 2015.
Under his guidance, 22 beggars have stopped begging and have started working.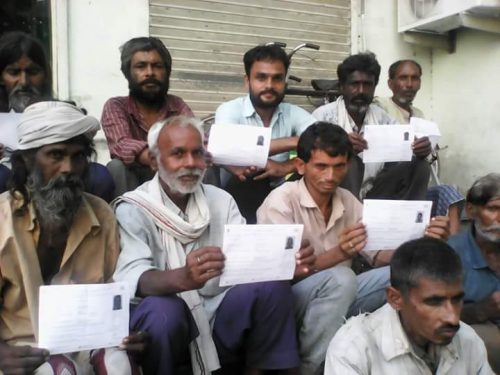 42-year-old Vijay Bahadur Bhola who was lost in Lucknow when he was 10, started begging to fight with hunger. Vijay proudly says that he earns enough as a rickshaw puller now and credits Sharad for giving him a respectable life.
"My father had come to Lucknow to sell hay. While returning home, I got off the cart and got lost in this city. I did not know anything other than begging until I met Sharad bhai, who helped me to get a rickshaw," says Vijay.
Sharad is now interacting with the local municipal corporation for the identity cards of these beggars, which will help them in getting Adhaar Cards.
Shravan Singh lost both his parents at the age of 9 and started selling alcohol to survive. A brief illness left him helpless and weak, and he was compelled to beg to survive. Two years ago he met Sharad who decided to help him out. After receiving proper medical treatment, Shravan was fit again and now works in a hotel as a cleaner.
"Sharad Bhai is like a God to me. My parents were vegetable sellers. I have always seen them work hard to earn. How could I beg? But I was helpless. I pray every day for the well-being of Sharad Bhai," says Shravan.
After building an active community of beggars who were now working and self-dependent, Sharad also took their help to help the ailing beggars.
Four of the beggars have also joined Sharad in spreading awareness among beggars through street plays.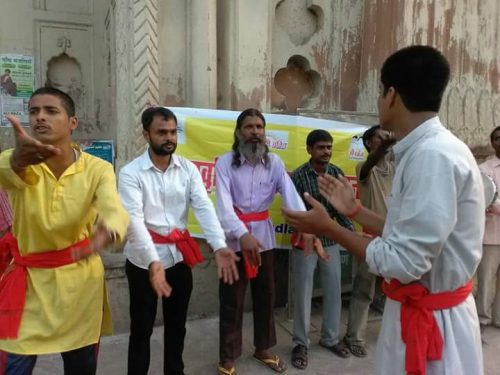 "It is easier to convince people to stop begging when someone from their community sets an example and asks them to do so. These people have not only changed themselves but also helping me to change others," says Sharad.
Though some of these beggars are happy to be working, they still do not have a place to live.
"I sell water pouches at the station. I earn up to Rs. 100-200 per day now. But I can't save anything or buy more water crates at one go as I sleep on the streets and whatever I try to save is stolen in the night," says Manoj Kumar.
According to Sharad, a beggar cannot just approach a shelter home and stay there. He has to be arrested by the police while begging and only if the magistrate orders to put him/her into these shelter homes as a punishment, can they stay there. Moreover, the shelter homes are not used as a reformation centre; they are used as a jail for the offence of begging.
"They can be trained in various skills depending on their interests and aptitude at these homes and then offer employment accordingly. Once they are skilled enough to earn, they should be rehabilitated. They can then have a family and lead a normal life. This is how every beggar can change," explains Sharad.
Sharad has submitted a charter of demands to the government, which specifically asks for a proper shelter home for at least 200 beggars in Lucknow.
"I have asked for skills training, medical treatment, nutrition and sanitation facilities in this shelter home," he says, adding that he has also asked the Government of Uttar Pradesh along with 22 other state governments to detail their laws for the prevention of begging. He firmly believes that to bring sustainable change in the lives of beggars it is essential to reform the related laws.
"When I started working for the beggars, everyone warned me that changing them is almost impossible. I was repeatedly told that I would not be able to finish what I have started. But today 22 beggars are living their lives with dignity, and I am sure we can create a beggar-free nation if we understand their issues and help them a little," says Sharad with great determination in his voice.
You can contact Sharad on 9506533722.
---
Like this story? Or have something to share? Write to us: contact@thebetterindia.com, or connect with us on Facebook and Twitter.
NEW: Click here to get positive news on WhatsApp!
We bring stories straight from the heart of India, to inspire millions and create a wave of impact. Our positive movement is growing bigger everyday, and we would love for you to join it.
Please contribute whatever you can, every little penny helps our team in bringing you more stories that support dreams and spread hope.