Many farmers in India, the world's top coconut producing country, have successfully introduced coconut farming in arid regions to meet growing demand and to boost earnings. Hiren Kumar Bose takes a closer look.
Scores of men move under the shade of tall coconut palms while visiting Narpatsingh Rajpurohit's two-hectare farm in Kuwarda village, watching the 750 fruit-laden trees with interest.
It is the first time that someone has planted coconut palms in the desert state of Rajasthan and is making a living out of it. Originally from Rajasthan, Rajpurohit's family runs a guesthouse and has been residing in palm-fringed Maharashtra's Konkan belt for years now, which explains the 58-year-old's fascination for growing coconuts.
Coconut production in India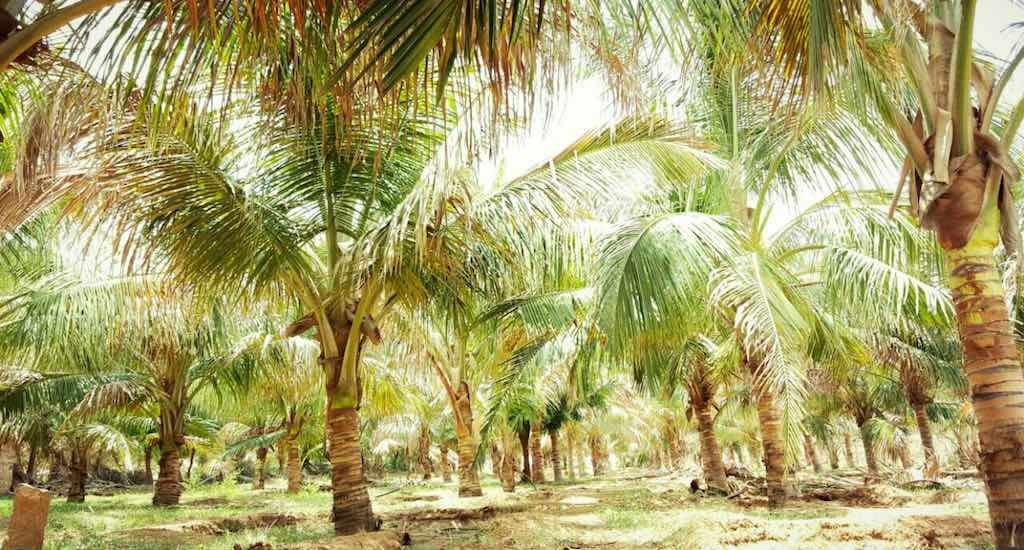 Coconut is part of our everyday lives in some form or the other. From tender coconut to shell charcoal, from coconut oil to desiccated coconut, from neera to coir pith, it has made India number one among coconut growers in the world. According to the Asian and Pacific Coconut Community's (APCC) Statistical Year Book – 2014, with a production of 21,665 million nuts, India tops the list of coconut producing countries.
With our love for the coconut, the nation consumes more than 95% of its production, as per APCC's statistics. According to the 2015-2016 production data of government-run Coconut Development Board, India consumed 21,059 million nuts, unlike the Philippines, Indonesia, and Brazil, who contribute the lion's share to the export basket.
By 2050, when the country is likely to have a population of 1.62 billion people, the projected coconut demand is about 45,000 million nuts. According to the Vision 2050 document prepared by Indian Council of Agricultural Research and Central Plantation Crops Research Institute (CPCRI), Kerala, based on projected production, there would be a demand-supply gap of 8,695 million nuts by 2050.
Gaining new ground
"Coconut farming has not become popular among Konkan farmers despite suitable climate and soil conditions, due to fragmented holdings, scattered farms, homestead nature of production, lack of skilled manpower and non-availability of good hybrid saplings," Vaibhav Vilas Shinde of the Ratnagiri-based Regional Coconut Research Centre told VillageSquare.in.
In a bid to promote cultivation, the Coconut Development Board (CDB) set up its first demonstration-cum-seed production farm in 2013 in Palghar, Maharashtra on a 100-acre plot. Concentrated in the country's coastal belt till recently, coconut palms are now finding new ground, such as in Rajpurohit's farm in Rajasthan!
E. Aravazhi, deputy director of Maharashtra state center of CDB, categorises them as non-traditional areas. CDB has been encouraging farmers in the non-traditional areas of Maharashtra like Pune, Ahmednagar and Nashik with an annual rainfall of 600-700 mm compared to the Konkan belt with 2,000 mm of rainfall.
The Palghar farm has a nursery of tall, hybrid and dwarf coconut varieties. "We educate prospective growers about the pros and cons of each variety. For example, the tall variety can live for nearly 100 years, while the others for about 50. We stress on the purpose of growing it, that is, for tender coconut or copra. In addition, we advise them on fertilizer requirement, identifying and combating pests," Aravazhi told VillageSquare.in.
From India: Then and Now
A native of India, coconut has travelled far and wide. According to plant evolutionary biologist Kenneth Olsen of Washington University in St. Louis in the United States, the coconut was brought under cultivation in two separate locations, one in the Pacific basin and the other in the Indian Ocean basin. Olsen arrived at this conclusion after conducting DNA analysis of more than 1,300 coconuts from around the world.
Europeans and the Portuguese introduced the Indian Ocean coconut in many countries. As in the past, now coconut and coconut products such as coconut oil, copra, desiccated coconut and coir products reach many countries.
A source of livelihood to millions: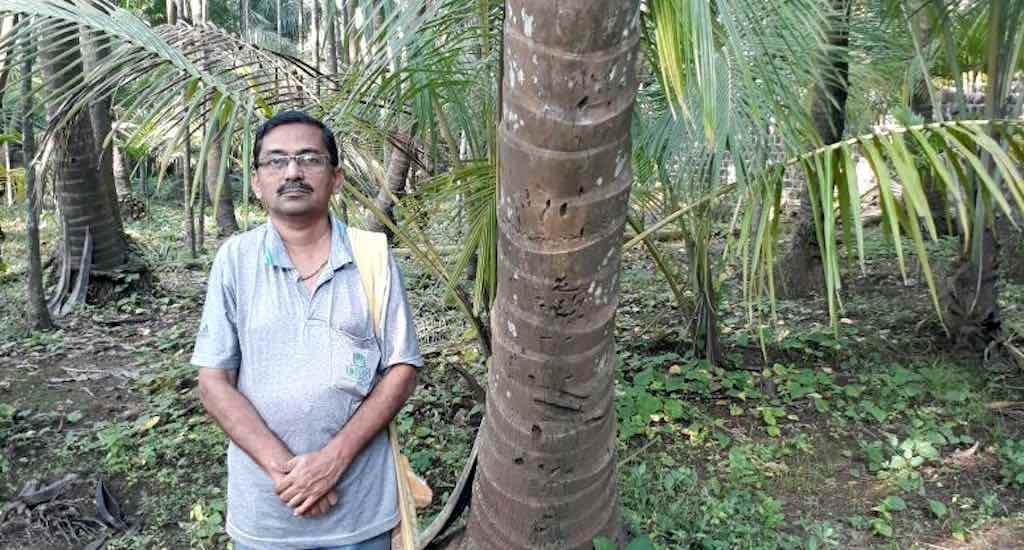 According to the Vision 2050 document, growing coconut provides direct sustenance to more than ten million people in the country. Processing activities centred around it provide employment opportunities to more than three million people.
While millions earn a livelihood growing coconut, others make a living by making value-added products, thanks to scores of end products — totalling 25 at last count, including flower syrup, palm jaggery, coconut flour and chips. Units producing products such as coir pith, shell charcoal and shell powder made from its waste also employ lakhs of people.
Each day traders arrive at Rajpurohit's farm to pick up the produce, paying Rs. 22 per coconut. Having achieved the unachievable, Rajpurohit hopes to make a couple of lakhs every year from his coconut grove.
Among the several coconut farmers in the Konkan belt is 57-year old Ravindra Patil of Chaul village in Raigad district of Maharashtra. A chemist working in a fertilizer company, he augments his income by about Rs 100,000 per year selling tender coconuts. He gets this from the 187 palms in his 3.5-acre farm, the palms having been planted by earlier generations successively.
Last year Patil trained 35 of his neighbourhood youth on the technique of climbing trees and plucking the nuts. The youth now make a living by charging Rs 70 per tree climbed.
Another person to have successfully grown coconut in a non-traditional area is 54-year-old Janardan Gyandev Tupe of Chanda village of Ahmednagar district. Besides growing sugarcane and custard apples, Tupe has 450 coconut palms growing on his six-acre farm, entirely through drip irrigation. Each day he sells around 150 tender coconuts for Rs 15 apiece, picked up by the local tender coconut vendors. "Growing coconut can be a money spinner but you need to have patience as it takes around eight to 10 years to exhibit its fruit potential," Tupe told VillageSquare.in.
To Improve production
Kerala leads in coconut production at 7429 million nuts followed by Tamil Nadu, Karnataka, Andhra Pradesh and West Bengal. Maharashtra with a 780 km long coastline produces 271.24 million nuts.
CDB has introduced various measures not only to increase production but also to ensure better income for the coconut farmers. Experts advocate inter-cropping with spices to increase coconut productivity.
"This year I'm experimenting growing Basmati rice and elephant foot yam as intercrops," Patil told VillageSquare.in.
Most growers are members of Coconut Producers Society (CPS), an initiative of CDB, with each CPS comprising 40 to 100 growers in a contiguous area, with a consolidated minimum of 4000 palms. Kerala leads with 7180 CPSs. Member farmers benefit through good planting material and technology associated with its cultivation and guidance during pest attack.
At the next level, CPSs join together and form producer companies. In Palakkad district of Kerala, 458 CPSs have together formed the Palakkad Coconut Producer Company, which has established high-tech coconut driers, a neera tapping unit and 30 Coconut Points, a retail network.
No other fruit offers so much bounty as Cocos nucifera (from the Spanish coco, meaning spectre, referring to the three marks giving it an eerie look and nucifera meaning bearing nuts).
Hiren Kumar Bose is a journalist based in Thane, Maharashtra. He doubles up as a weekend farmer.
Adapted from an article originally published on VillageSquare.in. Subscribe to VillageSquare's weekly update on the website for more stories from rural India.
Like this story? Or have something to share?
Write to us: contact@thebetterindia.com
Connect with us on Facebook and Twitter.
NEW: Click here to get positive news on WhatsApp!