Drawn in Group A, India is led by Amarjit Singh Kiyam and will face USA in the first knockout stage on Friday at the Jawaharlal Nehru Stadium in New Delhi.
With India hosting the Under-17 FIFA World Cup, every football fanatic in the country is eagerly awaiting the tournament.
More so, because this is the first time that an Indian team will be part of a coveted international football World Cup.
From a street vendor's son to a youngster from a household of tailors, the team representing the nation comprises an amazing amalgamation of teenagers from across the country who have made it to the top despite facing various adversities in life.
Drawn in Group A, India is led by Amarjit Singh Kiyam and will face USA in the first knockout stage on Friday at the Jawaharlal Nehru Stadium in New Delhi.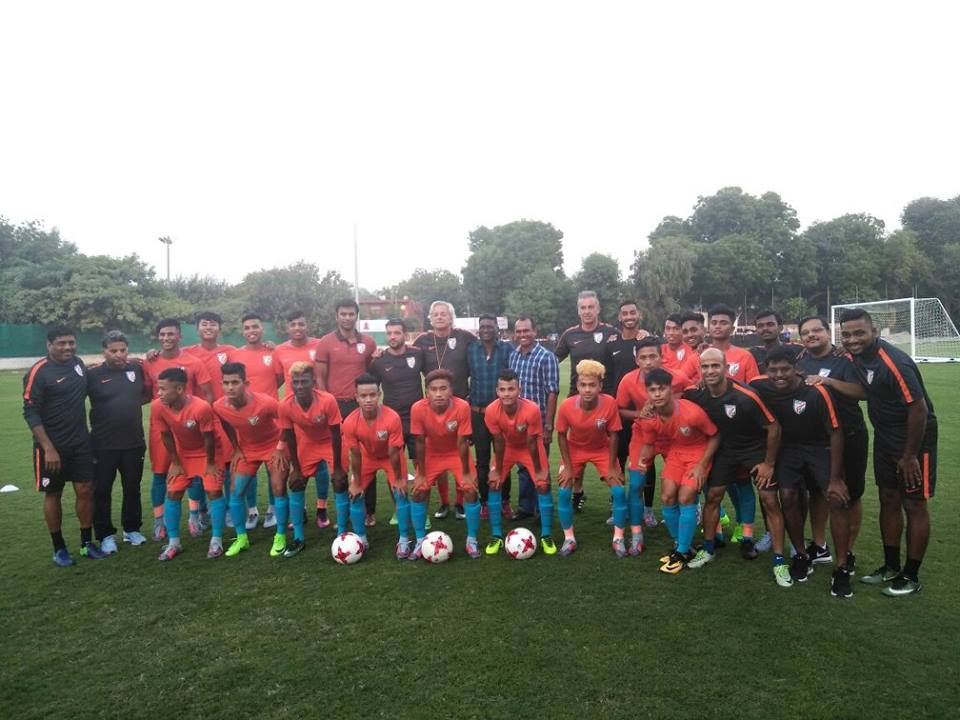 Here is everything you need to know about the Indian squad all geared up to settle scores on the field:
1. Amarjit Singh Kiyam, (Midfielder/Skipper)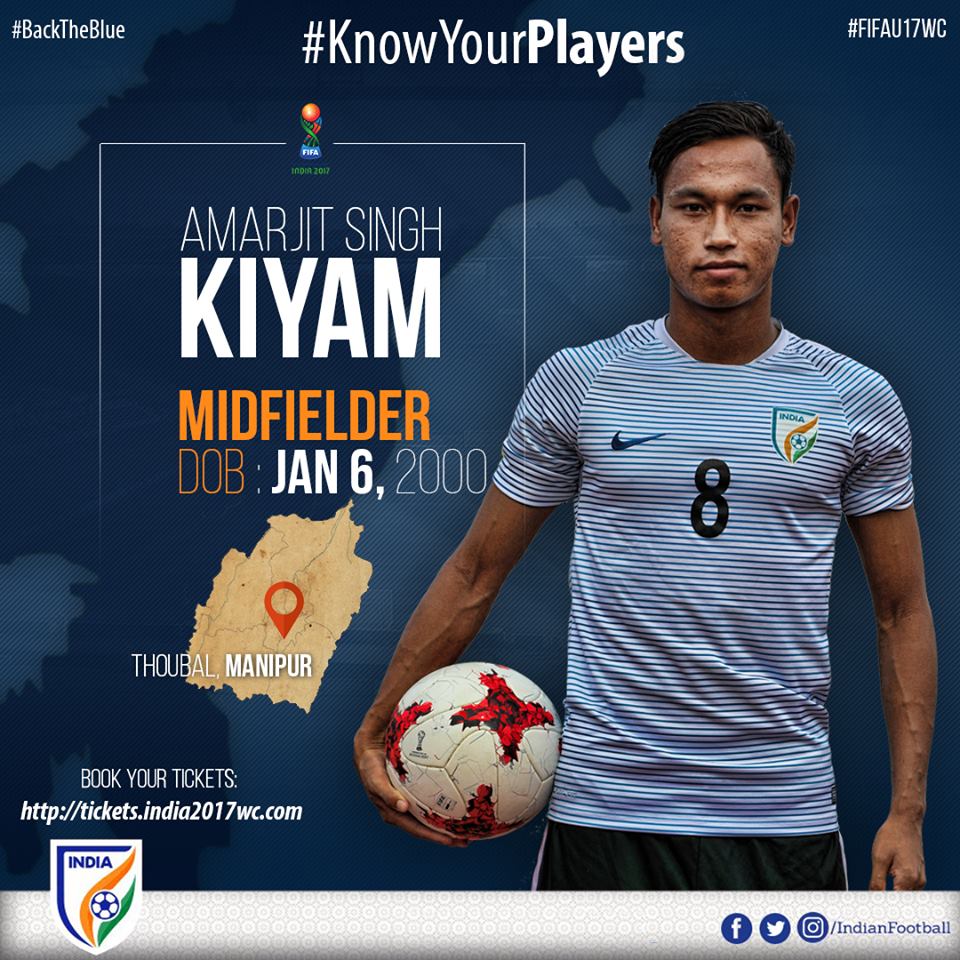 Hailing from a small town in Manipur, Amarjit's passion for the sport began at an early age. The 16-year-old's father, Chandramani Singh Kiyam, is a farmer, while his mother, Ashangbi Devi, sells fish for livelihood.
His love for football took him all the way to Chandigarh Football Academy in 2010 where his proficiency was recognised by national selectors. Packing his bags for the AIFF Academy in Goa, the ace footballer has been training at the academy ever since.
Amarjit attributes his success to the unfaltering support and encouragement lent by his father, who used to take up carpentry during off-seasons to sustain the family.
2. Komal Thatal (Midfielder)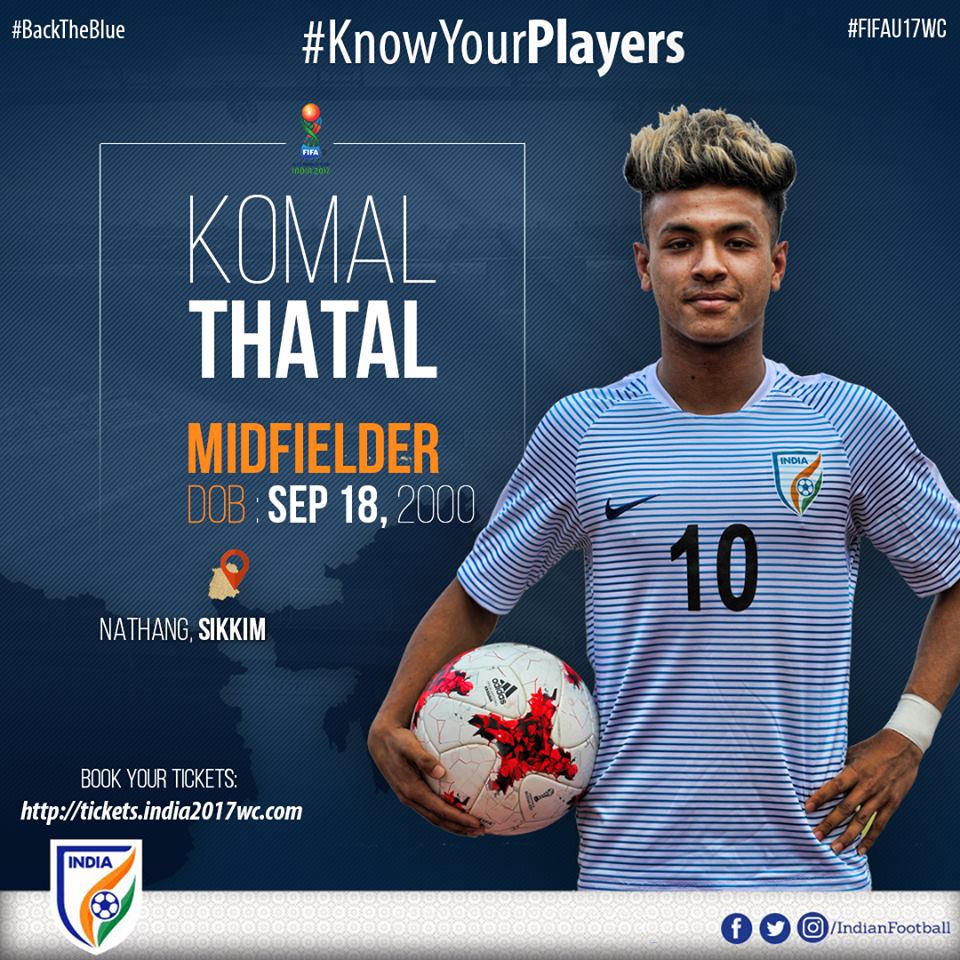 For a child from a family of tailors to make it to the national football team, one would imagine the odds as highly unlikely. But Komal Thatal from Sikkim made it.
Not having enough funds to purchase a football, the young man spent his childhood playing with a ball made of rags. Seeing his dedication and passion, his parents saved every penny from their measly income and bought him shoes and a football!
Starting from his school at Timberbong under Soren sub-division in West Sikkim, Komal soon made it to the Namchi Sports Academy by 2011, where he impressed the academy staff with his talent. And when AIFF was shortlisting players to be part of the U-17 World Cup in 2014, Komal aced to the camp as well.
One of the strongest members of the team, he came under the limelight during the BRICS Cup in Goa last year, when he scored a brilliant goal against Brazil despite India losing the match eventually.
3. Sanjeev Stalin (Defender)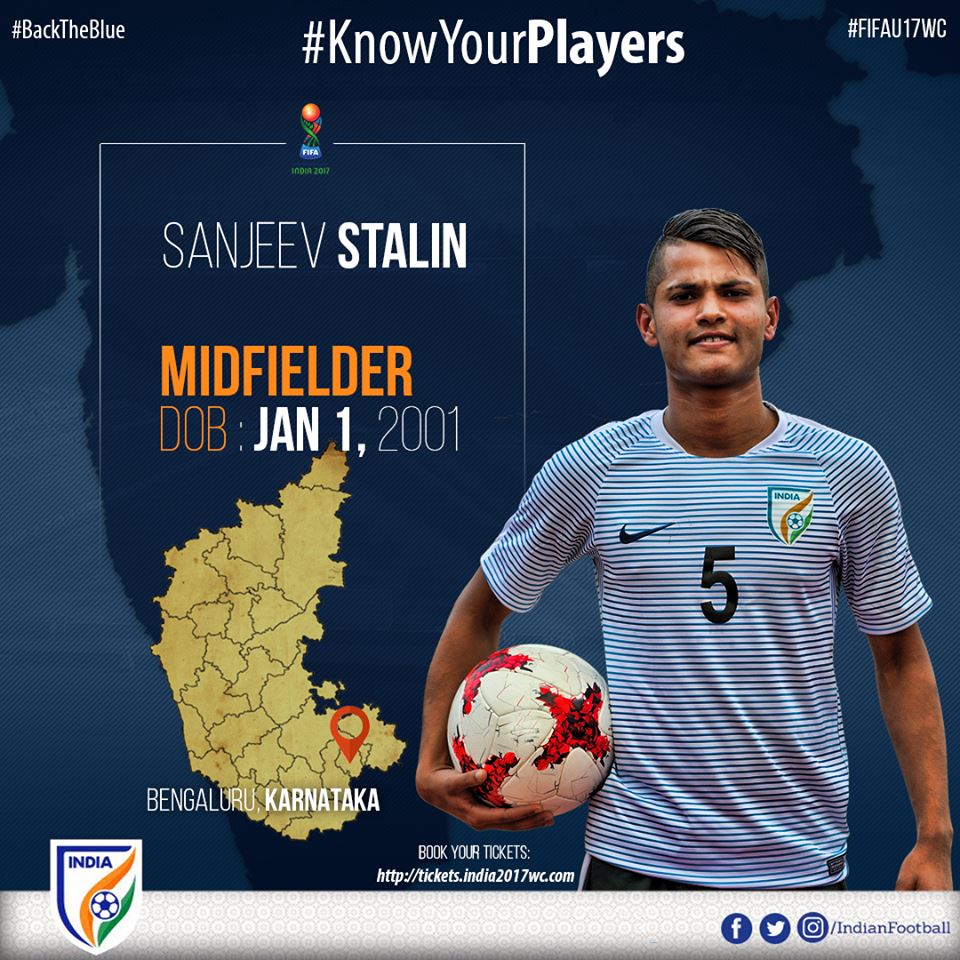 A Bengaluru native, Sanjeev's family sold clothes on the footpath in the city to eke out a living. But for the young footballer, something else was written in the cards.
Despite a paltry income, his family supported Sanjeev's dream and enrolled him at Chandigarh Football Academy where he trained for seven years before heading to the national camp at the AIFF academy.
4. Jeakson Singh (Midfielder)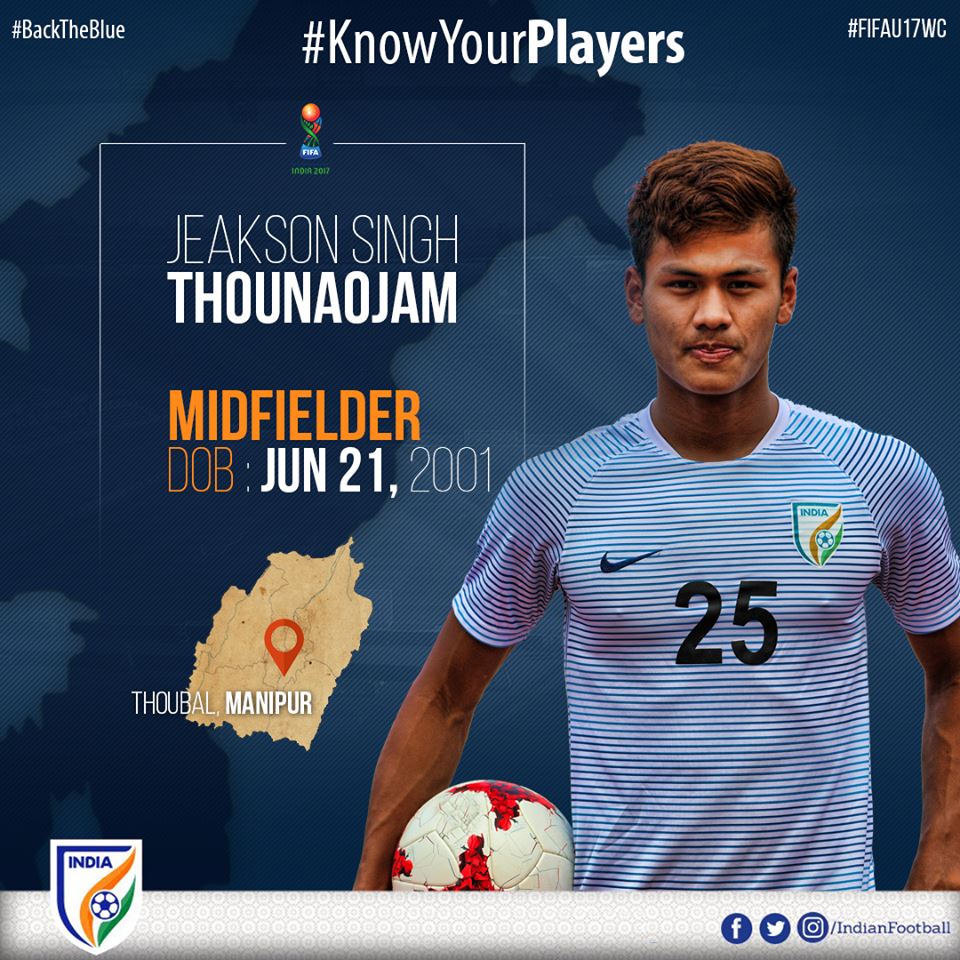 Perseverance and determination is how a young footballer from Manipur made it to the national U-17 team. With sports running in the bloodline of Jeakson's family, the boy took to football at an early age owing to regular visits with his father to the village's local club.
Joining Chandigarh Football Academy, he spent many years training persistently with the goal of donning the national jersey propelling him further. And his years of effort paid off when he made it to the U-17 squad.
5. Suresh Singh Wangjam (Midfielder)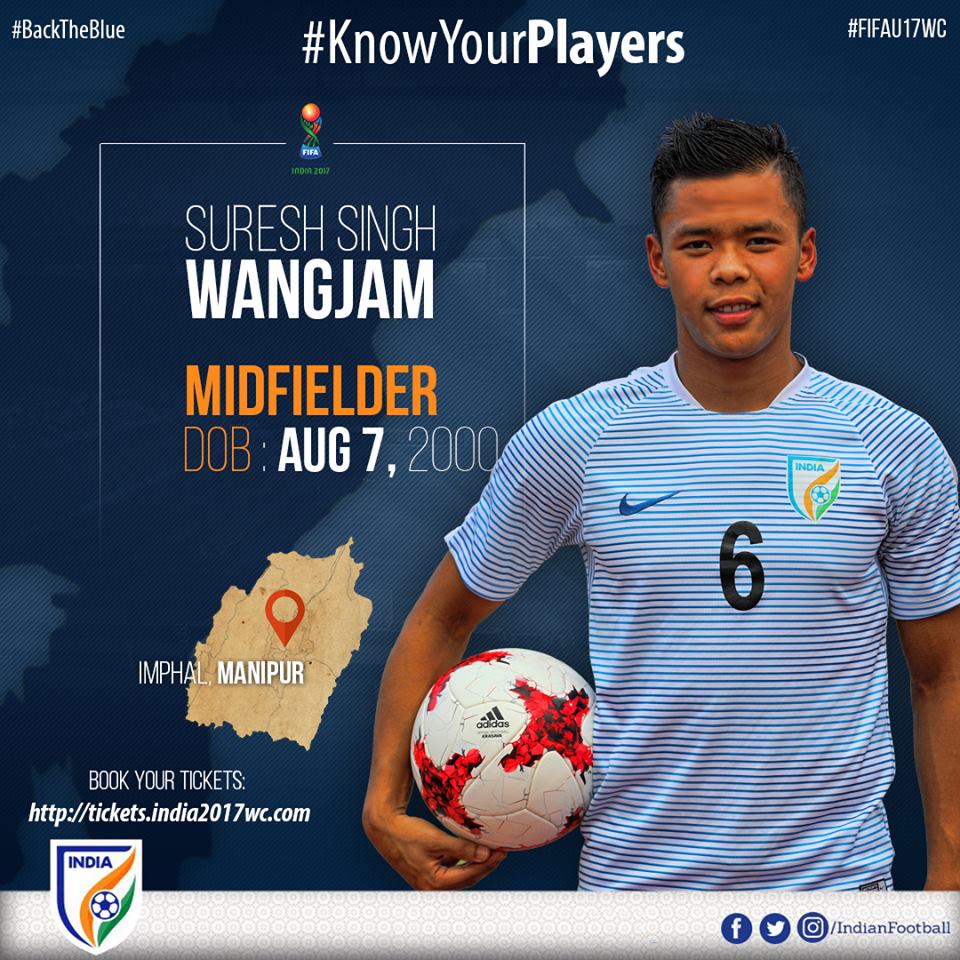 One of the star performers in the team, Manipur resident Suresh had previously displayed his prowess by leading the side in the AFC U-16 Championships and BRICS Cup in 2016.
But the journey has not been one of smooth sailing. Despite facing objections from his family for his chosen vocation, Suresh remained steadfast and pursued his passion with utmost dedication and ended up representing Manipur for the national Under-14 Championships in 2011.
His proficiency didn't go unnoticed and following a trial in Goa by the national selectors of U-17 World Cup, the rest is history.
6. Anwar Ali (Defender)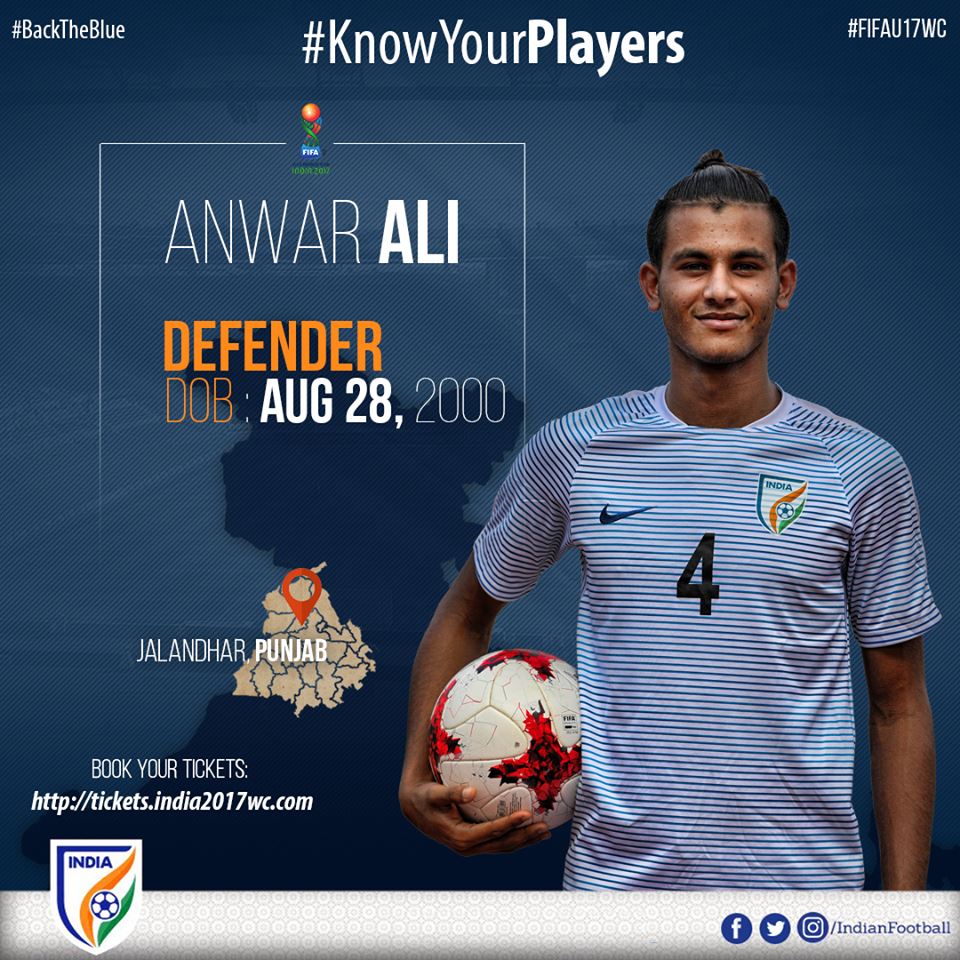 One of four players from Minerva Punjab FC, Anwar hails from the small town of Adampur in the district of Jalandhar. He had previously played for the country's U-14 team, post which he joined the Mahilpur academy and eventually Chandigarh's Minerva FC Academy.
Interestingly, Anwar had always shown affinity towards cricket when he was growing up. It was his father who encouraged the boy to take up football.
7. Abhijit Sarkar (Midfielder)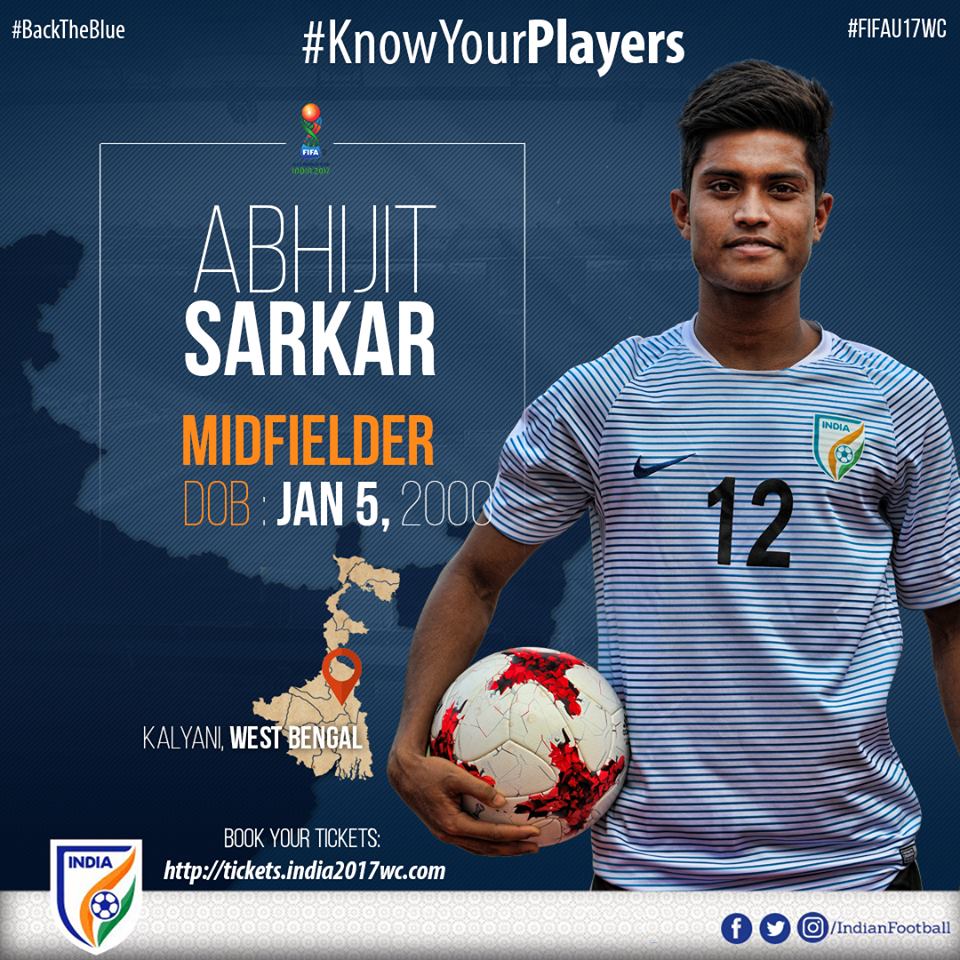 Despite the daily struggle to make ends meet, Abhijit's parents did everything to encourage the budding sportsman in their son. Hailing from Kalyani, West Bengal, his father works as a van-rickshaw driver and his mother works at a local grocery shop binding cigarettes.
But that didn't prevent them from letting their child to chase his dreams, as long as he did well in school too.
Abhijit's moment of fame came during the 2017 European exposure tour where he scored against Italy XI and later against Valmontone City in the group stage of the Lazio Cup.
8. Dheeraj Singh Moirangthem (Goalkeeper)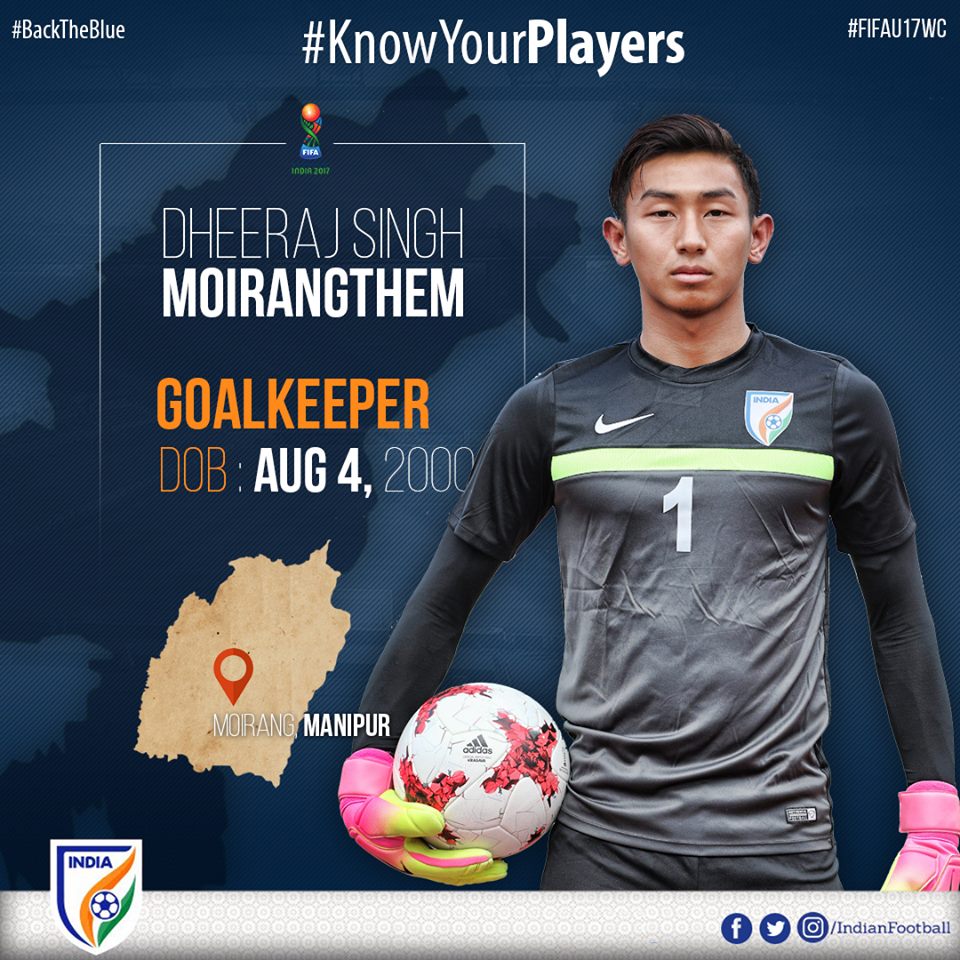 A native of Moirand village of Manipur, Dheeraj was an avid sportsperson during his school days. But never in his dreams, had he thought of being part of the national team, let alone participate in the FIFA World Cup.
Starting with a local team of Bisnupur district, Dheeraj soon made to Manipur's junior team and hit another milestone after being picked to train at the AIFF Academy and found himself a place in the U-14 Indian team.
9. Boris Singh Thangjam (Defender)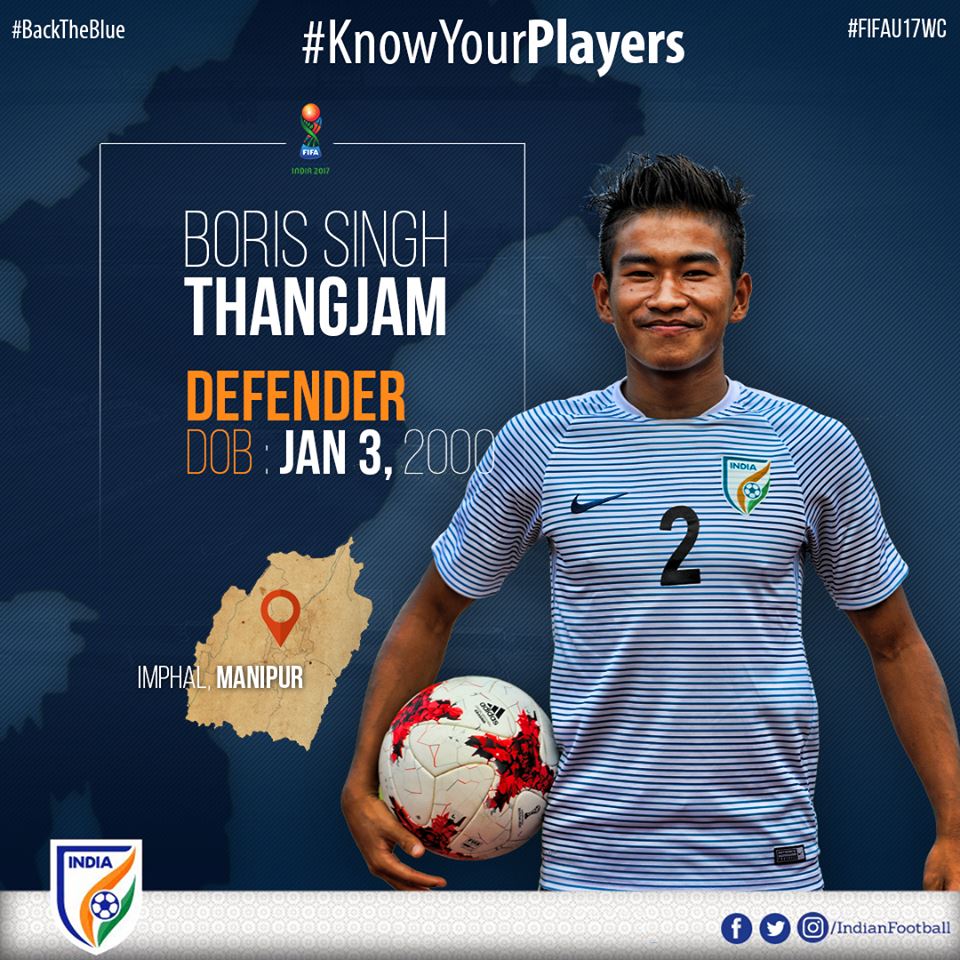 One of the eight players from Manipur in Indian World Cup squad, Boris comes from a family who didn't quite support his dream of becoming a footballer. Also, lack of resources kept the young boy from playing with a 'real' football for a long time and had to make do with a tennis ball.
Right when one thinks of nothing being more saddening, the local grocery store that was run by Boris's family had to be shut down and his father had to work on a daily-wage basis.
Despite adverse times pushing the man to discourage his son from sports and concentrate on studies, Boris stuck to his passion. Somehow things worked for the young footballer, who went on to play in the AFC U-16 championship and was India's key defender in this year's Four-Nation Tournament in Mexico.
10. Aniket Jadhav (Striker)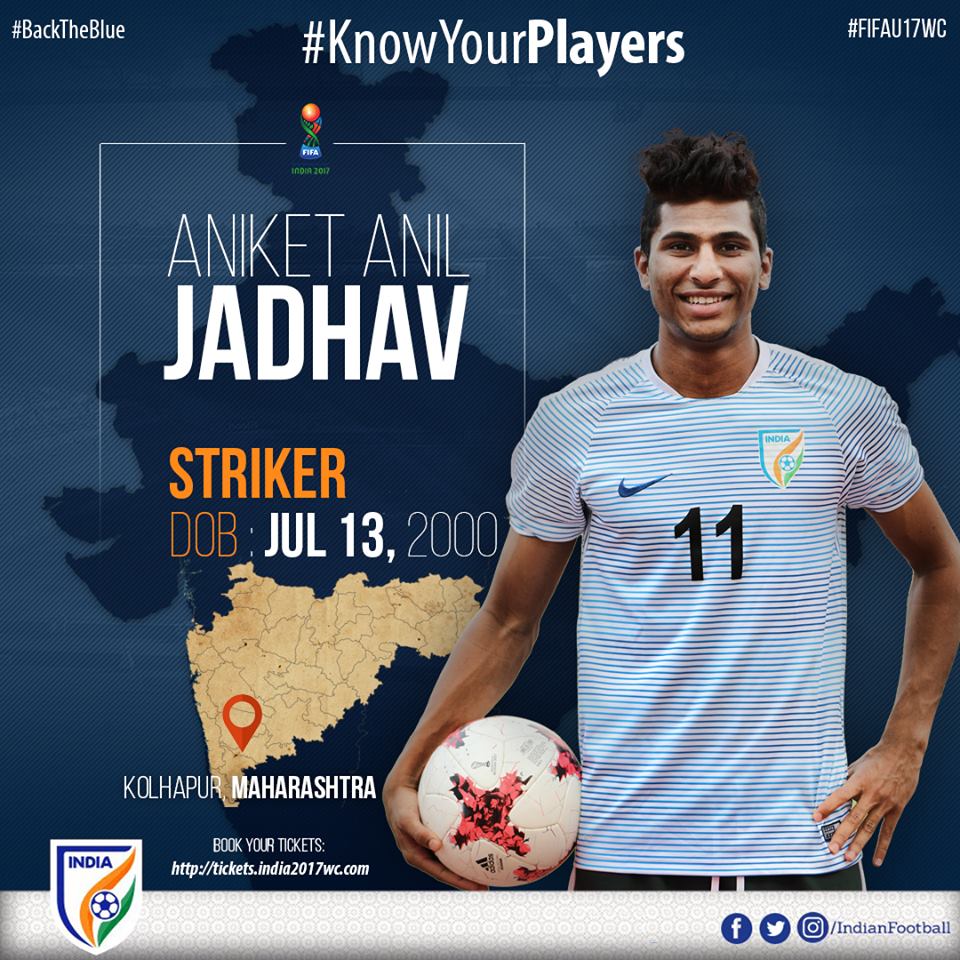 One of the 10 players chosen by former Germany and Bayern Munich legend Paul Brietner to represent India at the FC Bayern Munich Youth Cup in 2010, the love for the sport in Aniket goes all the way to his football frenzy town of Kolhapur in Maharashtra.
Starting with his school Krida Prabodhini in Pune, Aniket later joined the Pune FC's under-15 team and subsequently made it to the U-17 side. Though he stands as a striker for the U-17 squad, he had started out as a left-back and later auditioned as a left-winger.
11. Rahul Kannoly Praveen (Defender)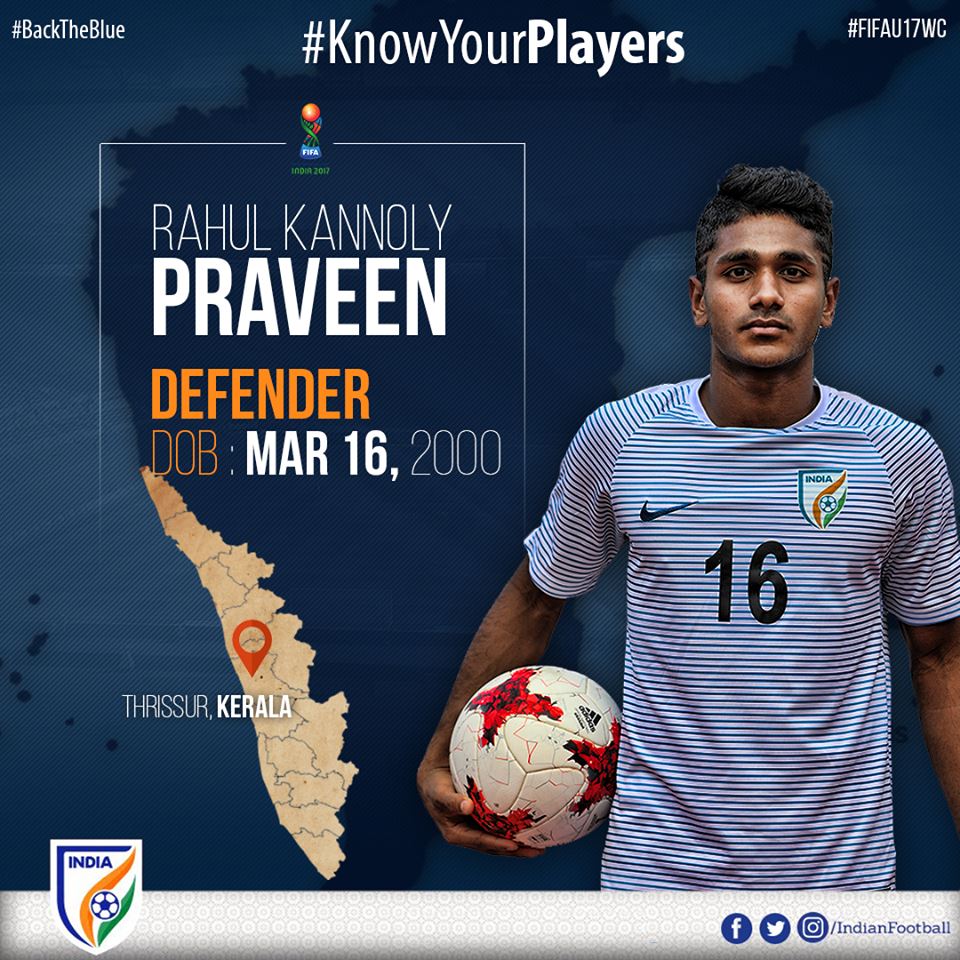 A self-taught footballer, Rahul was spotted by former Kerala Santosh Trophy coach M Peethambaran during a coaching camp in 2011. The son of a dog-breeder from Thrissur in Kerala, Rahul was introduced to the world of football by his uncle and taught himself the game and its rules while playing with his friends.
After being selected for the U-14 State Football Championship team, his next pit stop was U-14 National Football Championship that was held at West Bengal in 2013. He had undergone training at various national-level football camps for the past three years.
The remaining players in the squad include goalkeepers Prabhsukhan Gill and Sunny Dhaliwal, defenders Jitendra Singh, Hendry Antonay and Namit Deshpande, midfielders Ninthoinganba Meetei, Lalengmawia, Nongdamba Naorem and Md. Shahjahan and Rahim Ali amongst the forwards.
Like this story? Or have something to share?
Write to us: contact@thebetterindia.com
Connect with us on Facebook and Twitter.
NEW: Click here to get positive news on WhatsApp!