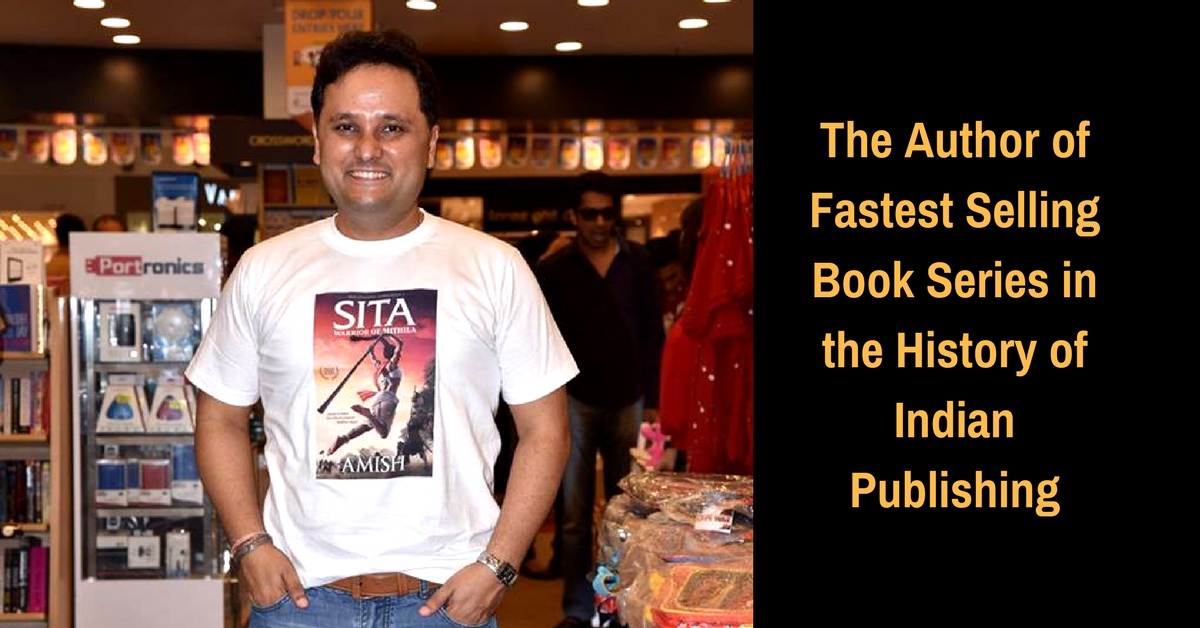 An exclusive interview with Amish Tripathi, the author of the Shiva trilogy — the fastest selling book series in the history of Indian publishing.
"The stories of our gods have constantly evolved, retaining the best of the old, but adding in the attractiveness of the new, thus keeping our myths relevant, ever-contemporary and alive," says author Amish Tripathi, in his first non-fiction book, Immortal India. 
With four million copies in print, Amish is the author of fastest selling book series in the history of Indian publishing.
In a free-wheeling conversation, we caught up with the Benaras-born-Mumbai-based man who is redefining the way young Indians look at mythology.

Edited Excerpts:
Q: You were a banker before you became an author. What made you move from number-crunching to writing?
Amish Tripathi: After completing my MBA from IIM-Kolkata, I worked for a few years as a banker before venturing into writing in early 2004. A voracious reader, I had always been fascinated by India's ancient culture and when an idea for a story in this genre got hold of my soul. I just had to write it. I know it sounds strange but that's how I was inspired to write a mythological fantasy revolving around the adventures of Lord Shiva.
Written almost entirely during my daily home-to-office commutes, my first book, The Immortals of Meluha, took nearly five years to finish. After it was completed in 2008, I approached every single publisher, big and small, but none of them was ready to publish it. I was told that there was no way this book could sell as young readers were not interested in mythology and religion.
After more than 20 rejections, I decided to self-publish. Within two weeks of its launch, Meluha had hit the country's bestseller chart. Its humongous success was something I had never expected from my first book!
Q. Your books often carry an inspirational message. Is it a conscious decision?
Amish Tripathi: According to ancient beliefs, a book without some philosophy is like a body without its soul. I strongly believe in this and hence, I do try to include some kind of philosophy or deeper message in my books.
Also, I find mythology to be one of the best sources of philosophy. The roots of the word 'mythology' lie in the Greek word 'mythos' which denotes a story or set of stories having a significant truth, philosophy or meaning.
Q. What's the sort of research that goes into your books —  from both the mythological and historical point of view?
Amish Tripathi: I love reading and the knowledge I gain through my time spent reading is essentially what forms the foundation of my research. When I am reading, I don't really think about what and where in the story the information will go.The idea is to let my mind absorb as much information as possible and let it find a place of its own in the natural flow of thoughts that accompany my writing.
One thing I consciously try to do is read as many interpretations and different perspectives as possible. They are all somewhere at the back of my head while I write and they come out in the way Lord Shiva wills it. That's the way I see it.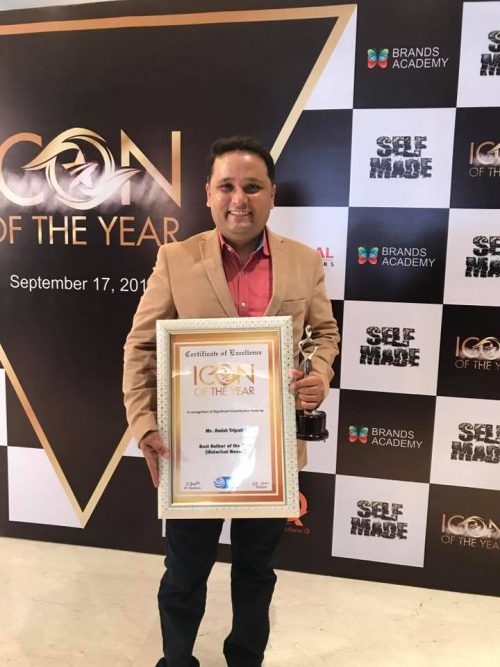 Q. What creative purpose do contemporary language and symbols of modernity serve in the ancient settings of your books?
Amish Tripathi: There a few factors involved in this. I tend to write in the language and idiom that I am most comfortable in. Also, I believe that language is the means to an end, and not the end itself. So making the story and its message as easily understandable as possible is important. And using contemporary language and symbols of modernity helps accomplish this.
Another aspect is that the juxtaposition of the modern and the ancient can often give an interesting and unique makeover to an old story. The core remains the same, the soul remains the same, but the packaging can be fresh and new.
For instance, the famous 1996 film adaptation of Shakespeare's Romeo and Juliet by Baz Luhrmann. While it retains the original Shakespearean dialogue, the film's setting was modern — with the Montagues and the Capulets represented as warring mafia families and swords replaced with guns!
Q. From tattoos to shirts with embroidered book covers, your books have become a hit among Indian teenagers and 20-somethings, a group that wouldn't normally read mythology. What do you think is the reason for your immense popularity among young Indians?
Amish Tripathi: Mythology is so deeply ingrained in our genes that most Indian enjoy hearing the stories again and again. So I expected the books to do reasonably well. But yes, their tremendous success was like a dream come true.
Interestingly, the fact that much of my readership falls into the young adult category — between 14-30 years — assures me that the Indian mythology genre will continue to thrive even in the future.
As for the reason behind this success, it remains a suspense to this day. Maybe it was the relatable language, maybe the underlying message, maybe the marketing strategy or maybe the different interpretation of the story. But personally, I believe it is due to the blessing of Lord Shiva.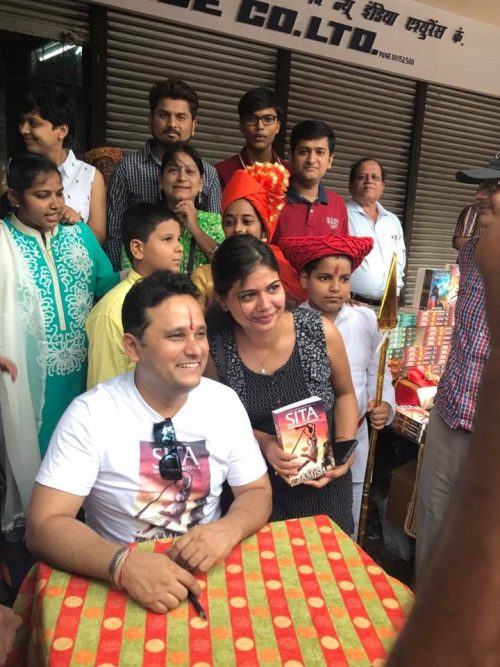 Q. Long hours of writing require the sustained concentration provided by a daily routine. Can you tell us about the writing rituals that help you the most?
Amish Tripathi: Along with reading, writing is my favourite thing to do. Everything else is a chore. When I write, it's like I am in a parallel universe, busy recording what I see happening there. And it's a very special, almost spiritual, experience.
However, while on some days, I write for hours on the trot, there are other days when the words simply don't flow. On such occasions, instead of getting frustrated, I just shut my laptop and spend the day reading books or watching movies.
As for my daily routine, I am a morning person and begin my day as early as 5.30 am. After reading newspapers and completing my puja, I sit down to write while listening to music — I listen to all kinds except rap. One quirky habit that I have is that I enjoy munching on cream biscuits while writing, especially those in my favourite bourbon and pineapple flavours.
In fact, when a fan came to meet me at home, he brought an entire carton of cream biscuits for me (he had read that I liked eating them while writing). While handing over the box, he asked me to finish my next novel faster now that I had a steady supply of cream biscuits!
 Q. What, according to you, is the biggest perk and biggest challenge of being a writer? Also, what is that one moment you treasure most as a writer?
Amish Tripathi: The best part of being a writer is that I now get to buy all the books that I want without worrying about splurging. After all, they count as research!
As for the biggest challenge, it has to be time management. As a writer, it's tough yet important to ensure that marketing, interviews and other distractions do not eat into the time that should be devoted to writing itself.
While there have many memorable moments in the last few years, the one moment that I will cherish for a lifetime is when I received the first printed copy of my self-published book, Immortals of Meluha. My son was just over a year old back then and seeing him holding a book I had written was a very special feeling.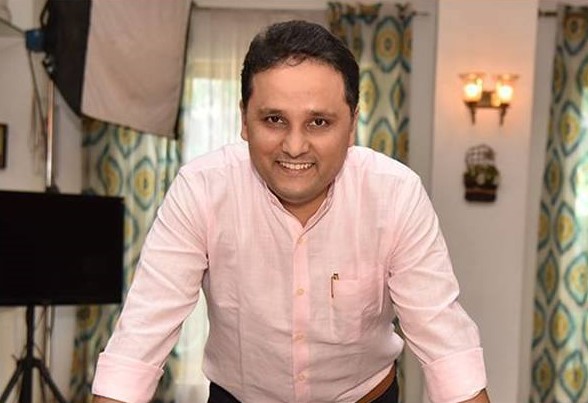 Q. What can readers expect from you in the future?
Amish Tripathi: Well, I have enough story ideas to keep myself busy for the next few decades! So I plan and hope to keep writing for as long as my books continue to interest readers.
This year, I have released my first non-fiction book, Immortal India, that is a compilation of my thoughts on the challenges India is facing currently. However, fiction is what I love to write, so the next book will be the third part of the Ramchandra series and will be based on Ravan.
I also have ideas for stories on others civilizations like Egyptian, Mesopotamian and Anatolian. In fact, I have even left clues for these in my previous books. So, a future series may just be focused around a character from one of these foreign civilizations!
Q. Any message you would like to give to aspiring writers?
Amish Tripathi: No one can predict what the market will like. So don't try to write something just because you think it will succeed. Be true to your heart and just write what feels right to you. That's the best thing you can do for yourself.
As for handling criticism, listening to constructive feedback is important as it helps you grow. At that same time, one should filter out every word or thought thrown at you. It's unfair and impossible to implement what everyone suggests as that would ultimately mean leading someone else's life
---
Also Read: From Corporate Warriors to India's Favourite Foodies – The Journey of Rocky and Mayur
---
Like this story? Or have something to share? Write to us: contact@thebetterindia.com, or connect with us on Facebook and Twitter.
NEW: Click here to get positive news on WhatsApp!
We bring stories straight from the heart of India, to inspire millions and create a wave of impact. Our positive movement is growing bigger everyday, and we would love for you to join it.
Please contribute whatever you can, every little penny helps our team in bringing you more stories that support dreams and spread hope.