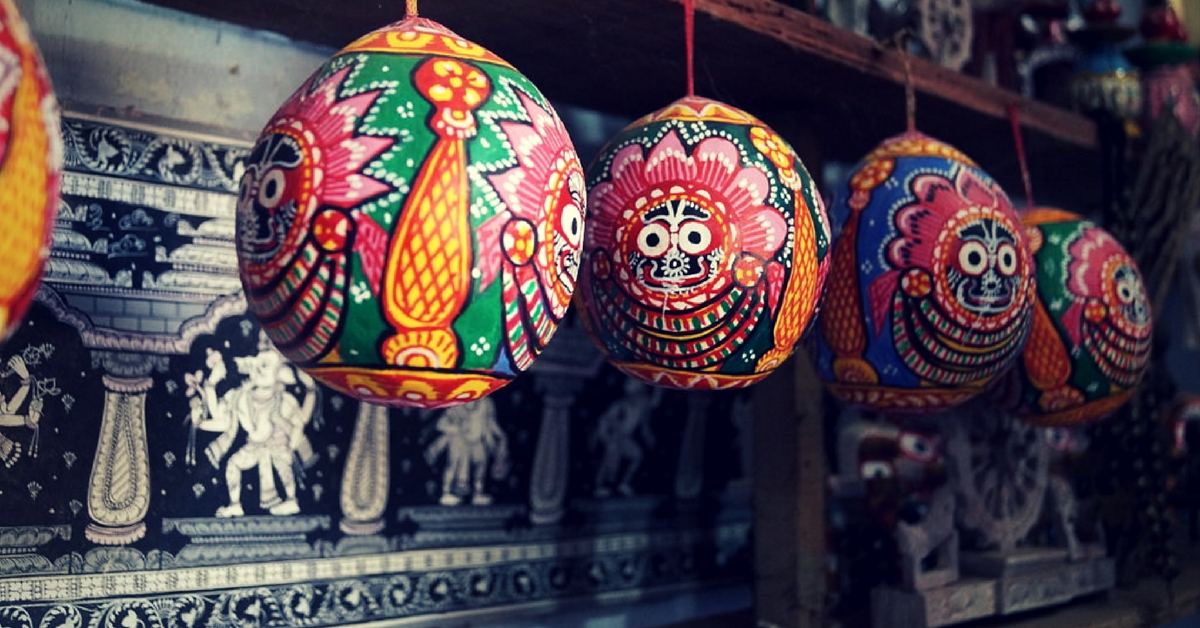 The iconic village of Raghurajpur in Puri district is home to over 300 artists who are still actively practicing traditional forms of painting and dance while keeping pace with the digital age. Jael Silliman takes a closer look.
Barfi pink. Bright blue. Deep ochre. Violet and saturated orange. Etches and paintings of Gods and Goddesses. Green parrots flying on a wall. Lush greenery. The source of Odissi dance.
Welcome to Raghurajpur in Puri district, home to over 300 artisans who have learned and still practice various traditional art forms handed down over the generations. A family of artists lives in each of the 100 or so painted, yet modest households, which face one another. A series of temples dedicated to local and Hindu Gods occupy the lane between the homes. Here, in Raghurajpur, worship and art are one — each breathes life and gives meaning to the other.
The chitrakars (painters) are the most famous and numerous among Raghurajpur artists. They paint brightly colored mythological stories about Jaganath and other Gods, especially Krishna. Derived from the Sanskrit word patta (canvas) and chitra (painting), pattachitra has its roots in the 12th century.
Painstaking workmanship
Men and young boys portray dramatic mythic themes and flamboyant processions. Historically, women painstakingly prepared the canvases. Today men and women learn the art of designing and executing pattachitra paintings from their parents and grandparents, and proudly display numerous national awards for their excellent workmanship.
---
You might also enjoy reading: How a Rajasthan Village Overcame Centuries Of 'Tradition' and Apathy to Ban Child Brides
---
This artists' village is also known for intricate palm leaf folded pictures etched in black with cut-outs, delicate brushwork on tussar silk, stone and woodcarvings. The stories are ubiquitous. Colourful painted coconuts reveal stories, as do painted birds, papier-mâché toys, masks and painted boxes that are displayed on meticulously clean stone front porches. Fashioned from local materials — palm leaf, coconut, local dyes, mouse hair, stone and wood — this range of art works have a unique beauty and guileless charm. The art works bring even more luster and eye-popping colour to the village.
The front room of each home serves as both studio and exhibition space. Surprisingly un-commercial, the artisans, men and women speak in Odiya, keenly showing their work and explaining the tradition, narrative and the techniques they apply.
Home to performing artists
Raghurajpur is also home to performing artists, most notable being the late Guru Kelu Charan Mohapatra. His father was a painter and mrudangam player. Kelu Charan trained in the Gotipua dance tradition in Raghurajpur, and became renowned as the leading proponent of Odissi dance. He is credited for reviving this ancient dance form. For Guru Mohapatra dance was worship. Today there is a dance studio in Raghurajpur in where young students still receive training in Gotipua, an acrobatic dance form that is a precursor to Odissi. Students from Raghurajpur participate in national dance festivals and public events.
This dense concentration of skilled artists, keeping alive several Odissi art forms, is truly unique. Not surprisingly, Raghurajpur was recognized as a Heritage Village in 2000. Since 2000, INTACH ICCI, NORAD, India Foundation for the Arts, Bangalore and Government of India, Orissa, worked in tandem to develop Raghurajpur as a crafts village.
They trained artists to relearn traditional techniques and apply them in their art works. For example, they were retaught how to apply plaster made of lime, jute, molasses, lentils, curd, casein and local herbs such as trifala and bel. To boost rural tourism they were encouraged to paint their homes to showcase and display their art.
Dance teacher and artist Guru Gangadhar Nayak spoke about his efforts to pass on Gotipua. No longer able to see well enough to do the artwork of which he was also a master, today he trains young boys to perform this local dance tradition. This is his passion. In Gotipua, young boys dress as females and also sing devotional songs while performing the dance. It is embedded in the Sakhibhav movement where devotees consider themselves cohorts of Lord Krishna. The songs that are sung to accompany the dance are generally compositions of Vaishnav poets.
Artist's haven
Nayak recounts his version of how Raghurajpur evolved as an artist's haven. "A Chaitanya bhakt from Bengal came and settled here which was then a jungle. He made a representation of Jaganath. He colored the face of the Lord from coal, which is why Jaganath is still represented with a black face. This sage was the first artist of the village. In pursuit of the Divine he experimented with limestone and then color and this was the way our village evolved and became an artist's village," he told VillageSquare.in. "The art form Chitrakala developed here."
Nayak also recounted memories of an American woman, Helen Jerry, who was among the first people to recognise the artistry of the community. She worked to publicise their art and also bought and had much of their works sold abroad.
Ever since Raghurajpur was chosen as a heritage village, many more tourists, from India and abroad, have come to admire their art and purchase it directly from the artists. A few visitors come to learn traditional art techniques. On the day we visited, we were the only tourists there.
Digital village
This year Raghurajpur was adopted by the Bank of India as a digital village and 20 points of sale machines have been installed by the bank in addition to opening two hundred savings bank accounts. There is also an ATM machine and a few artisans accept PayTM.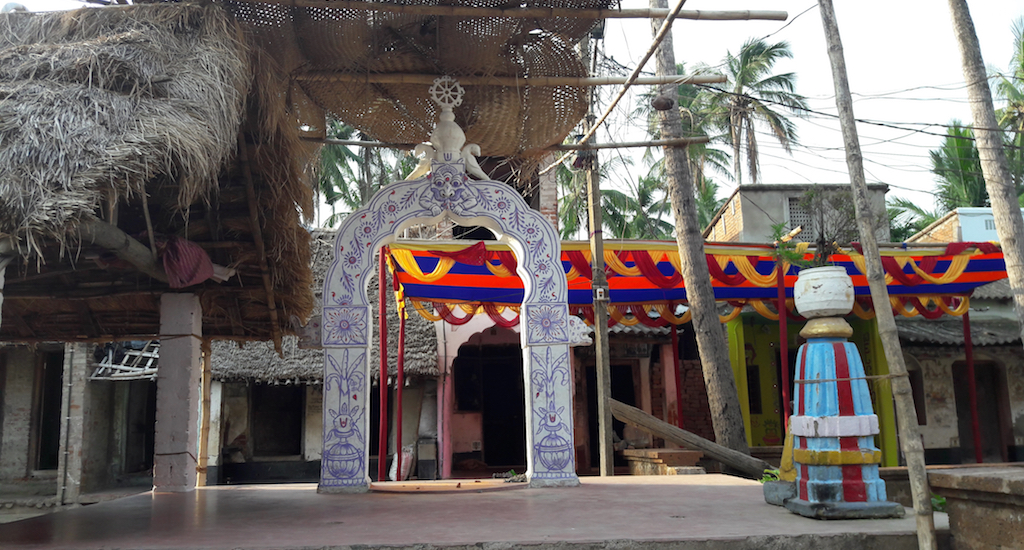 Raghurajpur has been included in the ideal crafts village scheme and online sources state that the Center has sanctioned Rs 100 million for overall development of the village. None of the people we spoke with knew much about this development of which three crore has apparently already been released. As part of this initiative the state government is planning to design the doors of every house and strengthen water and sanitation facilities. Plans for a guesthouse are also supposedly in the works.
Artistic Effervescence
Over time, the government has been called Raghurajpur a "Crafts Village", a "Heritage Village" and now a "Digital Village." The changes in nomenclature have not effected the artistic effervescence nor the pace and style of life which still seems idyllic compared with the material and physical poverty of many of our villages and the commercial, mass produced quality of so many of our traditional arts. Here, as Guru Mohapatra had once said about dance, art not only gives purpose to one's life, but is life itself.
---
You might also enjoy reading: How a Revolutionary Programme Transformed a West Bengal Village Through High-Quality Farm Produce
---
Spending time in Raghurajpur provides a glimpse into another world where art is the organising principle of the village. It structures daily life. With some intervention from arts and cultural organisation the skills of artists and artisans have been refined, a market is being developed for their work, and the artists can interact directly with the customers to maximise the proceeds from their works. As Nayak told VillageSquare.in, "Today we show and sell our works across the world. People abroad appreciate our talents and traditions, and are ready to pay to acquire our creations."
Raghurajpur is truly a national treasure. To make it part of the rural tourist map, while safeguarding its artistic integrity, demands deft and delicate maneuvering.
Jael Silliman is a women's rights activist. She has authored several books including Undivided Rights: Women of Color Organizing for Reproductive Justice, and Jewish Portraits, Indian Frames: Women's Narratives from a Diaspora of Hope.
Adapted from an article originally published on VillageSquare.in. Subscribe to VillageSquare's weekly update on the website for more stories from rural India.
Like this story? Or have something to share?
Write to us: contact@thebetterindia.com
Connect with us on Facebook and Twitter.
NEW: Click here to get positive news on WhatsApp!
We bring stories straight from the heart of India, to inspire millions and create a wave of impact. Our positive movement is growing bigger everyday, and we would love for you to join it.
Please contribute whatever you can, every little penny helps our team in bringing you more stories that support dreams and spread hope.
Tell Us More