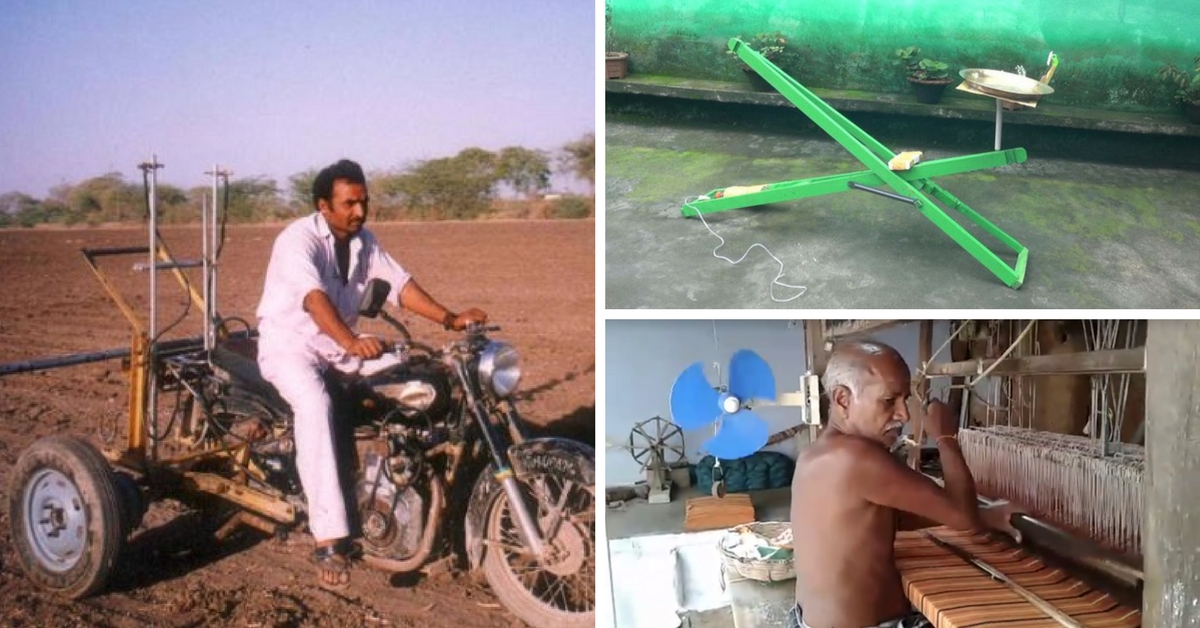 A list of innovations made by common people propelled by adverse situations and dire needs.
Necessity is the mother of all innovations.
A country that is home to more than a billion people, India has its own share of scientists and inventors who have contributed towards different fields and have found fame and recognition.
What we don't come across often are the simple and frugal innovations made by common people often propelled by adverse situations and dire needs.
A fan that runs on zero electricity or a modified cycle that can plough?
Yes, you read that right.
Here's a list of simple yet outstanding innovations by simple people from modest backgrounds whose creations can bring respite to scores of people:
Fan that needs no electricity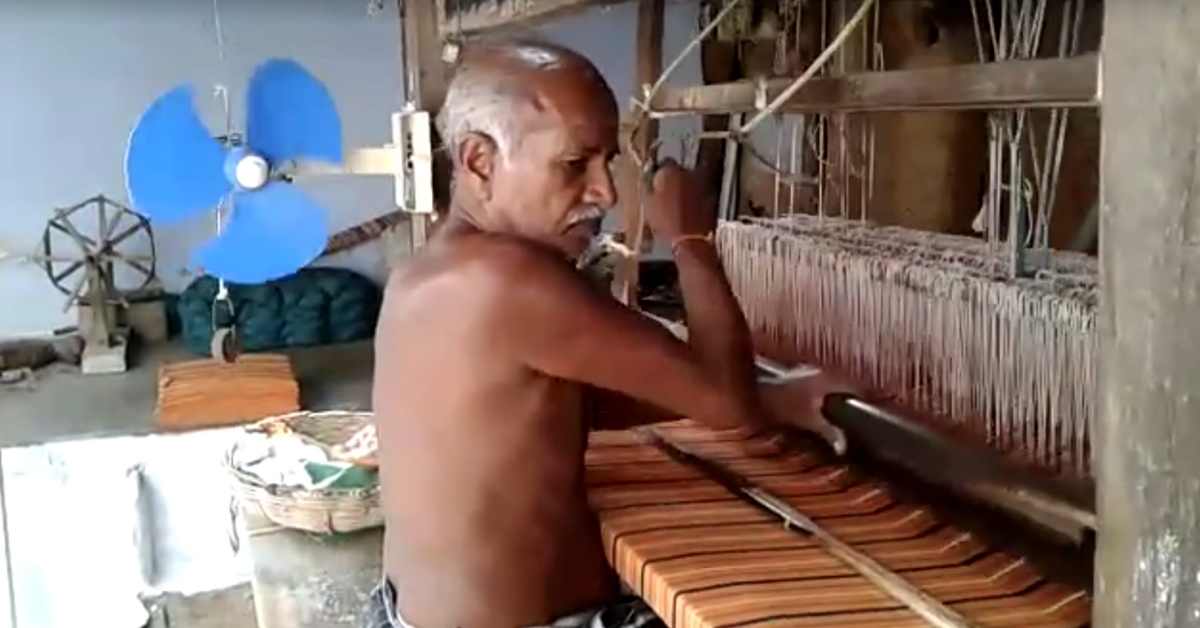 Handloom weaving is no easy task. And add to that, power cuts.
A young man from Erode had seen his grandfather weaving through the day, every day, despite numerous power outages that frequented the scorching hot city.
An electrical design engineer, Dinesh GS wanted to come up with a solution that could bring some relief to the old man.
Since there was no point of a fan that would run on electricity, thanks to the power cuts, he came up with the idea of installing a fan to the loom that is hand operated.
As the contraption in the loom moves, so do the blades of fan.
Dinesh's innovation might seem frugal, but brought great respite to weavers like his grandfather.
You can reach out to Dinesh through Facebook.
A crutch that has a seat and a water bottle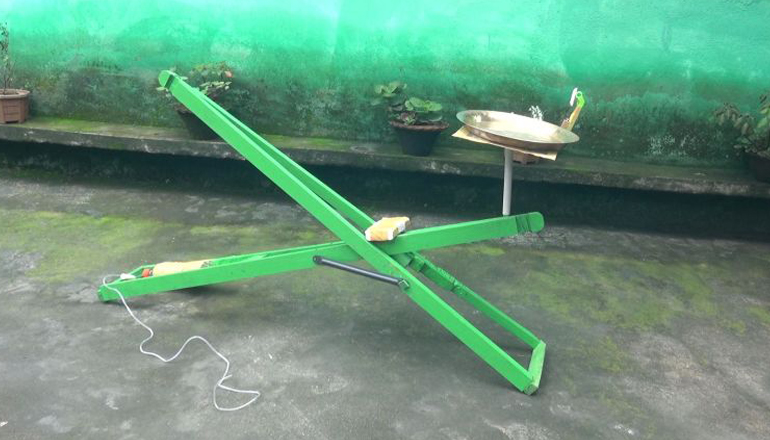 Mobility for a differently abled person is a trial in itself. Though electronic chairs and various mobility aids are available these days, a poor man's budget can only afford a crutch.Though a crutch does enable mobility, it ends up adding burden.
A young man from Assam came up with the concept of a special crutch for the physically challenged that has multiple features catering to the needs of the user.
Dhrubajyoti Kakati, a 21-year-old student, incorporated the multipurpose crutch with a seat and a small table that lets one to take rest for a while, whenever one feels tired.
The easy-to-use crutch is also light-weight and has a water bottle carrier attached to itself.
You can get in touch with Dhrubajyoti on Facebook.
Modified hand pump that feeds animals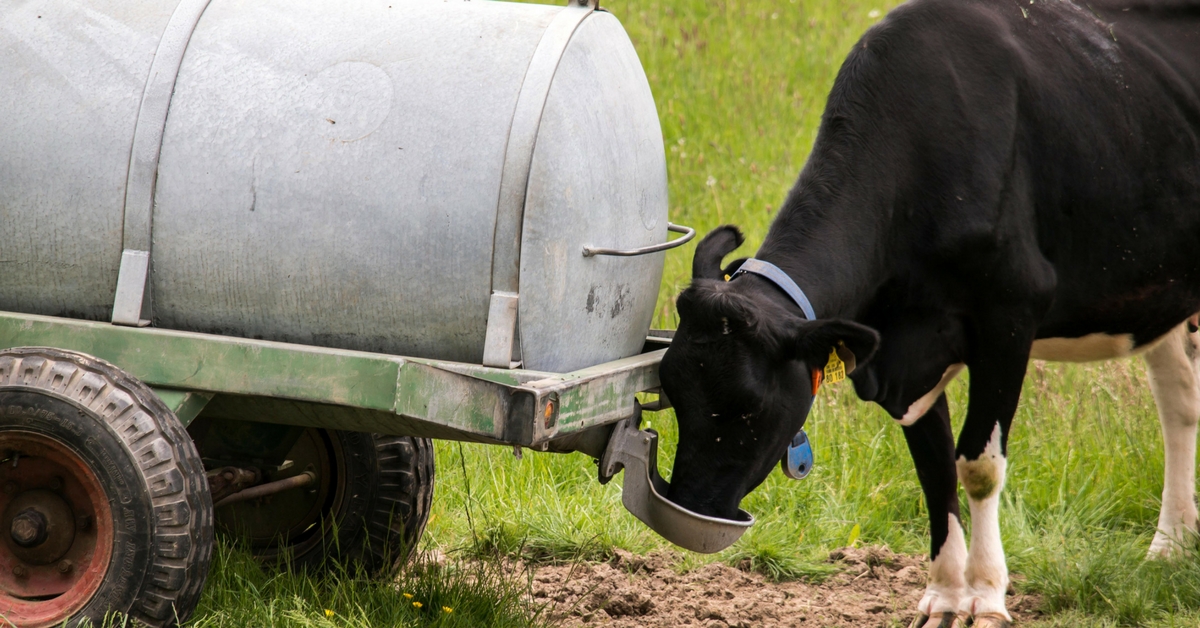 As much as clean drinking water is necessary for us to live, one mustn't forget that animals need it too.
One man from Rajasthan pondered over the same and came with a unique idea of integrating a pit that collects about 25% of water while a person is pumping the tap directly. This pit can further be used as a feeding trough for cattle.
The process hadn't been easy though. Swayambhoo Sharma, an Udaipur-based farmer and innovator had initially thought of a pit dug in front of the handpumps where the waste water would be collected and be consumed by animals to quench their thirst.
Unfortunately he realised that the water that was collected often got contaminated by dust, garbage, chemical residue of soaps, detergents and other contaminants and was rejected by animals.
After much brainstorming Swayambhoo stumbled upon the aforementioned mechanism that would make sure that animals could get clean water.
Shock absorbing crutches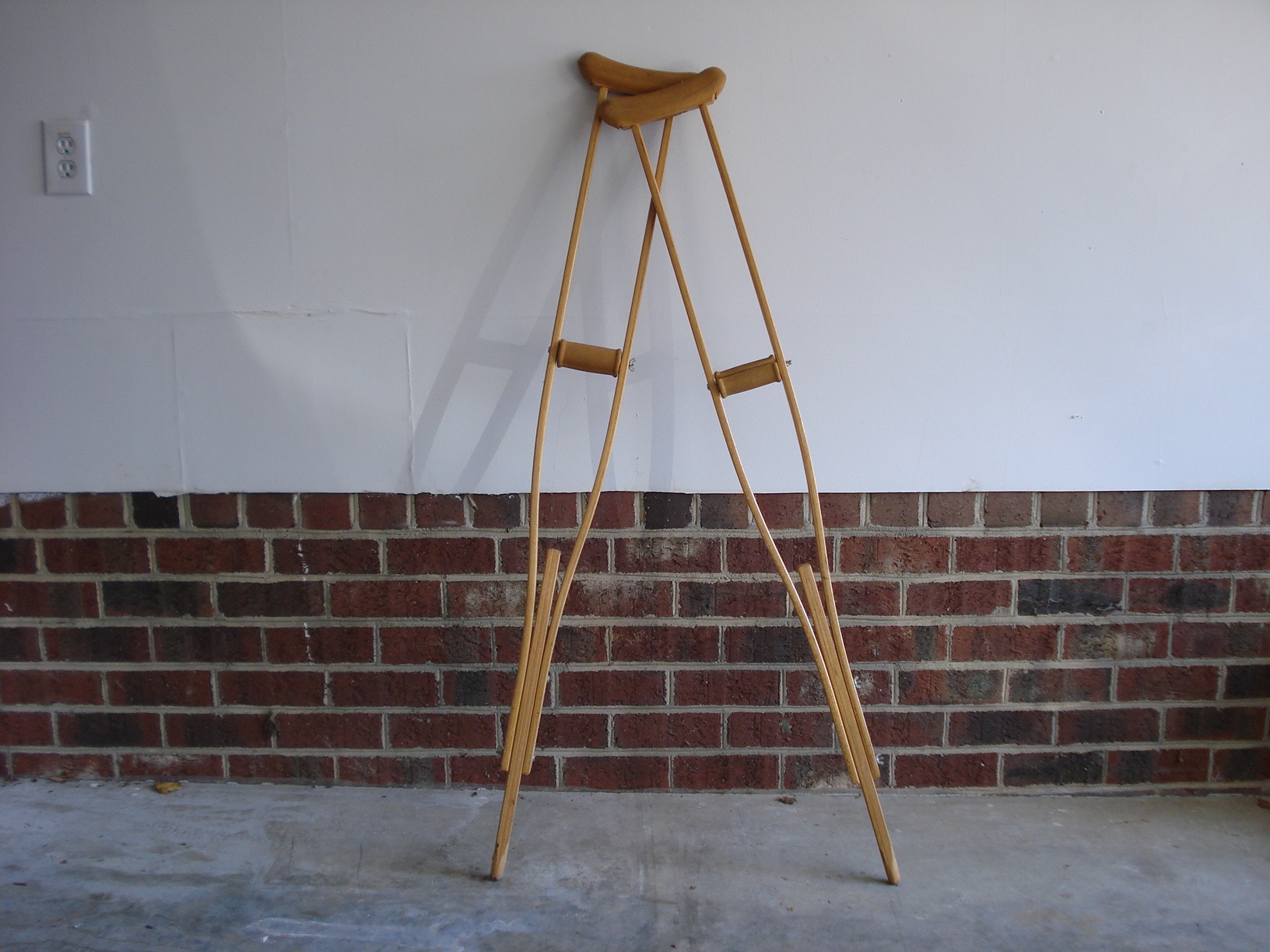 Have you ever wondered how painful it could get for a person with crutches after hours of use on a daily basis?
Early in 2010, Archana Konwar, who was then studying in class 8, happened to come across a man on crutches on the way to school. Finding that he walked with great difficulty, she pondered upon how she could improve the situation.
After much brainstorming, she came up with the idea of shock absorbing crutches that would help in reducing pain.
Hailing from Bordolopa village in Assam, Archana also added a bell and a light to the crutches that would alert others to give way and provide better visibility during the night.
The innovation led the young girl to be recognized by National Innovation Foundation (NIF) and she was awarded the IGNITE award by none other than former President of India Dr. APJ Abdul Kalam.
In March 2013, she received the State Award in the 7th Biennial Awards for Grassroots Innovation and Outstanding Traditional Knowledge organised by NIF.
You can reach out to Archana on Facebook.
A modified cycle that acts as a plough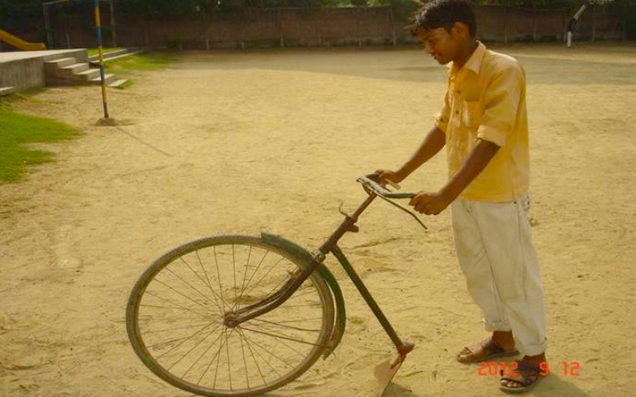 Five boys from St. Kabir's Residential School in Hisar helped towards making the life of their school gardener a lot easier by a simple innovation.
Shriyansh, Doshagya, Anirudh, Mohit, and Saransh, who were eighth standard students at the time, wanted to do something that would lessen the burden for their friend, who only had a small tool for tilling the soil.
The boys came up with the idea of a bicycle plough. Envisioning a contraption that could be created by attaching the plough to a discarded bicycle, the boys put in their own money and headed straight to a scarp dealer.
Finding the necessary things, they modified the bicycle so that only the front axle, wheel and handlebar remained as a unit and attached to a plough. Not only was the device eco-friendly, the bicycle plough served portability too, that made it all the more convenient for their friend.
Interestingly, a similar device was developed by Gopal Malhari Bhise, a farmer from Jalgaon in Maharashtra many years ago.
A simple mechanism that prevents reuse of  plastic water bottles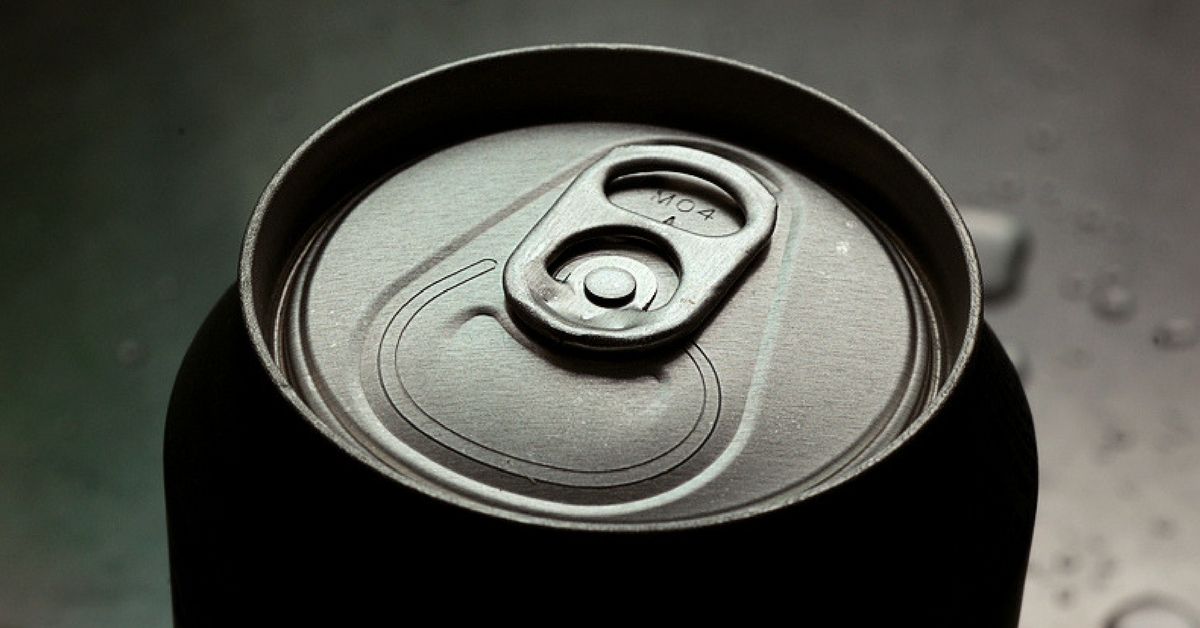 How often do we come across plastic water bottles that look like they've been refilled, when they should be disposed after the first use!
Contrary to public knowledge, this practice is pretty rampant and often goes unnoticed by people  in dire thirst. Two school children came up with a simple puncturing mechanism, which upon implementation makes a plastic bottle unfit for reuse or refill.
Shibajyoti and Rajashree Choudhary, who hail from Rewari, Madhya Pradesh, found used water bottles being picked by children who refilled these with water and sold them again during a train journey.
Incorporating the stay-tab mechanism that one finds in soft drink cans, the brother-sister duo conceptualised a plan where bottles had similar contraption at the bottom that prevented reuse.
The duo's concept won the IGNITE award by NIF in the year 2013.
A water pump that can be operated by hand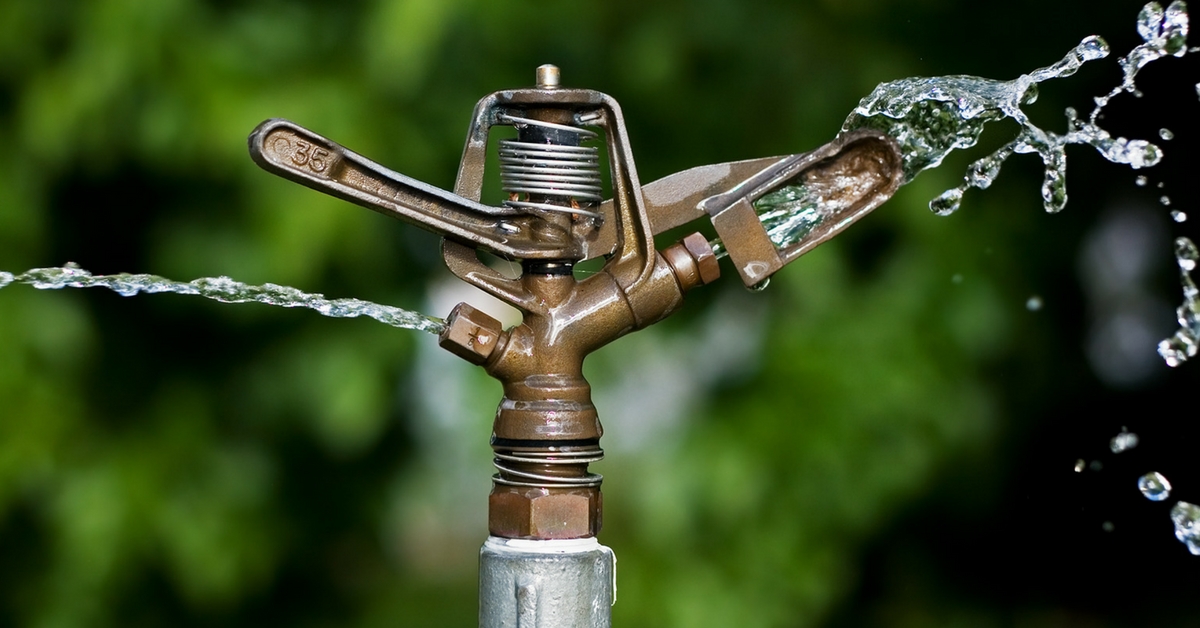 Electricity fluctuation and irregular power cuts often dampen the work for farmers who largely rely on machines that are electricity-driven.
So was the case of farmers in the Tiruvarur district in Tamil Nadu, who would wait for power to resume for the motor pumps so that they could irrigate their crops.
Also was the case of the region being channel-irrigated by Cauvery delta, where altitude issues occurred with water flowing through the channel at a lower altitude while the stipulated land was elevated. There would be times when there would be no absolute flow too.
This led a farmer to pondering the possibility of an alternative device that required neither electricity nor fuel to meet one's irrigation requirements.
Nagaiyan Sakthimainthan developed a simple hand-operated pump using discarded cycle parts. This offered a relief to the farmers who otherwise had to laboriously collect overflowing water from nearby fields
A hand operated water-lifting device that can irrigate the field from a canal or pond and drain out excess water from cultivated land, Sakthimainthan's device is light-weight, portable and can be easily dismantled.
A Bullet tractor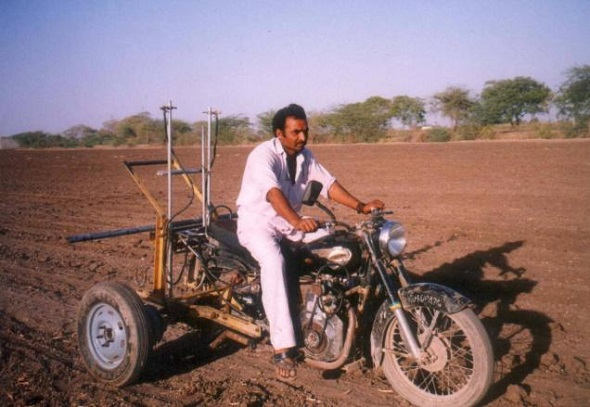 For farmers who can't afford to buy tractors, one man's innovation is nothing short of a blessing.
Mansukhbhai Jagani, a farmer in Gujarat, modified his motorcycle into a multi-purpose cultivator that could help marginal farmers get rid of hiring expensive tractors or oxen.
Removing the rear wheel of a Bullet motorcycle and replacing it with two smaller wheels and various add-ons, the Bullet Santi, as named by Mansukhbhai, could be adapted into performing a variety of cultivation processes like shallow ploughing, weeding, sowing and spraying.
The best part is the bike can be easily converted back for transportation.
Like this story? Or have something to share?
Write to us: contact@thebetterindia.com
Connect with us on Facebook and Twitter.
NEW: Click here to get positive news on WhatsApp!
We bring stories straight from the heart of India, to inspire millions and create a wave of impact. Our positive movement is growing bigger everyday, and we would love for you to join it.
Please contribute whatever you can, every little penny helps our team in bringing you more stories that support dreams and spread hope.