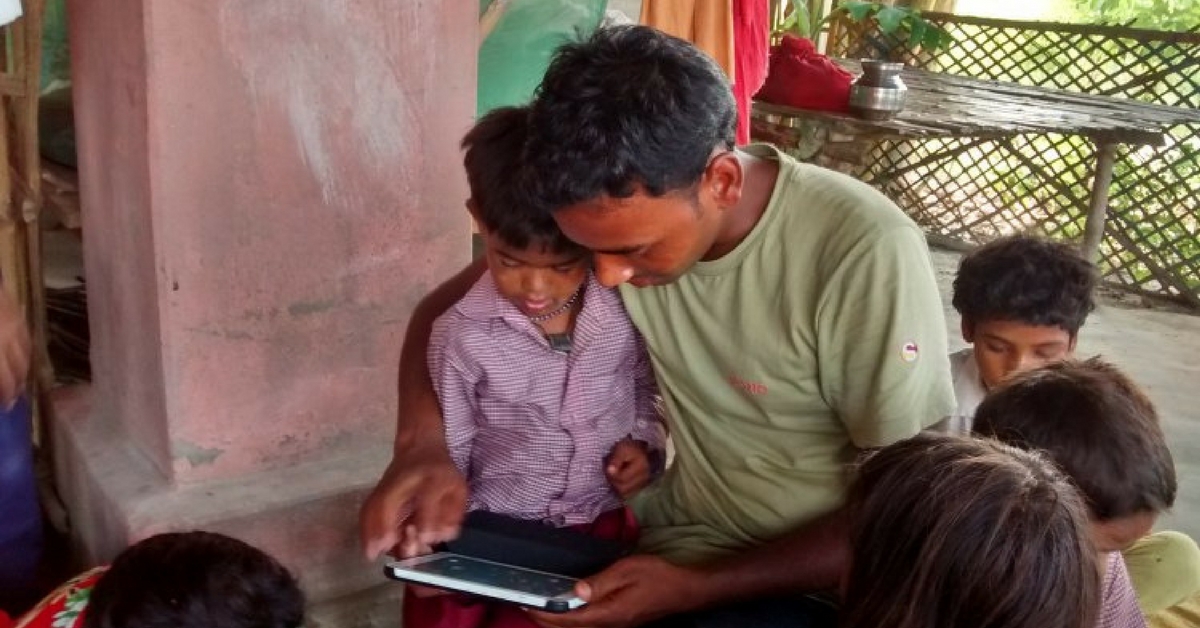 Sometimes, determination and perseverance can help even the most unexpected people script truly fairy-tale stories. Alston talks about how Vijay Kumar Chauhan, a Class V dropout, grew to today teach and coach hundreds of students, inspiring all of them with his courage and never-say-die attitude.
Sometimes, determination and perseverance can help even the most unexpected people script truly fairy-tale stories. Alston talks about how Vijay Kumar Chauhan, a Class V dropout, grew to today teach and coach hundreds of students, inspiring all of them with his courage and never-say-die attitude.
Vijay Kumar Chauhan dropped out from Class V and fled to Amritsar from Bihar in search of a job to sustain himself and earn some money, back in 2007. Today, after about 10 years, he's back in Bihar, and is an active part of PRAYOG (Professionals Alliance for Youths Growth), running a coaching centre along with his younger brother. Together, they teach 300+ students from Class VII to Class XII. This is the story of what hard work and an indomitable spirit can do to a person.
Vijay is an extremely talented youth from Bihar who holds a B.A. degree. He is the child of a landless labourer, a serial entrepreneur, a teacher, and the first volunteer and the local face of PRAYOG, an NGO that works in the rural parts of Bihar, providing education to young students, empowering young girls, and helping in the growth of youth by grooming them and providing them with better opportunities in the world.
Vijay fled to Amritsar when he was about 15 years old and was homeless there. For some days, he stayed in the vicinity of the Golden Temple in Amritsar, eating the free meals available at the temple and sleeping in the verandah. After a few weeks, he moved to Ludhiana to do some menial jobs in a factory, a garage, and even a restaurant.
"There is no job that I have not done in my life. You name one, and I would have done it," says Vijay.
From making tea and selling it, cooking samosas, driving an auto rickshaw, to being an LIC agent, an event manager, and finally opening his own coaching centre, Vijay has done it all. He kept travelling to places in search of better opportunities, has lived and worked in Punjab, Haryana, Delhi, UP, Jharkhand, Kolkata, etc., and can speak five languages.
When Vijay returned home, he wanted to give his Class X exams. He had not attended school from Class V onwards, and had not been in a classroom since then. He joined a coaching centre a year before the board exams and started preparing. "I had to re-learn how to even read and write when I joined the coaching centre, forget learning English grammar or solving algebra problems," he reminisces.
He started his preparation by refreshing his memory of reading and writing. He learnt every subject by writing the answers, memorising formulae, understanding physics, chemistry and biology, and learning basic English grammar. "It is very hard for you to pass boards this year, Vijay, given that you haven't attended school for so many years," his coaching teacher had told him. That fed his spirit even more, and he kept up the preparation. When the year was ending, he started showing up amongst the toppers of his coaching centre, and his teacher had to eat his words.
He cleared his board exams and went on to intermediate college, and then to pass his B.A.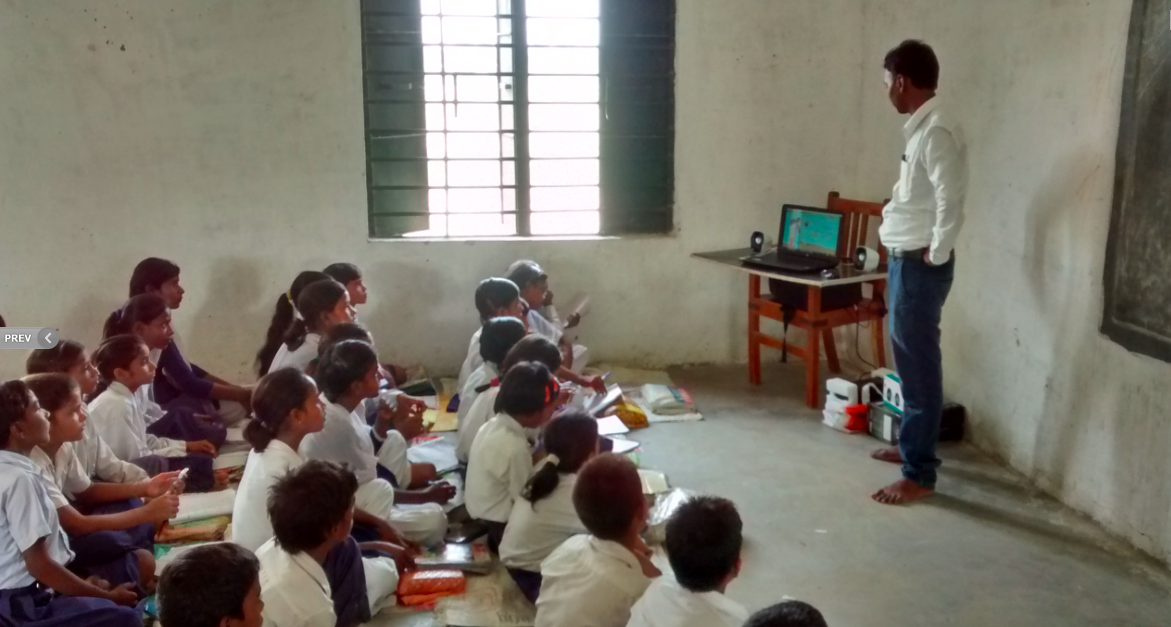 It was on 15th June, 2013 that PRAYOG was started by Surya Prakash Rai in the form of a Community Library in the Bania Chapar village of the Gopalganj district of Bihar. Bania Chapar is the same village that Vijay and his family resided in, and Vijay was in college.
A few days after the inception of the library, Vijay started visiting to interact and teach the children there. He volunteered to play games with them, conduct general knowledge quizzes and competitions, curate the library books, attend to the needs of the children, and encourage them to study and not miss out on the opportunities like he had. When PRAYOG conducted their night classes in the village, Vijay was mightily impressed, and wanted to teach then onward.
At the same time, PRAYOG conducted various essay and story writing competitions, painting, debate, and other competitions for students from the vicinity. Vijay used to go to various schools and coaching centres to publicise and encourage children there to participate and join the activities of PRAYOG, and spark excitement and curiosity in them. He constantly fed this excitement amongst the children, and the children reciprocated the love and started calling him their dear "Vijay Bhaiya" (Bhaiya is a respectful term for "elder brother" in Hindi).
This love and admiration he received from the children kept him afloat, and he started gaining respect from the people in his village. Impressed by his pro-activeness and his spirit, PRAYOG inducted him into the team, and groomed and encouraged him.
When PRAYOG started their Tablet Programme, Vijay led the daily activities of the programme.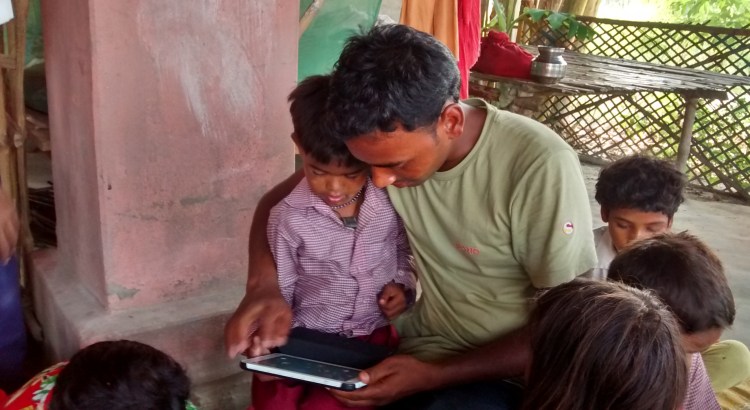 PRAYOG also started their Digital Education program in Government Schools of Bihar. Vijay became the lead facilitator, and started teaching Environmental Science and Mathematics to the students in the Middle School of Thulachapar. He started loving his job and was excellent at it.
On days with less workload, he told the students the stories of Sunita Williams and Kalpana Chawla in space, Dr. B.R. Ambedkar and Jawaharlal Nehru, and local personalities like Dashrat Manjhi, Dr. Rajendra Prasad, and Loknayak Jayprakash Narayan to convey to the children that if these people could succeed, so could they. He leveraged his popularity amongst the children to start his own coaching centre in a nearby village for students till Class X.
After a year of successfully running the coaching centre, he wanted to scale up, and asked his earlier coaching teacher if they could partner and run a coaching centre for Class XII students, which was in high demand in the area. His teacher did not want to venture into the more difficult job. So, for one year, Vijay studied Class XI and XII Physics, Chemistry, and Mathematics on his own. In his third year, he started the higher classes and got learning aids like video lectures to explain to the students the more difficult concepts of Mathematics, Relativity, and Quantum Theories of Physics.
Today, Vijay's day starts at 4 AM everyday. He wakes up and gives classes from 5 AM to 9 AM. After a quick breakfast, he starts with the Digital Education programme of PRAYOG in schools till 1 PM. He then lends his hand in running the Tablet Programme of PRAYOG from 3 PM to about 5 PM. This is Vijay's daily routine, and the kind of hard work he does everyday, keeping him and his family afloat. He wants to start building a house this year, and secure his younger brother's admission in a Patna engineering college.
He also voluntarily mentors the youth who, with the association of PRAYOG, have ventured into various entrepreneurial and professional careers.
The story of how he started to read and write is another testament to his indomitable spirit and hard work. Vijay, along with his father, had gone to watch the movie Koyla in a theatre in Calcutta. He asked his father what was written on the screen when the title appeared, and his father could not answer. Vijay could not digest the fact that his father was unable to read that, and resolved to learn. Then onward, he slowly started reading Hindi by asking people around him and practicing them in his free time.
Today, the young lad who couldn't attend school from Class V teaches in high school and intermediate college. Perseverance and hard work are the two biggest virtues one can learn from him. Youth like Vijay keep PRAYOG going, with the hope that students and youth don't face disappointments and difficulties like him. The organisation hopes students can excel by learning from Vijay's life, which teaches us some very important lessons too.
(The author works alongside Vijay in PRAYOG in Gopalganj, Bihar, and is an India Fellow from the cohort of 2016-17.)
To know more about PRAYOG and their work, check out their website. Find out more about the India Fellow Social Leadership Program here.
Like this story? Or have something to share? Write to us: contact@thebetterindia.com, or connect with us on Facebook and Twitter.
NEW: Click here to get positive news on WhatsApp!
We bring stories straight from the heart of India, to inspire millions and create a wave of impact. Our positive movement is growing bigger everyday, and we would love for you to join it.
Please contribute whatever you can, every little penny helps our team in bringing you more stories that support dreams and spread hope.