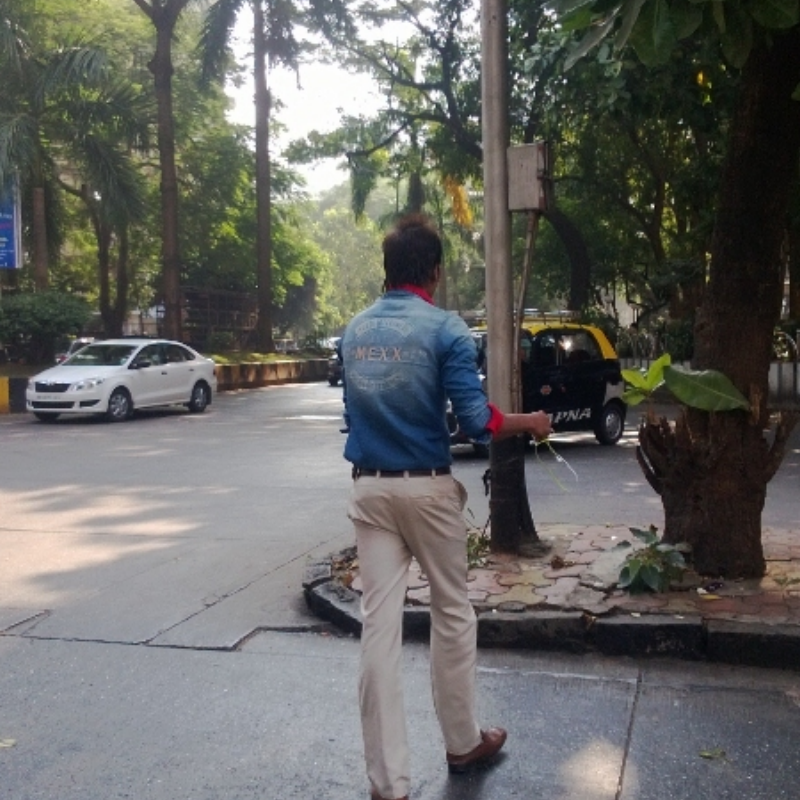 One woman in Mumbai decided to stand up for her rights and not be a victim of sexual harassment on the street. She went to the police, endured much resistance, but ensured that she got the sexual offender arrested! This is her letter to us describing her daring feat.
As another case of a heinous rape crime rocks India today, we are once again forced to take a long, hard look at the skeletons in our cupboard – our law and order situation, the structure of our society, etc. But change has to begin somewhere. And it gives us hope to see in the form of empowered women. Here we present to you a letter from one of our readers who experienced what a lot of women experience every day in India – sexual harassment from a stranger on the street – but did not take it quietly. Instead, she got him arrested! This is her letter to us, describing the daring feat in her own words.
Date 12 Nov 2013
Time 10:15 am approx.
Place: Cuffe Parade, South Bombay, outside Maker Towers and near Santoor Restaurant
I had just finished teaching my morning yoga class at my client's apartment in Maker Towers. I was waiting a few steps outside the gate of the building for my car, as I'd just spoken to my new driver and told him where I was. I intended to cross the road but as there were a few vehicles passing I stood waiting a few minutes with my yoga mat and my handbag. I had put on a big loose shirt over my yoga clothes precisely for this reason, that I may have to spend a few minutes in a public space such the street, where there are men all over the place who can and will intrude on a woman's personal space given half a chance.
While I stood there waiting, I saw this guy, who looked like he was in his early twenties, walking towards me and very obviously looking at me in a lecherous manner all the while. I gave him a stern don't-even-think-about-it glare as best as I could. He kept walking towards me with the same sleazy look on his face. He then stepped behind me and I moved away a few steps to prevent him from trying to touch me. At this point he made a loud kissing noise as he walked around me and started crossing the road, stepping on the divider. Naturally, that really angered me. I raised my voice at him asking him what he was upto, in hindi. The road was quite empty so he turned around and asked me what he had done. I told him he knew what he had done. He very nonchalantly said sorry and continued walking away.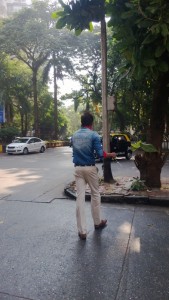 As I had my phone in my hand, I began taking pictures, but I only managed to get 2 pictures which were both of him walking away, so his face wasn't in the photo. I tried getting a few more pictures of him but he was walking away pretty fast. Just then the car arrived on the other side of the road. I quickly crossed the road and got into the car. I had kept an eye on him so I could see that he was a little ahead, and he was in really bright clothes so it helped me in spotting him. I right away instructed my driver to follow the guy in the red and blue clothes as I wanted to take his photo. We (my driver and me) got hold of him and started scolding him. I quickly took photos of his face while yelling at him. He started apologizing a lot at this point. My driver wanted to beat him up but I did not let him do that, as he is an old man and I did not want things getting out of hand, in case the guy happened to be armed with a knife or god-knows-what-else. I told him very firmly and confidently that the cops will thrash him instead so we need not get into a street fight. He kept on apologizing saying he wont make the same mistake again, but I told him that I'm definitely going to the cops and that they would definitely find him and thrash the daylights out of him. Then I left the place and headed home.
At home, I took a few printouts of the photos I had taken and took them to the Cuffe Parade police station at around 3.30 pm the same day. I narrated the incident to an old cop there who asked me what had happened. After listening to me and looking at the photos, he asked me if I had the guy's name or address or number. This sounded really bizarre to me. How and why would I have that information? I told him that I did not have any info on him, and that the most I could do in that situation was get his picture, and that I could have hit the guy but I did not do that as I expected the cops to do that after my complaint to them. A little later, a younger cop showed up and asked me to narrate the incident to him, which I did. He then looked at the photos and said he has the guy's name (Avinash), phone number and address in his records. He told me that this fellow had come to the police station the same morning around 11 am and told them his own version of what had transpired and that he (Avinash) had expected to see me there and had even waited for a while for me to show up! He had told the cops that he had been cursing another driver in Marathi, when I walked into the scene and mistook his words and intentions. This younger cop then went on to tell me that this fellow must really be innocent, as he would not have come to the police station on his own if he had been guilty.
I was quite taken aback that the cops were siding with the molester. I very firmly told the cop that I am not stupid, and that I had seen what I had seen and I had heard what I had heard, so I am really sure of what had happened. I also explained to him that I had very convincingly and sternly warned the guy that I would go to the cops and that the cops would thrash him. I tried to make them see that this was the reason the guy showed up at the police station – to pre-empt being caught and thrashed by the cops, and also because he expected me to right away rush to the cops, as that is what I had told him I would do.
Slowly it started to seem like the cop believed what I was telling them and take my accusation seriously. He called the guy and asked him to come to the police station. I sat waiting there and he arrived about an hour or so later, with his mother in tow. His mother started pestering me to 'forgive' him and forget about the whole thing. It was harassment again for me, with her going on about it and making me look like the bad person and her son the innocent victim. I called Ruben Mascarenhas, founder of an NGO called Zero Tolerance on Street Sexual Harassment, for his advice on what I should do. I had volunteered with this NGO in the past so I had his number and I knew he would direct me to the effective course of action. Ruben told me I should file the FIR under Sec. 509 and not leave the police station without a copy of the FIR.
I was at my wit's end and I almost considered letting the guy off the hook with just a 'warning' as his family had been begging me endlessly and making me feel like the villain in the scenario, always bringing up the fact that they were poor and I am not, so I should let him go scot-free. But Ruben told me to 'please invoke the law and to not show mercy', and that resonated with me strongly. I resolved to get the FIR no matter what, even if his whole family harassed me and even if it took me until midnight to get it done. Soon the guy's sister and two of his friends arrived too and all of them, including the guy, continued to pester and plead with me to forgive him, as he would lose his job as a driver if I filed the FIR against him, and that, they claimed, would 'ruin his life'. I told them that he should have thought of that before misbehaving with me. And that this city belongs to women and girls as much as it belongs to males, and we women cannot walk in the streets for two minutes in peace and without being intruded upon or misbehaved with, even in broad daylight.
I started lecturing them about how he had broken a law here, which merits punishment accordingly, and the law does not recognize saying sorry 50 times as a reason to let the wrong-doer off the hook. I tried my best to make them realize the gravity of his offence, but in their mind, I was just making a mountain out of a molehill. The younger cop assured me, after I unequivocally and firmly asserted that I want the FIR made, that it would be done just after he finished some of the paperwork that he was doing on some other case. Finally, at 8 pm I was handed a copy of the FIR. I was assured by the cops that he would be arrested right away and that he would spend the night and the following day in the lockup. They told me he could be let out only after 24 hours on a bail of a few thousand rupees. I remembered Ruben mentioning to me that Sec 509 had been made non bailable by the efforts of their NGO, but when I asked the cops about it they said it was bailable and that a few months later the case would go to the court and then the judge may or may not hold him guilty. If held guilty, he will be in jail for 2 years, I was told. I was pretty drained by all the drama by now so I took the FIR copy and left the police station at around 8 pm.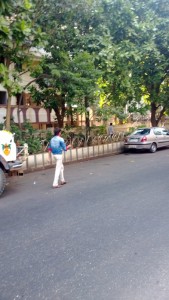 I would like to point out that it isn't always easy to get a clear photo of the wrong-doer as they slip away in the blink of an eye. Even with the proper photo, I don't know if the cops would have been able to catch him, had he not shown up at the police station on his own after my threats of getting him thrashed by the cops. They kept siding with him for quite some time and I had to very strongly assert that I am not stupid/crazy/delusional, that I had seen and heard what I was saying I had seen and heard, and that they should not be believing his version of what had transpired. Regardless of what they thought, if a woman says she has been sexually harassed and says she wants to lodge an FIR, the FIR has to be made.
Also, at no point during the entire incident on the street did any passer-by intervene or ask me what was wrong. People kept walking by simply minding their own business.
While making the FIR, the cop asked me my address and this guy (Avinash) was right behind him, well within earshot, and he was also trying to peek into the FIR as if he wanted to know my address. So I went to police station in my area a few days later, with his photo, telling them that if they see him in the vicinity, they should promptly do the needful to keep him away from me.
I think that if it were not such a harrowing experience to file an FIR, and if the cops were sensitized to this issue, a lot more women would come forward to invoke the law and then the menace could be curbed to a much larger extent. In my view, right now, most women deal with this menace by not dealing with it, because: (a) the process of going to the cops and complaining is a long and draining process and (b) they fear retaliation, as the wrongdoer will be out of jail soon enough and can retaliate, as the fear of law is still nascent in this country, (c) most people are not aware of the law and that sexual harassment is a crime punishable by law, and (d) many people in India accept street sexual harassment as a part of life which cannot be helped, as if men simply cannot help themselves when they see a woman, and as if there is no personal responsibility that the man can be held to, while he routinely misbehaves with women. The longstanding patriarchy all around has a lot to do with this mindset.
Despite the harrowing hours at the police station, I am glad I took action and I felt very empowered after getting him arrested. I personally am beyond fed up of this menace and it is simply unacceptable that we cannot take a walk in peace even in the day. I think it is high time women reclaimed their power and got militant about this, after all, it is a war against women if you look around. We have been taking this trash for too long, in the fear that we will have to deal with more trash if we fight back against it, but we have to realize that it is simply unacceptable in any extent.
Every woman in India is, and has to be, her own superhero every single day, simply to ensure her own safety. Fighting back is the only way forward, or else our streets will forever be minefields for us, and our cities will never be ours to move about in freely. As women, we need to fight back against this menace like our lives depend on it, because they do.
Thank you for your time and empathy.
Regards,
Namita
We bring stories straight from the heart of India, to inspire millions and create a wave of impact. Our positive movement is growing bigger everyday, and we would love for you to join it.
Please contribute whatever you can, every little penny helps our team in bringing you more stories that support dreams and spread hope.