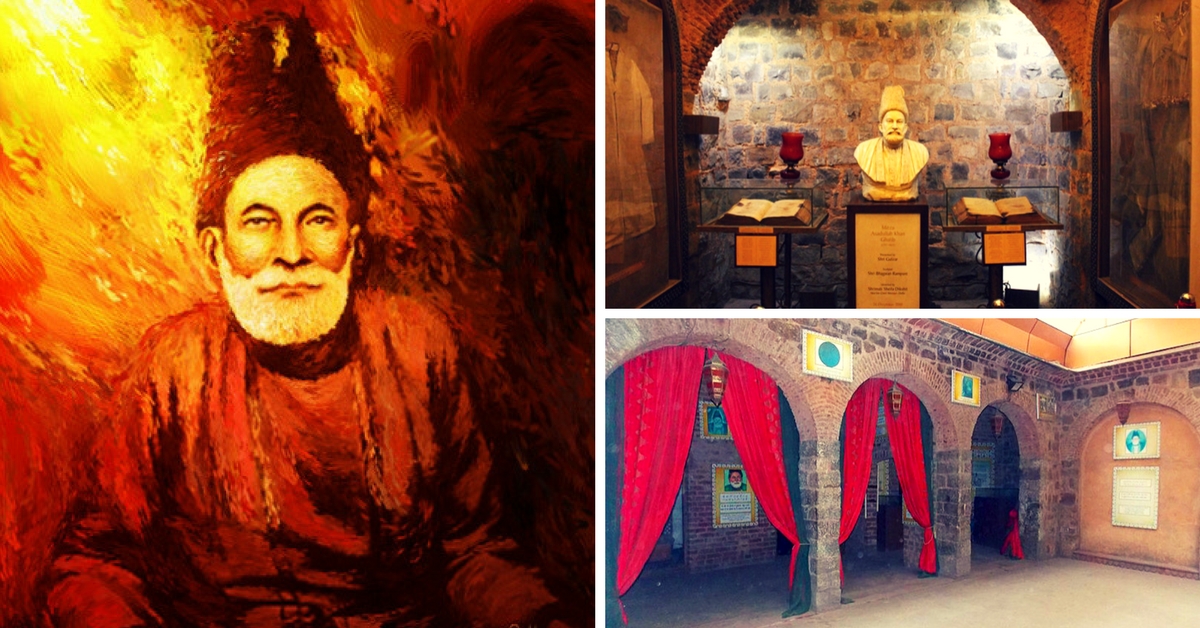 One of the most celebrated poets of India, Mirza Asadullah Beg Khan, better known as Ghalib, spent the last years of his life at a haveli in the bustling Ballimaran area of Chandni Chowk. Today, a visit to this forgotten heritage site offers one a fascinating insight into the life and times of the legendary poet.
"Hai aur bhi duniya mein sukhanwar bahut ache
Kehte hain ke ghalib ka hai andaaz-e-bayaan aur."
("There are many good poets worthy of praise,
  But it is said that Ghalib has a distinctive style.") – Mirza Ghalib
Down a quiet Ballimaran lane in Delhi's Chandni Chowk stands a haveli like many others in this historic part of the Indian capital. An old dilapidated structure with a semi-circular brick arch as its entrance, this mansion was once home to Mirza Asadullah Khan, better known as Ghalib, one of India's most celebrated and quoted Urdu poets.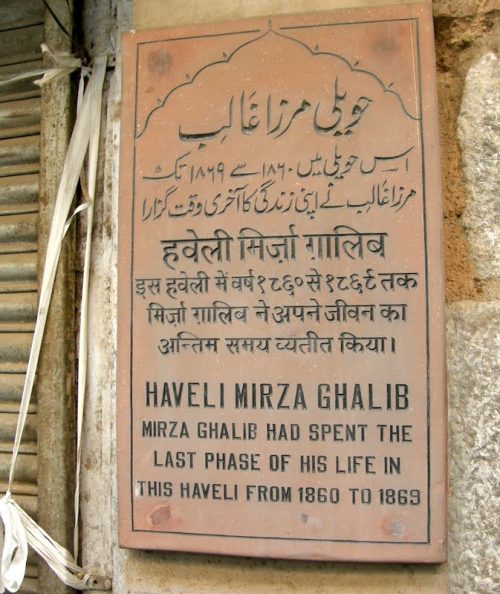 Ghalib was born to Mirza Abdullah Beg in December 1797 in Agra. His father died when he was hardly five years old and his childhood was spent with his uncle who passed away when Ghalib was eight, and mostly his aunts. Married in 1810 at the age of 13 to Umrao Begum, Ghalib soon left his birth city Agra for Delhi, a city where he lived until his death in 1869.
The haveli was presented to Ghalib by a hakim (traditional physician) who was an ardent fan of his poetry. It was here that Ghalib wrote some of his finest ghazals and recited them to a huge audience every evening. After Ghalib's death in 1869, the crestfallen hakim who had presented the haveli to Ghalib would go and sit there for hours every evening refusing to let anyone occupy it.
The government took possession of the haveli in 1964 but soon auctioned it to one Mohammed Ali Farooqi whose bid was the highest at ₹ 22,400. He rented it out to tenants but a few years later he died without leaving a legal heir to the property. Since then, the haveli has changed multiple hands, from being the poet's abode to a coal store, a small manufacturing unit, to a baraat ghar (wedding hall). In 1999, a part of the haveli was finally acquired and restored by the Delhi government.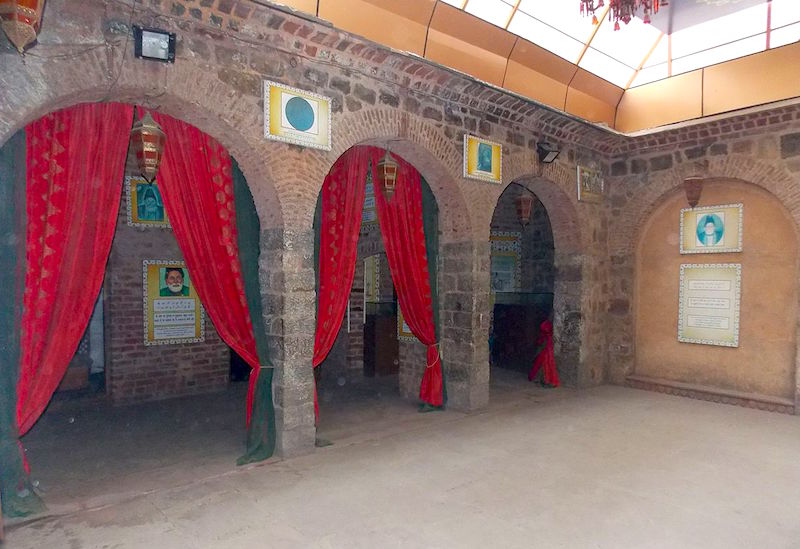 Now a heritage site under the aegis of the Archaeological Survey of India (ASI), the memorial museum displays the objects and other things used during those times to make it look like the actual dwelling of the poet. As soon as one enters, a huge portrait of Ghalib's couplets in his own handwriting can be seen hung on the sidewall. Further ahead, the couplets of Ustaad Zauq, Abu Zafar, Momin Khan Momin, and other noted contemporaries of Ghalib have been creatively arranged in the vast collage.
Another wall sheds some light on Ghalib's personal favorites. While his trademark 'baalon wali lambi topi' and 'lamba kurta' are listed as among his favorite attire, a chart shows Ghalib's favourite dishes – taley hue kabab, bhuna gosht, sohan halwa, aam ka achaar and dal murabba. There is also list mentioning activities he took an avid interest in like patangbaazi (kite flying), chausar (cross and circle board game that originated in ancient India) and shatranj (chess).
The only room with a door, set slightly aside from the rest of the haveli, features a large frame with Ghalib's last ever taken photograph. On either side of the room hung various ageing pictures and portraits of Ghalib during his lifetime. Apart from his hand-written books on display, there are collections of Ghalib's letters, translated couplets, a life-size replica of Ghalib with a hookah and curiously, utensils of Ghalib's time.
Other highlights of this haveli include the original sandstone floors, wooden gateway entrance, the Mughal lakhori (kiln-fired) bricks and the chhajjas (overhanging eaves)within the courtyard.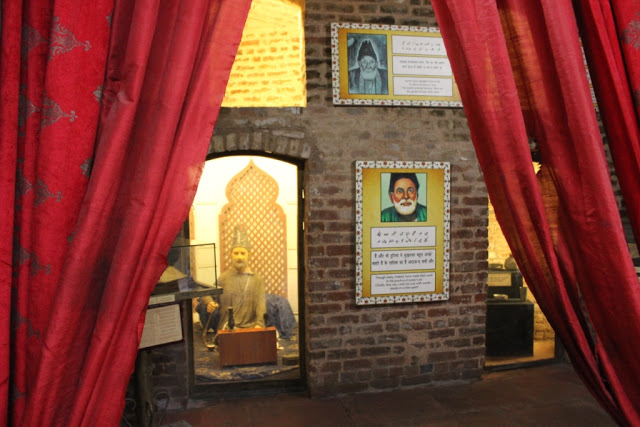 Ghalib lived during an age of tumult and transformation in Indian history. His diary kept during the revolt of 1857 presents a personal record of the events that shook and ravaged the capital. In a letter (English translation) to a friend on Nov. 13, 1864, Ghalib writes,
"After the wishes, let me state that right from Nov. 1 till Nov. 11, I can't tell you how perturbed I had remained owing to the turmoil of the Mutiny. I would have myself come to deliver this letter, but for the trying times. I have also not been feeling well besides being harried by these troubling times. Nevertheless, pray to God that you may be safe and sound with the following couplet:

You live long for thousands of years

Let the days of each year be fifty thousand"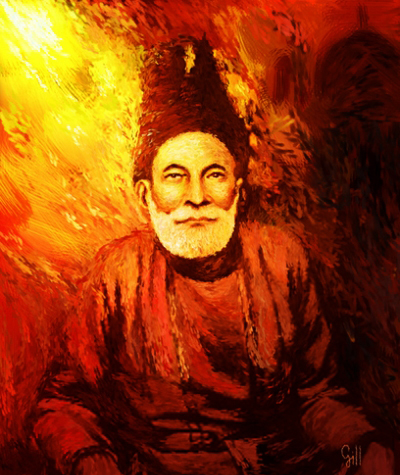 Ghalib also witnessed the decline of Mughal Empire and the establishment of British colonial rule in India. This makes his haveli not just a living memory of the poet but a standing testimonial to a bygone era. Renowned poet and lyricist, Gulzar, immortalized the character and life of Ghalib's haveli in his beautifully written verse:
"Isee be-noor andheri see gali qaasim se
Ek tarteeb charaghon ki shuru hoti hai
Ek quran-e-sukhan ka safa khulta hai
Asadullah Khan 'Ghalib' ka patha milta hai." 

(In one such dark, dimly-lit street
Where a row of lit lamps starts,
Where a new page of poetry begins
There, the whereabouts of Asadullah Khan Ghalib can be  found).
A heritage site that offers you an insight into the legendary poet's life and times, Ghalib's haveli is open throughout the day, but the best time to visit would be in the morning. Go explore, and read out some verses from the walls to your special one.
Where Gali Qasim Jaan, Ballimaran, Chandni Chowk, Delhi
Nearest Metro Stop Chawri bazaar
Time 9 am to 5 pm (Monday closed)
---
Also Read: Experience Medieval Bathing Rituals at This Ancient Hammam, Bhopal's 300-Year-Old Turkish Bath
---
We bring stories straight from the heart of India, to inspire millions and create a wave of impact. Our positive movement is growing bigger everyday, and we would love for you to join it.
Please contribute whatever you can, every little penny helps our team in bringing you more stories that support dreams and spread hope.