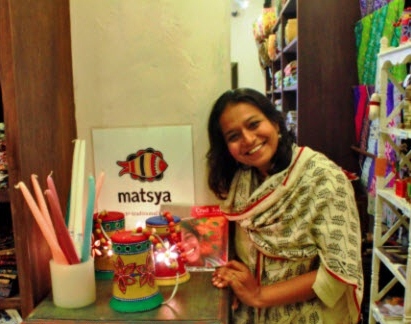 Grannies making hand-knitted and crocheted baby garments, female artisans weaving dreams out of lovely threads, rural artists shaping their future with hand-crafted pottery and home accessories – these are just
Grannies making hand-knitted and crocheted baby garments, female artisans weaving dreams out of lovely threads, rural artists shaping their future with hand-crafted pottery and home accessories – these are just some examples of urban, educated youth partnering with rural and marginalised groups to create sustainable social enterprises that empower and enrich their lives.
How many of us look around and see problems? All of us I guess. Poverty, unemployment, latent skills, dying arts and the like are all around us. While they are problems, not all of us are able to see the solutions that lie therein. It's all a matter of changing your perspective. "Be the change you want to see", these words of Mahatma Gandhi are what we need to start making a change.
This article is about people and their ventures that have chosen to be the change they want to see. Using art to empower people across India, they are successfully pioneering change through partnerships.
Granny's Love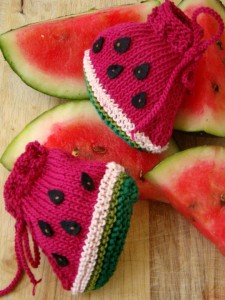 Lima, an NID alumnus has created Granny's Love, a unique venture that brings together elderly ladies with a flair for knitting and crochet. Presently a team of 7 grannies who are creating knitted and crocheted baby garments, this is a unique venture that provides gainful employment to grannies. An endeavor that not only makes a difference to the lives of grannies but also creates unique and handcrafted baby garments with dollops of love thrown in.
What strikes me as unique about Lima's initiative is her ability to have spotted the talent that these women have and bring it to the fore by partnering with them. A lot of us have grandmothers at home and our neighborhoods blessed with a skill, but not many would have thought of a venture like this!
House of Wandering Silk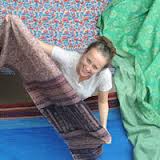 House of Wandering Silk, a venture born out of the myriad experiences of a Czech/Australian aid worker in 2011, is a tribute to Asian textiles and embroidery. After 7 years of work in Africa, Asia and the Middle East, she saw very little difference in the lives of the poor despite efforts and resources dedicated to the cause. This prompted her to come up with a sustainable solution to artisans and weavers. Based in New Delhi, House of Wandering Silk is a social enterprise driven by the single minded determination of one woman to reduce some of the inequalities that we see around us.
Telling the story of silk together with hand-woven cotton, hand-spun pashmina and wool and other beautiful "green" textiles, House of Wandering Silk is taking beautiful weaves and fabrics from producers and turning them into delightful one-of-a-kind clothing, accessories and home décor items embellished by the nimble fingers of female artisans. Their target market is the discerning group of customers who seek design excellence and quality while appreciating products that enrich the lives of those who create them.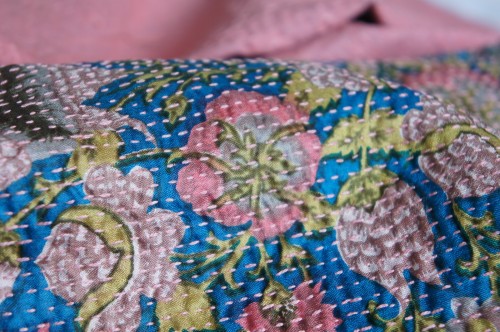 The House of Wandering Silk model is an inspiration to many who want to make a difference and empower artisans while creating sustainable employment opportunities.
Matsya Crafts
While volunteering in the aftermath of the 2001 earthquake in Kutch, Gujarat, Neha Gandhi had the opportunity to take a closer look at the traditional arts and crafts of the region. From the debris that surrounded her, Neha was inspired to build Matsya Crafts, a platform to empower artisans while creating beautiful and functional products with a traditional yet contemporary edge.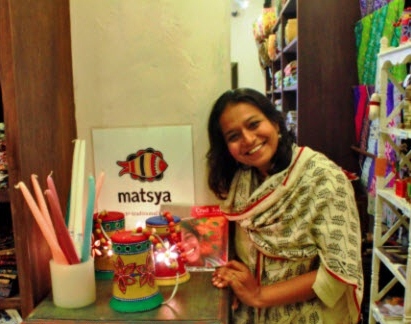 Today, Matsya has evolved in to a team of marketers, design enthusiasts, art lovers and well-wishers all of whom are working together to bridge the gap between artisans and urban customers. Neha and her team work to curate a wide range of products for the home and interiors. Furnishings, studio pottery and accessories are just some of the Matsya products you will find on sale both online and at exhibitions.
In their own words, their goal is to preserve, revive, and expand the rich tradition of rural handicrafts by working closely with artisans, helping them develop quality products that appeal to contemporary tastes. They also organize craft tours, undertake craft documentation and partner with NGO's.
Hands of India
Hands of India (HoI), the collective dream of two sisters, Malyada and Ramya is driven by the immense passion and love that this duo has for the handicraft tradition and the artisans who create them.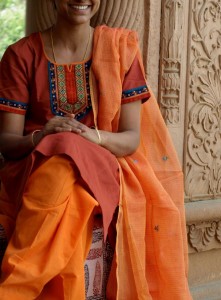 Determination to preserve sustainable natural processes while making the best products drove Malyada and Ramya to set up this venture in 2003. Having spent some time working in the corporate sector, the sisters are now working to promote Indian handicrafts.
Why handicrafts you ask the? They say "The strength of the Indian handicraft industry is its cottage nature; low entry barriers combined with marginal capital needs (mostly not always), the strength of his hands are all an artisan needs to get started." For a country of 1 billion people this they say is a very good model.
I hope these stories woven with threads, fashioned out of clay and etched in stone inspire every Indian to look around and be the change. Not all of us can create such ventures but we can support them in some way. You can too by:
Buying stuff
Reviewing the ventures
Aiding training and support
Providing consultancy
Spreading the word
These are just a few of our suggestions. We are sure you can come up with many more!
Mariam Noronha is a teacher with over nine years of teaching experience. She has taught a wide range of management related subjects and has authored and presented papers at national and international seminars and conferences. Mariam currently writes her own business blog,TheOneOfAKindPreneur and provides consultancy to aspiring entrepreneurs with regard to business planning, branding, product development and promotion.
We bring stories straight from the heart of India, to inspire millions and create a wave of impact. Our positive movement is growing bigger everyday, and we would love for you to join it.
Please contribute whatever you can, every little penny helps our team in bringing you more stories that support dreams and spread hope.
Tell Us More