Amid all the depressing news we have been receiving on the deplorable situation of the girl child in India, especially from the northern patriarchal states of Haryana, Punjab and Uttar Pradesh, here are a few stories that give us hope. These are women, and also some men, who have adopted and cared for abandoned little girls despite their own dire conditions, and many times against the wishes of their family. This is courage and compassion in its purest form.
It was a cool and quiet afternoon in October 2010. Nirmala was walking back from the Community Health Centre (CHC) in Savansa, a small village in Maharajganj block, Jaunpur district of Uttar Pradesh (UP). Her mother was working at the health centre as a 'dai', or trained midwife, and she had gone there to meet her. That's when she heard a strange mewling sound.
Nirmala narrated the story, "It sounded like a baby was crying, but I looked around and there was no one around. Then I discovered that the sound was emanating from the storeroom of the health centre." The room was not in use, its window panes were broken and there was a lot of rubbish strewn around.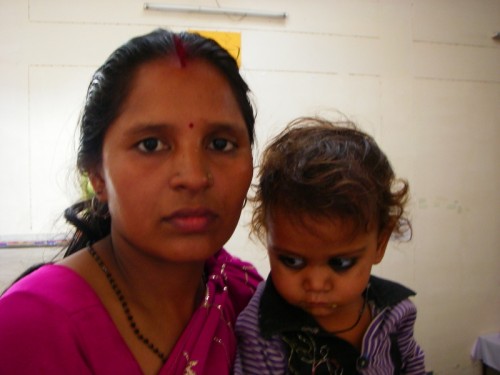 Continued Nirmala, "I opened the door and what I saw made me shriek. A newborn baby was lying on the pieces of broken glass wrapped in a torn vest. The baby must have been crying for a long while – its face had a bluish tinge, and its mouth was parched." Even as she recalled this, tears roll down her cheeks. This incident changed her life.
The first thing Nirmala did was to pick the baby up and breastfeed her. She was able to do this because she had only recently stopped feeding her six month old daughter. She then tried to find out whose daughter this was, lying so helplessly amidst the debris of an abandoned room. She went to the nearby hospital to try and locate the real parents, but no one could give her any information.
Eventually, Nirmala brought the baby home and had her treated at a private nursing home in the city since there was no facility for proper childcare at Savansa. That was when she came against a huge challenge. She already had three sons and a daughter. Her husband and his family could not tolerate the thought of having another girl child in the family. This led to a serious disagreement between Nirmala and her husband, and before long she found herself thrown out of her matrimonial home along with the children.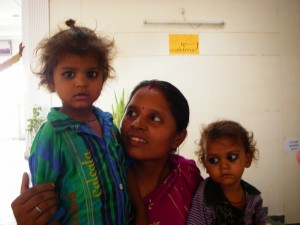 Nirmala, and her brood of five, found shelter in her parents' house. Endowed with a sense of self respect, she decided to work as a labourer to support the now much extended family. Finances ran low. She and her brothers together earned less than Rs 6,000 every month – hardly enough to support a family of 15. Yet, fortunately for Nirmala, her parental family had no problems with welcoming its new member. The child, now named Ankita, is today a much loved member of the household.
Nirmala was one of several courageous women of the state to have fought with her own relatives to save the life of a baby girl. The social action group, ActionAid, which has been working on the issue of India's skewed sex ratio through its campaign, 'Himmat Hai Jine Ki' (Courage to Live), honoured her – along with 14 other women and two men, who have, despite their desperately poor personal circumstances, adopted girl children abandoned by their biological parents.
The honours list included Sunita Yadav from Hisaba village of Baghpat district, who had brought home a five year old girl whom she found begging on a village pathway. Named Puja, she is studying in Class Five in a private school today. Then there was Rekha, 45, a midwife from Chitrakoot district, who despite being a mother to seven children and a grandmother to three, adopted an infant girl abandoned at the hospital by an unwed mother. "Since the mother was not married she asked me to kill the child. I couldn't do that, so I took responsibility for that innocent life," said Rekha simply. She named her child Pari, or fairy. Rekha's husband is a rickshaw puller. Fortunately, he did not object to his wife's action.
Another woman honoured by ActionAid was Shivkumari, from Kuthound block of Jalaun district. She comes from a fisher community and has personally influenced 13 women from seeking sex selective abortions under family pressure.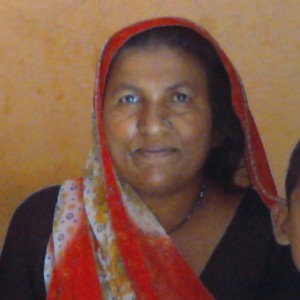 These illiterate, marginalised women and men have shown their ability to understand the basic principle of gender equality in a predominantly patriarchal society like that of northern Indian, where son preference is the norm. According to the latest Census figure, UP's child sex ratio stands at 899 girls for 1000 boys, which is much lower than the national average of 914/1000, a figure that is itself disturbing.
According to Debabrata Patra, Regional Manager, ActionAid Lucknow, what was alarming was that this decline was no longer confined to the districts closer to Delhi and Haryana. Said Patra, "It is widespread across the state. It cuts across all classes and rural-urban divides." This despite the Pre-Natal Diagnostic Technique (Regulation and Prevention of Misuse), or PCPNDT, Act, which criminalises sex selective abortions.
Vatsalya, a Lucknow-based organisation, which has been relentlessly working on curbing sex selective abortions, analysed the data from the 2001 and 2011 Census to estimate the number of missing girl children. Said Dr Neelam Singh, Chief Functionary, Vatsalya, "Going by the statistics, over 700,000 girls are missing between 2005 and 2011. This means that at the national level, more than 100,000 girls go missing every year, which means more than 10,000 every month and over 300 every day!" She reiterated the need to implement urgently the PCPNDT Act in letter and spirit, even as efforts to change mindsets carry on apace.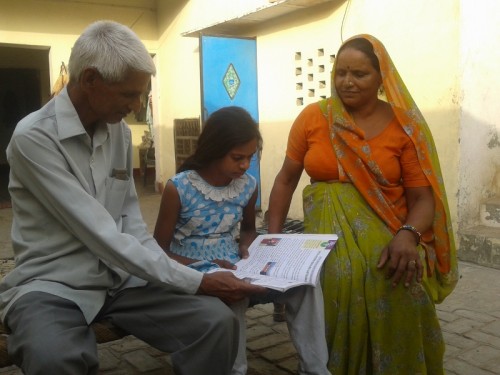 But clearly there was something to be learnt from the actions and responses of the 15 women who went against the grain and demonstrated to their community, and the world, the value of the life of the girl child. Joanna Kerr, International CEO, ActionAid, who was present when Nirmala and three others were being honoured, put it this way, "I praise, respect and salute these women who have saved so many lives."
She went on to narrate her own story, "In 1966, my mother was pregnant with her third child. She already had two daughters and was keen to have a son. I was already named Andrew. Since there was no technology at that time to determine the sex of the child, I was allowed to live. If my mother had not allowed me to be born I wouldn't have been able to meet so many courageous women today. In the same way, there are so many prime ministers, engineers, doctors, scientists, who are not with us today only because they were not allowed to be born."
We at The Better India want to showcase everything that is working in this country. By using the power of constructive journalism, we want to change India – one story at a time. If you read us, like us and want this positive movement to grow, then do consider supporting us via the following buttons.
Please read these FAQs before contributing.