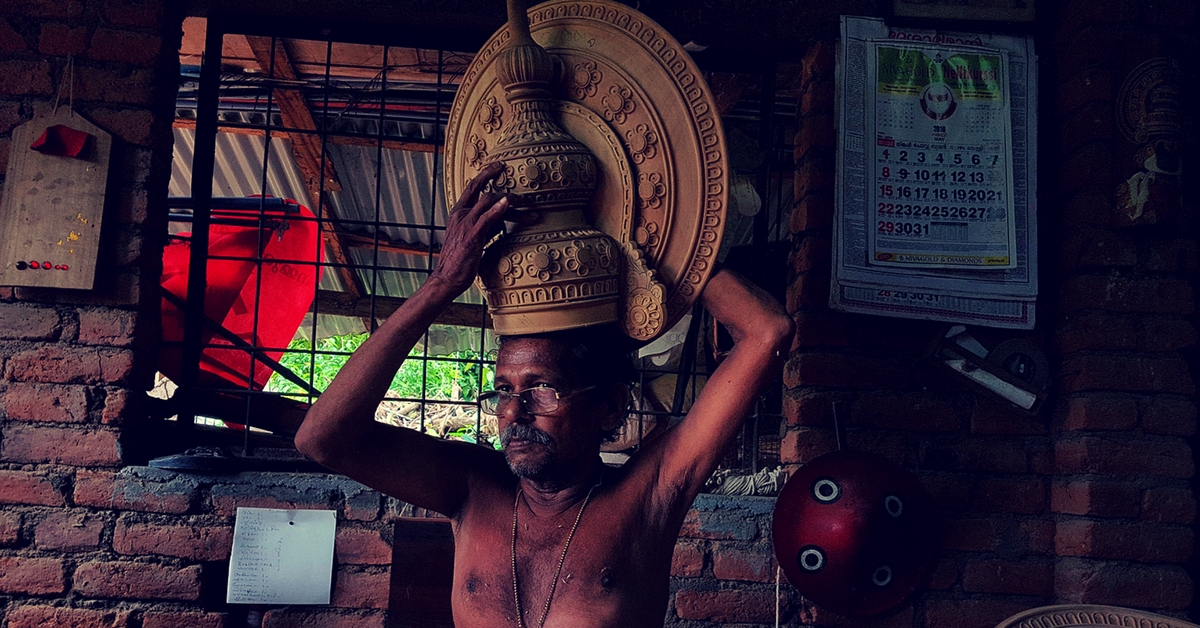 The headgear and ornaments worn by Kathakali artistes are handmade by 68-year-old Ramankutty Kothavil.
The headgear and ornaments worn by Kathakali artistes are handmade by 68-year-old Ramankutty Kothavil.
The heritage village where 68-year-old Ramankutty Kothavil's home is located, is etched in the hearts of those who follow Kathakali, the famous dance drama of Kerala. Local lore has it, that at least one person in every house of the quaint village of Vellinezhi, has something to do with Kathakali.
In fact, we met many of them during our travels to explore the cultural heritage of central Kerala. Some played percussion instruments, some others are still teachers or students at the nearby Kalamandalam, the classical drama school set up by Poet Vallathol on the banks of Bharatapuzha (River Nila) in the 50's. Some of them are experts in chutti (an elaborate make up process). Vellinezhi is also home to hugely talented dress makers and tailors who make the costumes for Kathakali dancers.
The intricate headgear, bracelets and other ornaments worn by the Kathakali artistes are also made in this village.
When Gods and Goddesses from popular mythologies are brought to life by artistes, it is while wearing the headgear and ornaments made by Kothavil.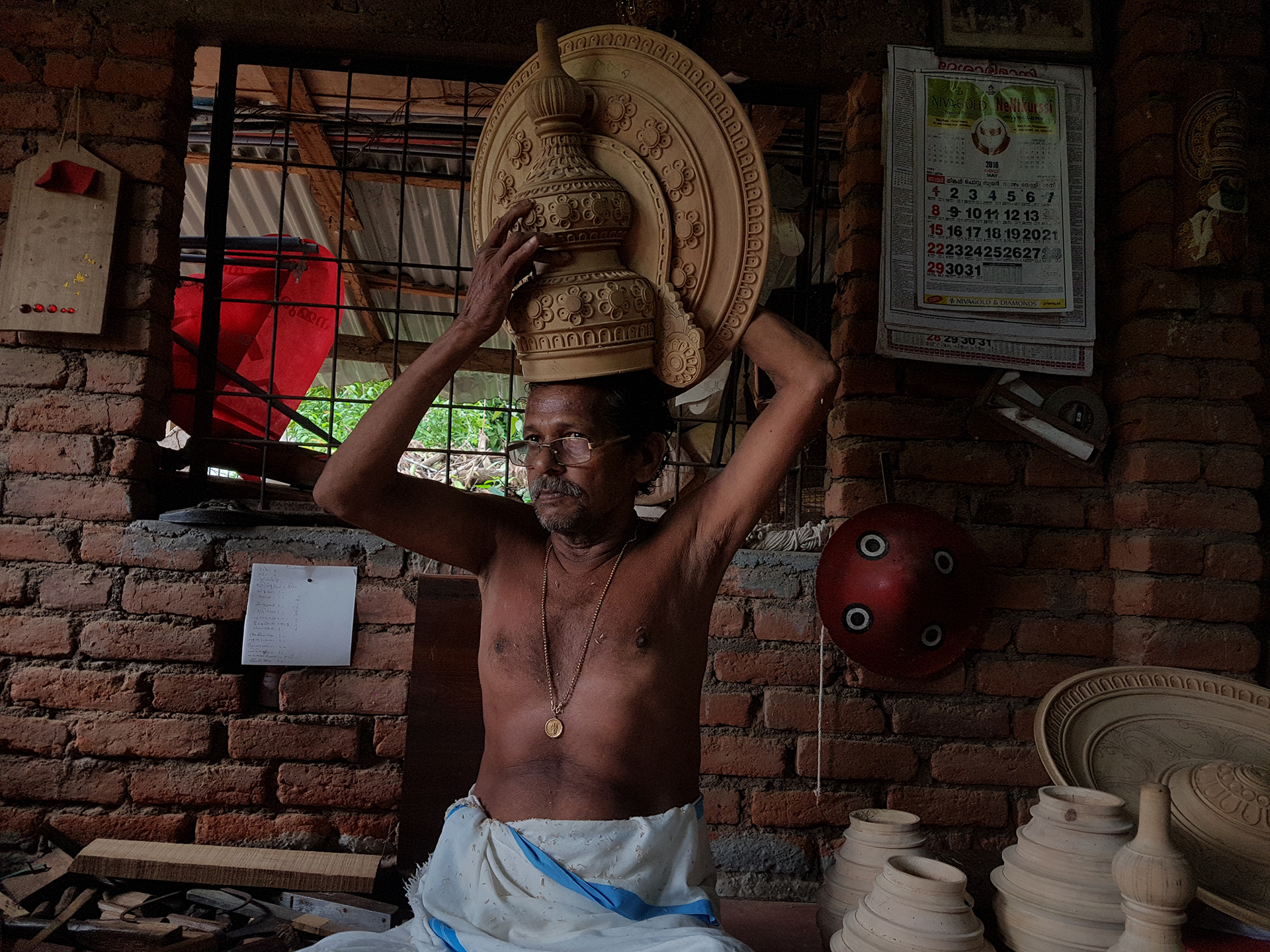 He also make ornaments and accessories for artistes performing Koodiyaattam, Chakyaarkoothu, Nangyaarkoothu, Ottan Thullal and folk performances and rituals like Poothanum Thirayum.
"Making costumes – Koppu nirmanam – for these art forms is an interesting stream inseparable from the art itself. It is pure carpentry with high art at a very minute level; an amalgamation of four big 'A's – Art, Artistry, Artisanship and Aesthetics," the Director of the Centre for Koodiyattam, Thiruvananthapuram, of the Central Sangeet Natak Akademi, New Delhi, had once said.
"We were carpenters. It was my father who was asked by the trio of Govinda, Krishna, Rama Warrier from Vazhayankada to work with them to make 'Koppu;' he defined the configuration of most of the accessories that are seen now. We still use the same configuration. I took up this work due to the sudden demise of my father who had accepted many orders from institutions like Kalamandalam. Stalwarts from Olappamanna Mana played a considerable role in defining "Kalluvazhi chitta," a method of performance and practice in Kathakali. We had the opportunity to make a full set of 'Kathakali Koppu' for Olappamanna Mana Kaliyogam as well," he says.
"Unfortunately, there's hardly anyone making such intricate headgears and ornaments from wood these days, though there are one or two carpenters who are crafting a small number of headgears on demand," Kothavil explains.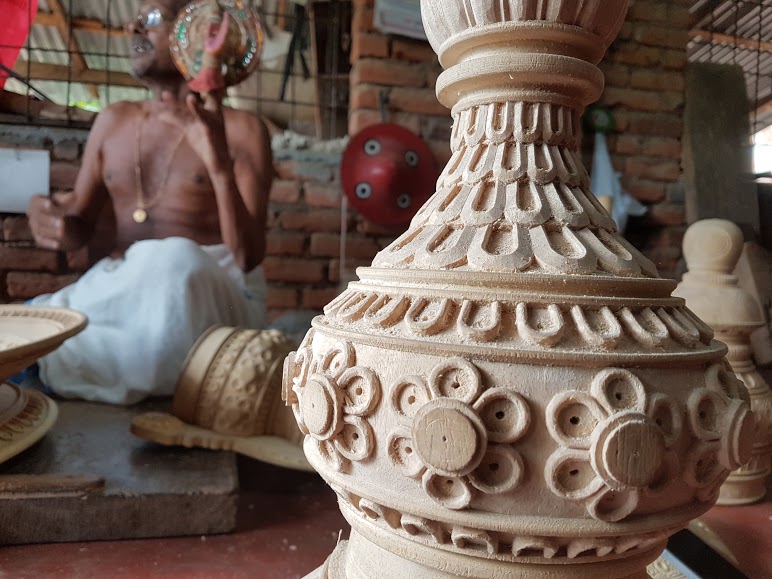 "There was a time when we used to get calls from forest officers or timber mill owners from all parts of the state when a particular tree of Iruli was felled. This craft is made only using this soft wood as it is light weight and allows us to carve as if it's butter. A fullhead gear would weigh less than 450 gms. We don't face any shortage of timber these days," he says.
"Many skill sets associated with this craft are disappearing, unfortunately. My father used to talk about an artiste in the village who would spray paint gold on the crown compared to the golden glitters (made from paper) that are used to decorate the crown today," he reminisces.
"Fortunately, my children are keen to continue this tradition and work with me. We also have two students who have been interning with us for the last six years. How can you expect someone to spend years doing this when, these days, they don't earn much visibility or recognition for what they do?" he asks.
"The Centre for Koodiyattam, Thiruvananthapuram, used to give us a fellowship of Rs. 10,000 per month for senior teachers and another Rs. 7,000 to two of the assistant teachers and Rs. 2,000 to one of the students for seven years. This has stopped now," Kothavil says.
When asked whether he can make a living off this craft, he responded: "We make just enough for us to live out of this. The raw material cost and labour cost are high, and it takes almost a month for me to complete a headgear on wood. Even if the demand increases, we just don't have enough skilled craftsmen to take up the work."
The day we met him, Kothavil was in a celebratory mood because of a rare opportunity he had got:
"This is the first time that we received  so many orders and it will probably be the last in my life time," he says.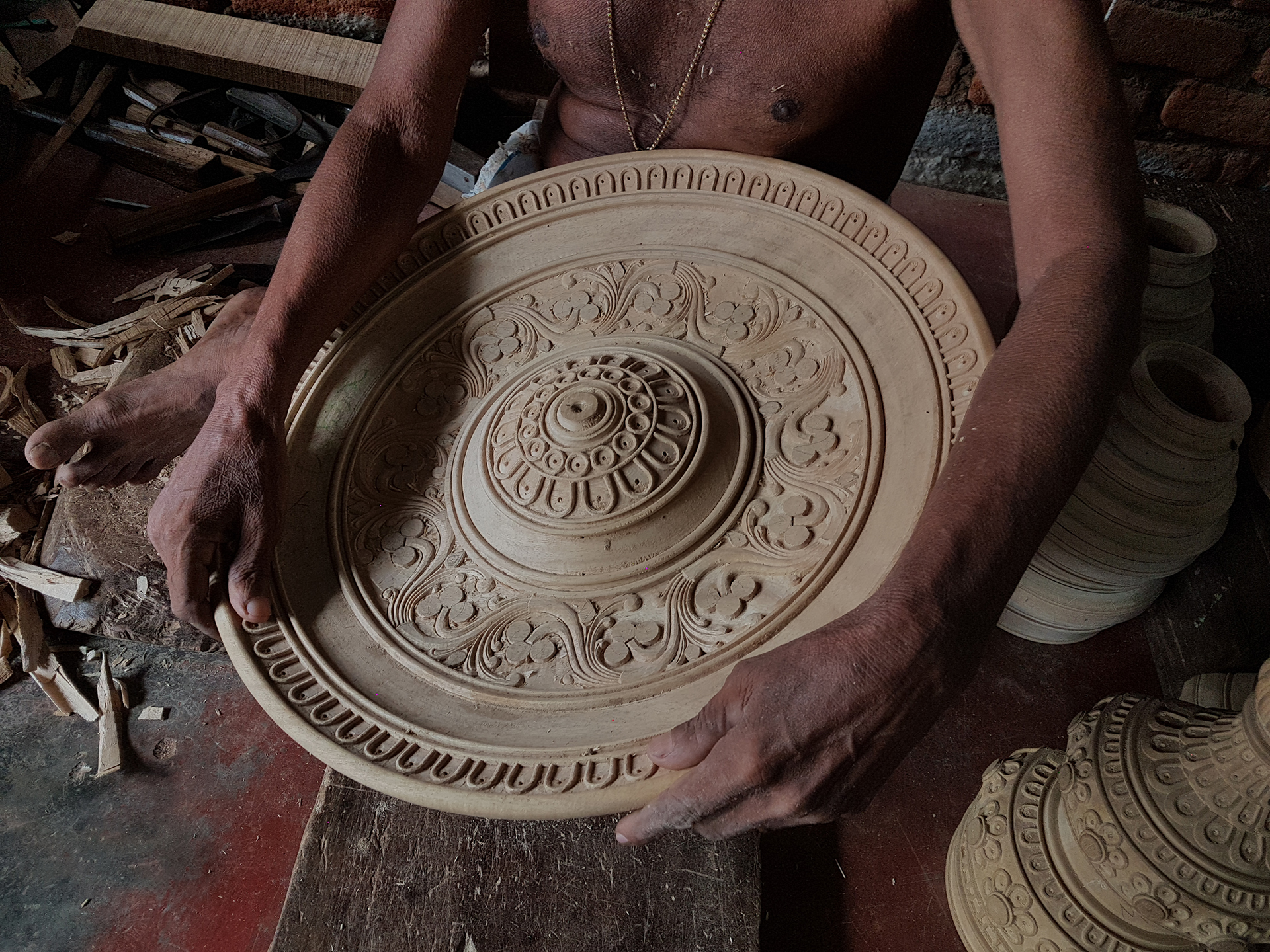 Kerala Kalamandalam has placed an order for complete sets of crowns, ornaments and accessories including weapons for characters of Kathakali, Koodiyaattam, Ottanthullal, Nangyaarkoothu and Chakyaarkoothu. The last time a complete set for Kathakali was made was during the shooting of the Malayalam movie 'Vanaprastham' in 1999 where the pratogonist was played by Malayalam Superstar Mohanlal. Now, it adorns the wall of an art collector in Kerala.
Kothavil believes that unless and until the new generation starts taking an interest in classical dance dramas like Kathakali, the demand is going to be negligible.
"Instead of being part of a living heritage, I hope we do not soon see them only as museum pieces," sighs Kothavil. "If there are students who want to learn the craft, we are happy to train them. Maybe they might be able to come out with more utilitarian product designs out of this knowledge."
Also known as Ramankutty Asaari, he is one of the five artisans and artistes who will be bestowed with a Life Time Achievement Award from The Blue Yonder during the 2016 World Tourism Day Celebration. A one-time financial grant worth Rs. 1,00,001 will also be gifted to them for their contribution in sustaining the civilisation of Bharatapuzha / River Nila.
Like this story? Or have something to share? Write to us: contact@thebetterindia.com, or connect with us on Facebook and Twitter (@thebetterindia).
We bring stories straight from the heart of India, to inspire millions and create a wave of impact. Our positive movement is growing bigger everyday, and we would love for you to join it.
Please contribute whatever you can, every little penny helps our team in bringing you more stories that support dreams and spread hope.