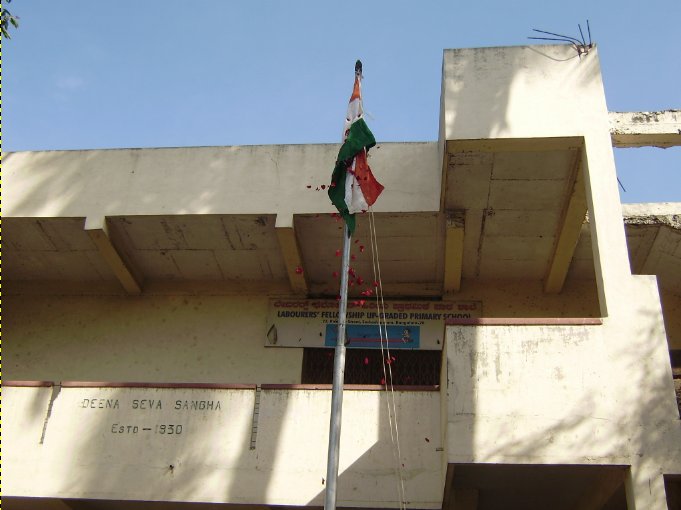 On Sunday, I was invited by a volunteer to visit the premises of a school which is crumbling in terms of infrastructure. The school is Deena Seva Sangha, located close to the old Kino theater.
We first entered a small room termed as 'hostel'. It was a dark room, perhaps 20 feet by 7 feet wide. Aluminium chests were stacked wall high in one corner. Various pants and shirts hung on top of one makeshift wooden wall which served as a provider of privacy.
Going ahead, we were taken to the main hall that served as the dining and sleeping area for the 65 students who study and live here. Then we were shown the store room, where the food rations are kept. The school sends its students to the city market once a week to get vegetables, which are given free to them by some generous and charitable vendors.
Moving on to the school building, which lay adjacent to this 'hostel', we were shown a pipe jutting out of the wall, gaping with its outlet wide open. In the past, the volunteers have put a tap on it to facilitate drinking of water, but every time they have done that, someone has stolen the tap overnight. A measly 10 rupees for us, but perhaps a meal for someone else. I then entered the building, which is two storeyed. Walking through the corridors, I see the empty classrooms with wooden benches strewn around. I reach the last classroom and look at the blackboard. Someone has scribbled the famous four letter 'f' word on the board, in cursive handwriting.
I move back towards the entrance and by now one of the volunteers has managed to get the door to the library opened. I enter the library and find that it is being used more as a junk yard, with all sorts of things lying around. There are broken tubelights jutting out of brown dusty cardboard boxes, a broken abacus lying in the middle of the room. In one corner, is a small two door cupboard that has the much sought-after books (much sought after by the visitors, since this was a libary after all). The books are few and most are torn. I then get out of the building and look at a smaller building in front of me. This one has the words 'War on Want, UK' engraved on top of it. "Why would someone provide war when you want it", I wondered to myself. It took me a few more moments before realizing that the word "want" was used as a noun, not as a verb. Which meant that the word "want" here referred to the property of being in need of something. A little google-ing later gave me the website of this organization – War on Want.
We then get out of the building and there is a tea session held by the volunteers. Their aim? To showcase the state of the school and garner some funds.
If you would like to visit the school or donate, contact these folks: Yuva Bengaluru
(This post originally appeared on Dhimant's personal blog with the title War on Want: www.dhimantparekh.com)
Image Courtesy: http://yuvabengaluru.org