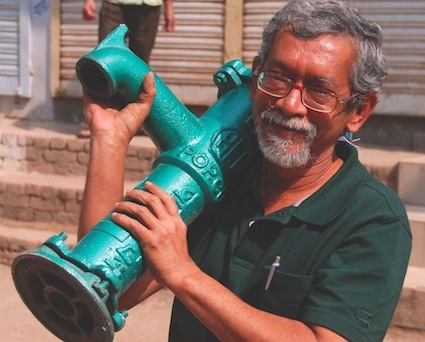 An affordable device that does not need electricity or moving gears but runs only on gravity, is scientist Suprio Das's answer to water contamination. Nilanjana Nag Pereira reports. Odd as
An affordable device that does not need electricity or moving gears but runs only on gravity, is scientist Suprio Das's answer to water contamination. Nilanjana Nag Pereira reports.
Odd as it may seem, innovation and its usage have become inversely proportionate today. Says scientist Suprio Das, "90 per cent of our leading designs are created only for 10 per cent of the people- those who can afford to benefit from them." While not interfering with the age-old discrepancies between the haves and the have-nots, Das intends to make something as basic as pure drinking water affordable and accessible to the common man.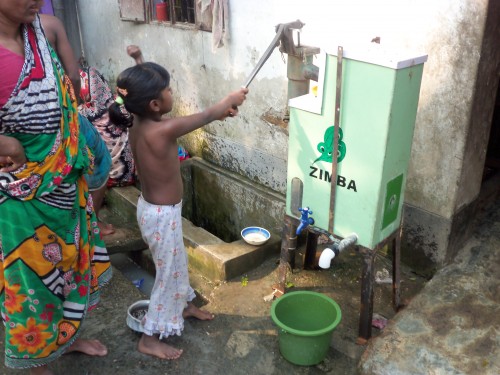 In the year 2005, the presence of arsenic in Kolkata's ground-water caught Das's attention. He began visiting small villages in Bengal to collect water samples. He then volunteered to work with a local NGO on arsenic mitigation. In 2011, his invention, ZIMBA, an automated chlorine dozer, was installed in a village near Gobardanga, Bengal and consequently in five slums of Dhaka this February. The response from these areas has been quite promising, Das tells us. The device has been lauded for the simplicity of its design and its easy implementation.
How does ZIMBA work? Once installed, it automatically adds chlorine to water in correct proportions, explains Das. It can be fitted to a rural community's existing water source, such as the hand pump of a well or the tap of a rainwater harvesting cistern.
However, durability of the device was a major concern for Das; moving parts such as hinges and gears are usually the first point of failure, hence designing a product with zero moving parts was the intention from the start. Moreover, ZIMBA does not require electricity to run, which is expensive and unreliable in rural areas; it can be operated using gravity alone. That the source of water in rural areas is often varied proved to be another challenge. Though channelized flow of water in a regular tap was easy to work with, it wasn't always readily available. Hence the device had to be compatible with any method of input, be it from a tap, a hand pump or even a bottle poured out in batches.
Deriving the correct ratio of chlorine to water, a common problem for most people working with chlorine, required precision and the creator of ZIMBA achieved it after much hard work.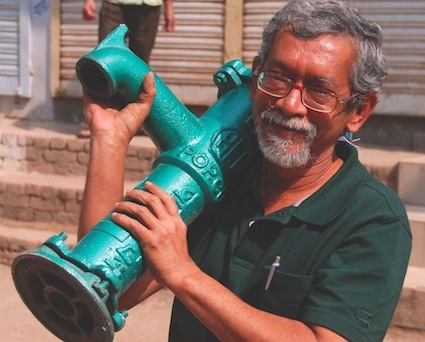 Naturally, the effort has borne fruit. So far, 5 slums of Bangladesh have used ZIMBA. Soon, Das will choose a few villages in North 24 Parganas to install the instrument with the help of a local NGO. The International Centre for Diarrhoeal Disease Research of Bangladesh, and a team from Standford University, is now carrying out research to determine if ZIMBA would help generate bacteria or arsenic-free water.
Closer home, Das is trying hard to facilitate the implementation of community-based chlorinating devices in Kolkata; he believes that the West Bengal government would benefit a lot from it. He believes,
The state would see fewer diarrhoeal diseases in urban slums and rural areas, he says, "the current data on mortality and disability caused by diarrhoeal diseases in India is alarming – diarrhoea alone causes more than 1,600 deaths daily. This device could also be implemented in emergency situations after floods and earthquakes.
When asked about funds for the project, Das, who gave up a stable career in electrical engineering to innovate independently, says, "It is not just raw material but also tools and manpower that are required for experimenting and prototyping. I start with my own resources and then look for funding to move ahead. Projects die when funds are not available but for ZIMBA I was fortunate to get some funding from a US-based organization." The relative cost of the device when patented, Das tells us, can be approximately Rs 5000 and one unit can serve more than 50 families. If produced in bulk the cost can be brought down by 50 per cent.
Meanwhile, ZIMBA has fetched Das international recognition. A seminar held last year at Stanford University, USA, also displayed ZIMBA. Das demonstrated how the device worked and addressed the audience on grass-root innovations in general. He also spent a few days working with a group of students on developing a different technology for an automatic chlorine dispenser.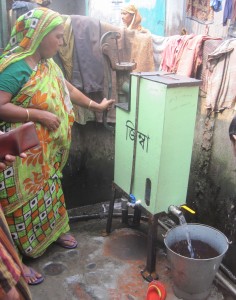 Would Das ever consider teaching youngsters? "I thought students in India are mainly concerned about getting better grades that may fetch them high-paying jobs," says the cynical 55-year-old scientist. "They do not have time for anything outside their curriculum and I don't blame them because creativity is not really nurtured in our present education system." But there is light at the end of the tunnel for Das. Having enjoyed working with student teams at MIT and Stanford and teaching them the significance of low-cost technologies, Das now has a renewed sense of hope in the future generation. "Being innovative cannot be taught through lectures and text books but can be shared through experiences. I would be more than happy to share mine with those who are interested."
When asked why his creation is called ZIMBA and if it is an abbreviation of sorts, Das chuckles, "Zimba or Simba means 'lion' in Swahili." Considering the device can handle more than a thousand litres of water per day, thereby catering to the needs of a large majority of people, the name seems apt indeed.
We bring stories straight from the heart of India, to inspire millions and create a wave of impact. Our positive movement is growing bigger everyday, and we would love for you to join it.
Please contribute whatever you can, every little penny helps our team in bringing you more stories that support dreams and spread hope.