How many women does it take to start an all-women travel company, set up a women's welfare network for women in distress, write tirelessly on social and environmental issues, win a bronze at the National Ice Hockey Championship, and keep training an ever-growing number of women to be professional trekking guides in the harsh terrain of Ladakh? Just one, if that woman happens to be Thinlas Chorol.
Back in 2009, Thinlas Chorol set up the Ladakhi Women's Travel Company, which has the distinction of being Ladakh's first travel company completely owned and operated by women. It is also known for promoting ecotourism.
Thinlas' foray into the mountains began as a five-year-old accompanying her father on long treks through the mountains with their goats and sheep.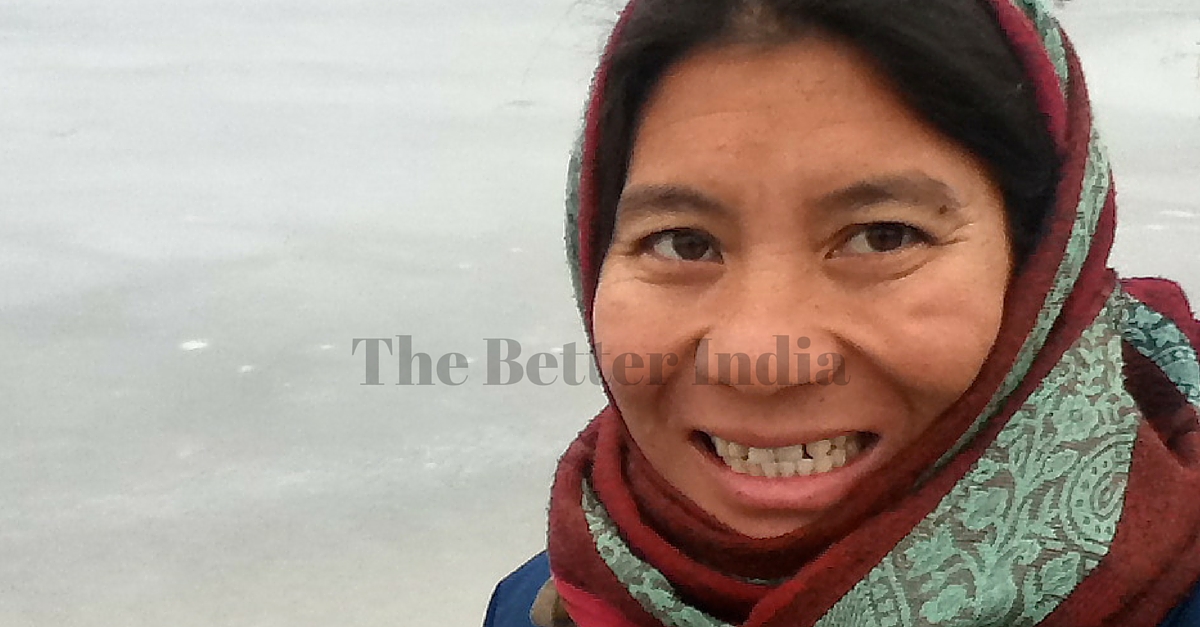 Having lost her mother when she was a baby, her father was all Thinlas had. Scared that "something might happen" to him if he were to venture into the mountains alone, she went with him. Today, as one of Ladakh's best trekking guides, she looks back on that incomparable training fondly, as "the bliss of my childhood."
Her Journey
What was far from bliss was the assortment of obstacles Thinlas encountered on her way to becoming the pioneering and inspirational woman she is today. Societal restrictions, taboos and narrow mindsets had to be countered for her to become a professional trekking guide at a time when female trekking guides were unheard of.
Despite her trekking competence, many travel companies refused to hire her as a guide, solely on account of her being a woman.
Most men, on the other hand, were hired as trekking guides even without any professional training or knowledge of trekking routes or awareness of environmental impact. She was repeatedly told that a Ladakhi woman going into the mountains with a group of foreigners would be frowned upon by society. But she didn't let the rejections and social taboos stop her.
Thinlas had met a few female travellers who had been harassed by their male trekking guides and were keen on trekking with a female guide they could trust. With the encouragement she received at SECMOL (Students Education and Culture Movement of Ladakh, an organization that helps educate children from remote regions of Ladakh) and the support of her American English teacher, Thinlas went on to gain some commendable professional expertise. She attended a mountaineering course at the Nehru Institute of Mountaineering (Uttarkashi) and spent a semester at the National Outdoor Leadership School (NOLS) in Ranikhet, Uttarakhand, where she picked up wilderness and leadership skills. She even worked as an instructional aide at NOLS and was the first Ladakhi to do so.
Thinlas started the Ladakhi Women's Travel Company (LWTC) in 2009 at the age of 29.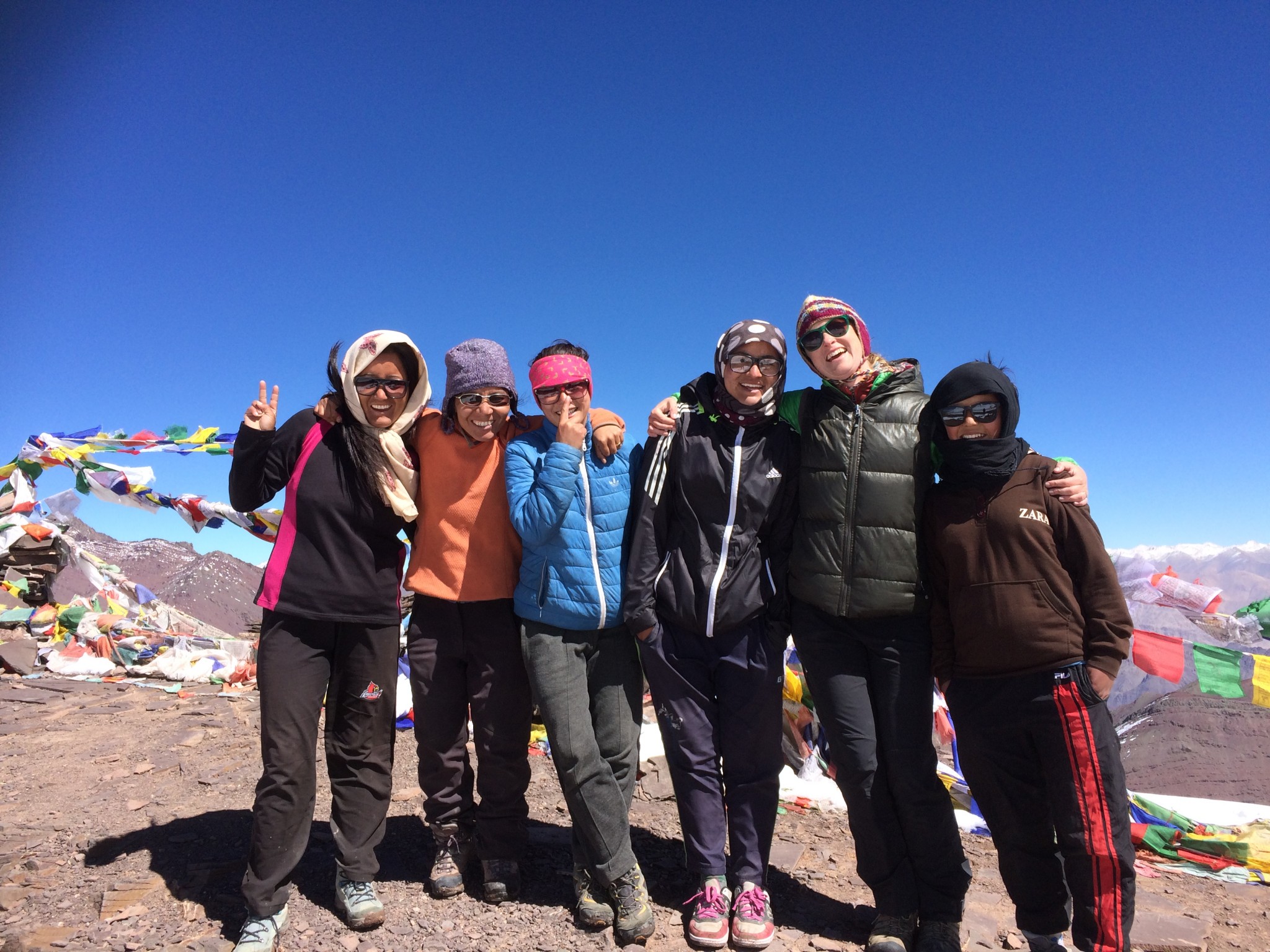 Since then, many Ladakhi women have approached her to train them as trekking guides and, today, the company has 8 guides, 4 trainees and 20 employees in all. It takes a minimum of one year with the company to become a trekking guide. Thinlas also co-founded the Ladakhi Women's Welfare Network in late 2013, which helps women report crimes against them and works towards their general welfare.
Responsible Travel and Ecotourism
Given Thinlas' deep sense of connection with the land, responsible travel is a huge part of LWTC's work. Having seen a lot of garbage dumped on the mountains by irresponsible campers and tourists, the women at LWTC ensure that the 'leave no trace' rule is respected on their treks and the environmental impact minimized.
Trekkers make halts at homestays run by rural women and learn from Ladakhis about their way of life. Clients are told to avoid plastic bottles and instead refill water bottles at the homestays. Thinlas says that since homestays are unprofitable for travel agencies many of them don't offer this option to clients unless the latter specifically insist on them. As LWTC's website states, homestays help rural women achieve the same status as their men who are out earning for their families. Homestays also encourage people to remain in their villages instead of seeking jobs in cities.
Homestays are the most eco-friendly way to discover Ladakh as they also put minimal pressure on natural resources, unlike camping, which requires ponies and donkeys that deprive the local wildlife of its share of the sparse grass on the mountains.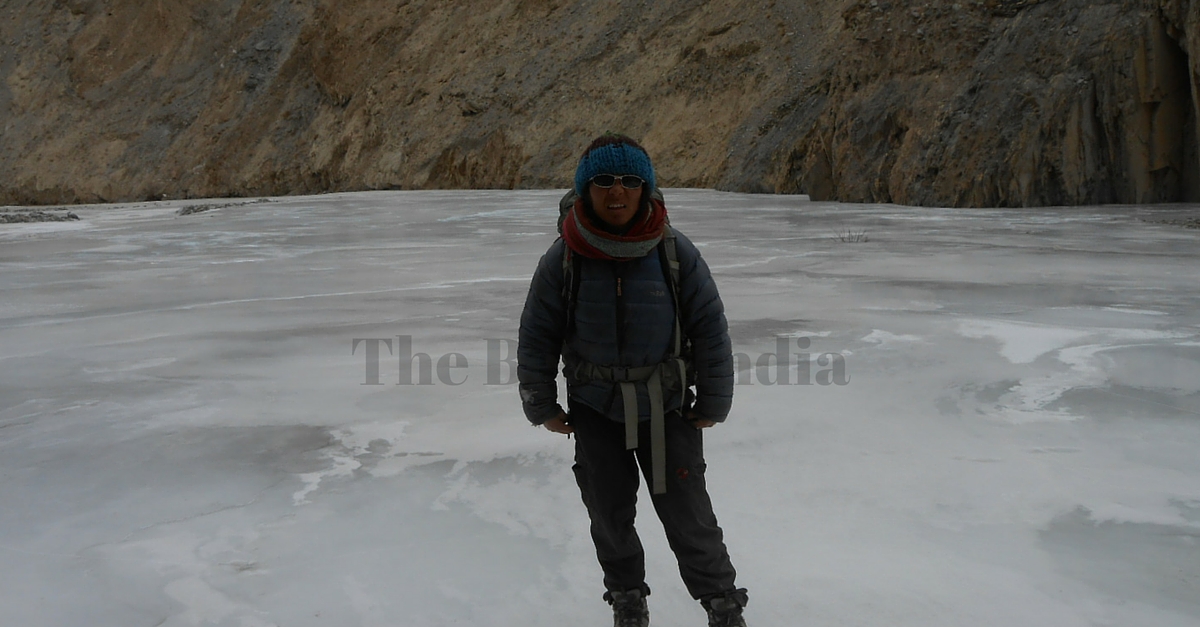 The women of LWTC are also highly knowledgeable about the local culture, history, flora and fauna and are glad to share that knowledge with the trekkers. A trek with them can give a city dweller an experience of the real Ladakh more than any typical 'touristy' visit could.
The Challenges
The main challenge for LWTC is the seasonal nature of their work, with the season being barely four months from June to September. LWTC has to stretch out the income made in these few months for the rest of the year. In the winter, LWTC offers snow leopard treks but, because this is the off-season, there aren't many takers. The team also looks forward to more people volunteering to teach English to the Ladakhi women training with the company.
The Vision
In empowering herself, Thinlas has empowered a host of other women as well.
In her own words: "Women should think for themselves and not depend on their families. If they believe in themselves, they can achieve what they want. Women should not listen to what society is saying. They should listen to their own ability to work. Then, definitely, they will succeed if they work hard."
Her vision for LWTC is to see her trekking guides spread their wings across the globe and, in turn, inspire many others to actualize their dreams.
If you'd like to help, please donate to the Ladakhi Women's Welfare Network (LWWN). It is not affiliated with any religious or political institution and works independently for the welfare of the women of Ladakh.
Like this story? Or have something to share? Write to us: contact@thebetterindia.com, or connect with us on Facebook and Twitter (@thebetterindia).
About the author: Namita Kulkarni is a nocturnal creature who sunlights as a writer, Yoga teacher and artist. She loves going where she's never been, having (mis)adventures, dancing with words and music, learning new languages and stories. Currently based in Bangalore, she bares her soul at www.radicallyeverafter.com, tweets @namitakulkarni and instagrams @namita_nefarious
We at The Better India want to showcase everything that is working in this country. By using the power of constructive journalism, we want to change India – one story at a time. If you read us, like us and want this positive movement to grow, then do consider supporting us via the following buttons.
Please read these FAQs before contributing.