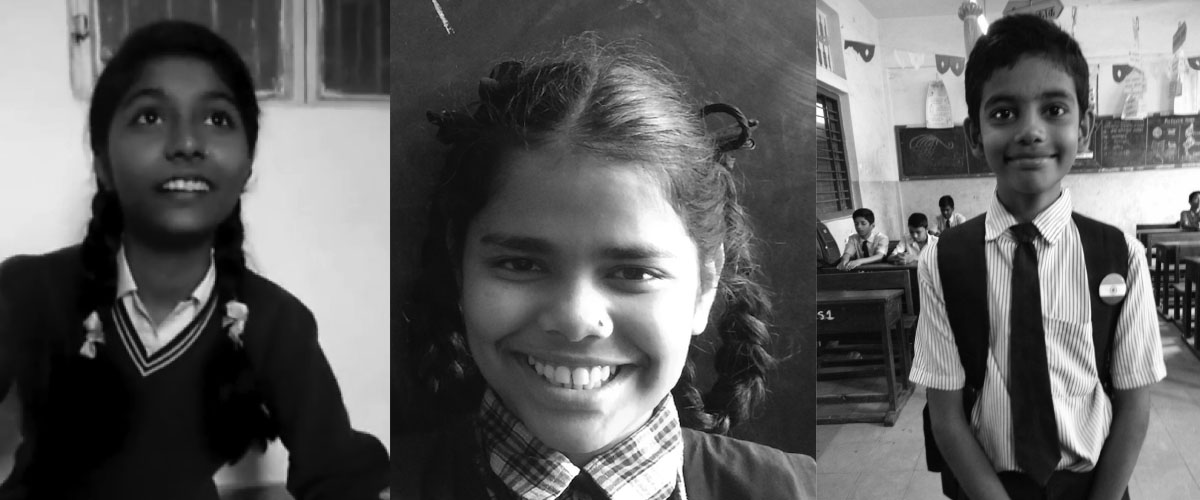 Let us make our children a part of conversations related to our nation and understand the India that they would like to grow up in. Let us ensure that our children grow up to be aware and engaged citizens who can tell the difference between right and wrong and have the courage to stand by what is right!
As a nation, we currently have a number of ongoing conversations around the problems that our society faces and what we think the government should or should not be doing to ensure that our country becomes a great place to live in.
It is essential to involve our children in these conversations – for they are the ones for whom we are trying to build a better tomorrow. It is not only productive but absolutely imperative, to see things from their perspective. They have the capacity to believe in and say things that may seem absolutely impossible today but need to happen anyway. They face no qualms in pointing out what is not right and in speaking up when they feel that the prerogative for change lies with the citizens of India themselves and not just the government.
Read more to find out what a few of our 11 to 16-year-old #StudentLeaders from Mumbai and Delhi have to say about their 'Ideal India'!
What would the India of your dreams look like?
My India would be clean and green. It would have people who would all be kind, honest and have a golden heart. They would all try to help each other. Everyone would be equal. Nobody would be rich or poor. Everyone would have food and water to drink. They will all have a chance to prove themselves and develop themselves. – Nisha
In the India of my dreams, people would help each other and not fight – instead they would discuss and solve their problems. Different religions wouldn't think differently. Girls would be treated the same as boys. – Anuj
In my ideal India, everything is green and there is a lot of oxygen. There are trees and it's very beautiful. Anyone who comes from another country says, "Wow I also want to live here!" People from other countries never say bad things about India. – Tanishka
---
What are the few big problems that our country faces today according to you?
The biggest problem is poverty which comes in the way of developing our country. Equality is also an issue – gender equality as well as equality between castes & religions. There are many wars between India and other countries like Pakistan and China just because of land. For example they are fighting about Jammu and Kashmir because of which the people living there are suffering. Political parties are fighting for power but they are not doing anything with that power. They are just trying to get more power. If they do not do anything with the power it will get wasted. Lots of cases are being presented in the court but no strict investigation happens. – Nisha
I think in India there is no unity which is the biggest problem. For example, if any country wants to invade India they use the divide and rule system. They can tell the Muslims that Hindus are planning something against them and the Muslims will actually believe that and vice-a-versa. If we do not stay together, India will never become a developed country. The second problem is corruption because of which there is poverty. The rich people hide black money because of which the government loses its money. Because of corruption taxes also increase and poor people can't send their children to school to study. – Muskan
Women are not safe in India. Some people tease women and the policemen don't care and do nothing about it. If a women wants to go out of the house at night, they can't go because the area around them is not safe. The other problem is that there are many companies in India doing illegal things. Companies who are powerful can use their power illegally and bend the rules accordingly. – Salman
The biggest problem today is education. There is very less education in the country and many people are not getting educated. With education we can do anything. It is the key to success. It can also be the key to make India a developed country. The thinking of people living in India is that India can't do anything. That thinking needs to change first. – Shaireen
The big problems that India faces today are poverty and superstition. Poverty leads them to starve and die. They don't get jobs because they do not have an education. Many people also die because of superstitions. In Rajasthan, if a girl is born they drown her in milk. We have TV shows like Savdhaan India but I don't know how much they really help. – Swati
---
If you become the PM of India, what will you do to solve these problems?
If I was the Prime Minister of India, I would try to stop the government officers from taking bribe. I would try to explain to other countries to not fight for land. I would give the protection given to me as the PM to the people living in India instead. I would raise awareness about necessity of education. I would have a forum for all citizens so that I can hear their issues and get solutions to solve the same. – Nisha
If I was the PM I would take strict action against dowry. If someone takes dowry a strict punishment will be given to that person. People who spit and throw garbage would be encouraged to throw everything in the dustbin and not spit on walls. – Soheil
The first thing that I will do is first go to each country and discuss problems. I would make the relationship between Pakistan and India better so that we don't have to spend money on unnecessary fighting. I will use the same money in government schools to provide better education to underprivileged children and help the teachers to teach better. I will provide good quality technology products to classrooms as learning visually is much easier than textbooks. There needs to be a platform where people can share their ideas. I will make a website where they can share their thoughts and I will support them on the same. I will provide electricity to villages by talking to companies like Reliance and telling them that how much electricity they should give metros and how much can be rationed for villages. – Anuj
---
What advice or message would you give to all Indians?
Let us make our children a part of conversations related to our nation and understand the India that they would like to grow up in.
Let us ensure that our children grow up to be aware and engaged citizens who can tell the difference between right and wrong and have the courage to stand by what is right!
---
– Written By Rimjhim Surana, Digital Associate (Communications), Teach For India
In an effort to raise awareness about the need for an excellent education for all children in India and to shift the conversation to what children are capable of when provided with the same, Teach For India is set to host Teach For India Week 2015 – a showcase of student leadership – between 14th to 18th December. Follow @TeachForIndia for more updates! Applications to the 2016-18 Teach For India Fellowship program are now open. Apply now at http://apply.teachforindia.org/user/register. Application Deadline – 2nd February 2016.

We bring stories straight from the heart of India, to inspire millions and create a wave of impact. Our positive movement is growing bigger everyday, and we would love for you to join it.
Please contribute whatever you can, every little penny helps our team in bringing you more stories that support dreams and spread hope.
Tell Us More