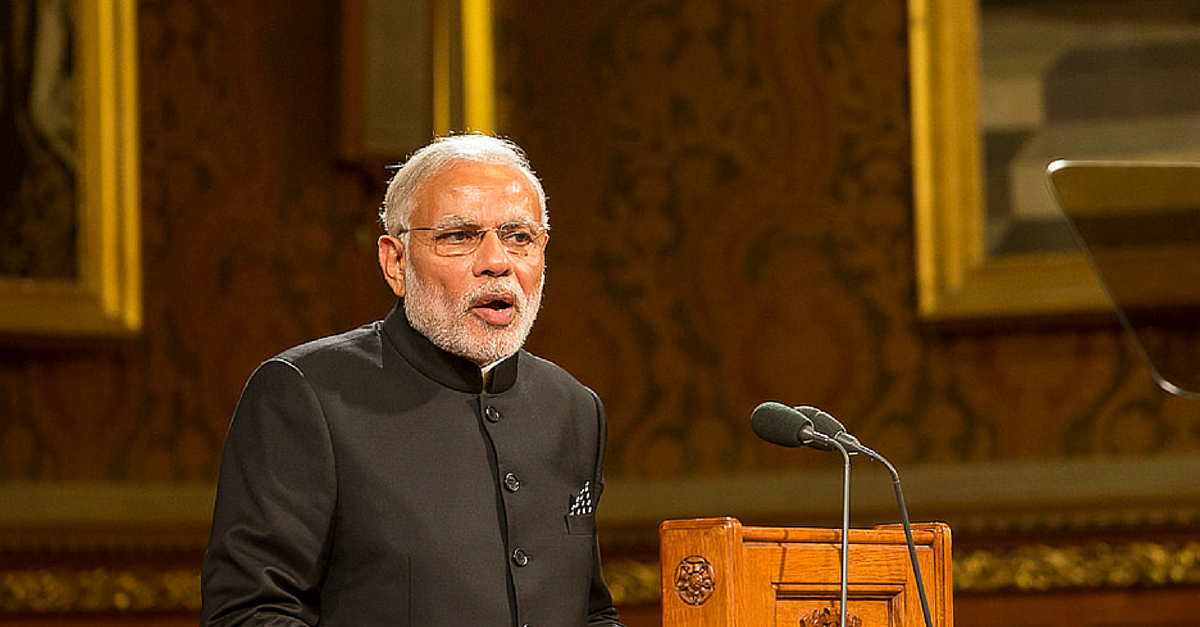 Sujay Ravikumar attended the grand Indian diaspora event in Singapore to listen to Prime Minister Narendra Modi. And these are the thoughts with which he came out of the event.
---
I recently attended the grand Indian diaspora event in Singapore to listen to Prime Minister Narendra Modi. In today's 24×7 media and internet connected world, I have, like many of you, been glued to the rhetoric and efforts of this man. Listening to him live, just makes it so much more real, unleashing raw emotions, aspirations and patriotism. It also unleashed a flurry of thoughts that I aim to capture in this article – not so much on what transpired, but why it did.
The Man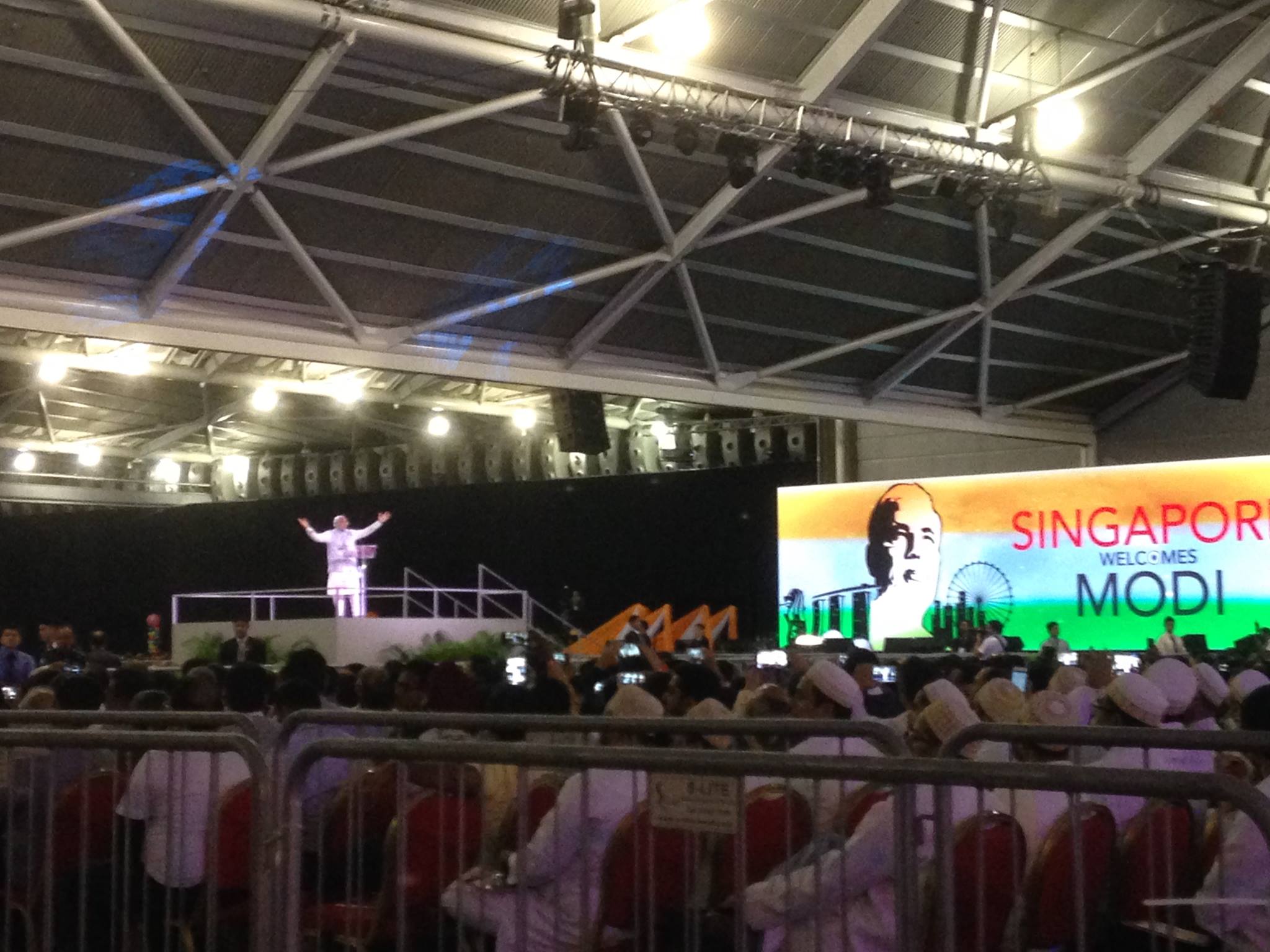 Needless to say, it was an electric atmosphere, with 18,000 Indians chanting and screaming themselves hoarse. The fact that we have come to take this reaction for granted, is anything but ordinary – not just for a political leader, but for any celebrity. My thoughts, however, dwell on why this man evokes such ecstatic responses from diverse demographics.
PM Modi's oratory is widely acknowledged, even by his harshest critics. And the live experience only reinforces that impression. You realise that not once, in an hour long speech, does he ever refer to any notes or prompts. Yet, at the end of a day packed with diplomatic engagements, he is able to engage an 18,000-strong crowd on climate change, hygiene, culture, business, foreign policy and railways. He conveys his messages through a combination of storytelling and rhetorical devices. With his raw passion, you can't help but admire the energy and patriotism in a 65-year-old who works 18-20 hours a day dealing with complex issues in a complex country. He effortlessly mixes humour with serious themes to make the message memorable.
But the man is so much more than just an orator. As he boldly declared, there is not a single accusation of corruption on his government after 18 months in power. He keeps repeating this in every speech, but it never gets redundant because it rings so true. He is effectively sticking his neck out and challenging the public, the opposition and the media to prove a single instance of corruption against his government, now or in the future. How's that for accountability? This is mind boggling in a country renowned for corruption at all levels of government and bureaucracy. Being in my mid-twenties, I have followed Indian politics for barely a decade, so I can't even imagine the feeling for people from other generations, some of whom have probably bemoaned the corrupt system since India's independence in 1947! This is one of many fields in which the current government has been refreshingly progressive – from bureaucratic efficiency and technology investments to infrastructure development and foreign affairs, the policies seem deliberate and strong.
Thus, it is his passion (in motivation), sincerity (in intention) and authenticity (in action), that makes hundreds of millions of us invest our emotions and hopes in his leadership. For a nation, long suppressed by a vicious cycle of a dysfunctional polity and a 'chalta hai' public attitude, here is a leader acting with a refreshingly new approach and issuing a rallying cry to change our mind-sets and to make this transformation truly people-driven.
The Emotions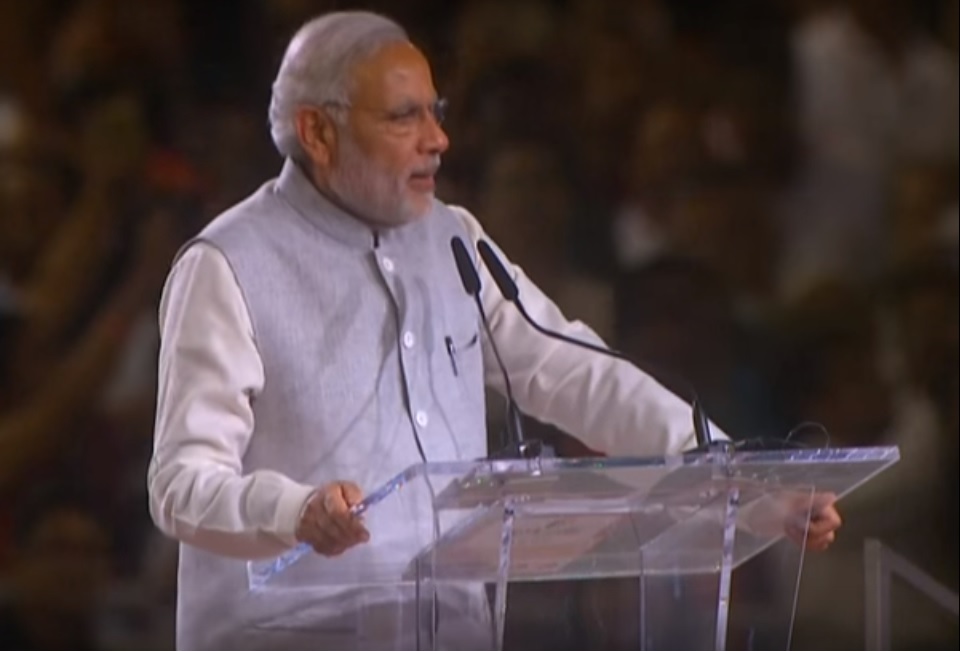 Source: YouTube
Like many NRIs, I frequently think about how to make India a better country. Our passions constrained by circumstance and distance, we NRIs have a tendency to get quite emotional about India. And team Modi sure knows how to tug at the heartstrings of our community! From the cultural performances before the speech (including Maa Tujhe Salaam, of course!) to slick, professional, feel-good videos urging you to contribute to government initiatives, it is an emotional experience. The Indian diaspora craves any connection to the motherland, and this is probably the first government to recognise value in actively engaging us.
Memorably, he summarised his foreign policy in one neat statement: "Na hum aankh jukhaa kar ke baat karenge, na hi hum aankh dikhaa kar ke baat karenge, hum duniya se aankh milaa kar ke baat karenge, baraabari se baat karenge" (Translation: In the international stage when dealing with other countries, we will not look down submissively, we will not stare aggressively, but we will make our eyes meet as equals). This may sound like simple rhetoric, but its socio-political impact may be underrated.
Many reading this article have faced the ignominy of foreigners preaching about how backward, unclean and corrupt India is. Despite the fact that it is a one-sided view ignoring unique strengths of our society, we know they are right about the flaws in the country. Even after the typically fierce "but India has a great history" retort, we look down embarrassed and helpless. Decades of this experience has manifested itself as a subconscious submissiveness in our international engagements, as a nation and as individuals. But here we have a leader, who is not pursuing meaningless jingoism, but attempting to correct the flaws and lift the collective confidence of his people to succeed in an inter-connected world. Isn't that the classic definition of leadership?
But leaders need to be backed by strong teams. In this, PM Modi is clear, that his team is not merely his cabinet or his MPs, but is team India. His efforts at inspiring people's contributions to government strategies are novel. For almost every initiative, from the Clean India campaign to even easing the fiscal deficit (#giveitup), he seeks the common man's participation.
He ended his speech with a clarion call that we should stop singing paeans about our historical accomplishments as a prelude to a hypothetical great future, but rather take inspiration from the past, change our mindset, put in the hard work and collaborate towards achieving a better future.
It is on this note that I walked out that day – with immense optimism, hope and a deep desire to contribute to the transformation of India in whatever way I can.
– Sujay
The views expressed in this article are personal and do not in any way represent the views of any organization.
Featured Image Credit: Flickr
Like this story? Or have something to share? Write to us: contact@thebetterindia.com, or connect with us on Facebook and Twitter (@thebetterindia).
We bring stories straight from the heart of India, to inspire millions and create a wave of impact. Our positive movement is growing bigger everyday, and we would love for you to join it.
Please contribute whatever you can, every little penny helps our team in bringing you more stories that support dreams and spread hope.